Products You May Like
It may seem like just yesterday that the Toys R Us Exclusive Marvel Legends Dark Phoenix & Cyclops two-pack was in stores, but it was actually six long years (and one Toys R Us bankruptcy) ago. Prices for those figures long ago went wild on the aftermarket, and many fans were left without perhaps the most iconic Marvel female villain of all in their collections. But Hasbro heard the cries and responded, and now the Marvel Legends Dark Phoenix Retro figure is shipping out at a fraction of the price of the original's aftermarket. But is this updated Jean Grey an upgrade…?
The Dark Phoenix saga is about as classic as X-Men stories come, so it should come as a surprise to few that there's a high demand for Dark Phoenix Marvel Legends figures from new collectors and those who missed the TRU Exclusive's release.
Rather than just repackaging that 6" figure, though, Hasbro has updated the most malevolent Jean Grey with much brighter colors and modern articulation. Is this the definitive Dark Phoenix?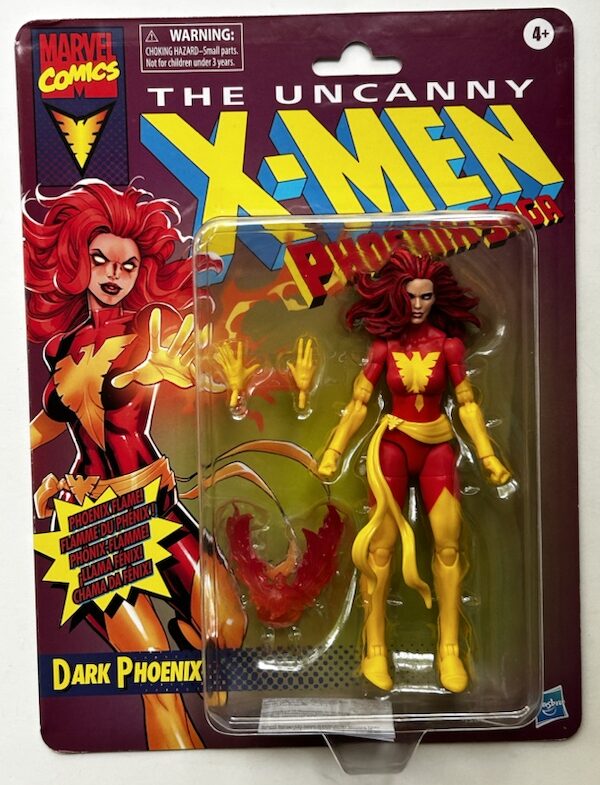 As with all Marvel Legends X-Men Retro Series fugures, Dark Phoenix comes on an oversized Toybiz-style cardback, which looks superb and is a nostalgic thrill as always.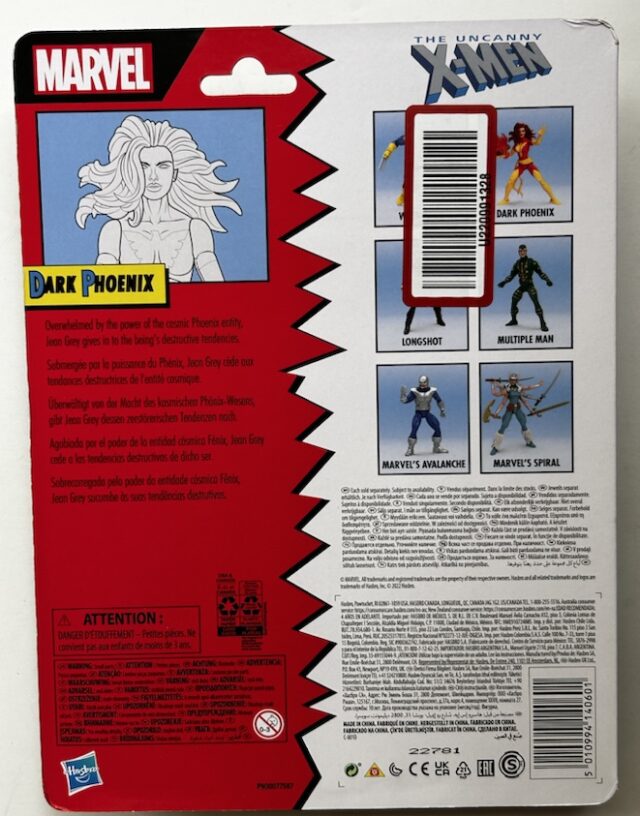 I never get tired of seeing bios and whole assortments on the back of my toys, and I really hope these features return when Hasbro reverts to regular packaging for most releases next winter.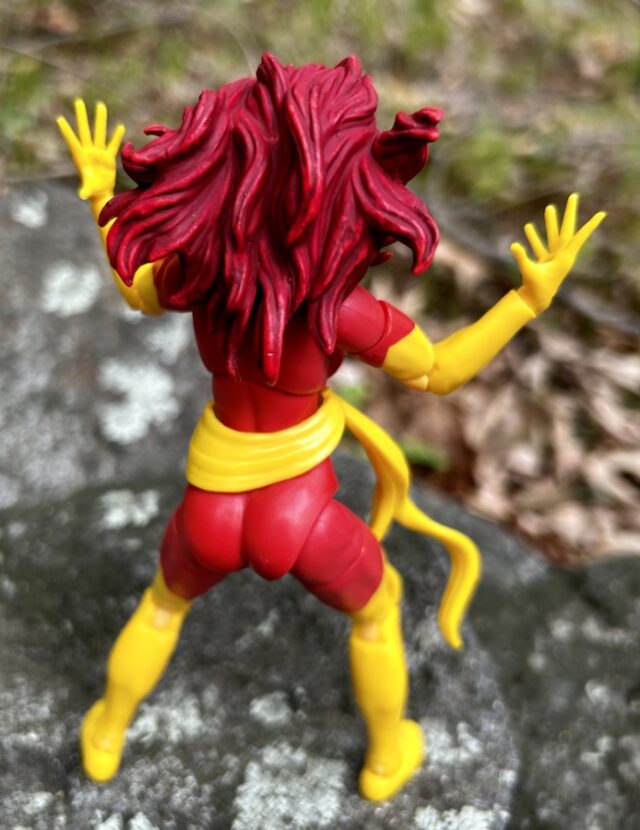 Everyone will have a personal opinion on the color palette selected for this character, but I really like it. I'm also a fan of the rich crimson red on the previous iteration, but the ultra-bright cartoon-like colors on this Dark Phoenix are a fun contrast that feel suitable for the Retro series.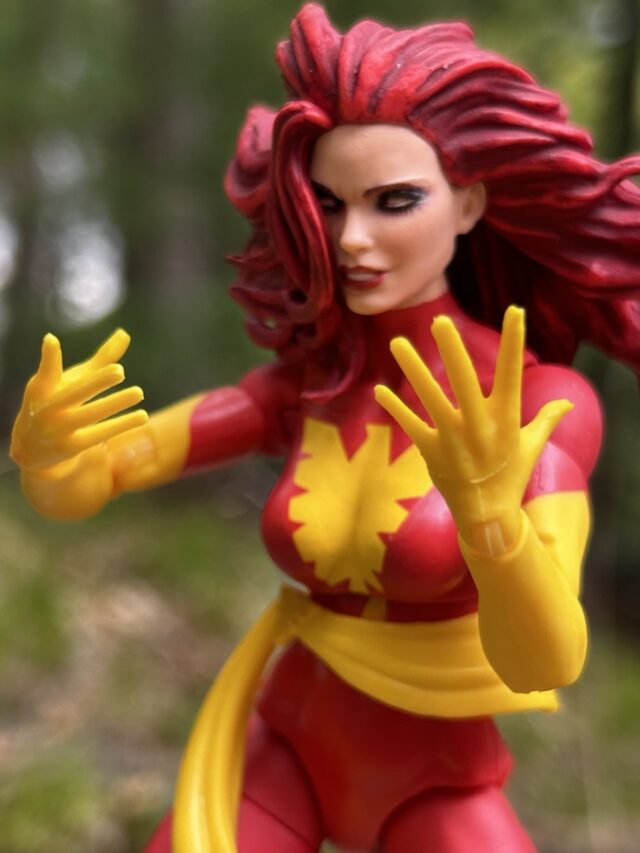 To make her look appropriately evil, Dark Phoenix comes with heavily shaded eyes and an extremely dark wash on her hair. I think both might be applied a bit excessively, but your highlighting preferences may vary.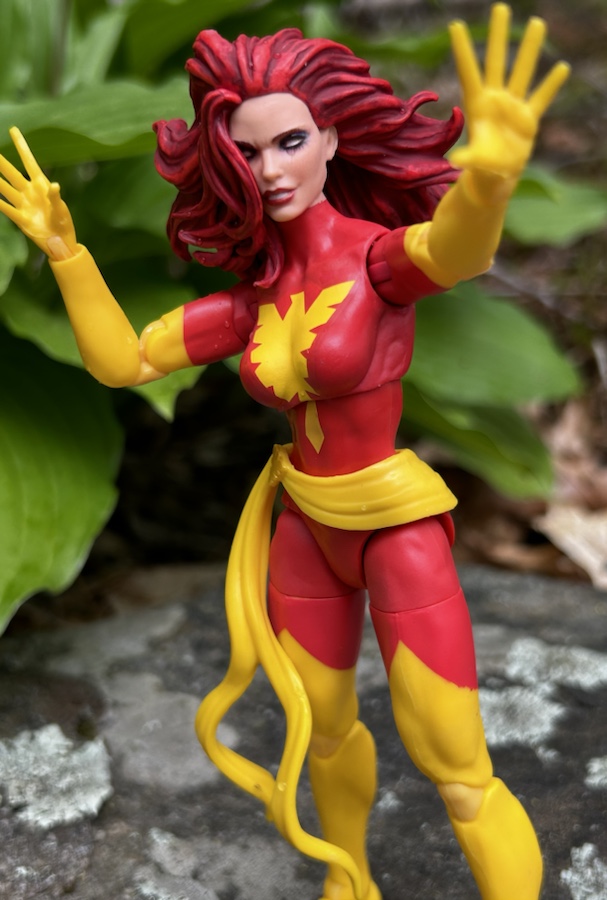 Posing-wise, things are very good, but not flawless. The head articulation is close to non-existent because of Jean's long hair, and the lower-body articulation is hindered by rubbery plastic that makes her very hard to stand up stably in dynamic poses. The pin-less articulation on Phoenix's knees and elbows is smooth and pretty and very appealing, though.
For accessories, Dark Phoenix comes with open hands (to swap out her fists for) and a reused mini Phoenix bird effects piece from the two-pack release. This is pretty disappointing, since that two-pack came with three heads for Phoenix and we don't get even one alternate here.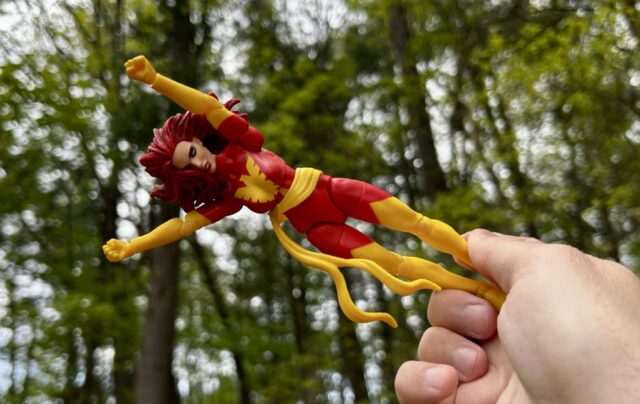 Dark Phoenix having fists to engage in brawls felt awkward to me, so I'm pleased to get the interchangeable splayed hands. The fists make little sense to me unless Jean's going to fly around Superman-style for some reason.
The little Phoenix effects flame bird is cute in theory, but fails in execution. The fiery translucent plastic on it looks phenomenal, but the attachment spiral is too big and too gummy to hold the bird in place, so it constantly flops upside-down unless it's affixed way up Jean's arm. This accessory is a neat idea, but comes out feeling very sloppy.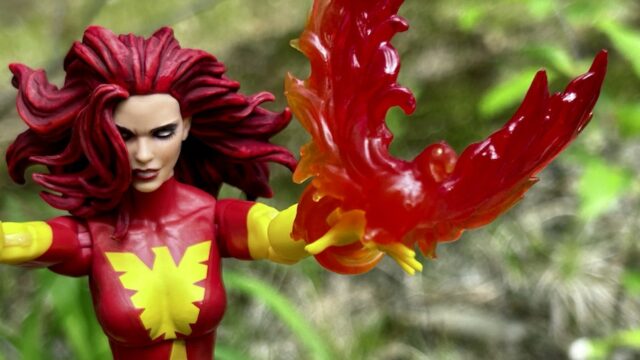 It's a real shame that the sole energy effect we get here is the bird, because that fact hugely limits the fun to be had with the action figure. Dark Phoenix has no energy effects to blast from her hands and no large Phoenix-shaped "wings" effect to hover menacingly with. She's just kind of bare-bones and limited to standing around looking (beautifully) evil.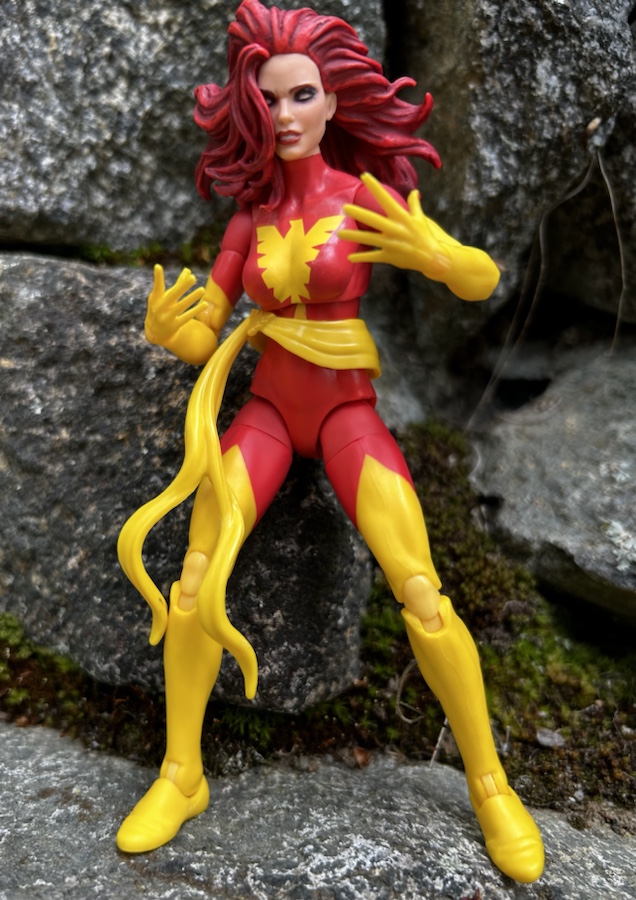 Overall: There's a lot to love about the X-Men Legends Dark Phoenix Retro Series figure, but it ultimately lands just a bit shy of greatness. The plastic used for her has notable issues with being rubbery and unstable, the paint wash on her hair is somewhat overdone, and the accessories are pretty thoughtless and uninspired. The pin-less joints are beautiful and I really do enjoy her bright colors, but the gummy plastic and lack of fun accessories really bring this god-like entity down a notch. Still an upgrade to the last version in some ways, but not the definitive Dark Phoenix I hoped for.