Products You May Like
There comes a point in everyone's lives where you reflect on your choices and whether you would change anything.
Sex Education Season 4 Episode 6 brought the Moordale High family back together to mourn Erin, and while the series is tackling some of its darkest material to date, it's doing an excellent job of including some light-hearted humor.
Funerals are never happy. People may call them a celebration of life, but at the end of the day, you're saying a last goodbye to someone you loved forever.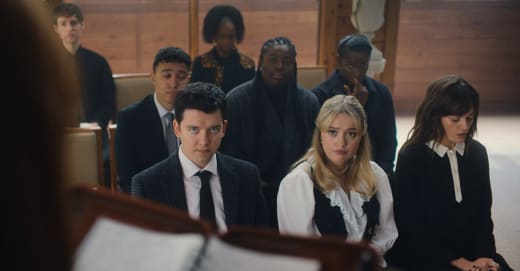 Maeve's relationship with Erin was complicated, but somehow, they managed to carve out a bond despite Erin's addiction, changing her children's lives forever.
Aimee inviting everyone she could think of, even those who never met her, was a beautiful way to help Maeve through one of the most trying days of her life.
Maeve was desperate to have people there because she wanted to give Erin the best send-off possible, and that's a natural instinct.
From Sean being M.I.A. to showing up drunk and revealing his upbringing to the shocked onlookers to Colin playing "With or Without You" after the wifi went awry, it was an eventful day.
Hearing Sean tell the truth about him and Maeve's past was a gut punch because it highlights that he's been holding on to this resentment for years.
He feels there's no point building a lasting connection with Maeve because she'll up and leave to return to her life in the U.S., but it's a shame he doesn't understand that this could make or break Maeve's career.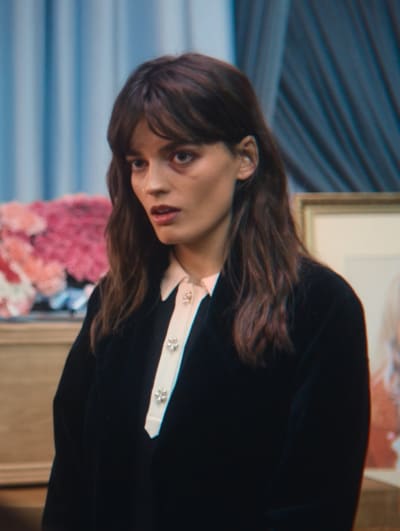 He's thinking very negatively, and he's probably in a particular stage of grief where things seem like they won't get better. I hope Sean gets clean and that he, Maeve, and Elsie can reunite.
Wouldn't it be great if that was a possibility? It seems unlikely now, but it's not out of the question.
O: Good mornin', sunshine.
Otis: Uh… Uh, no. No, excuse me. Oh! What… what are you doing in my house?
O: I, uh… popped by to see your mum.
Otis: Okay.
O: I've got a free period, so… Oh, um… you've… you've just got a few crumbs in your neck brace. What happened, by the way?
Otis: None of your business.
O: Look, Otis, you don't have to be like that. I know that things got a little bit tense at the debate, but it's a competition.
Otis: Tense? You lied about me in front of the entire college.
O: I didn't lie. And you outed me in front of the entire college.
Maeve asking Aimee to remain platonic with Isaac was a bit of a shocker, but I'm wrestling with whether she believes Isaac isn't right for Aimee.
He did delete Otis' message at the end of Sex Education Season 1, so he has shown some obsessive tendencies.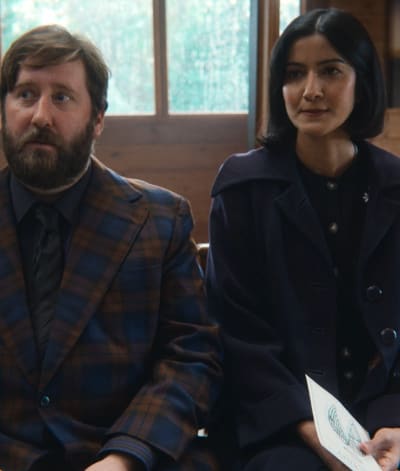 Aimee's the type of person who will do anything for her friends, so I guess she'll let Isaac down gently.
Aimee's arc this season has been interesting because she's still trying to find her place in the world, and Isaac helped her understand how art can help her express herself.
What I didn't expect was the workers to yell that she should smile. That came out of the left field, but seeing Aimee give the men a verbal beatdown was gratifying.
Sean: This is great. This is… fab. It really… I mean… I mean, it's complete crap. Maeve: Shut up.
Sean: But it is beautifully… beautifully crafted.
Celebrant: Thank you.
Maeve: Stop it.
Sean: I actually think I might add to it.
Maeve: No. No, no, no. Sean.
Sean: If you don't mind if I say a few words… Thank you.
Maeve: Please don't.
Sean: About my mother.
Maeve: Sean.
Sean: My darling mummy died doing what she loved. drսg. Oh, come on. We weren't all buying that "she's a bright star in the sky" stuff. Were we? No, I think it would actually be much more appropriate if I, as her son, shared a few stories of Erin from our childhood. Should I tell them about the games we used to play? Shall I? Number one. Ahem. Football in the dark. This was a good one, where Mum would kick us out of our caravan in the middle of the night, so that she could get high and then screw some guy called Greg. Then, there was, of course, "ciggie hunting" or "hunt the cigarette," which is when we used to go to the park and had to get on our hands and knees and search in the mud for cigarette butts that were just long enough for Mum to smoke 'cause we had run out of money. And then… I've got loads of these. I can keep going. There was my favorite…
Maeve: Stop it, Sean. That's enough. You're humiliating yourself.
Sean: Come off it, sis. As if a fancy dress and a nice photo is gonna convince anyone in this room that our mum was nothing but a dirty junkie.
Maeve: Get out. Get out!
Sean: Fine. With pleasure. Bye, Mum.
Speaking of Otis, he needs to realize the gravity of his actions and words because he was so flippant with Eric that I wanted to fast-forward the rest of their scene.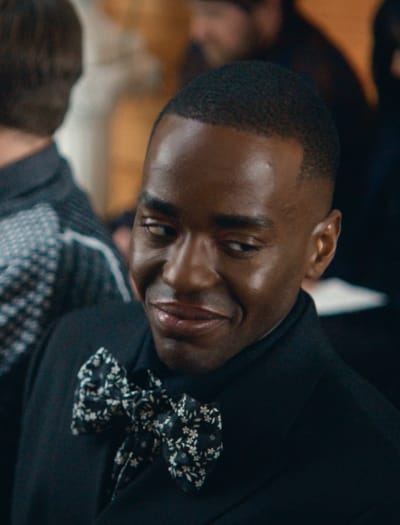 While Eric could have nudged Otis in the right direction before now, I believe Otis is too self-centered to consider anyone else.
Eric is hurt because Otis was more concerned with pointing the finger than saying, "Hey, I understand."
I expected them to resolve their issues by the end of the episode because a hopeful tone was infused throughout the hour.
If Sex Education Season 4 ends with them on the outs, it will be a slap in the face to the fans who have been rooting for their friendship since the beginning.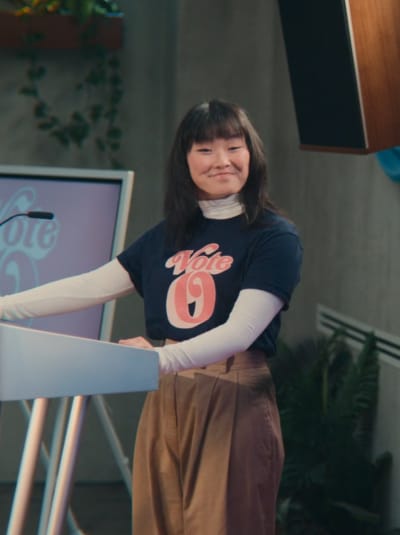 O is proving to be the thorn in everyone's side, and for that reason alone, Ruby calling up the hotline and taking her down with the video was satisfying.
Ruby is tired of watching O lay into Otis and wants to break down the facade because she's genuinely helping people.
While O does have very good listening traits, she seems to be taking all the information about people to use as ammunition when it suits her.
Look at how she walked into Jean's office and read the document to get dirt on Otis.
Maeve: Sean. Sean, stop running away from me. Why do you have to be so selfish?
Sean: Because I can't be fake like you.
Maeve: I'm trying to give her a nice send-off.
Sean: It's not fair.
Maeve: What's not fair?
Sean: You're gonna get out of this place. But I'm gonna die alone, just like Mum. Maeve: You can get yourself clean, Sean.
Sean: Well, it doesn't really matter anyway because you're gonna go back to your fancy little life in America and forget I exist. I'm leaving.
Maeve: Sean, don't do this. We're saying goodbye to Mum.
Sean: She didn't care about saying goodbye to us, did she?
Jean has been facing an uphill battle with Otis, and despite their breakthrough on Sex Education Season 4 Episode 5, there's still so much for them to unpack.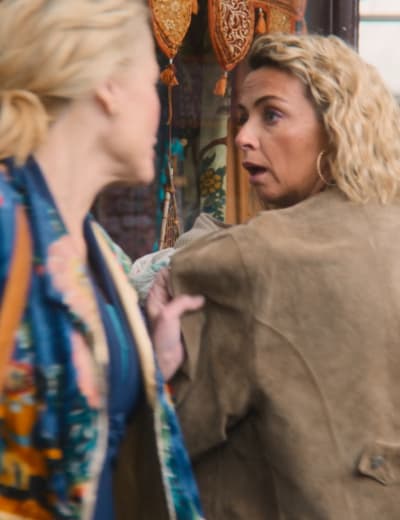 Otis is back to thinking about his mother constantly, and that's not healthy. But Otis will be furious if anything his mother has written spreads around Cavendish to take him down.
The bombshell about Joy's father surprised me, but something tells me Joanna won't be willing to leave him behind despite Jean warning her.
It's a shame that Jean isn't fond of telling him the truth because, as evidenced by his date with Joanna, he likes children.
Maybe his opinion would change upon hearing that he's Joy's father, but perhaps it would offer the Milburn family some much-needed help.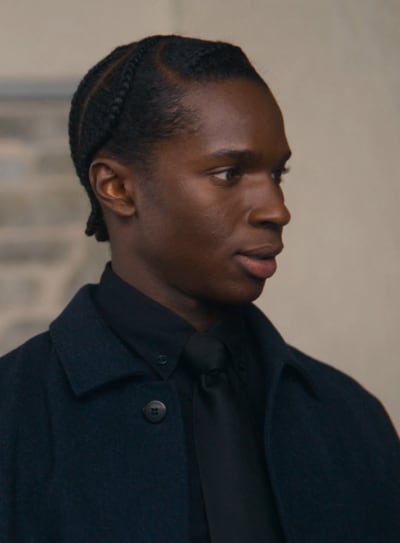 Jackson getting the all-clear was one of the happiest moments in an otherwise somber installment. He hasn't been written very well on Sex Education Season 4.
It's almost like he's an entirely different character, so I hope the writing improves for the final two episodes.
Catching Beau going through Viv's phone at the funeral isn't going to wash well with him, but Viv will be put on the spot if he tells her.
Beau is proving to be too possessive of Viv for their relationship to still be in its infancy, and it's hard not to wonder what this could turn into down the line.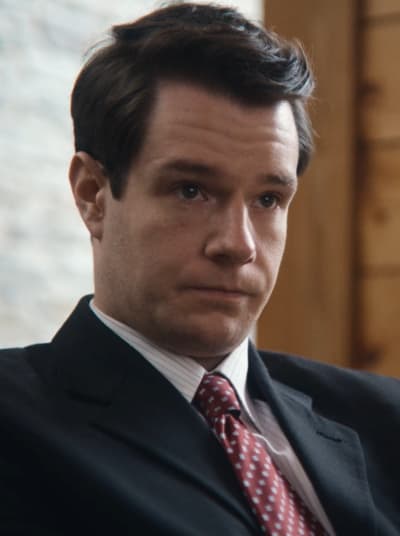 He's a bit of a red flag.
It's hard to believe it took six episodes for Ncuti Gatwa and Connor Swindells to share the screen again, but it's clear there's still a bond between Eric and Adam.
Eric was blindsided that Adam had finally opened up to his parents and was in a much better place now.
It's hard to tell whether Eric is open to a reunion, but Adam seems interested.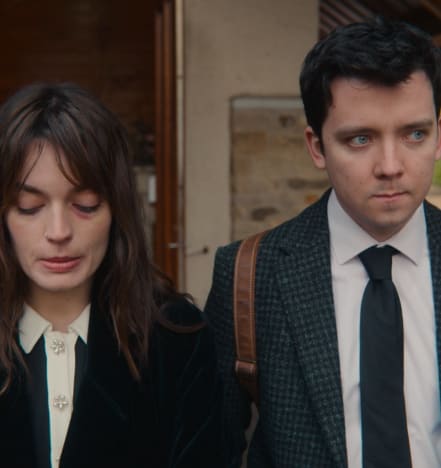 Hopefully, Adam finding out that his mother and father are secretly hooking up won't undo all the excellent character development we've had for him.
What are your thoughts on the funeral?
Did it play out as you expected it to?
Hit the comments.
Sex Education is airing on Netflix now.
Paul Dailly is the Associate Editor for TV Fanatic. Follow him on Twitter.