Products You May Like
When Hasbro revealed the Black Panther Wakanda Forever Marvel Legends Attuma Series figures, there was clearly something glaringly absent: the titular character of the movie—the new Black Panther. Likely for secrecy reasons, a Shuri Black Panther was not available at launch. But though she was lagging weeks behind, the MCU female Black Panther ML figure still managed to arrive while the MCU movie was in theaters. Marvel Legends The Black Panther Shuri figure is available for purchase now—should you snag one? Here's my review…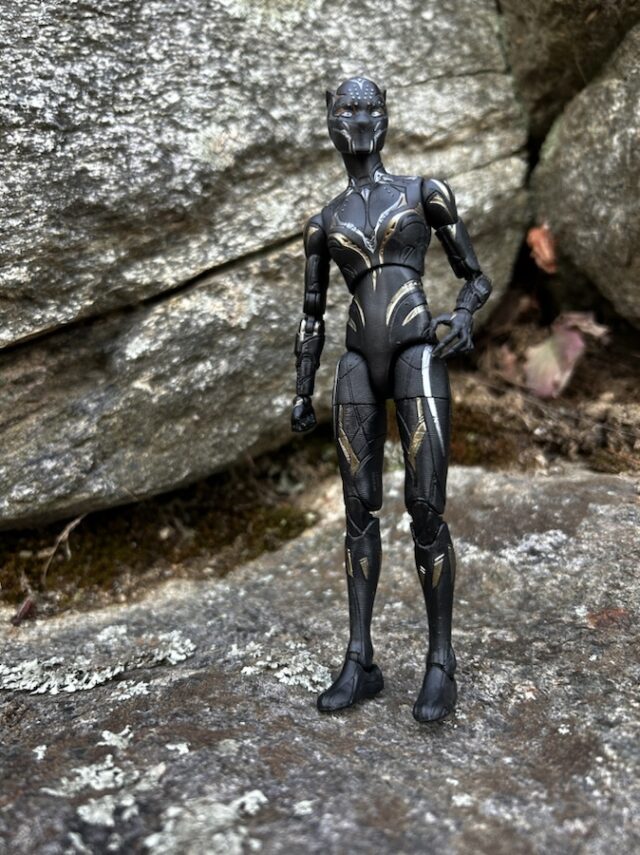 While Letitia Wright tried desperately to misdirect fans and insist no one had guessed the identity of the new Black Panther debuting in Wakanda Forever, I think there were likely extremely few audience members shocked to see Shuri take up T'Challa's mantle in the sequel.
Even so, I'm sure Disney handcuffed manufacturers on what characters could and couldn't be part of the merch launch for the movie, so Shuri/Black Panther ended up arriving fashionably late after Namor and friends, as a solo standalone figure not readily available in all stores. In fact, I was shocked when I stumbled across her at Target, not even realizing she was in stores at all.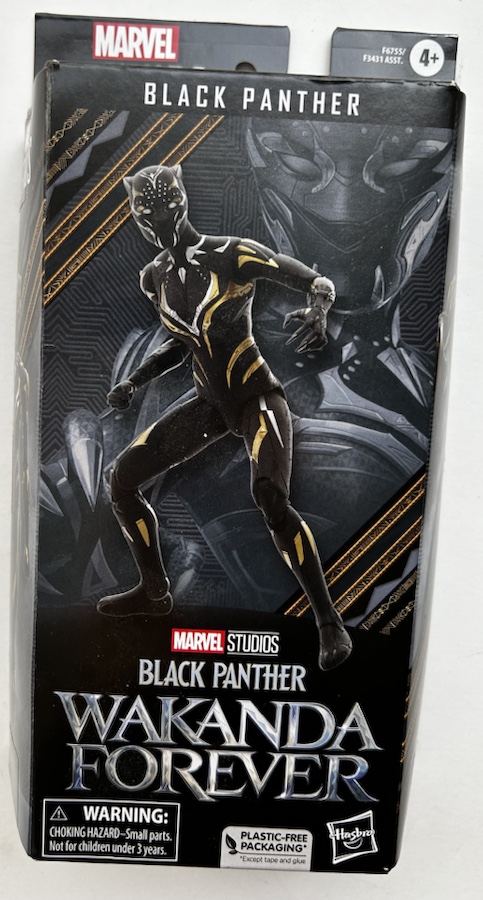 The Black Panther 2 Legends Shuri figure comes in the new-age, plastic-free packaging that a lot of collectors detest. I've said my piece on these boxes, j so I'll refrain from repeating myself this time.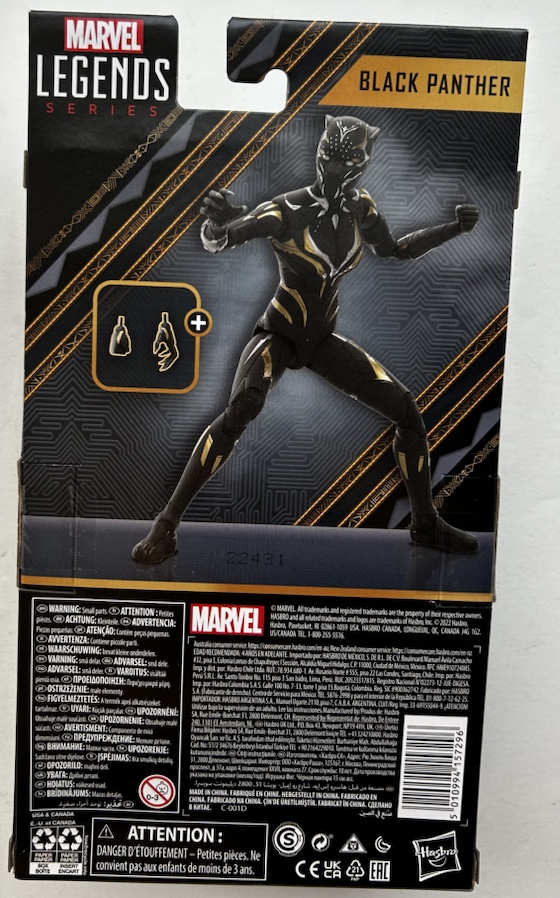 The box back is what we're coming to expect as the new normal, omitting any kind of character bio but clearly illustrating exactly what's inside the package. That's fine, as I doubt Disney would have allowed any kind of biography in this case anyway.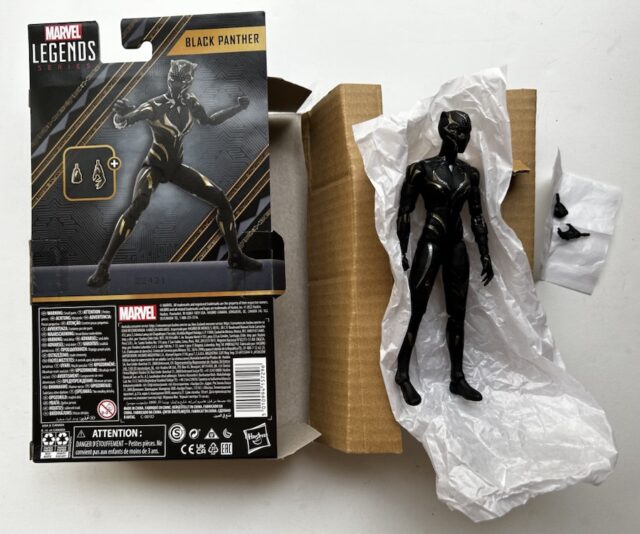 Inside the box is the now-familiar cardboard insert and two crinkly paper bags, one containing the Shuri Black Panther figure and the other her accessories.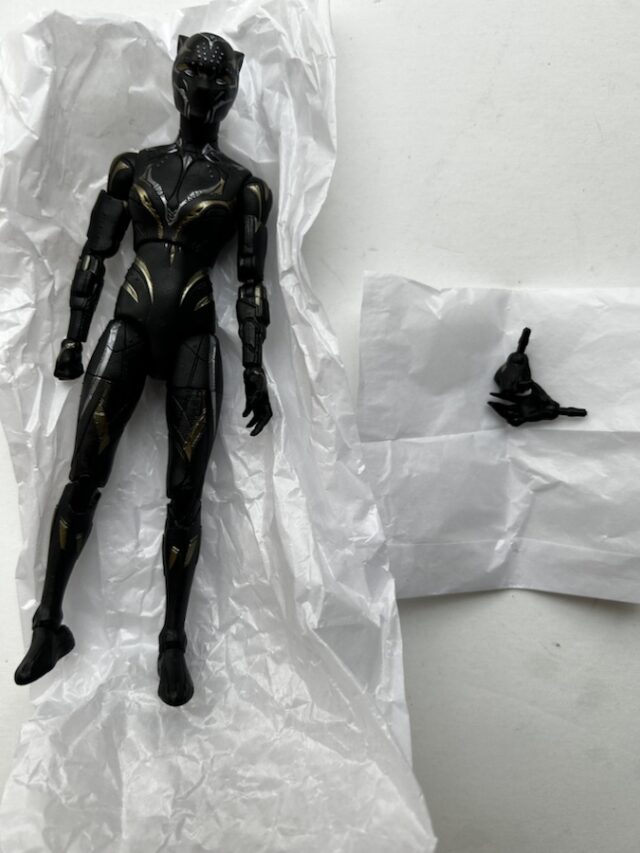 "Accessories", in this instance, refers solely to a pair of swap-out hands. Yikes. Not at all what I expect or like to see from a $25 figure. You would think Hasbro could have at least included their Letitia Wright portrait from a few years back, but I suppose that couldn't be approved both for spoiler and accuracy issues. Regardless, the toy's only extras being interchangeable fists or open-clawed hands is rather disappointing.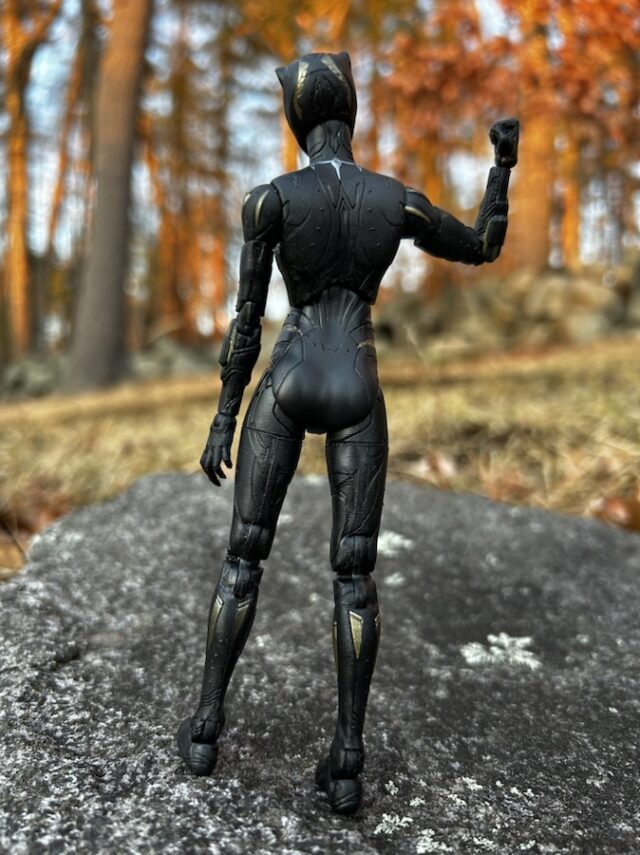 On the bright side, Hasbro did give us some expensive-looking all-new tooling here, with a copious amount of sculpted texture details on the costume. The majority of the gold details from the movie are also present and painted on well, but not all (although I'd wager that's a references failing and not Hasbro's fault).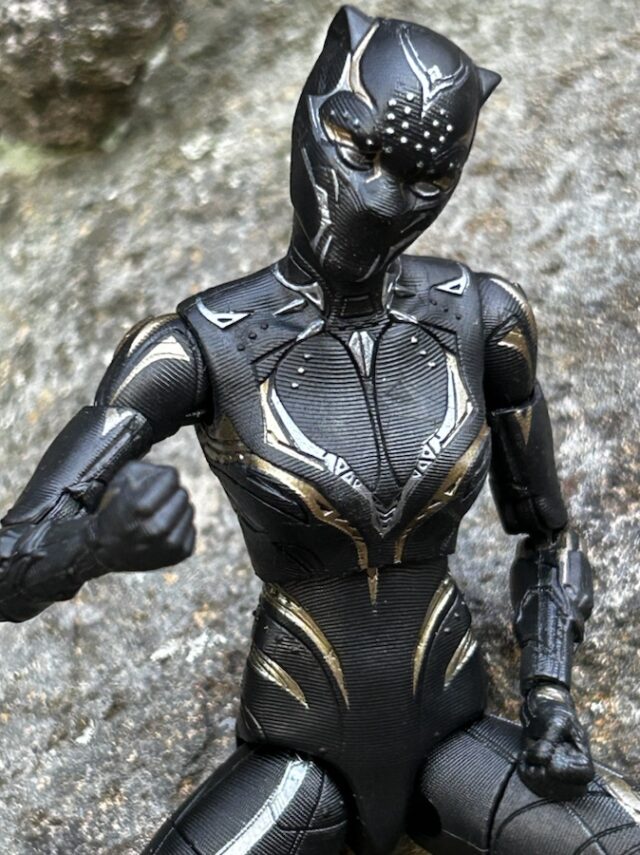 The sculpting work and paint detailing on this Marvel Legends Shuri BP figure all look exceptional to me, and I think Hasbro did a great job on those aspects despite surely being under time constraints.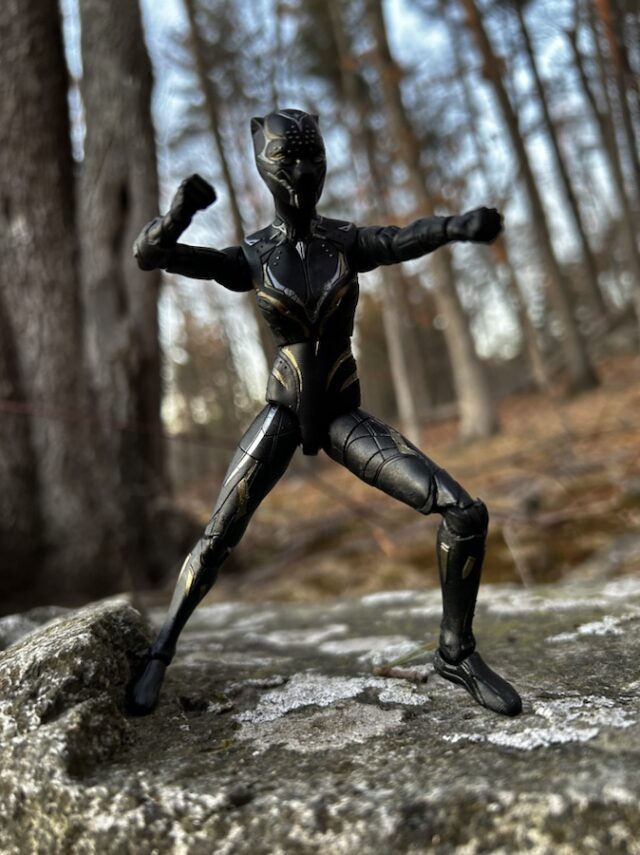 What I am less enamored with is the articulation set on this 6" action figure. A character like Black Panther desperately requires butterfly shoulder swivels, but they're absent here, leaving Shuri unable to strike this iconic pose. In addition, there's no swivel calves and no waist movement at all, making posing a bit forced and clumsy.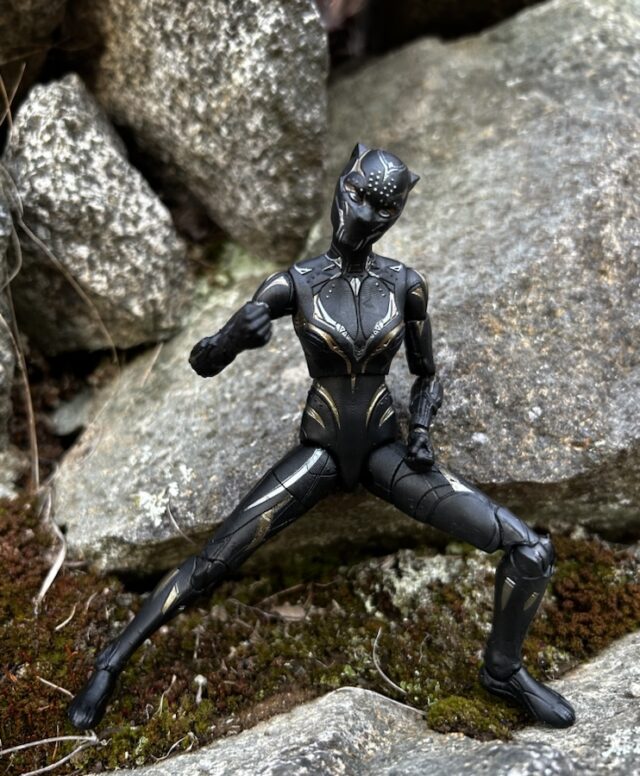 The barbell-styled head joint is awesome and gives an expansive range of motion, and the pin-less knees and elbows look terrific as well. The articulation (which also includes a ball-jointed upper torso and ankle rockers) has a lot of good points, but also some omitted ones that it's tough to get past. It's solid for the most part, but also almost inevitable to be improved in the next few years.
Overall: Hasbro has put out a wonderfully detailed all-new figure here, and I wouldn't feel comfortable rating it below average. I also wouldn't feel comfortable rating this particular Black Panther Shuri figure much above average. The complete lack of meaningful accessories, omission of some notable articulation points and missing costume details hold this action figure back, despite Hasbro's obvious effort to get a solid toy of the titular character of Wakanda Forever out as quickly as they could. There's little question we'll get an upgraded version of this figure down the road with the omitted details and a Letitia Wright likeness, but for now I think this is a good placeholder I don't feel bad to have paid for.