Products You May Like
I have read hundreds of Thor comic books in my life, but even so, my jaw absolutely dropped when I saw something I never imagined—Thor becoming Galactus's herald, at the start of Donny Cates' run. And now, Hasbro is capturing this awe-inspiring plotline in plastic form: the Marvel Legends Herald of Galactus Thor figure is now available! Do you need your own Herald of Thunder 6" figure? Here's my review…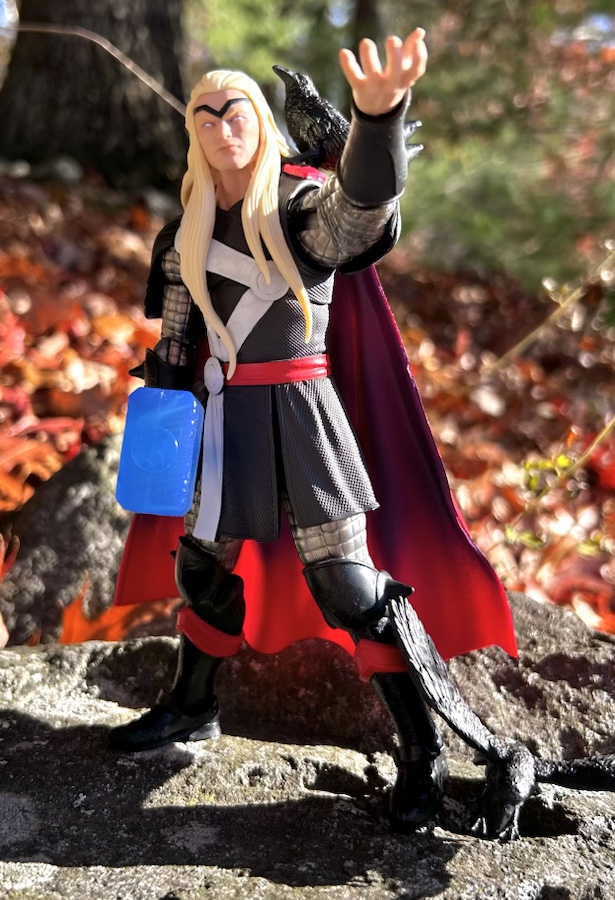 This Thor figure only has one portrait of the God of Thunder, and that's just fine. The blanked-out eyes are perfect for an Odinson overflowing with the Power Cosmic. Thor's stern facial expression conveys the seriousness of the role he's found himself in, and his flowing hair is exactly as it should be for this iteration of the character. Head-wise, I've got no complaints.
Speaking of heads, collectors who pick up this figure will also get the head of the Controller Build-A-Figure. I'll review and talk about that BAF separately, but I do think it's worth noting that we get a BAF piece along with six additional worthy accessories.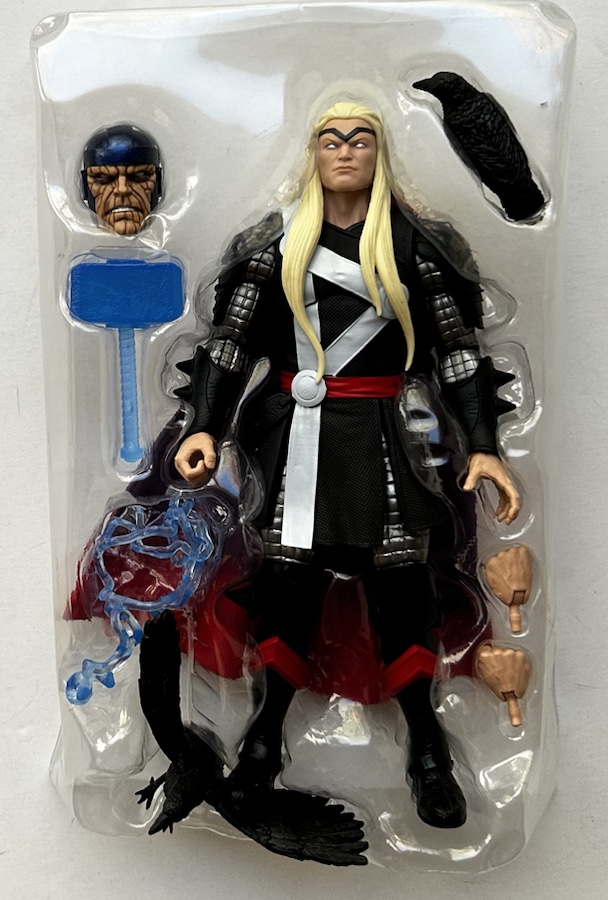 That spread of accessories includes an extra pair of hands (he has both fists and grasping hands), a charged-up Mjolnir hammer, a lightning electrical effects piece and King Thor's two inherited ravens (Hugin and Munin). That's an overall total of 7 accessories—a ton for a $22 figure of this caliber.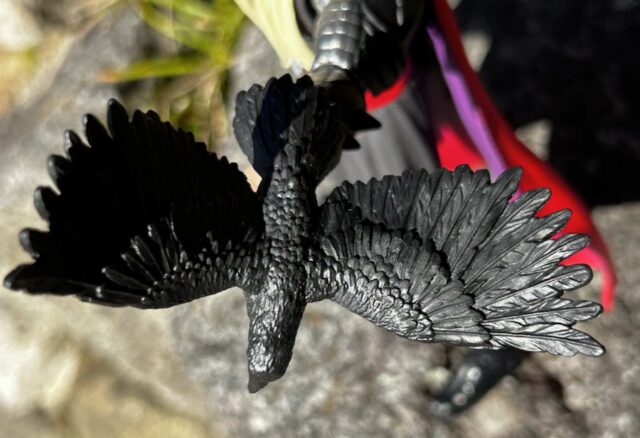 You might expect Hasbro to cut corners by giving us two of the same Raven figurine, but each bird actually has a different mold. One is in a static standing pose (ideal for standing upon Thor's shoulder), and the other is in a fully dynamic flying pose with wings spread. There's no paint on the ravens, nor should there be.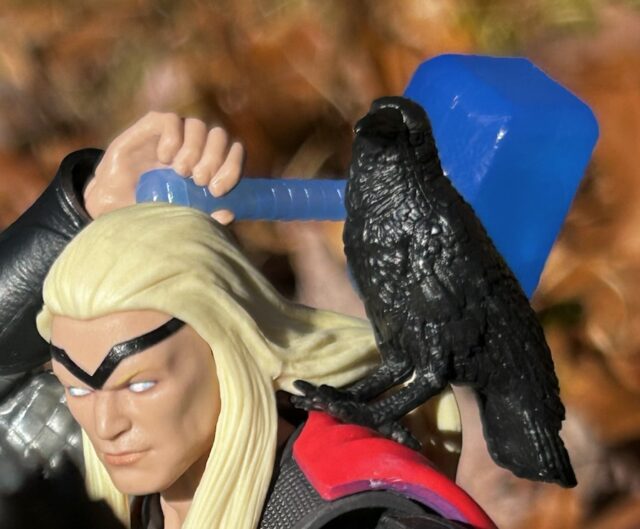 Sadly, there's no pegs or magnets or anything on Hugin and Munin to help them attach to Thor. Even so, I got them onto his shoulder and hand with some fiddling, and if I can do that half-blind, so can you.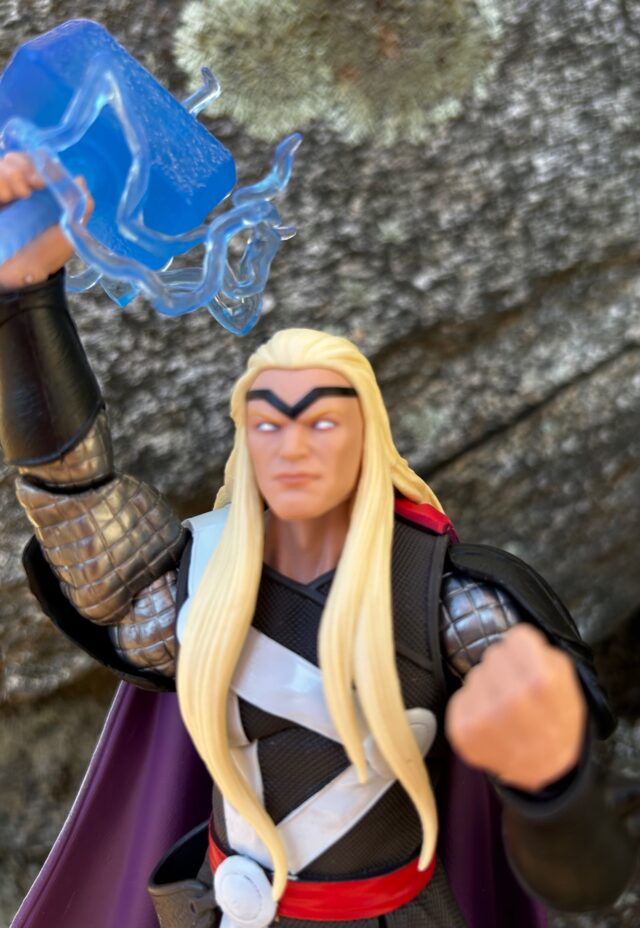 Mjolnir is fully translucent blue, like previous charged hammers we've seen. It looks good—especially with the included lightning effects piece surrounding it. I think it's always practical to include a standard Mjolnir as well, but I understand why we don't get one here with everything else included.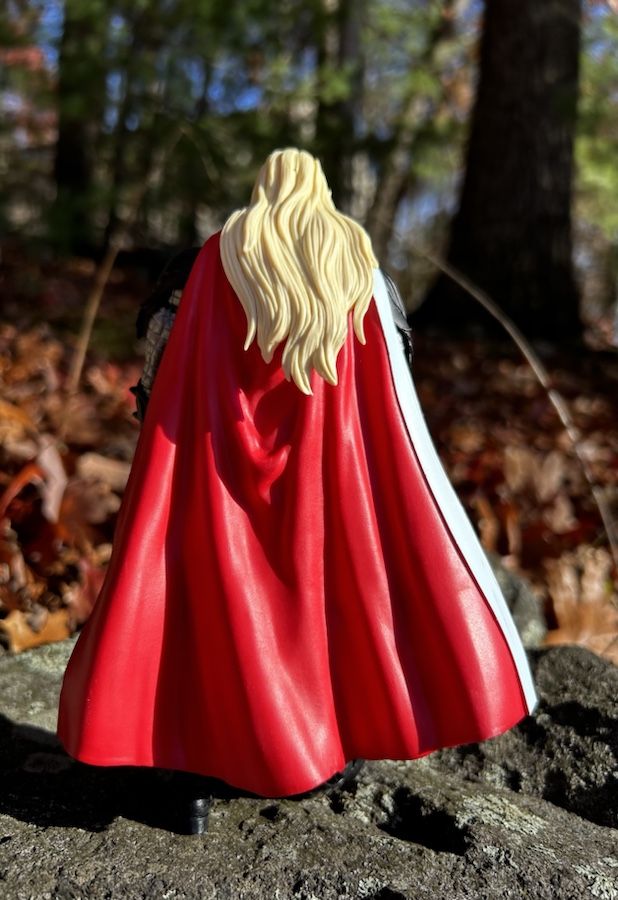 The articulation scheme works well and includes modern pin-less elbows with pinned knees (covered by knee pads). It's a really nice-looking figure, and I appreciate the pins being hidden. I think butterfly swivel shoulders would have greatly assisted in creating dynamic poses utilizing Mjolnir.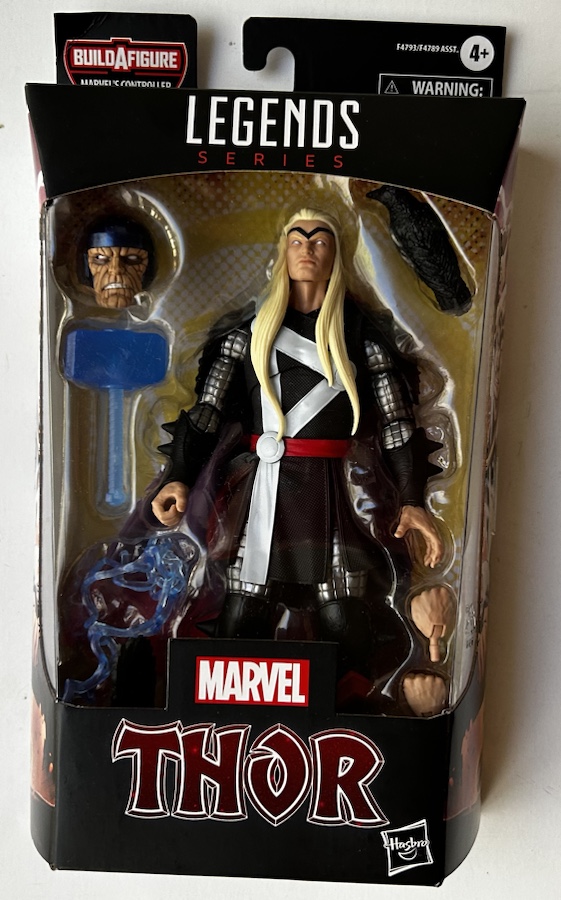 The complete articulation set is comprised of:
–Ball-Jointed Hips and Upper Torso
–Swivel Biceps and Thighs
–Ball-Hinged Shoulders and Elbows
–Swivel-hinge Wrists
–Double-hinged Knees
–Hinged Feet with Rockers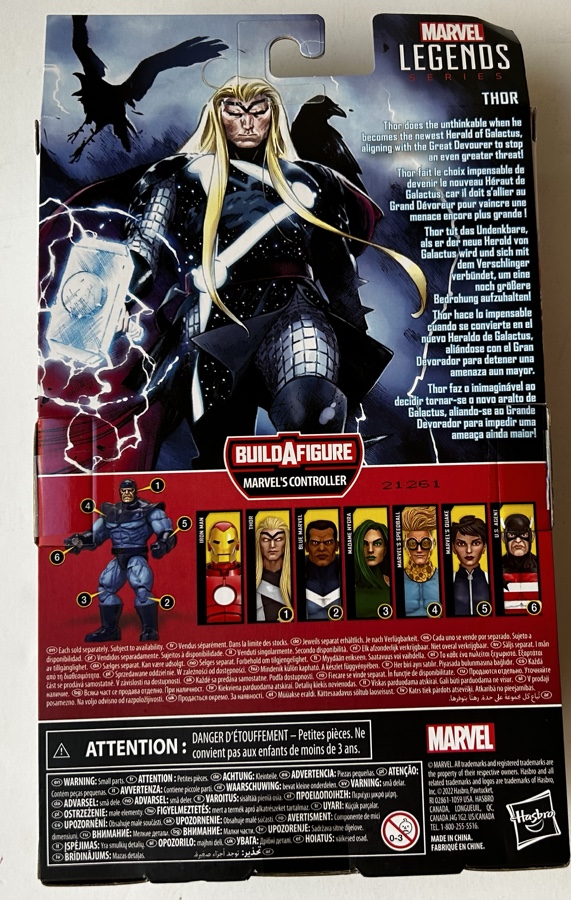 Despite being a thick, bulky figure, Galactus' Herald Thor still balances solidly and poses very well.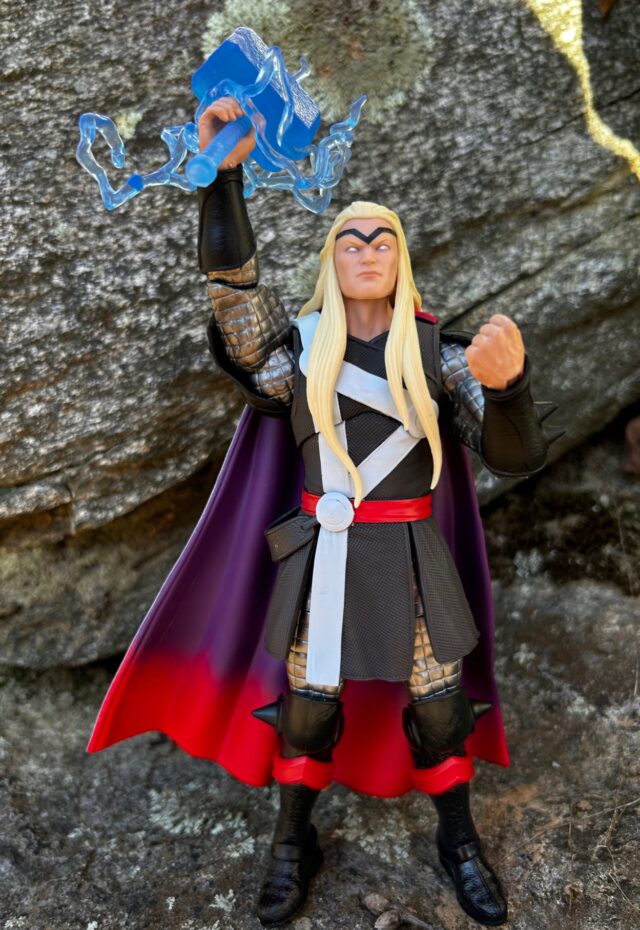 He also looks straight-up stellar, with the mail-like tunic and "leathery" boots and knees all having excellent textures.
Overall: Marvel Legends Thor Herald of Galactus is one of the best Thor action figures ever made, for sure. The mostly modern articulation scheme, detailed textures on the costume and wide range of accessories (with the ravens being particularly cool) are all awesome. Butterfly shoulders and an additional non-effects Mjolnir would have given this the '+' for me, but even without those this a world-class God of Thunder toy. If you're a fan of modern Marvel comics or getting a Haslab Galactus, this is a must. Fantastic work, Hasbro.