Products You May Like
When Hasbro released their first 6" Marvel Legends Rogue figure in her 90s Jim Lee costume back in 2017, it was a pretty big deal and a hole-filler for many X-Men collectors. Flash-forward 6+ years, and we've had multiple X-Men Legends Rogue figures since. Even so, X-Men '97 is on the horizon, and that means that every old X-Man is new again for some incoming fans—and Hasbro is ready to service those fans with new and/or upgraded figures! Does the now-available X-Men 97 Rogue Legends figure bring enough to the table to warrant a purchase? Here's my review…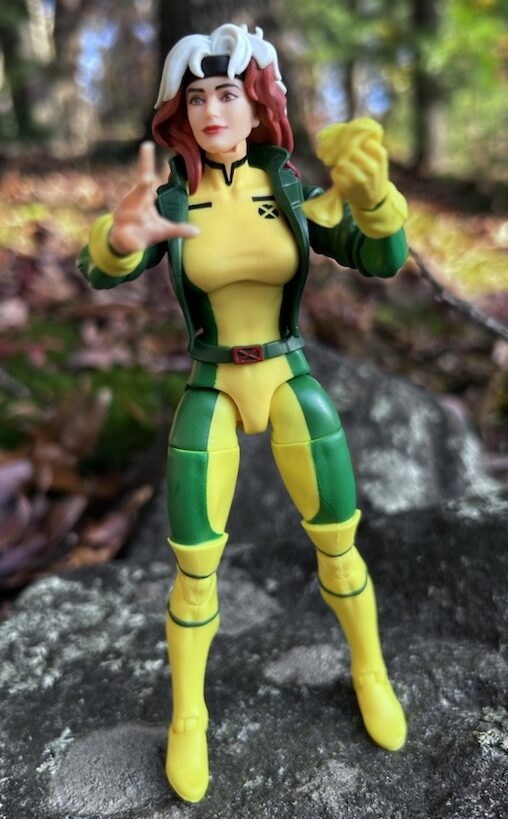 Rogue is one of those evergreen members of the X-Men that can be added to virtually any iteration of the team and feel like a valid and credible presence in the lineup. As such, we've gotten quite a few toys of her lately from Hasbro in costumes from different eras of the last 30 years. But no look is more recognizable for the Southern Belle than her iconic 90s Jim Lee/X-Men Animated Series costume.
That costume is returning (with some tweaks) for the upcoming Disney+ X-Men 97 cartoon, and Hasbro is here to celebrate with an updated figure of Rogue! Let's have a look…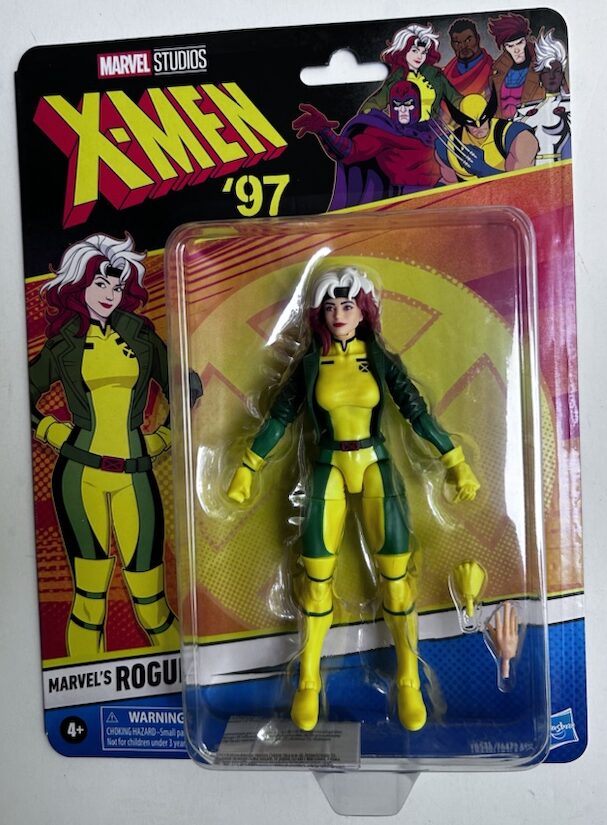 As with the rest of the wave, Rogue comes on a Toybiz throwback-styled blister card. The artwork is nice and the figure is easy to rip out if it's plastic prison.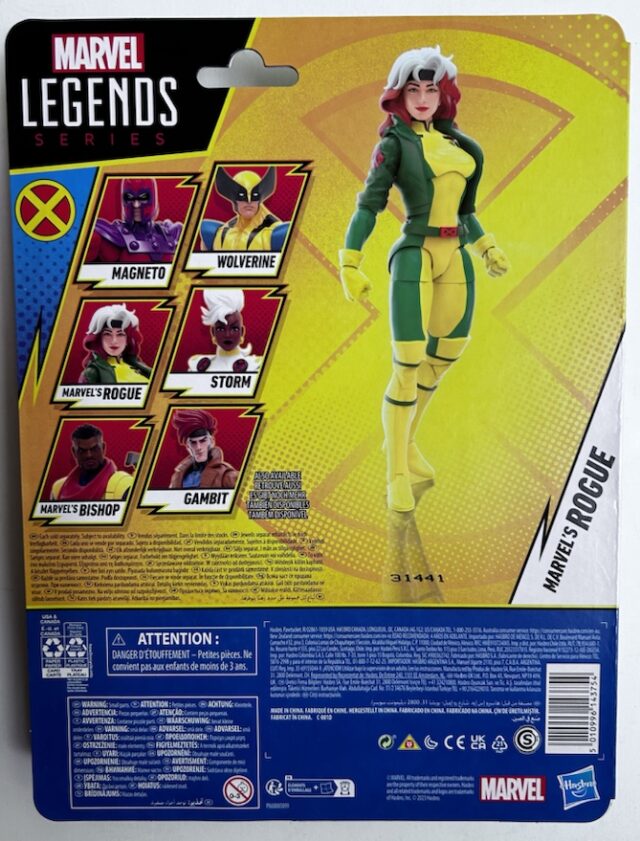 I previously reviewed the Magneto, Gambit and Bishop figures from this set, and I have Wolverine on deck. Once I pick up Storm, I'll be able to finish reviews of all the characters on the back of the card.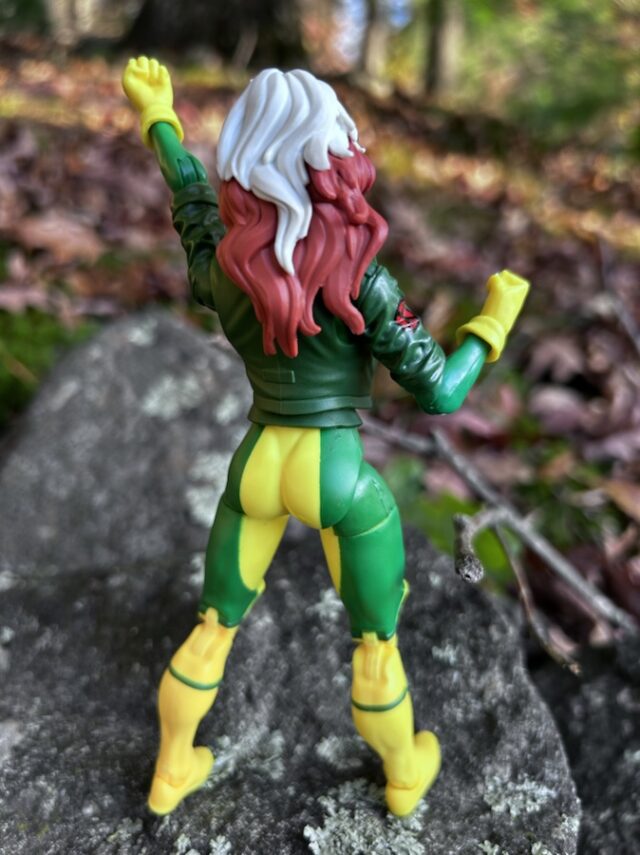 The Rogue figure itself isn't a dramatic departure from the 2020 Retro version, but it does have some notable upgrades.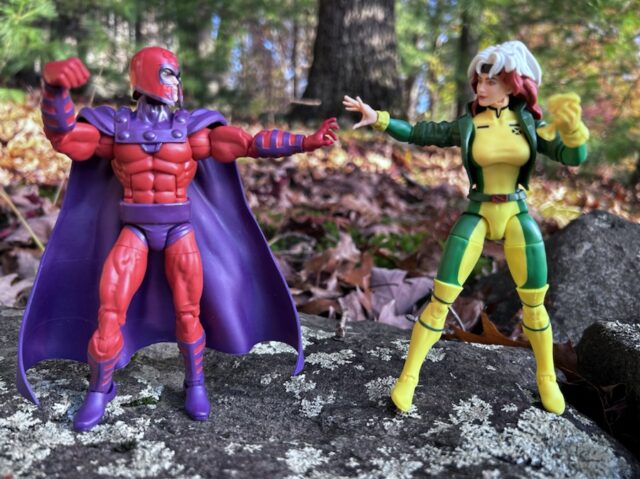 The most exciting update—at least for me—is the move to fully pin-less joints throughout the body. Gone are the unsightly pinned knees and elbows of old, helping Rogue look better than ever before.
The head sculpt has a very soft look to it that's perfect for portraying Rogue's animated-style face. And to match the X-Men TAS aesthetic, Rogue's finally sporting a black (not green) headband as well. These features go a long way to help differentiate this action figure from previous comic-based ones.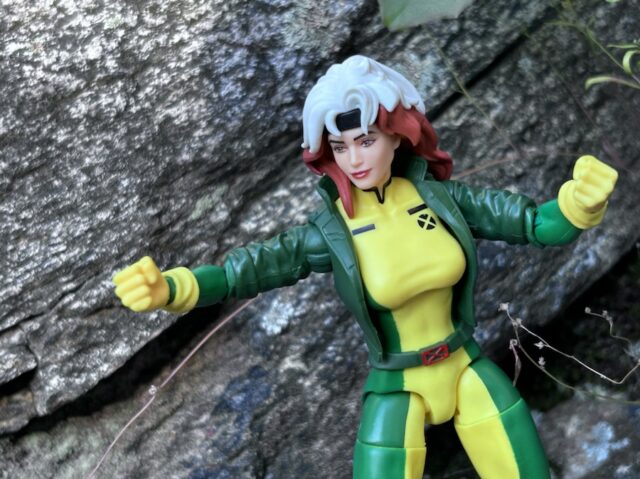 The other difference that fans will immediately spot is Rogue's new dark green jacket. While Rogue has sported this in the cartoon since 1992, the brown jacket from the comics is generally used on virtually all merch of her. The jacket threw me off a bit at first too, but I'm fine with it for X-Men '97 authenticity here and I've no doubt we'll see a more comic book inspired version of this figure from Hasbro in the next couple years.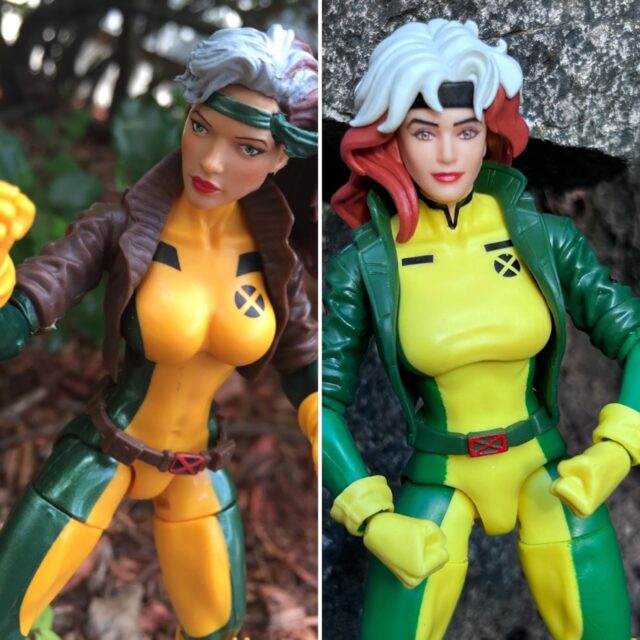 Like the Retro figure, this Rogue has brighter colors on her costume than the Juggernaut BAF wave iteration, and that's my preference by far. The belt is still not tight enough for my liking, but it's heaps better than the Juggernaut Series one was.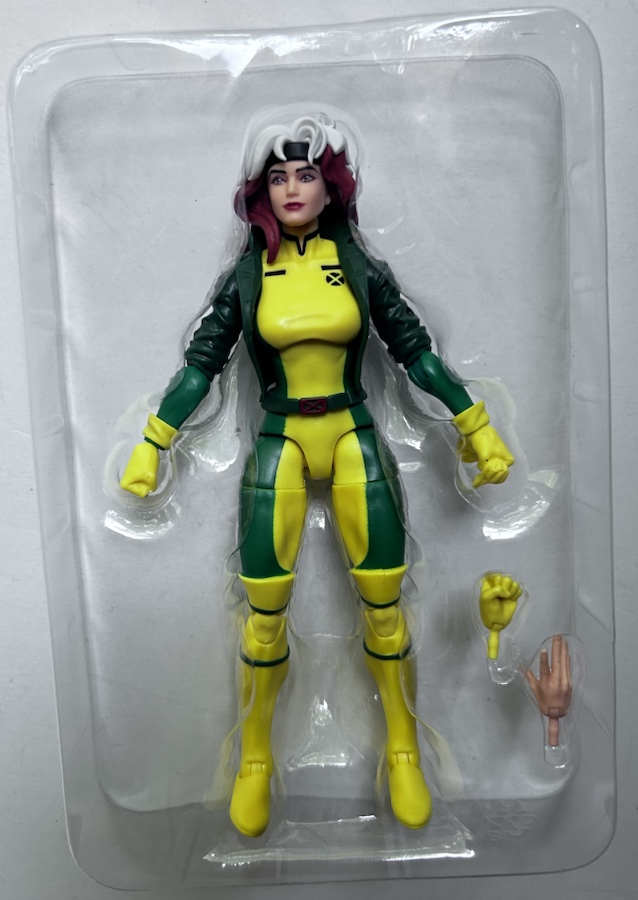 For accessories, there are only two: an ungloved right hand a left hand holding the missing glove. These are inherited from the Target Retro figure and are most welcome inclusions. Some grappling hands or a swap-out angry head would have also been nice, given the $25 MSRP on this figure. The package feels a bit empty for that price-point.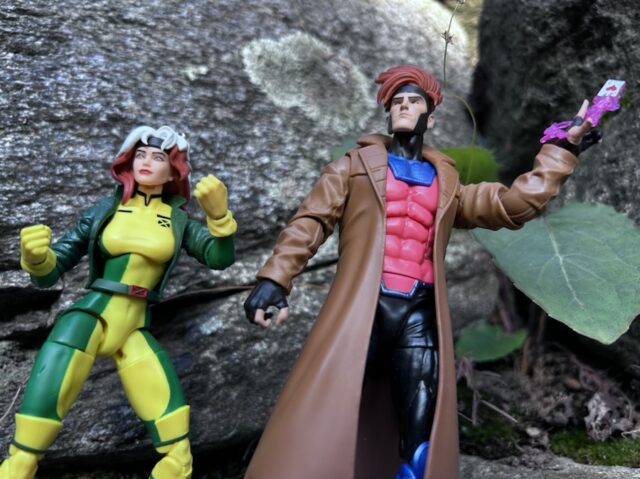 Overall: While I'm not utterly blown away by this ML Rogue figure or anything, I do think it's rather excellent. The black headband, soft face and pin-less articulation set are the big selling points here, though I know many would prefer a brown jacket and less "animated" head sculpt. Rogue's belt is also still a tad more wobbly than I'd prefer. I don't think anyone lacking a 90s Rogue in their collection will be unhappy with this one, but I do think Hasbro is inches away from modding this into a definitive comic-styled Southern Belle.