Products You May Like
Kraglin is the sort of character that—played by James Gunn's brother or not—I'd have insisted anyone who said we'd ever see on retail store shelves was lying. But 9 years later, here we are—and here Marvel Legends Kraglin is on the pegs at Target. Kraglin is also available shipping from online retailers now—is this fourth most famous Ravager worth ordering for yourself?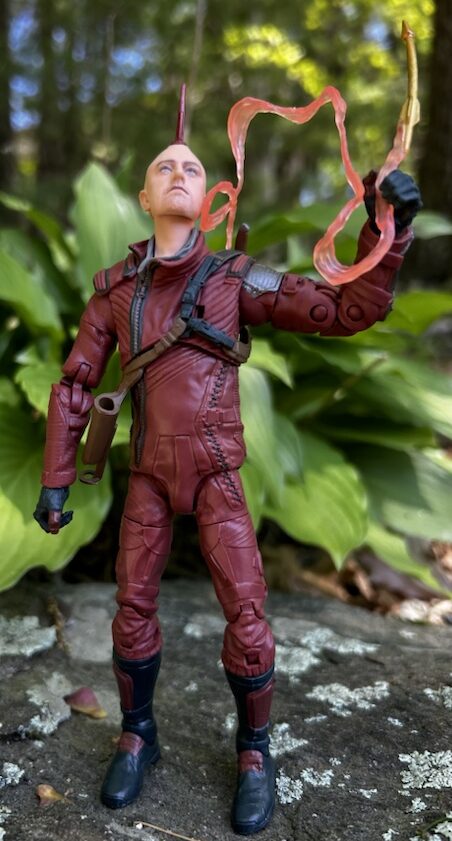 When Kraglin debuted in the 2014 Guardians of the Galaxy film as one of Yondu's most loyal subordinates, he seemed like little more than a supporting extra created to give Sean Gunn an on-screen role. I didn't give much thought to the character, and certainly never dreamed I'd be buying a mass retail Hasbro action figure of him.
Fast-forward almost a decade, and I came face-to-face with the 6" Kraglin Legends figure staring me down at Target (alongside 3 unsold Nebula and an Adam Warlock). I had some trepidations about this figure, but I couldn't reject him in person since it was a new character and I wanted his Cosmo Build-A-Figure parts.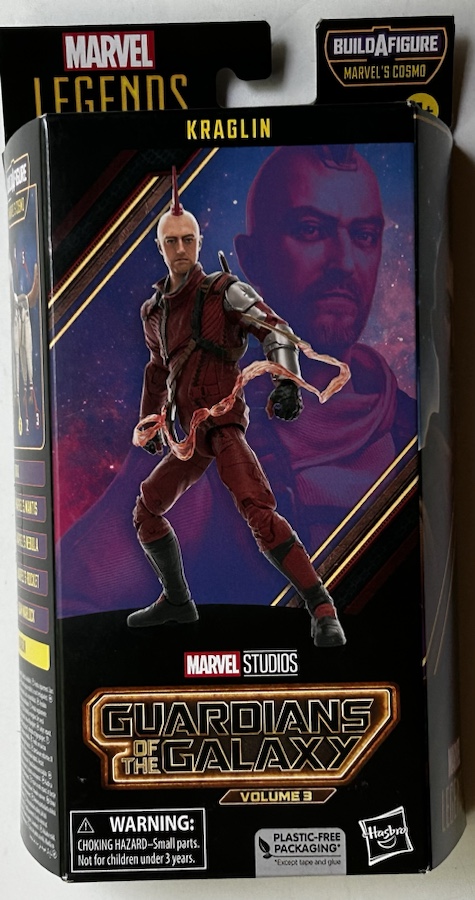 Kraglin comes in one of the soon-to-be-discontinued plastic-free boxes.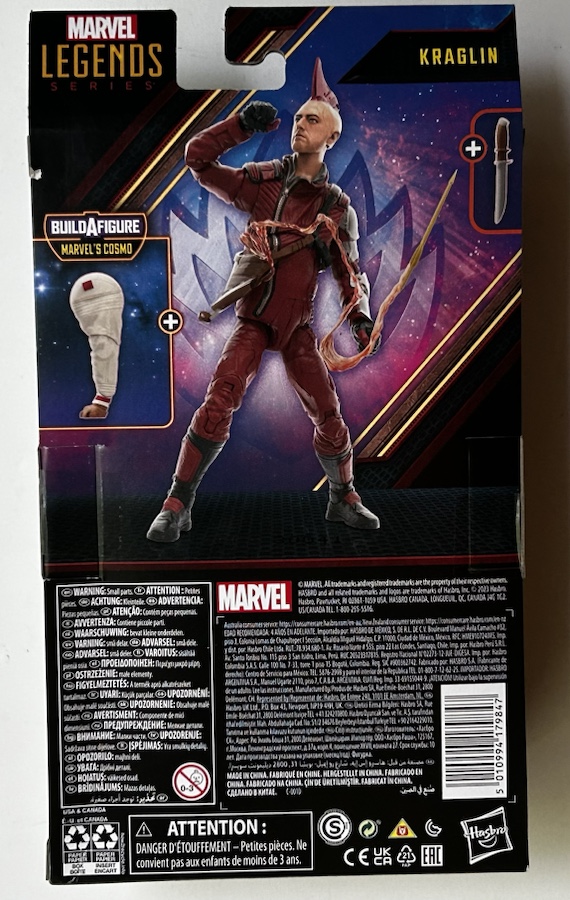 You can clearly see what's included on the back of the box, though I'll never feel comfortable not being able to check a figure's paint before buying it.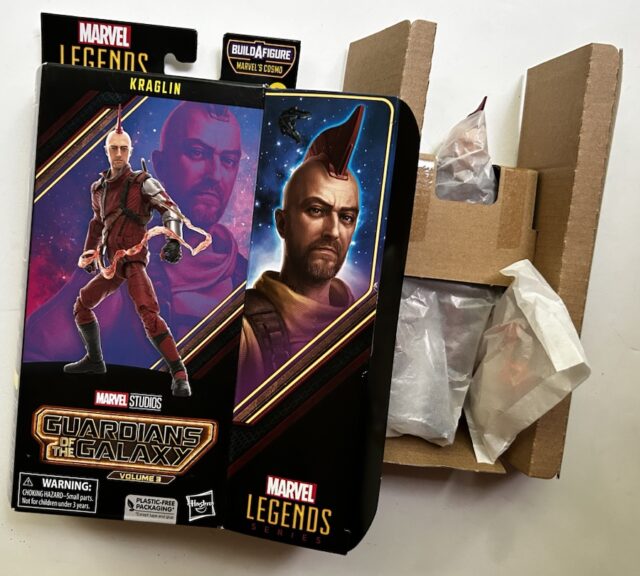 Luckily, once I actually unwrapped ML Kraglin from his paper bag (and rubbed a stray fleck of off his head), all seemed fine to me as far as paint applications go.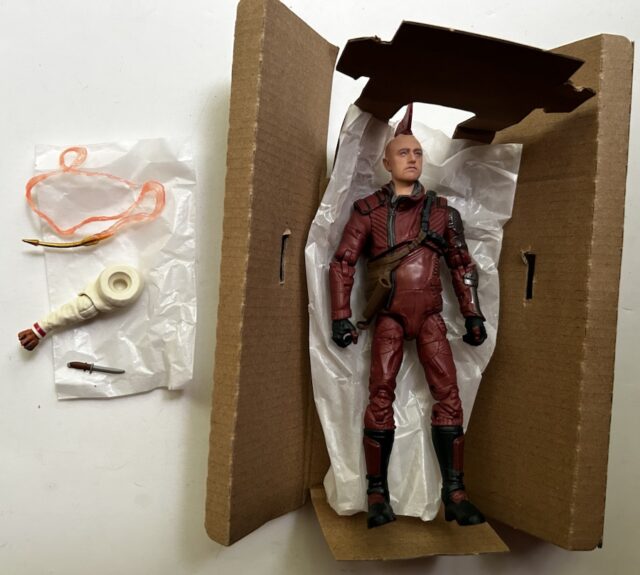 Kraglin includes 3 accessories: a knife, an arrow permanently affixed to a translucent pink energy effects piece and a Cosmo BAF leg. There's no non-flying arrow, alternate heads or even swap-out hands here, sadly.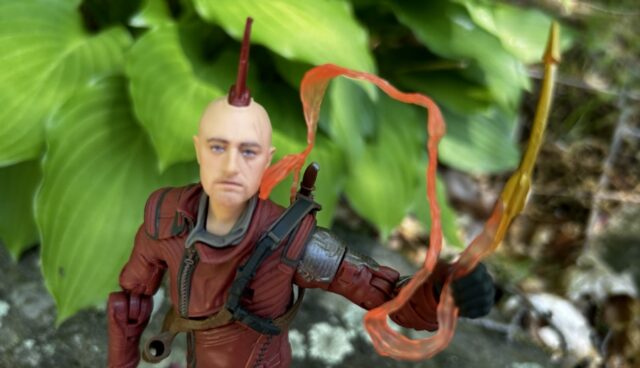 The knife holsters well on Kraglin's shoulder, but the arrow isn't nearly as successful. The gummy energy effect kind of flops around and doesn't really stay in place in the holster strap at all. The set trajectory of the arrow makes no sense, particularly paired with the non-whistling portrait.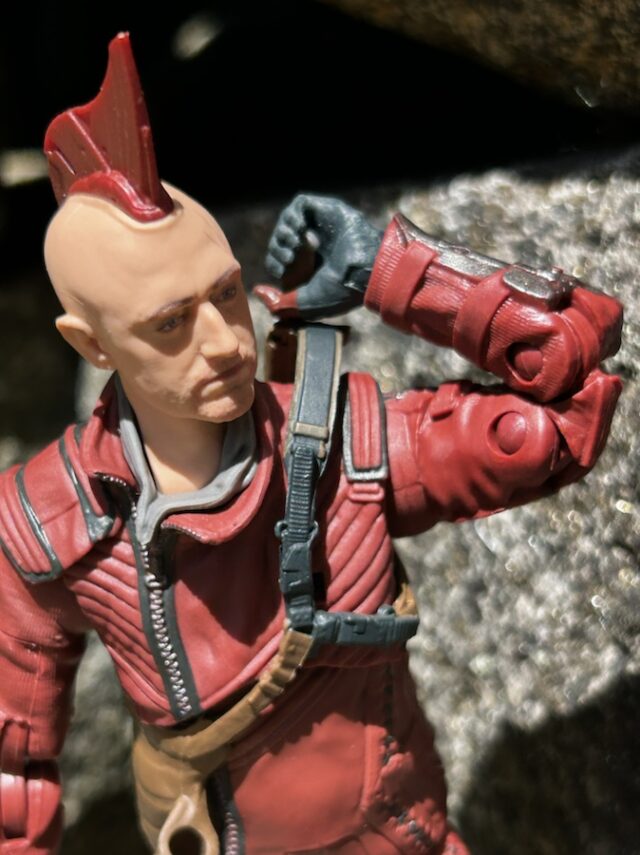 Given Kraglin's character, you'd think we'd get a whistling head—if not an open-mouthed or grinning head—with this action figure. But nope—we just get a boring frowny face that may be accurate to parts of the movies, but fails to capture the character's charm.
As usual with MCU movie figures, Hasbro has done a terrific job with the sculpting work on the costume. Details on the front and back of the figure include lots of little straps, textures and lining. The Ravagers uniform looks really nice, and it feels good to see a Ravagers outfit represented in this series again.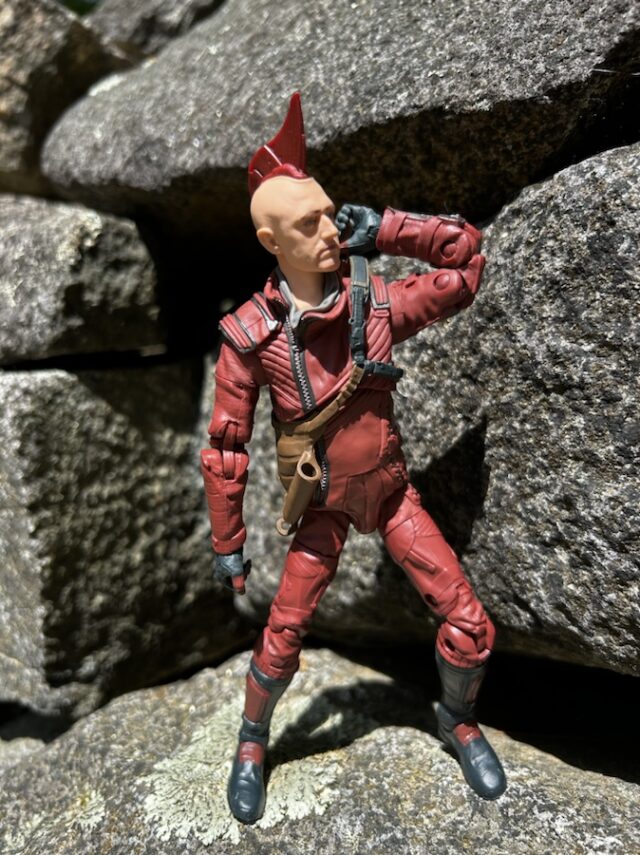 The articulation is a mite below average by current Hasbro standards, including:
—Ball Head, Upper torso and Hips
—Double Hinge Pinned Knees and Elbows
—Swicel Biceps and Thighs
—Swivel-Hinge Wrists
—Hinged Feet with rockers
The pinned knees and elbows are a disappointment in an increasingly pin-free world, and while I understand that the uniform would complicate butterfly swivel shoulders, the lack of even a swivel waist or boots is a huge bummer.
With the articulation scheme and accessories for Kraglin being what they are, it was extremely difficult to think of interesting poses he was capable of at all for the review photos.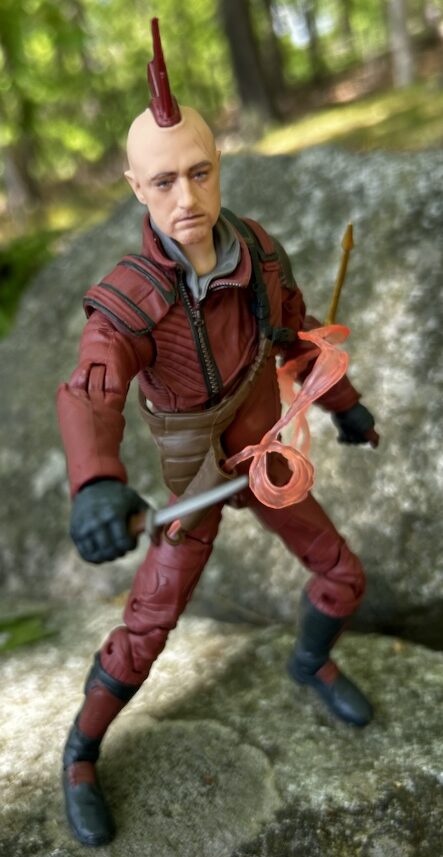 Overall: I was on the verge of rating this figure even lower, but c'mon—it's almost certainly the only 6" Kraglin that will ever be made. Unfortunately, the lack of interchangeable heads, wonky arrow effect and obsolete pinned joints all bring this unlikely figure down, and it's hard to get past those shortcomings. I think the sculpting work and detailing on the costume are fairly strong, but the fun factor (besides the thrill of owning a Sean Gunn action figure) is severely lacking. Other than having him stand next to the team in a rather static pose (perhaps a worthy justification in and of itself), there's just not much Marvel Legends Kraglin can do. A weaker effort from Hasbro than we're accustomed to.