Products You May Like
Hasbro is taking the slow approach to building the classic Guardians of the Galaxy team in Marvel Legends 6" figure form. Six years after Vance Astro made the scene in the 2017 Titus Series, he's finally getting some backup this year in the form of a Target Exclusive Yondu figure! Is the long-awaited classic archer worth adding to your ranks? Here's my review of the newly released Yondu…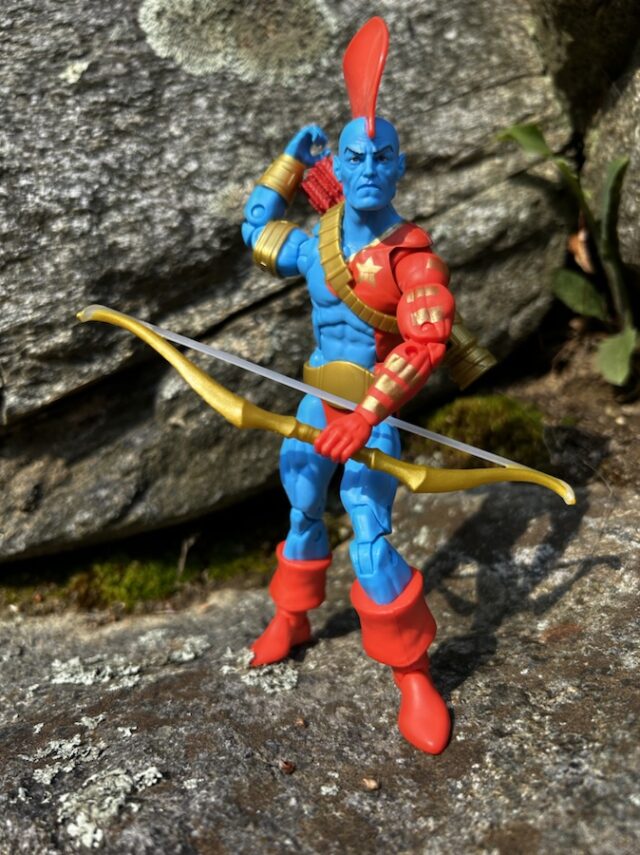 I'm far, far from holding my breath that Hasbro will ever fill out the classic Guardians of the Galaxy team with relatively unknown characters such as Martinex, Starhawk or Charlie-27; but regardless of the fact that this team will likely never be completed, I was still surprised and delighted to hear a comic book version Yondu Legends figure would be coming exclusively to Target this year.
I got my pre-order in right away when he went up for pre-ordering in January, and now Yondu is happily in my living room. How is he? As a whole, I think the classic Yondu Marvel Legends figure is pretty average, with clear positive and negative aspects.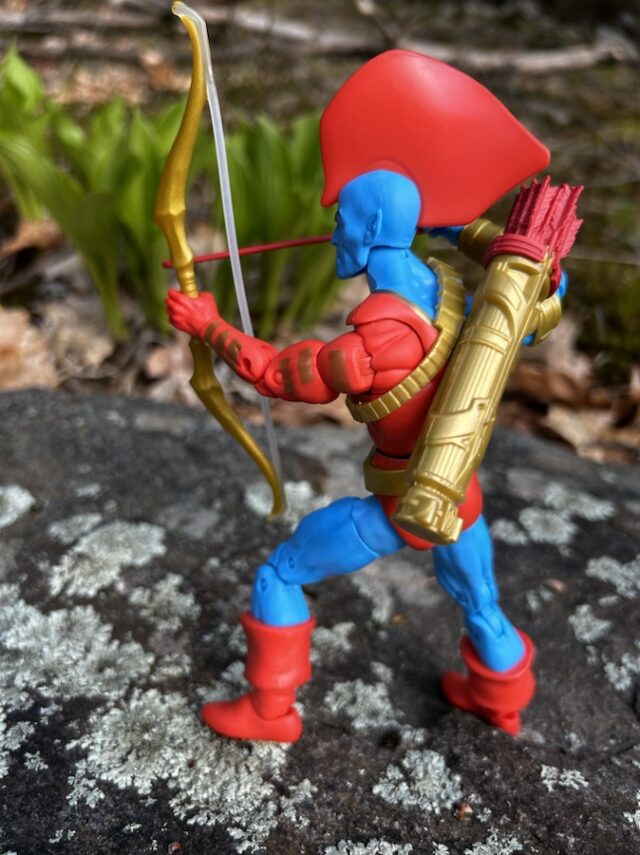 The biggest positive here is obviously getting a comic book version character many never thought would be made (albeit as a store exclusive intended to capitalize on the new GOTG Vol. 3 movie release). I didn't realize how cool it would be to have a 6" Yondu comics figure in my hand until I actually did.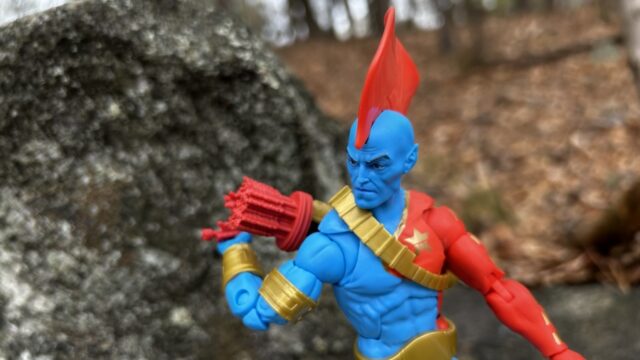 The portrait Hasbro gave Yondu comes across as determined and serious (with a hint of anger/grumpiness), superior to the oft-used vacant stare expressions given to many a character over the years.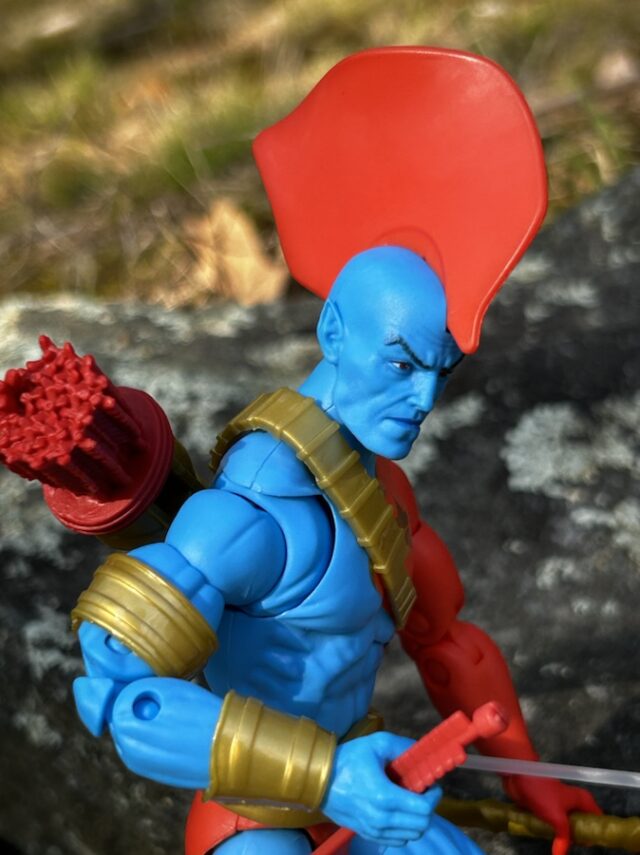 Marvel Legends Yondu's mohawk comes as a separate piece that firmly slots into place atop the character's empty "bald" head. The mohawk is a new piece that fits well and looks great, feeling right and natural atop this figure's head.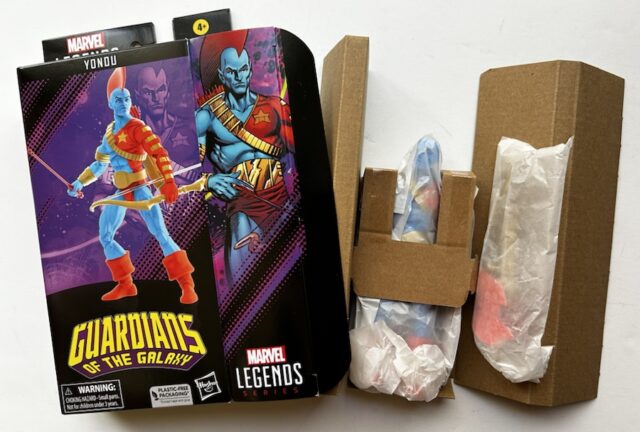 In addition to the mohawk, Target Yondu includes three more (less unique) accessories: a gold bow, a red arrow and a quiver of arrows to peg into his back.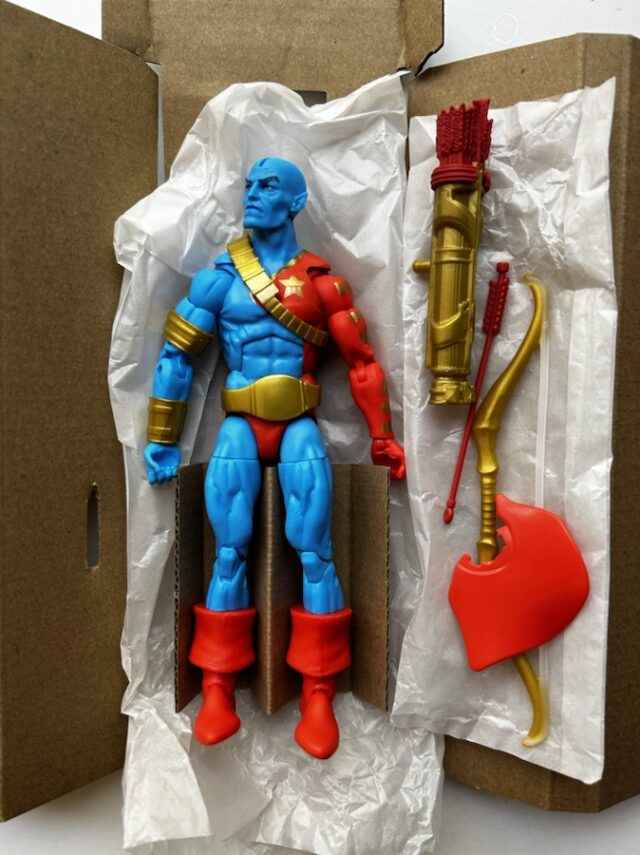 All three accessories are worthwhile inclusions, although the arrow really should have been gold instead of red. Even so, a miscolored arrow is still better than not getting one at all, like poor Disney+ Hawkeye from the Infinity Ultron series.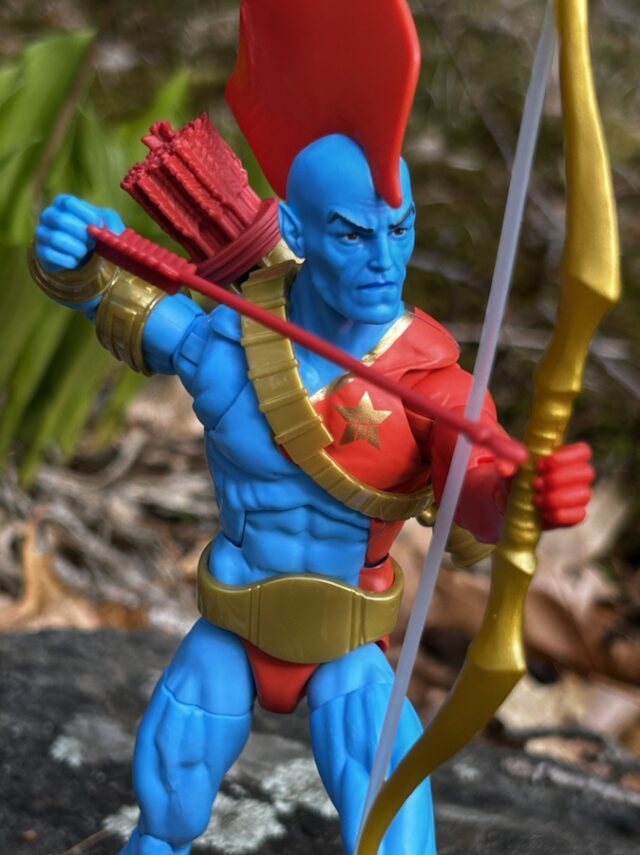 My personal favorite look for Yondu, which I consider iconic, is the 90s iteration with loincloth and vest with big poofy shoulders. That's not the version Hasbro is capturing here, but I'll make peace with that and enjoy this one as much as I can nonetheless. I do like the "championship belt" from this classic Yondu design, which comes firmly in place on the action figure and doesn't flop around the slightest bit (one of my biggest pet peeves).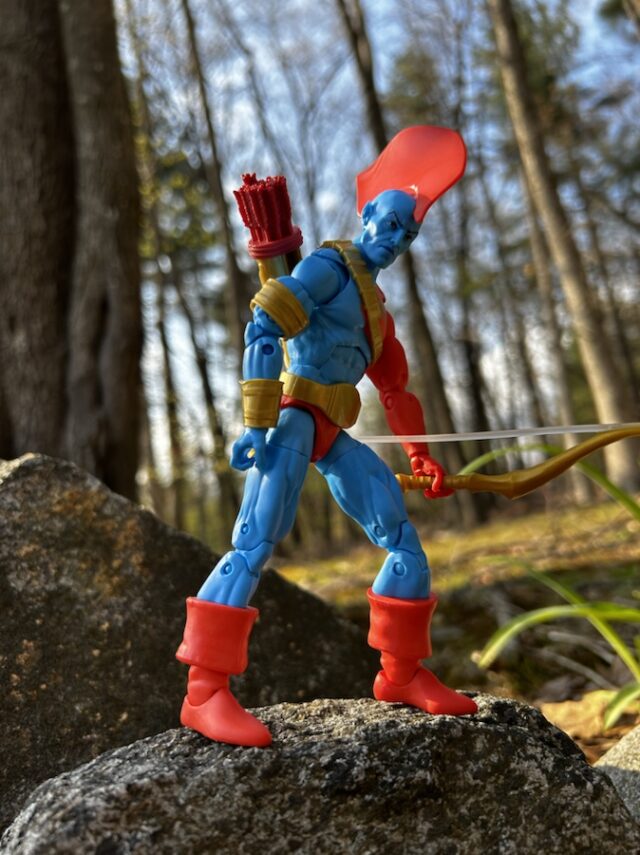 The biggest shortcoming of this toy, by a wide margin, is the now anachronistic articulation scheme with hugely obvious pins in the knees and elbows. While some figures wearing dark clothes can get away with this without it being obnoxiously apparent, it's glaringly obvious on the neon blue arms and legs of ML Yondu. Sorry, but these pins just look painfully bad.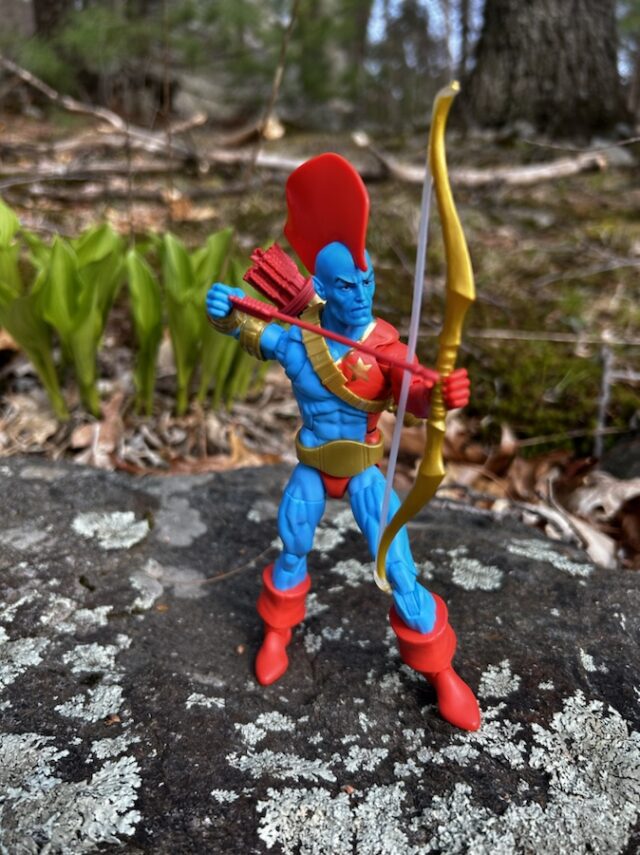 The articulation itself is more or less fantastic, and includes:
—Ball-Hinge Neck
—Ball-Hinge Shoulders with Butterfly Swivels
—Swivel Waist, Biceps, Thighs and Boots
—Ball Hips
—Swivel-Hinged Wrists
—Upper Torso Ab Crunch
—Double-Hinged Knees and Elbows (with visible pins)
—Hinged Feet with Ankle Rockers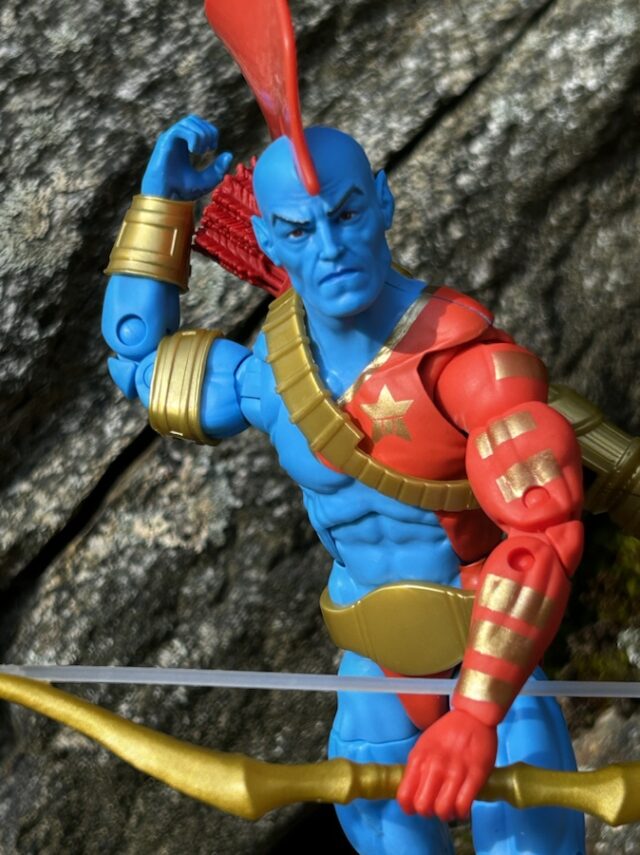 The range of motion is very strong all-around, although it's still quite difficult to achieve an "arrow firing" pose (I'm not sure that I ever did). Some of the blue plastic also feels rather gummy, making it tougher than I expected to balance Yondu stably at all with his small feet.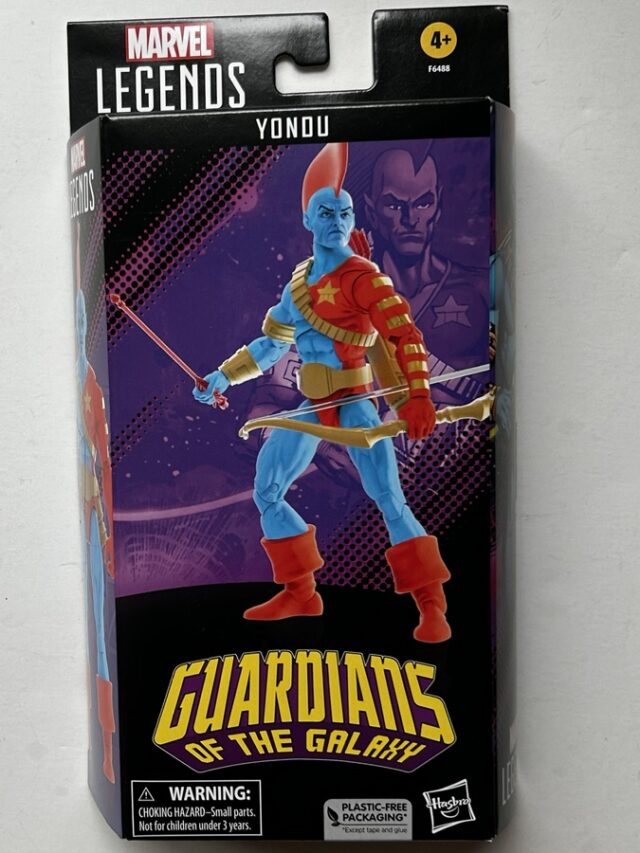 The packaging is the soon-to-be-discontinued plastic-free cardboard box, which I doubt many collectors will be sad to see go. I'm all about saving the planet, but I think Hasbro can devise better looking packaging that's still sustainable.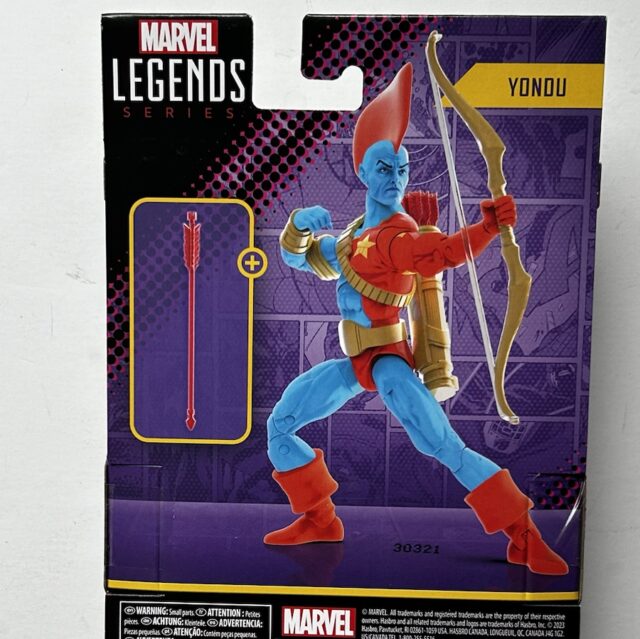 Overall: Classic Yondu is such a hard figure to grade, because he's decent all-around, but just not up to modern level detailing and action figure aesthetics. The pinned elbows and knees are especially ugly on a figure with fully exposed, bright blue skin. Yondu's bow and arrow are "fine", but the arrow would have looked better in gold and it can be very difficult to achieve "shooting" poses. I also would have preferred a different classic look with pointed shoulder pads and loincloth. The red Mohawk is awesome and the serious facial expression works. Not a perfect figure, but I'm glad to have a Marvel Legends Classic Yondu for my collection.