Products You May Like
Sometimes you're lucky and every figure that comes with a piece of a Marvel Legends Build-A-Figure you want is a character you'd be buying a $25 toy of anyway. And sometimes… sometimes you're forced to buy Agent Jimmy Woo. Such is the fate of collectors wanting to complete their Marvel Legends Khonshu BAF! Is it worth ordering the newly-released Disney+ Marvel Legends Jimmy Woo figure to do so…?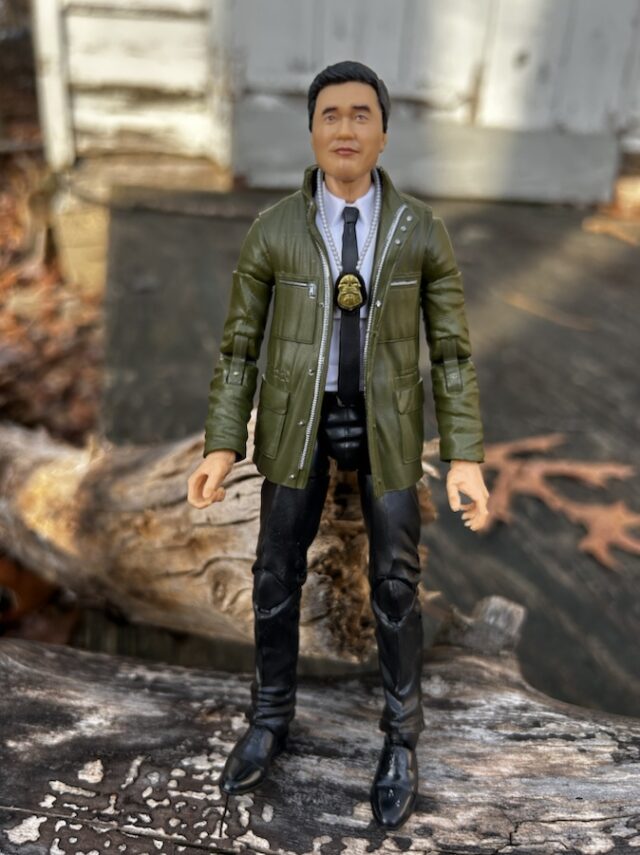 It's hard to believe that in a world where we haven't gotten WandaVision figures of Agatha All Along or even Monica Rambeau, we're now getting a mass release action figure of Randall Park's Jimmy Woo.
But! Hasbro has to keep each series of figures within budget, and an easy figure is an easy figure! Jimmy Woo was likely cheap to tool a few new parts for, and thus, here we are.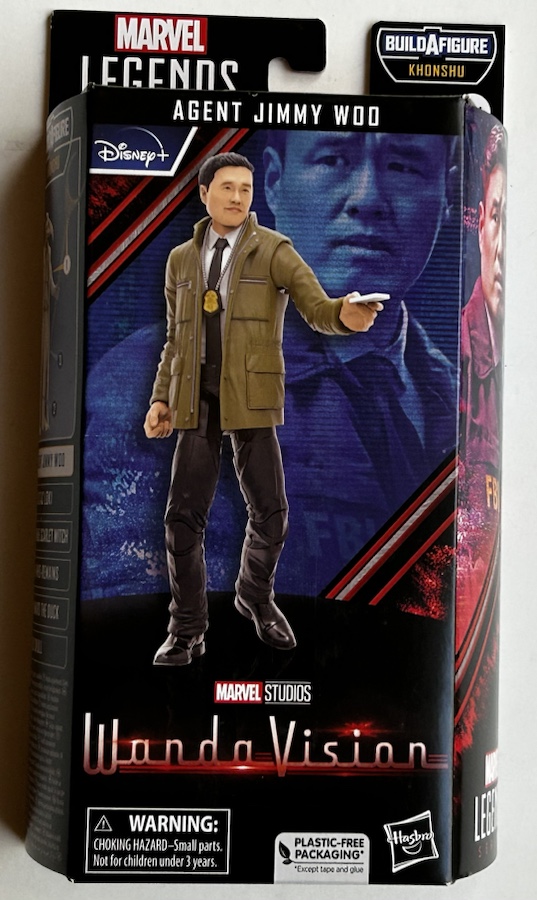 Agent Jimmy Woo is part of the inaugural wave of Marvel Legends Build-A-Figure series figures in plastic-free packaging, a switch that has been vocally maligned by collectors.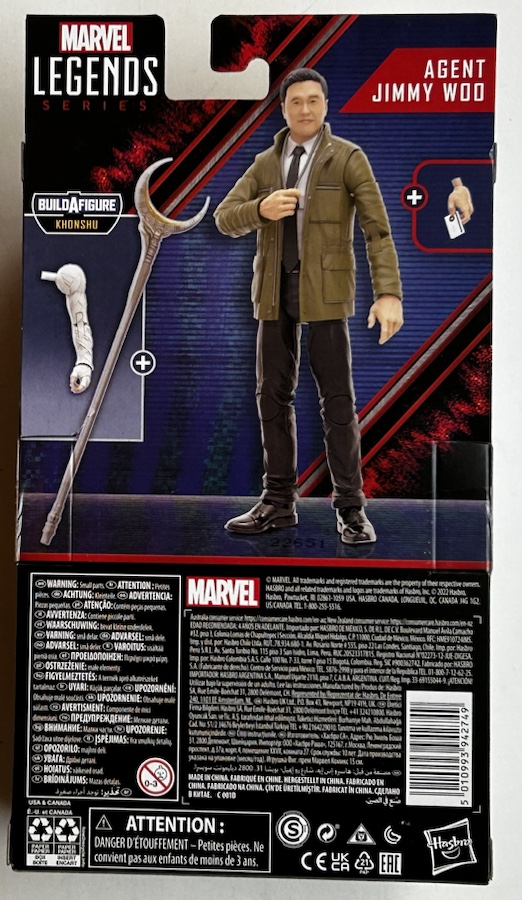 The box back gives no biography or description anymore, so casual fans may need to Google when they see this guy on store shelves for a reminder of just who he is. I do like the new packaging backs clearly listing everything in the box, though!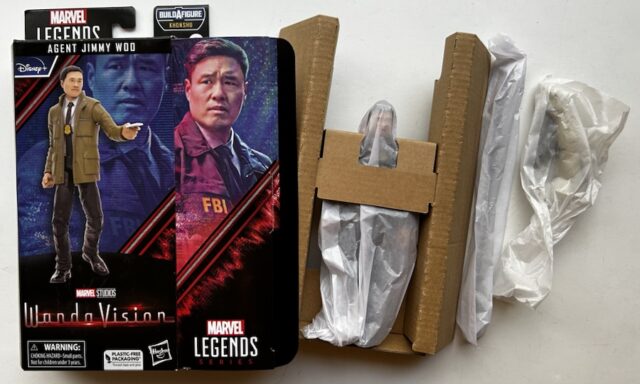 Woo and his accessories come in crunchy white paper bags, reminiscent of the crouton baggies from take-out restaurants. I don't see any wear or damage whatsoever from being packed in this manner, although it is admittedly not the most attractive method.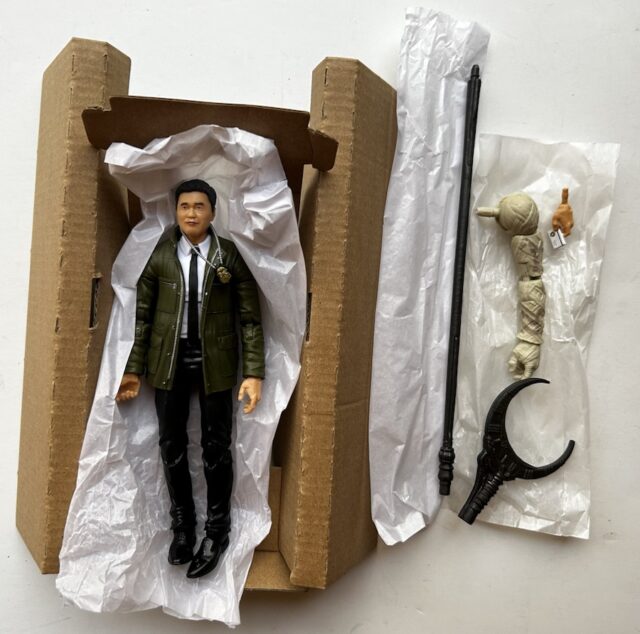 Agent Jimmy Woo comes with just a sole accessory of his own—an alternate hand holding an ID card permanently, but also a whopping 3 chunks of the ML Khonshu Build-A-Figure (Khonshu's left arm and two-part crescent moon-topped staff). I'll talk about the BAF Khonshu parts when I review him, but these are all crucial pieces—meaning, you absolutely can't skip Jimmy Woo.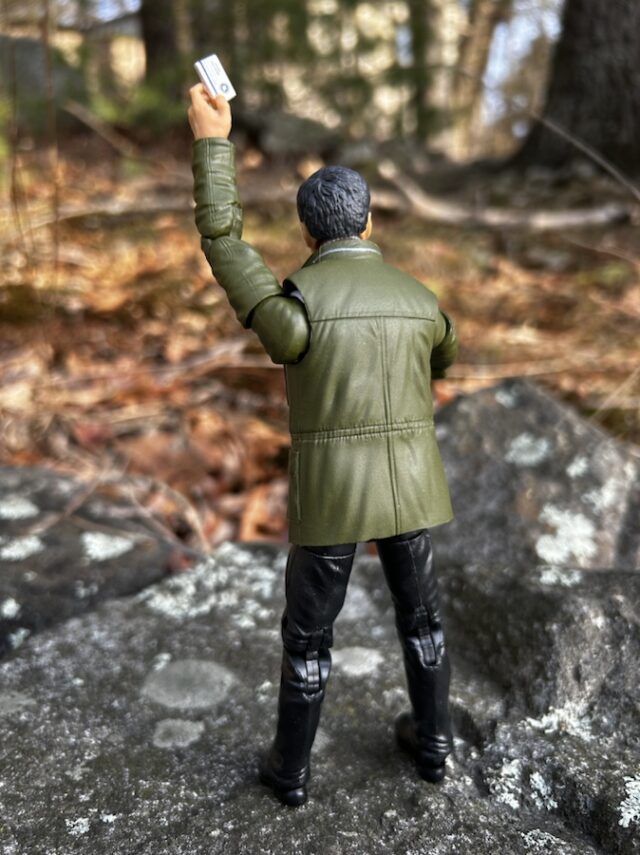 The interchangeable card-holding hand pops in and out easily and holds tightly, so I've got no complaints about it. Magic tricks with cards are kind of Woo's thing, after all.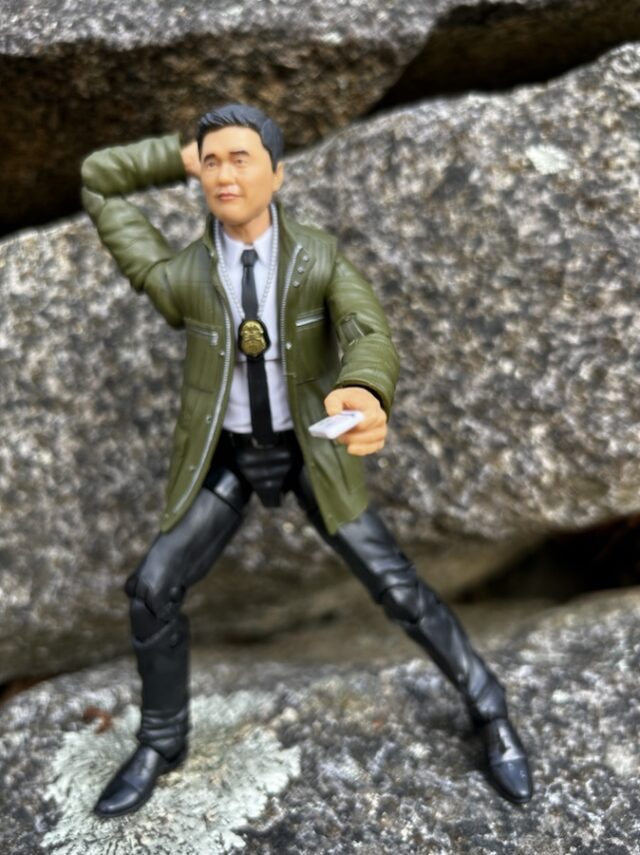 That said, this has to be one of the most boring "agent" action figures ever made. Jimmy Woo gets zippo weapons of any kind, and doesn't even include interchangeable fists in case he needs to throw a punch for whatever reason. He can tug on his badge, show his ID card… and that's really it. Not exactly fun, inspiring stuff.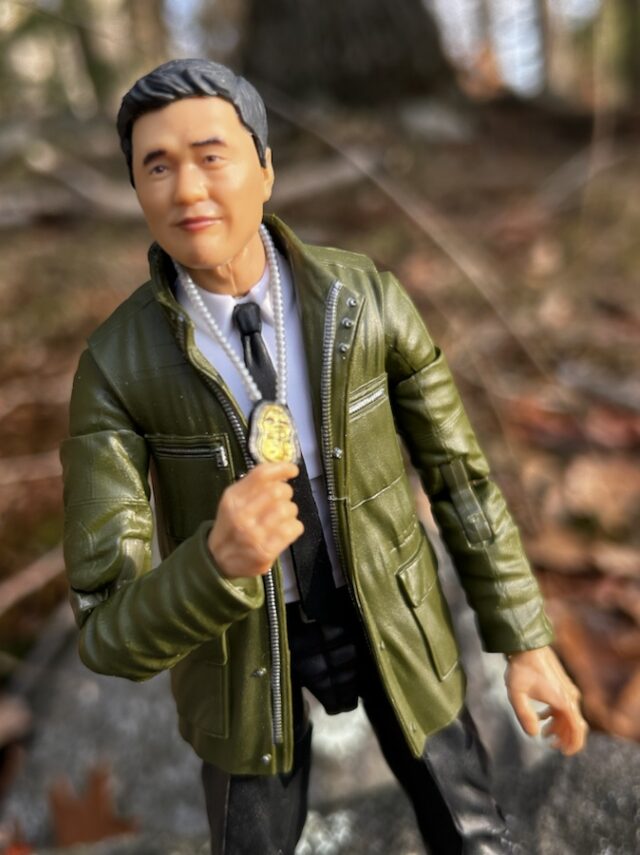 The Randall Park likeness is decent enough, although obviously light-years inferior to the caliber of Hot Toys' portraits. The underlying sculpt here is honestly better than you'd think because of the paint being minimal.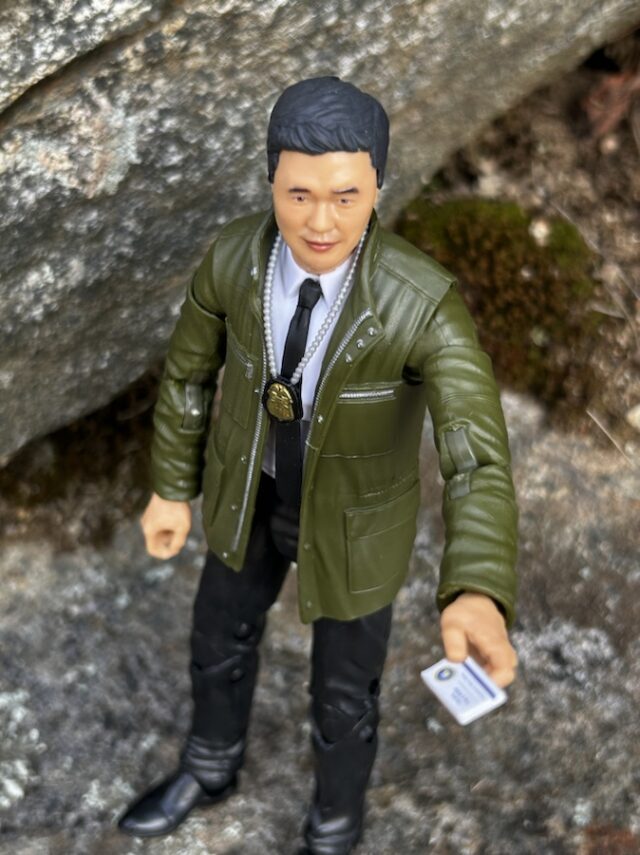 On the articulation front, this 6" figure is exactly what you'd expect. The same old pinned dress pants knees, upper body articulation somewhat inhibited by his jacket, etc.
The full scheme includes:
—Ball-Hinge Neck and Shoulders
—Pin-less Double-Hinge Elbows
—Pinned Double-Hinge Knees
—Swivel-Hinge Wrists
—Ball Hips and Upper Torso
—Swivel Waist, Biceps and Thighs
—Hinged Shoes with Rockers
It would have been nice to get pin-less knees here, but at least the pins don't stand out much since they're black on black.
Woo's jacket and badge have painted details on them, and are the most eye-catching aspects of the action figure. I particularly like the silver-painted zipper and buttons.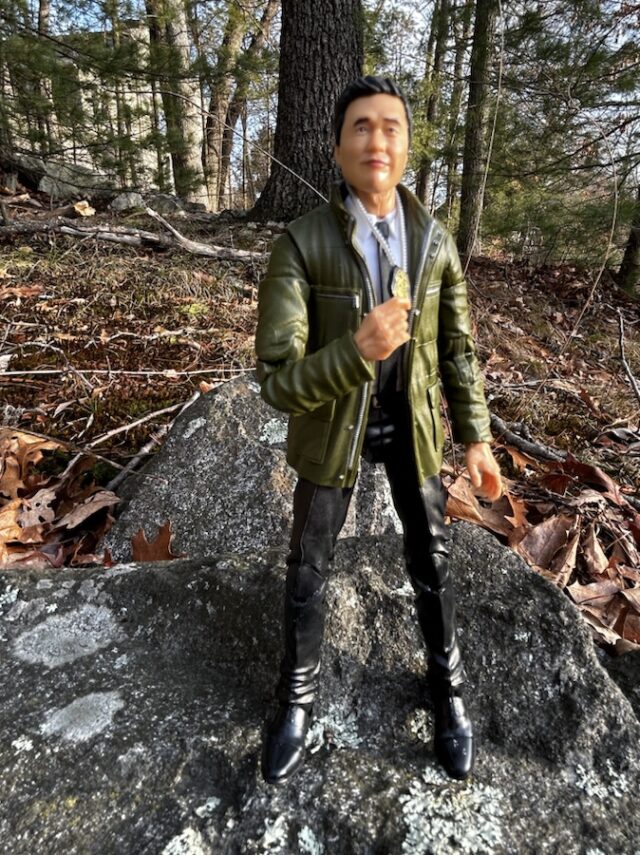 Overall: even if I was just itching for an Agent Jimmy Woo action figure (I was not), this one is merely average. There's just not much you can do for fun with a non-powered civilian character with no weapons—particularly one in dress pants and a shirt/tie. The likeness here is decent, although the paint lets the head sculpt down somewhat. I like the alternate card-holding hand enough, but when the most compelling thing a figure can do is grip it's badge and hold a card, things are rather dull. The outdated pinned knees don't help matters. This toy just reeks of being a filler figure made because it wouldn't require much new tooling. Maybe I'll be glad to have this Jimmy Woo after his future appearances, but at present I solely wanted him for his Khonshu parts.