Products You May Like
Yesterday I talked about an immense, hugely priced Marvel statue coming next year–the Iron Studios Sentinel. But today I'm posting my review of another monster of size, price and presence who's finally arrived at my place! Despite the expense, the Sideshow Juggernaut Exclusive statue is already long sold out, and the regular edition 1:4 Juggernaut maquette is likely to sell out quickly as well! Now that I've got him in-hand for a review and photos, was this behemoth worth the insane 1400+ smackers I paid for him…?
Alright, so first thing's first. I do not usually do videos–because I suck at them–but I was so mystified by the overwhelming size of the two (yes, two) gigantic boxes that arrived at my house containing the Juggernaut EX that I decided to do my very first Marvel statue video review and unboxing.
If you think you can handle sitting through 23 minutes of my PG-13 ramblings as I awkwardly wrestle with putting together a 40 pound statue, then it just may be for you. For anyone else, keep on reading for my written thoughts and hi-res photos.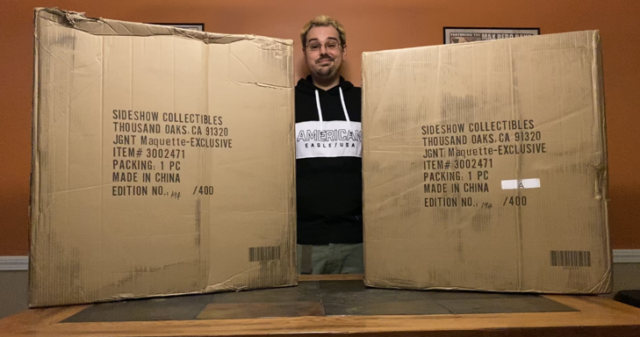 The Juggernaut maquette arrives in two "holy sh*t"-sized gargantuan boxes that are easily bigger than most of the other X-Men Premium Format Figure boxes shipped so far, so if you're short on space (like me!), bear in mind that this piece is going to eat a ton of real estate both on your shelves and also in storage.
I had actually forgotten somehow that this was going to ship in two boxes, so it was a real rude awakening for me when the UPS guy came back with a second freakin' huge mega-box after I signed for the first one.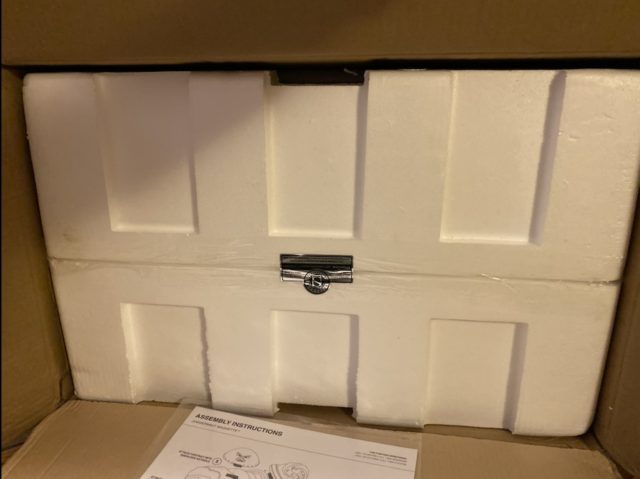 There's no art box included in either of the Juggernaut's brown shippers, but that is honestly A-OK with me. Those two boxes are effing huge to begin with, and I for one am content to not have them necessitated to get even bigger in order to add an extra graphic box inside. Art box collectors beware.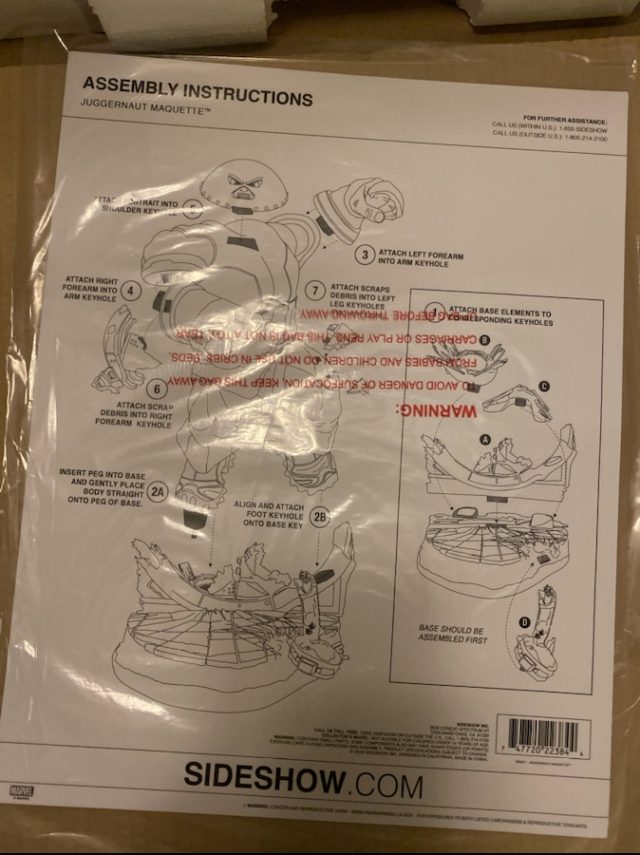 The main box with the Juggernaut figure itself inside does come with a poster/instruction manual page, which is a godsend because I might never have figured out how to assemble this giant piece without it. (And if you watched my unboxing video, you've probably already seen how I struggled even with the instructions).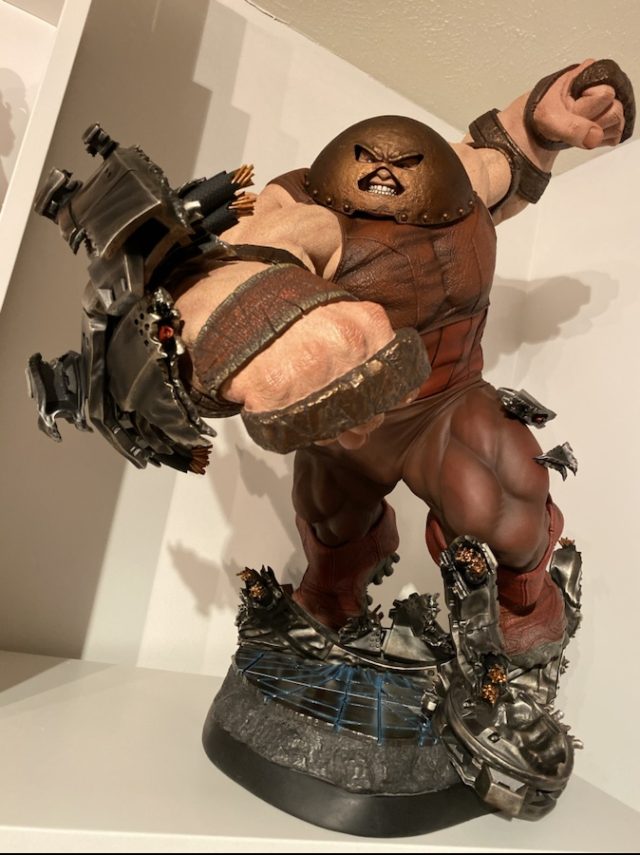 If you own the Sideshow Rogue maquette that shipped earlier this year, you know what to expect from the Danger Room portion of the base. It's got a gorgeous glossy black and blue paint job with lining on it that looks sleek without distracting from the figure itself.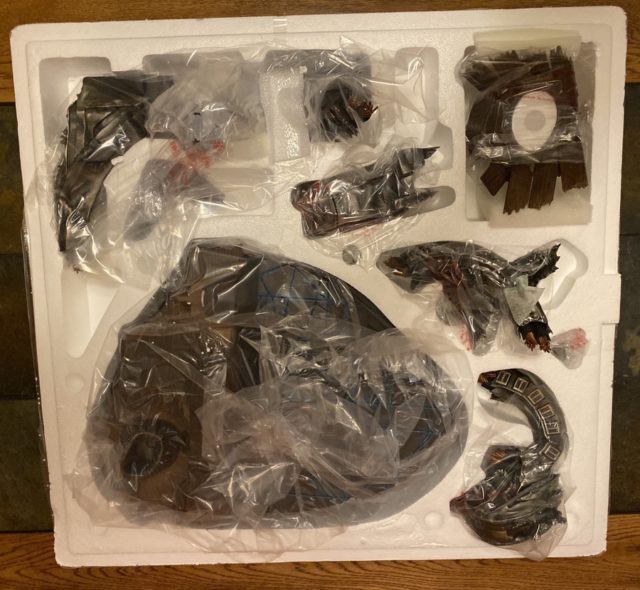 In addition, there's a wooden floor portion of the base that's about as pretty as wood being stomped into pieces can be. The base is a lovely complement to the statue itself that adds to the story of the piece, which is all I ever really want in a base.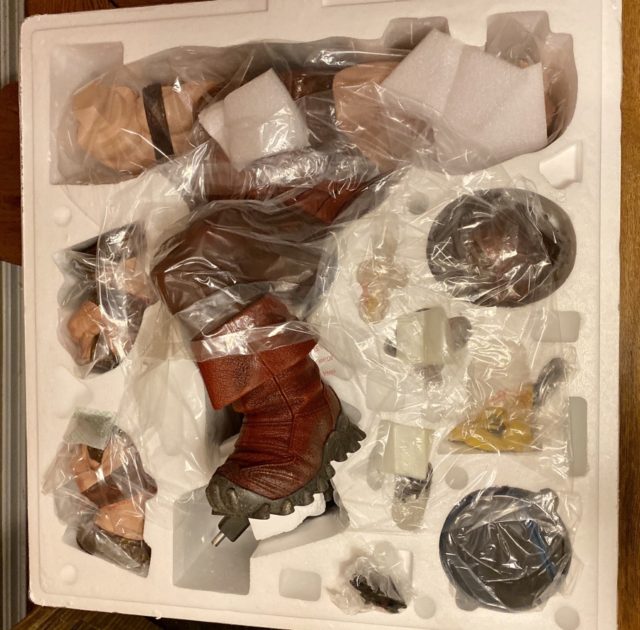 The main part of the statue–which is basically a 1:4 Juggernaut Premium Format Figure even if it is labeled as a "maquette"–made my eyes just about bug out of my head (and expletives cross my lips) when I opened up the styrofoam and saw the sheer size and bulk of Cain Marko.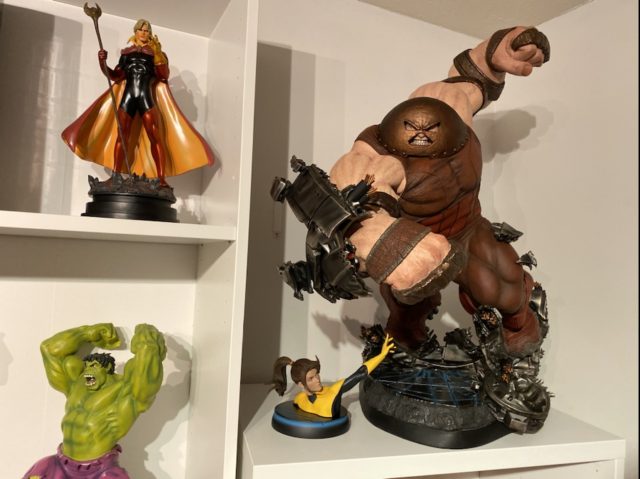 I had seen ample photos of this statue online and seen people posting photos comparing Juggs' fists to their own, but there is nothing like seeing this in person to understand the scope of this epic beast of a statue.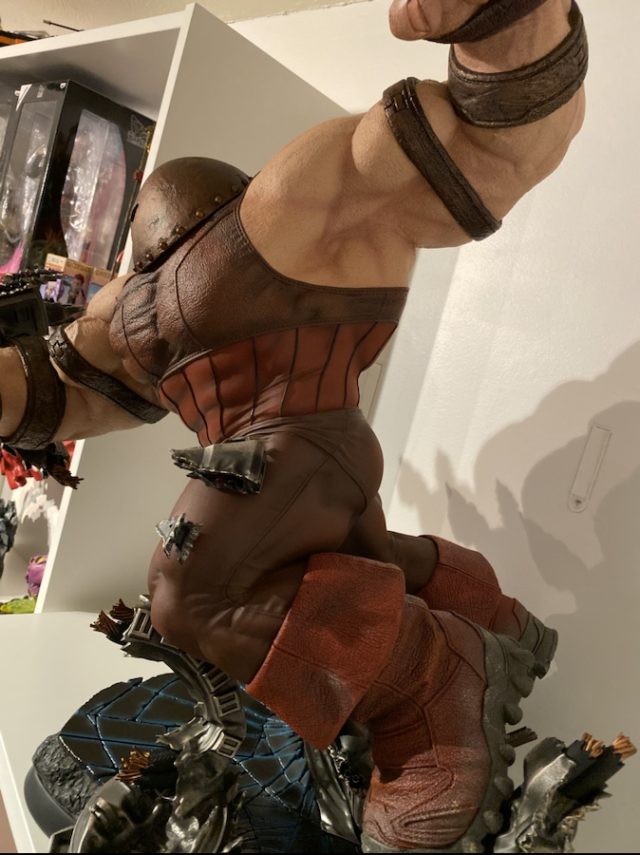 I've got Juggs on top of an IKEA Besta right now because I don't think there's anywhere else I could display the mammoth piece where it'd actually fit.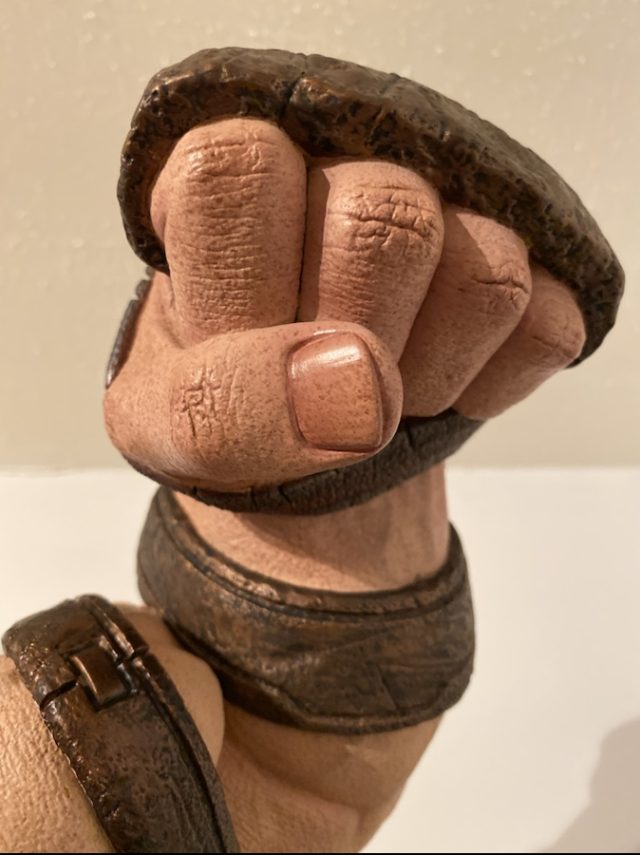 Most photos people have taken are zoomed out somewhat to show more of the body because the Juggernaut Sideshow statue is so large, but when you're actually close to it there are an incredible number of details you won't have noticed before from a distance.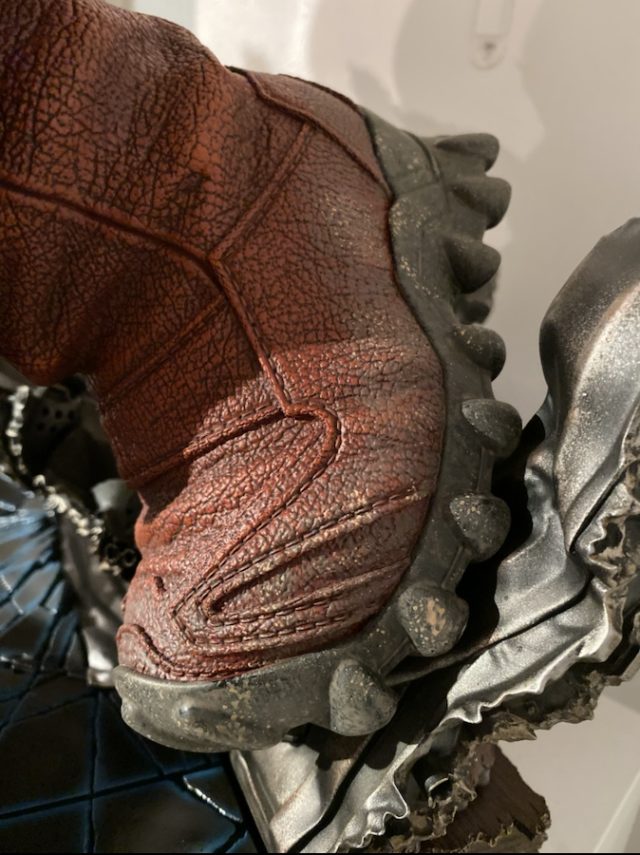 The textures and paint deco on the armor and skin are excellent, and there's likely more detail present on Juggs than any X-Men statue Sideshow Collectibles has ever produced before.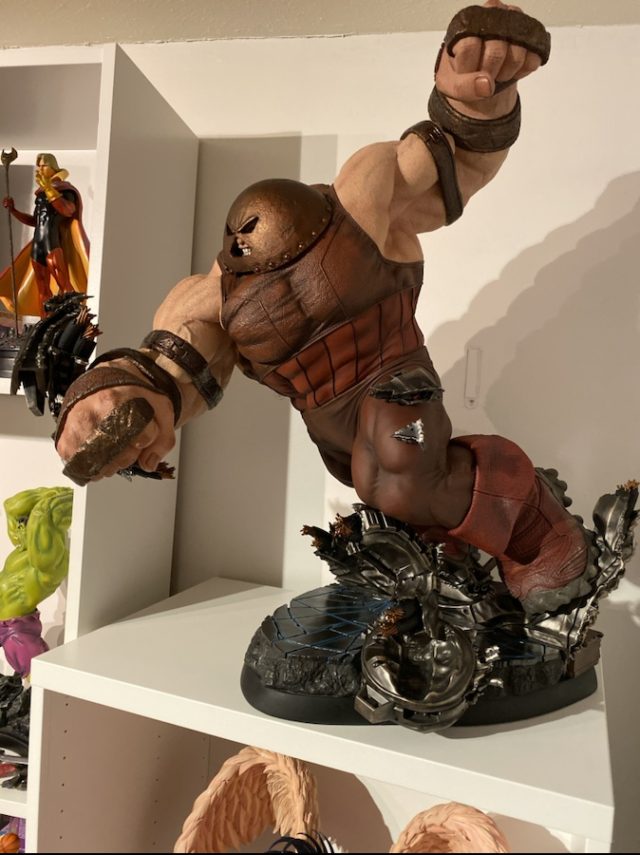 I wasn't at all sure how I was going to feel about the debris that gets affixed to the statue (which is non-optional and inserts into Juggs' body), but in person I really dig it.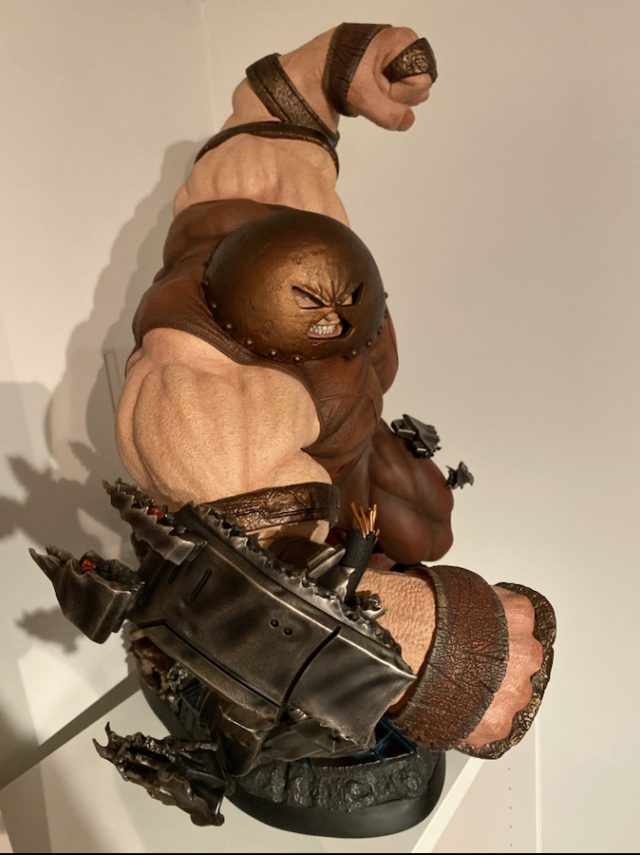 I might still prefer it be optional so collectors could decide for themselves, but the debris being smashed out of the way by a charging Cain Marko definitely enhances the action-oriented feel of this statue.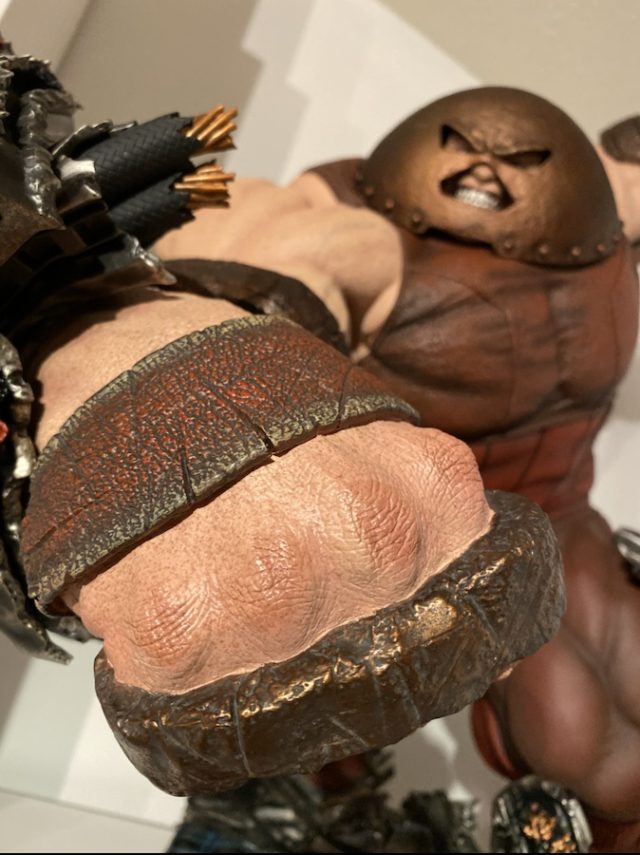 In the past I can remember some folks complaining about certain Sideshow statues being hollow or having too much PVC or feeling too light. Well, that sure as hell ain't going to be an issue here.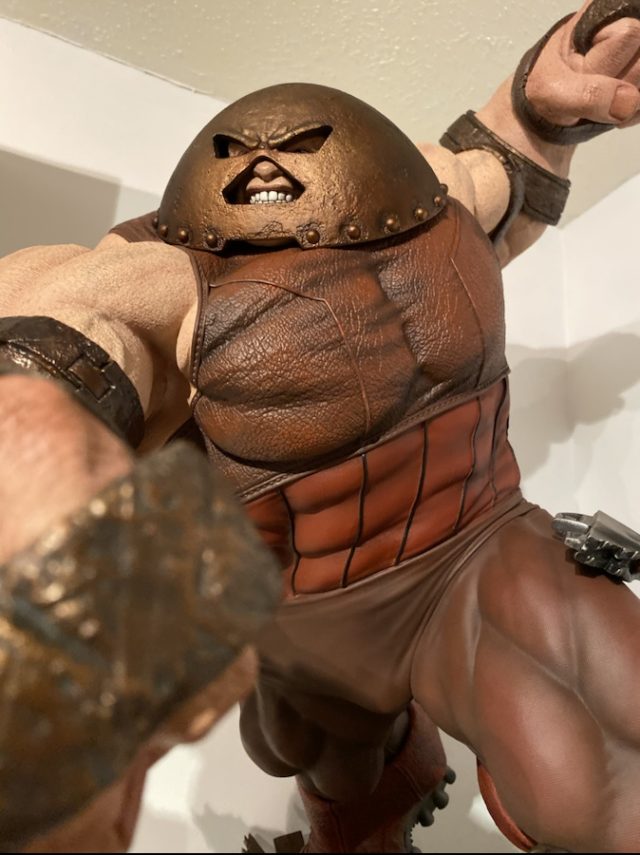 I might as well have skipped going to the gym yesterday, because hoisting up this 40 pound barbell of a figure just about ripped my arms out of their sockets.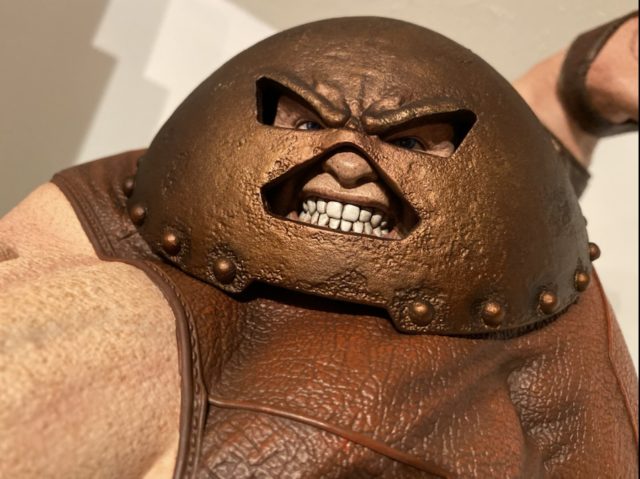 Seriously–this maquette is so heavy that it almost overpowered my wrists and came dangerously close to ending up falling out of my hands and exploding on the floor. If this fell on a person, they'd be dead. This is one heavy SOB.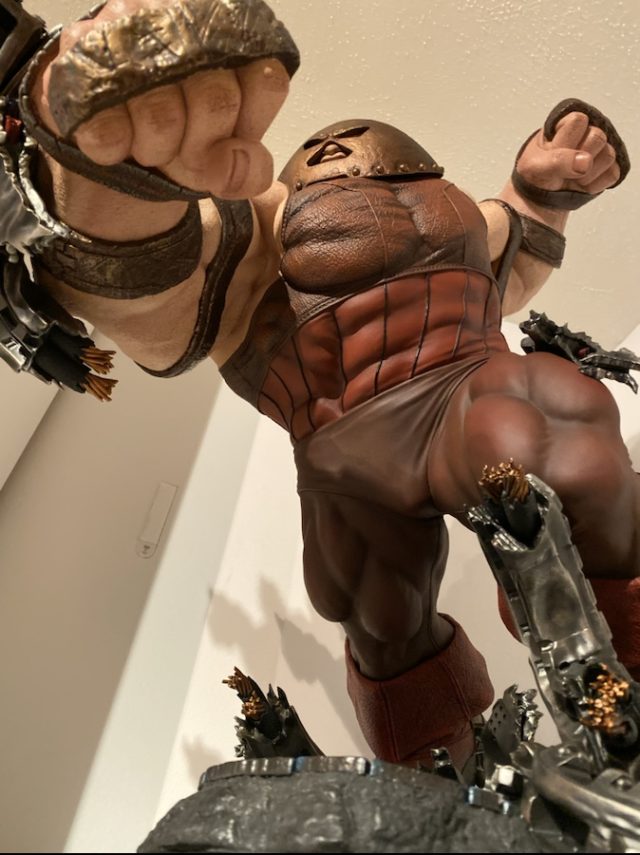 Quality-wise, I've got zero complaints about this Juggernaut 1/4. Every piece attaches snugly, the magnets are all nice and strong, and the paint deco is all spot-on. For the price I paid for this, the quality ought to be perfect–and thankfully, it is. Good work, Sideshow.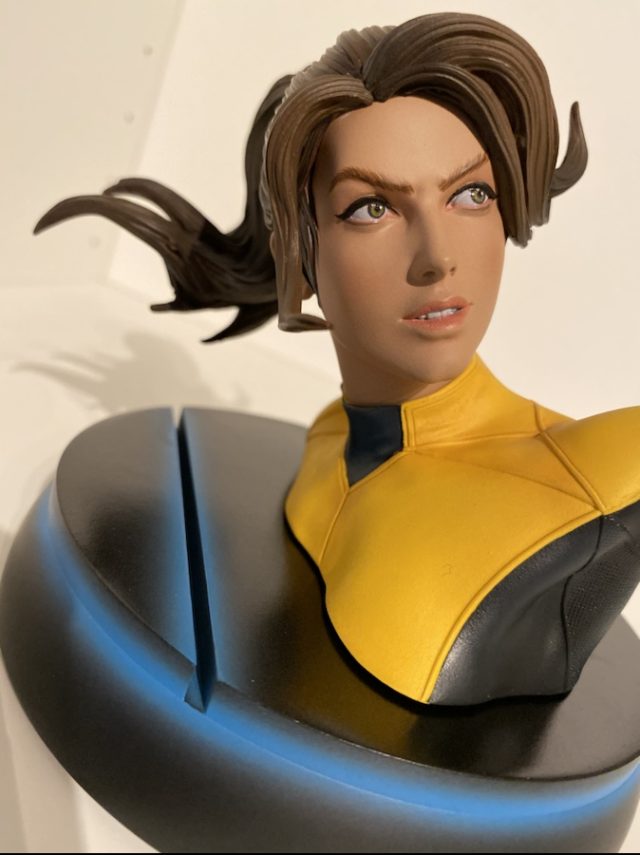 Of course, I'd be remiss if I didn't talk about the Exclusive accessory that made me jump on ordering this $1350 statue like a wild man as soon as it hit "Almost Sold Out" status during SDCC: the first (and most likely only) Sideshow Kitty Pryde Premium Format Figure. Best EX accessory ever…? Yeah–I think so.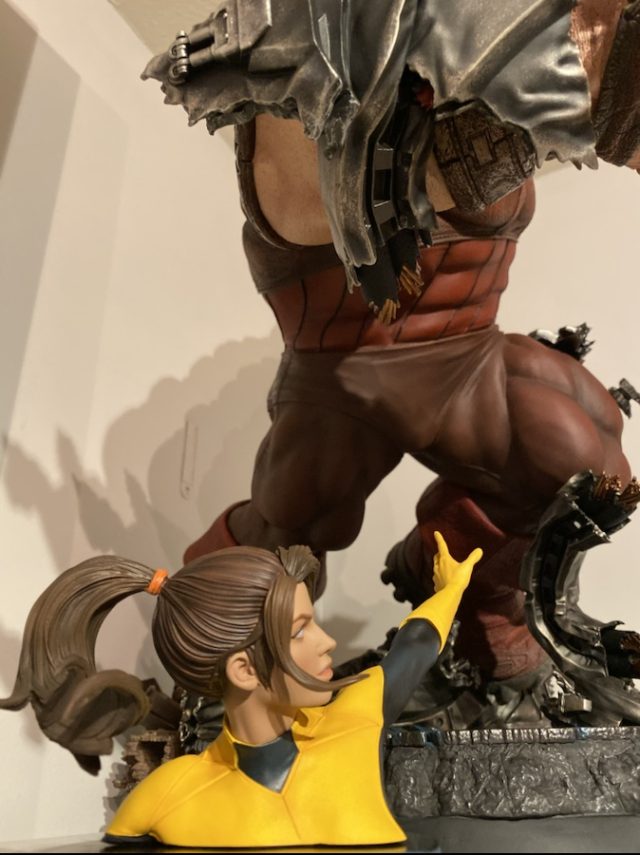 Kitty Pryde may only be a head, one arm and upper torso, but I think this design really illustrates her powers splendidly. She comes in 5 pieces: base, head, body, ponytail, and arm. They all pop together without a hitch and she looks fabulous.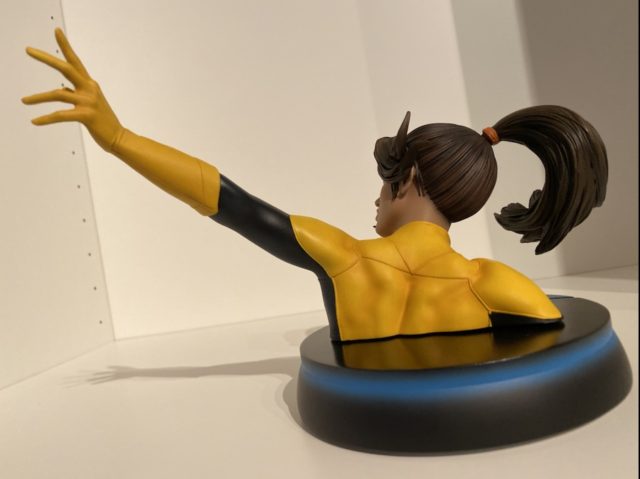 Both Kitty's body and her base are felt-lined underneath, so you can pop her on her own little base or on Juggernaut's if you prefer. I really like her, and I've got no regrets jumping on to get her as the EX. Juggernaut still rocks with or without her, but I feel lucky to be one of the 400 peeps who owns a Sideshow Kitty Pryde.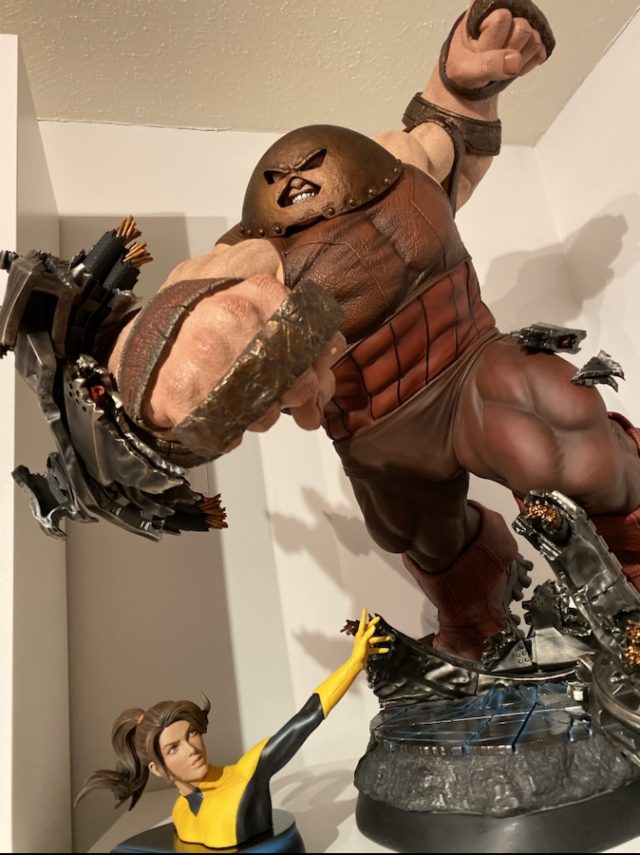 Overall: If you discount the factor of price, this is a near perfect representation of the Juggernaut in Premium Format Figure-like form. The astounding heft of this piece almost snapped my wrists, so any complaints about this not being heavy and high-quality enough are pure poppycock. The amount of sculpting texture and paint detail on the skin and armor is phenomenal, with far more detail than most zoomed out photos are able to capture.
I do sort of wish the debris had been an optional add-on, although it does add a touch of dynamism and action to the design. And although the price on this is mind-blowingly high, given the immense bulk and weight and quality of this statue, I honest to God don't feel like Sideshow ripped me off with it.
Even at 1400-ish bucks shipped, I fully expect the Collector Edition Juggernaut statue will sell out quickly and achieve grail status before too long. An overall outstanding piece that only loses a few slight points from me for the non-optional debris and inaccessible cost.