Products You May Like
Hasbro kicked off the week by officially allowing orders to be opened for the Marvel Legends Grey Hulk and Retro Deadpool figures, finally making enough of both available for everyone who wants them. But now, let's take a look at an offering from another company that few collectors will have the space for—and even fewer the funds for! It's legit one of the craziest statues I've ever seen in my life: the first Iron Studios X-Men vs. Sentinel statue is now up for PO! Wait, did I say "first"…? Yup! There are actually three of these 3 foot tall monstrous dioramas in the works…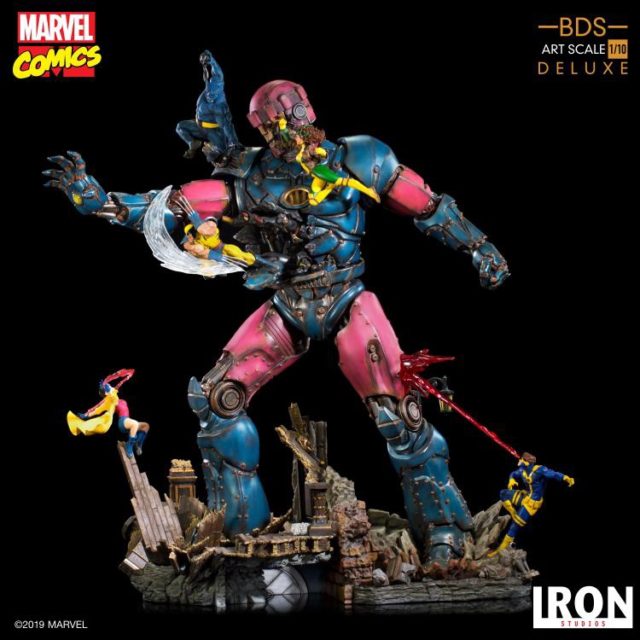 Iron Studios had been showing off concepts and design work for a gigantic 1:10 scale Sentinel vs. X-Men diorama for around a year now, but the project always seemed like one of those insane pipe dreams that couldn't possibly ever actually be produced, so I sort of left it on the back of my mind with only a flicker of hope that we'd ever see it available for purchase.
But that flicker has given way to a full-on inferno now, because the Iron Studios Sentinel vs. X-Men diorama statue is now becoming a reality—and there are two more totally different Sentinels in the works as well!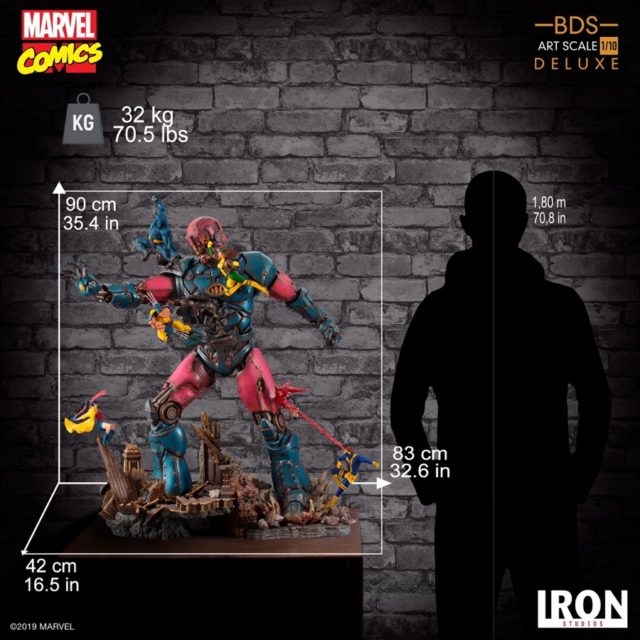 First thing's first: let's check out this inaugural Sentinel BDS statue. Because of the fact that Iron Studios' Battle Diorama Series is in the 1/10 scale, they're in the unique position to give us a Sentinel statue that's authentically scaled to the regular sized characters in the BDS Series!
He's over 35" tall and he sure as hell ain't cheap, but there's no denying that making a to-scale Sentinel is a monumental achievement for any high-end collectibles company!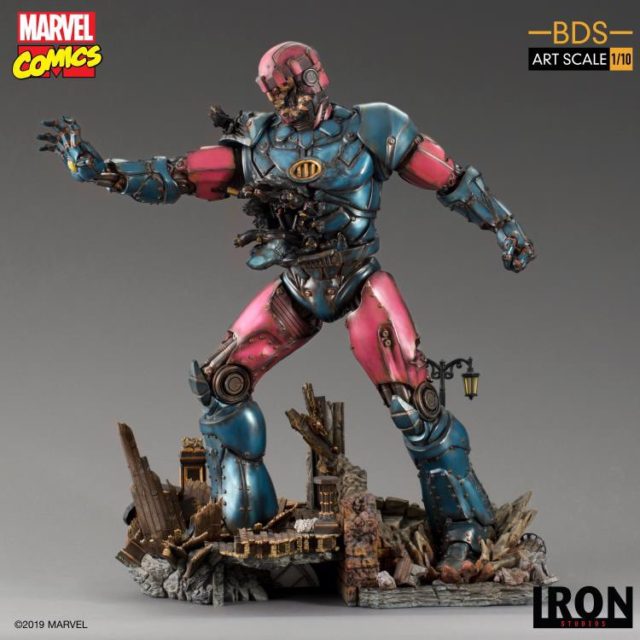 While there's also going to be a stand-alone Sentinel available for about 450 smackers less, I imagine that most fans paying the big bucks already are going to want to opt for the all-out deluxe edition that comes with five iconic X-Men team members attached as part of the diorama!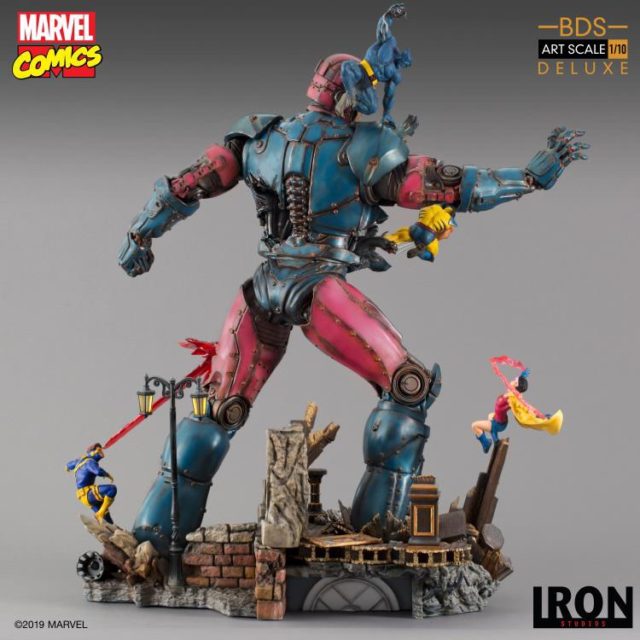 While four of the five X-Men represented here will have solo BDS statues available, those pieces will have their own bases and won't be able to connect to/display on the Sentinel. If you want to create the ultimate battle scene, you'll need to pick up the deluxe diorama set while it's still available.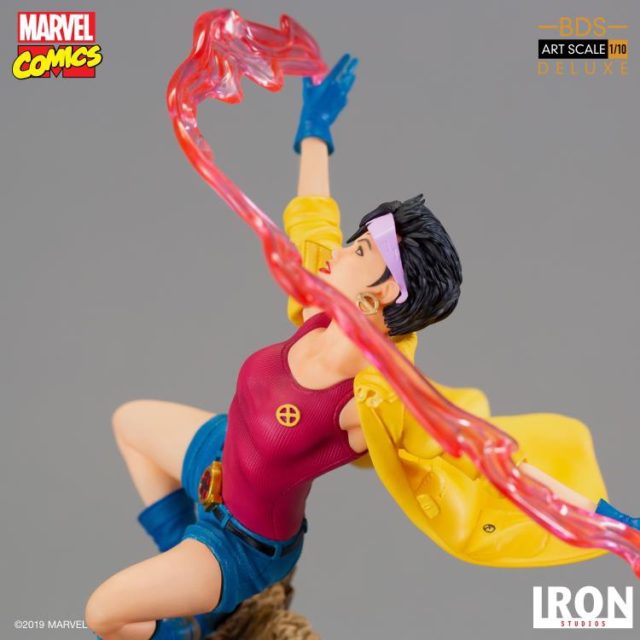 The one character on this statue who won't be available individually is Jubilee (who, coincidentally, is also my favorite). I love the translucent pink plasma spray she's emitting and the dynamic way her jacket is flowing off her shoulders in mid-air! I'm not sure when or if we'll get another resin Jubilee, which definitely put this diorama on my radar (as if it wouldn't have been regardless!).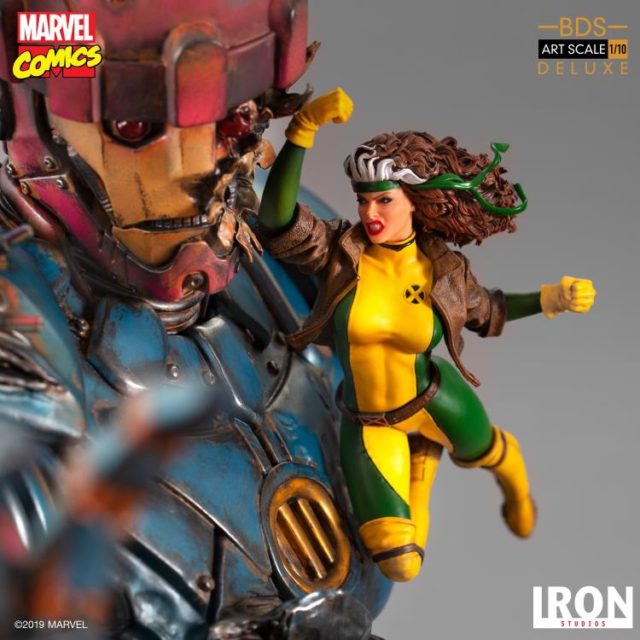 Of the four remaining X-Men, my favorites on this statue are easily Rogue and Beast. While I own the beautiful Sideshow Rogue Exclusive statue that came out earlier this year, it's never felt quite "classic" enough to me. But this Iron Studios version looks authentic 90s as can be, and may somehow be my favorite resin Rogue ever (despite being merely 1:10 scale)!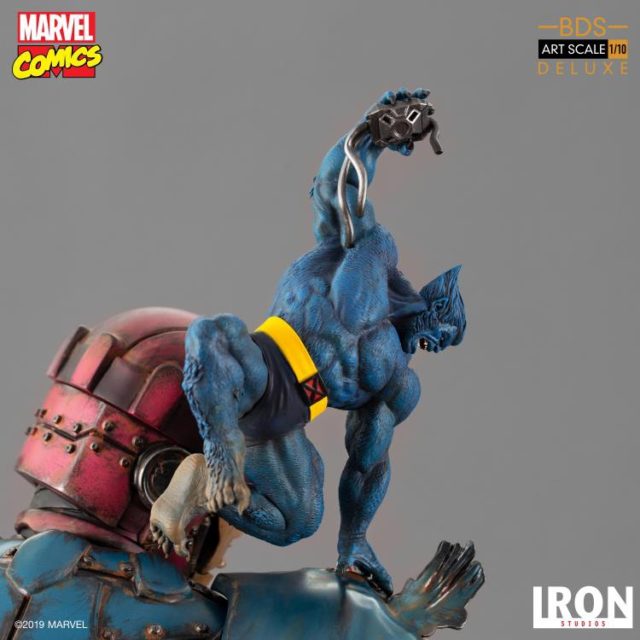 Likewise, I think Iron Studios absolutely nailed Beast. The head sculpt, the sculpting and paint detailing on the fur, the dexterous pose… this is a straight-up outstanding representation of Mrs. McCoy's baby boy!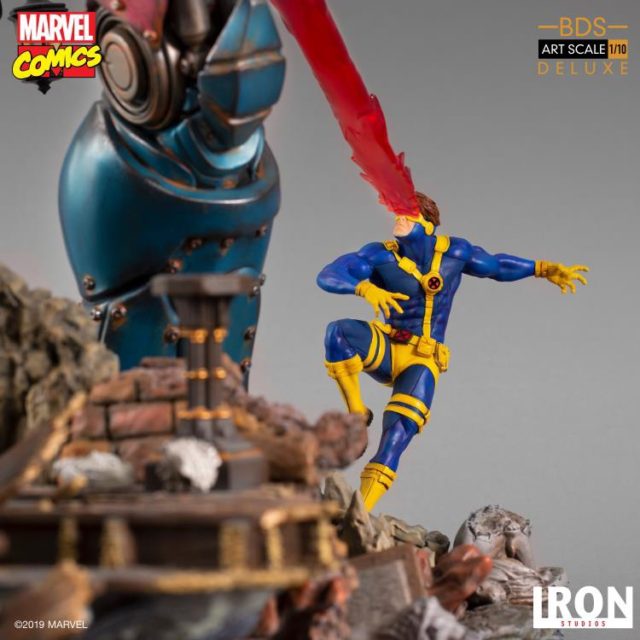 Cyclops and Wolverine make an appearance on this first Sentinel as well, although I think they're a bit weaker. While I dig the optic blast effects piece on Cyclops, something feels a bit off about the figure (maybe the shade of blue selected)?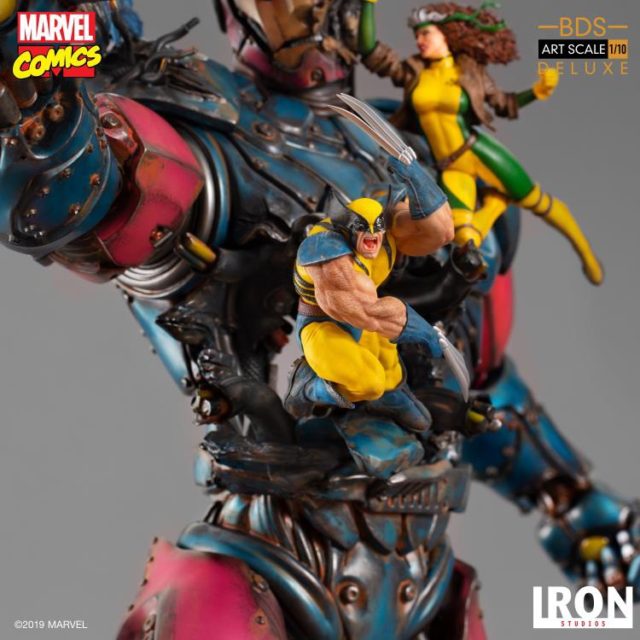 Meanwhile, I just don't like the way that Wolverine is contorted, although the sculpting and likeness are both on-point. There's a slashing claw effect included for Wolverine as well, although I still wish he was posed a bit differently.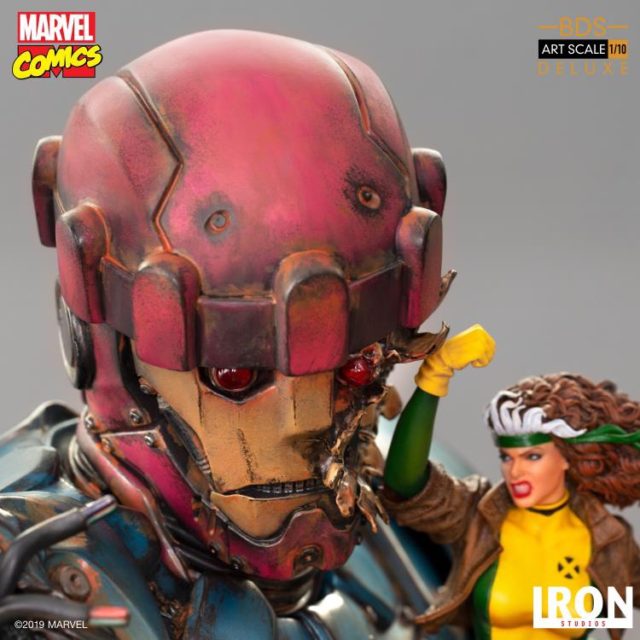 And oh yeah—there's a humongous Sentinel robot here too! At almost 36" tall and over 32" wide, this 70 pound behemoth is serious business. The 90s styled design, plus the badly damaged head and battle-worn paint deco all come together and look magnificent. I just love this. With one exception…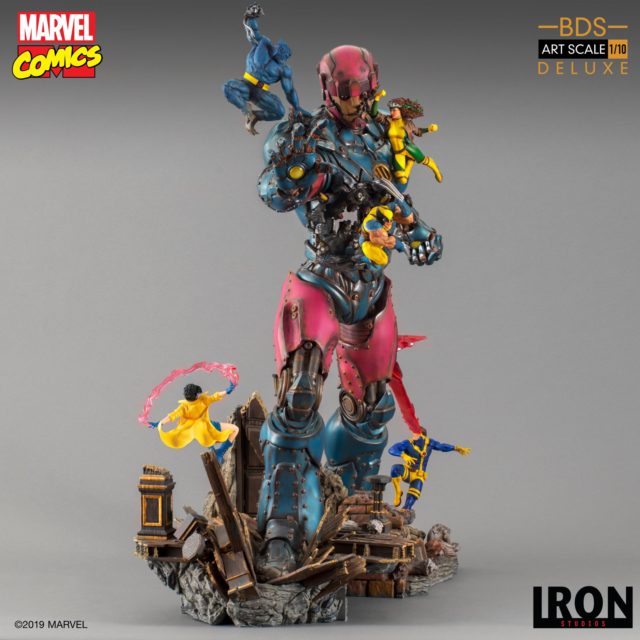 …the price. Try not to choke death on this price-point, but the full X-Men vs. Sentinel diorama has an international MSRP of $1700, with the standalone Sentinel at the low, low price of… $1200. BBTS has to charge a bit more for these to make them viable, so they've got them priced at $1900 and $1450.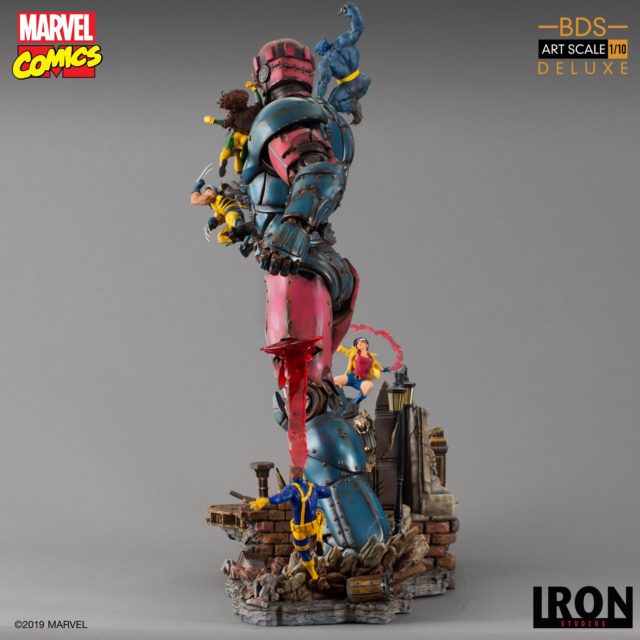 I don't think I have to tell anybody that those are not friendly price-points for your average collector—but the average collector also isn't the target demographic here. Iron Studios set out to make something special for the hardcore collectors, and there's no doubt that they've accomplished that!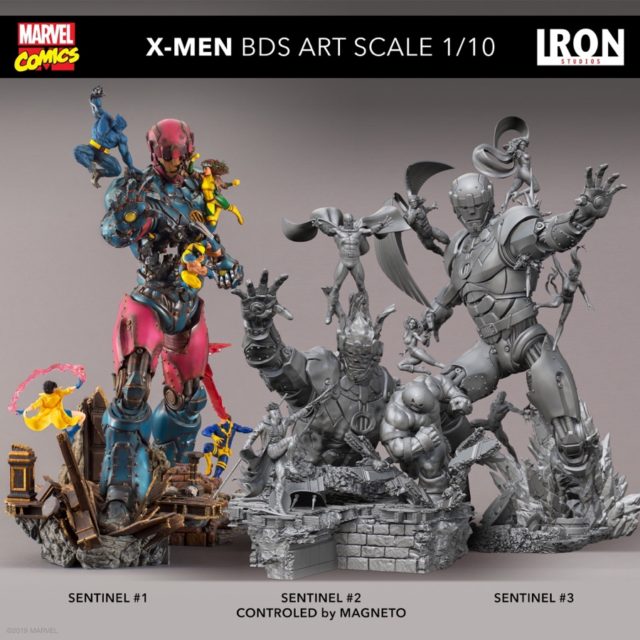 But wait—there's more! Two more Sentinels are also in development and expected to be launched for pre-order by later this winter! Not only will we get one rampaging through the mansion fountain, but there's also a downed one being controlled by Magneto!
Additional X-Men characters coming to the BDS lineup will include Magneto, Gambit, Juggernaut, Silver Samurai, Sabretooth, Psylocke, Jean Grey, Iceman, Bishop, Colossus, Emma Frost, Archangel, Pyro and more! Once complete, this series is going to be absolutely mind-blowing. If you're an X-Men fan, the time to start saving up is now!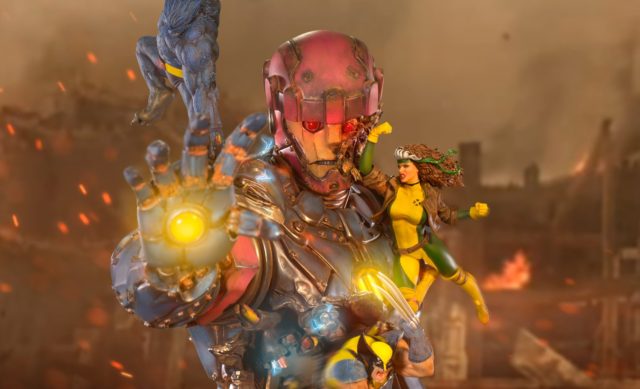 The first X-Men vs. Sentinel Iron Studios diorama is now available for order, and is scheduled to be released in Q4 2020. Ordinarily it's disappointing to see a statue this wild a full year away from shipping out, but I suspect this is an instance where buyers will be happy to have some extra time to save up their nearly two grand to pay off this beast of a piece.
Alright, X-Men fans: let's hear it! What do you think about this awesomely ambitious 1:10 scale Battle Diorama Series statue? Is anyone digging deep into their pocketbooks and securing this jaw-dropper of a statue for themselves, or is the immense price tag on this equally immense scene just too much for you to consider acquiring it?