Products You May Like
A serial killer tried to attack Veronica, Mr. Honey caught Reggie and Kevin performing a prank, and Charles asked Betty to join the Junior FBI on Riverdale Season 4 Episode 4.
Below, TV Fanatics Jasmine Peterson, Becca Newton, and Meaghan Frey debate their favorite Halloween costumes, the haunting of Julian Blossom, and Jughead's surprise death.
Out of all the costumes worn by the cast, what was your favorite of the night?
Jasmine: Jellybean looked SO CUTE. I loved her.
Becca: Jellybean as Rosie the Riveter—I love history-themed costumes.
Veronica: Archie, as well as you fill them out, you're not actually fighting crime in those tights, are you?
Archie: Of course not. I'm gonna need a mask.
Meaghan: Jellybean wins it, but honorable mention to Cheryl as Poison Ivy. She looked gorgeous!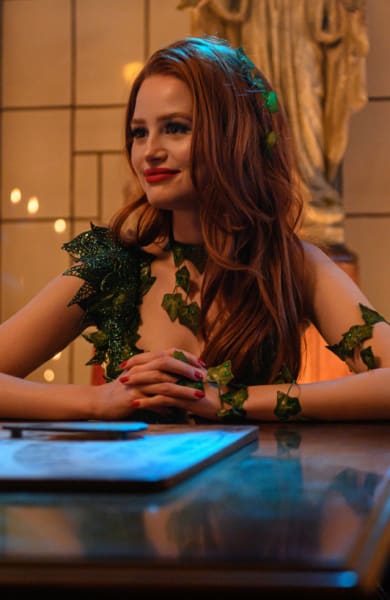 Betty cut Polly out of her life after she found out her sister made the threatening phone calls. Why do you think Polly did this cruel prank?
Jasmine: Can I just say "No, b****. It's your sister!" has to be in the top five iconic lines on the series? The delivery and execution were 10/10.
I'm not so sure Polly did it, though. Maybe it was on the list of things Edgar assigned them?
Related: Get Shudder via Prime Video Channels for Spine-Tingling & Provocative Films, TV Series, & Originals!
Becca: Assuming it was Polly—I'm guessing she's being manipulated into doing it. Charles appears to be the most likely mastermind.
Meaghan: I'm not convinced whatsoever that it was Polly. Or, like the others said, maybe she was being manipulated into doing it? It just felt very unresolved.
Eddie refused to snitch on Dodger after being shot. Will he ever tell the truth or will he keep protecting the criminals?
Jasmine: I think he'll keep protecting the criminals. "Snitches get stitches" and all of that. He's scared, and he probably feels like keeping things quiet is better.
Becca: I can see Archie not giving up until Eddie comes forward. It also seems likely Eddie will suffer a tragic death not long after he does.
Related: Black Lightning Season 3 Episode 4 Review: The Book of Occupation: Chapter Four
Meaghan: I completely get why he didn't snitch. Even if Dodger gets put away, he has a whole crew that can take him out.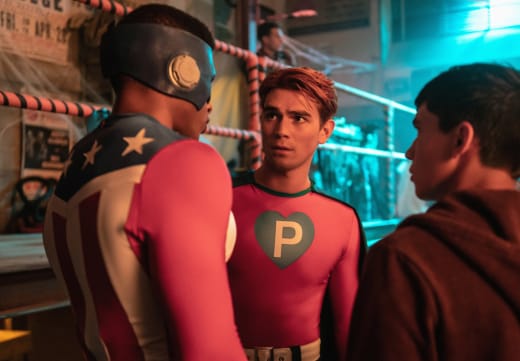 The spirit of "Julian" is sticking around to torment Toni, Cheryl, and Nana Rose. Do you think there's a poltergeist actually haunting them?
Jasmine: What have they done to "Choni"? They both deserve a better storyline than this, but Toni especially is getting the short end of the stick here.
Why did she stay in that house when everyone living, dead, and undead in it has issues?
Also, it made me uncomfortable when Cheryl admitted she was gaslighting Toni. Maybe it's not a poltergeist and it's someone screwing with them? Who? I don't know. Maybe it's Mr. Honey?
Becca: Until Riverdale actually commits to going supernatural, I'm not putting stock in any supernatural-based theories. This haunting business feels like something Penelope would do.
Related: Riverdale Round Table: Betty Is A Bomb Expert Now?!
Meaghan: I'm with Becca. They keep trying to make us think there are supernatural elements and then taking them away. Someone is trying to mess with them. But, the real question is what is the endgame?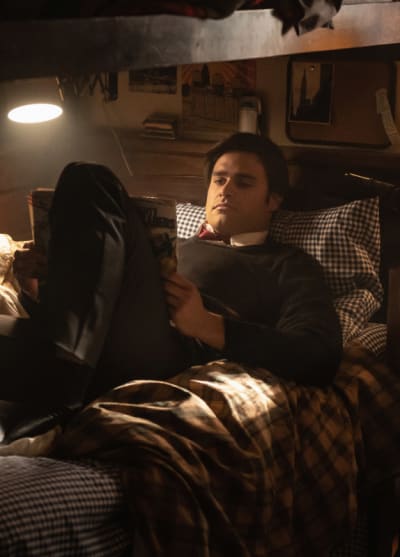 Jughead's initiation at Stonewall Prep involved him being trapped in a coffin. Do you think the literary salon's prank was just for tradition or did they hope he would end up like the Stonewall Four?
Jasmine: That was more than tradition.
They don't like him, so the prank was mean-spirited, and there was more behind it. Maybe they are angling for him to be like the Stonewall Four? It was odd to me how Mr. Chipping didn't react to it at all.
Jughead: [Heavy breathing] What? Where?
Mr. Chipping: I'm always amazed at my students' antics. How they get extra … creative at Halloween.
Jughead: Creative?
Mr. Chipping: Don't take it personally, Jughead. It's a Stonewall Prep tradition.
Donna: It means you belong now.
Jughead: Belong to what?
Brett: To us, of course.
Becca: My guess is the Stonewall Four are previous students who found out whatever it is the salon is a cover for and met bad ends for trying to escape it. I think Brett wants Jughead to go the way of the Stonewall Four, but Mr. Chipping wants him to stick around and be part of the secret society.
The whole thing was either a test to see if Jughead was ready to know more and/or a warning about what will happen if he turns on them.
Related: Dynasty Season 3 Episode 4 Review: Something Desperate
Meaghan: I don't think that was in any way an initiation. They want him gone. Unfortunately, they grossly underestimated who Jughead is. The harder you push Jughead, the more he will dig in his heels.
The flash-forward revealed FP and Betty identifying Jughead's dead body. React!
Jasmine: He's totally faking his death, right? It's a Jones tradition.
Betty: Meanwhile, I feel guilty that I wasn't there for you, Jug.
Jughead: No. Well, actually, you were there for me. Thinking about you was the only thing kept me from losing hope. And my sanity. I think deep down I know that if I ever went missing, you'd be the one to find me.
Betty: I would, Jug. I promise.
Becca: Points to Riverdale for knowing they couldn't get away with not showing or disfiguring the body beyond all recognition. However, when the time comes to reveal the details of faking Jughead's death, the show needs to do better with explaining than they have in the past. 
Also, they're really adhering to the "hero's journey" format for Jughead's storyline.
Meaghan: "Killing off" an actor from the show who has a real-life twin? Yeah, not buying that was Jughead under that sheet.
I bet that we are about to find out that Jughead had a twin he didn't know about, and we are going to see Dylan Sprouse make an appearance on the show.
Missed the latest episode of Riverdale? You can watch Riverdale online via TV Fanatic. Come back here and join the discussion.
———————————————
Editor's Note: Our system got updated! Now, you'll be able to scroll through many articles at once. That required a bit of a change to the comments, though, and now you have to click the blue "comments" bar at the bottom of an article to access them. 
There are also two segments to comments now. You can either comment using Facebook or Disqus. Either way, you can SEE both types of comments. We hope that will be more inclusive of our community at large and that the conversations will grow as a result.
Justin Carreiro is a staff writer for TV Fanatic. Follow him on Twitter.