Products You May Like
It's been a long, long time coming, but Guardians of the Galaxy Vol. 3 will finally be hitting movie theaters the first week of May 2023. And that means that for the first time in 6 years, we'll have a new Hasbro Marvel Legends Guardians of the Galaxy figures series on store shelves as well! But if you were hoping for a cheap and easy to get Cosmo the Space Dog figure, you're barking up the wrong tree—the Guardians of the Galaxy 3 Marvel Legends series with Adam Warlock, Cosmo Build-A-Figure (!!) and more is now up for order!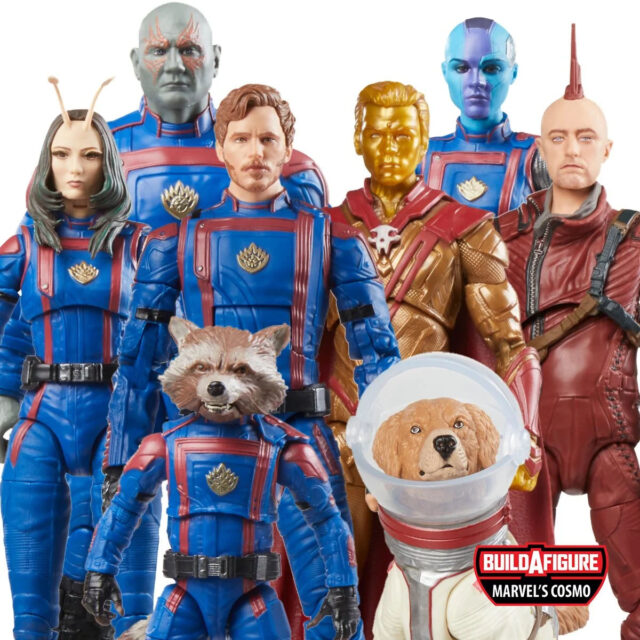 The case ratios for Marvel Legends GOTG Vol 3 are as follows:
(2) Star-Lord
(1) Mantis
(1) Drax
(1) Nebula
(1) Rocket Raccoon
(1) Kraglin
(1) Adam Warlock
It seems like Ant-Man 3 kind of snuck up on Hasbro, who managed to just barely squeak out solicitations for their Marvel Legends Quantumania series before the movie hit theaters last week. But Hasbro is picking up the pace for another upcoming MCU film's toys—with over two months until GOTG Vol. 3 is released, Hasbro is ready to roll out the action figure POs today.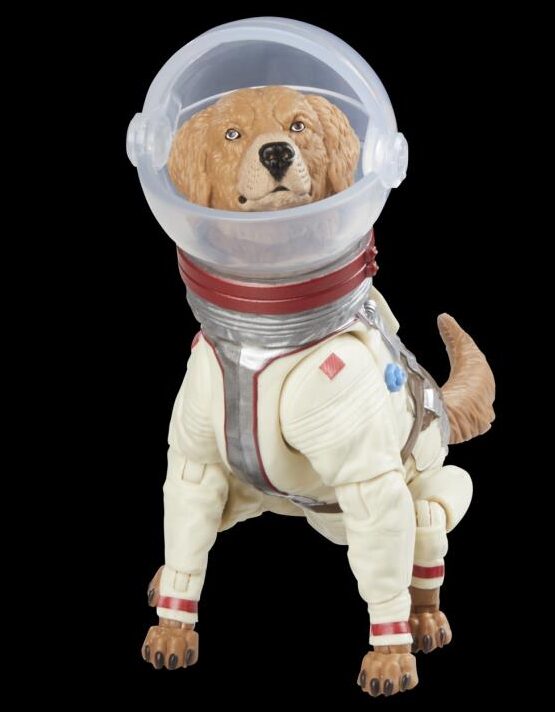 With two females in the wave, two new male humanoid characters as well as a never-before-done in this scale astronaut dog, there's a lot to talk about in this wave!
First, I'd be remiss if I didn't mention the chief source of early complaints about this lineup: the fact that the first-ever 6" Marvel Legends Cosmo is a Build-A-Figure.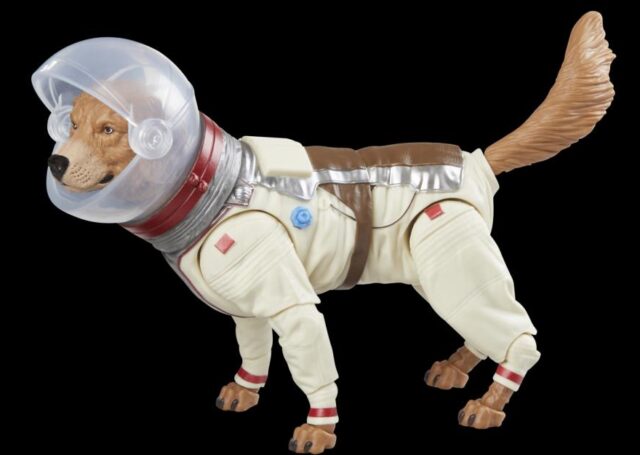 As one of only three new-to-the-line MCU characters in the wave, fans were never going to be happy about this Cosmo BAF. It's 100% new tooling and Cosmo does look stellar, but having to buy $100+ in other action figures to build a relatively small Cosmo doesn't sit well with many folks.
Due to the original ML Mantis being a Build-A-Figure (which fans understandably grumbled about mightily), a lot of collectors may still be without Mantis in their figure collection at all. Thankfully, this new Marvel Legends Mantis is a single release in matching Guardians of the Galaxy team uniform, so those who want to will be able to add her seamlessly to their lineup for the new movie right away.
I prefer this costume on Mantis anyway, as it makes her feel more like part of the team. It is a little upsetting that at a $25 MSRP, she comes with zero accessories beyond a Cosmo BAF leg.
This is a rare instance where Hasbro has included more than one woman in a wave. While Gamora has yet to appear for the new film in merch form, her sister is on-hand to represent with a new version of Marvel legends Nebula!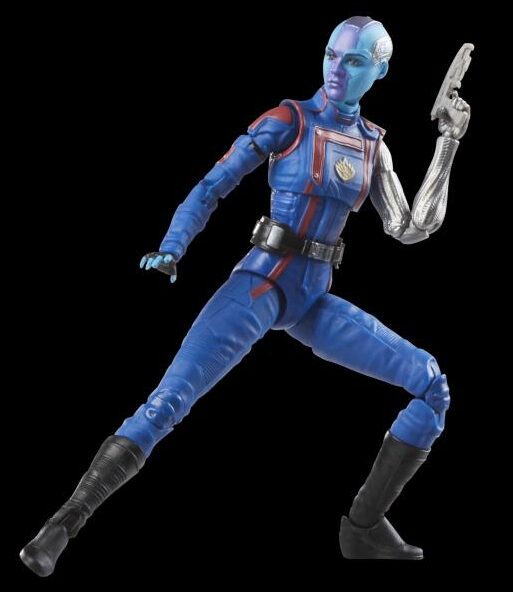 I was a big fan of the GOTG 2 Nebula Legends figure, but I agree that a team costume Nebula was necessary. I'm not wild about her blank facial expression, but I do appreciate that she gets a sword and two different guns in addition to her Cosmo Build-A-Figure leg.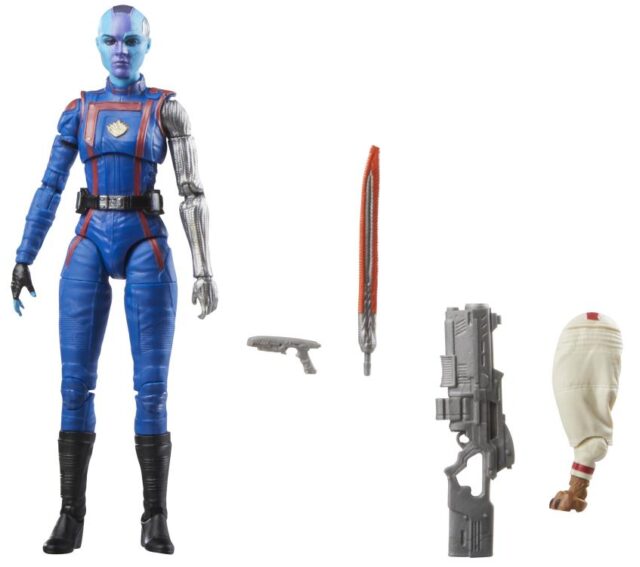 As good as MCU Nebula's first ML toy was, I think the pin-less articulation on this one helps a lot in making this one feel like a worthwhile advancement.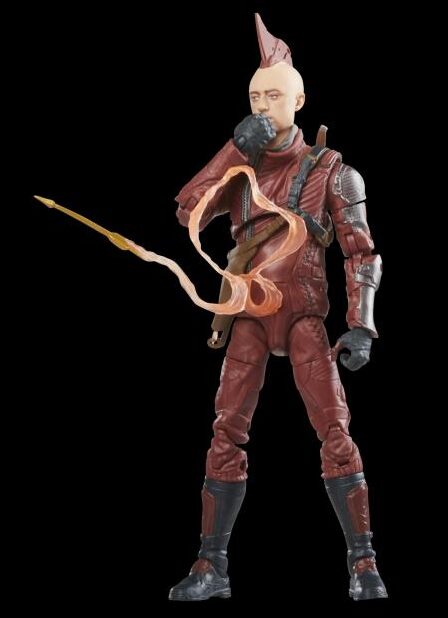 Kraglin is a character I sort of feared would never be created in super-articulated action figure form, but Hasbro has come through with a terrific premiere Marvel Legends for Yondu's most loyal Ravager.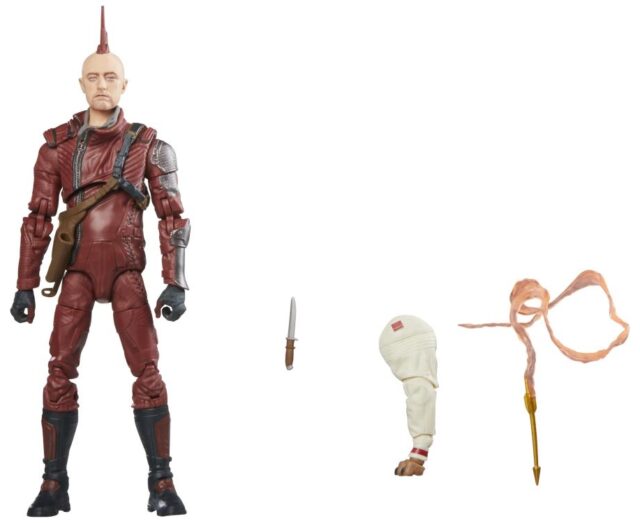 His slightly frowning head sculpt feels a mite boring for such a fun character (what, no whistling head?), but the likeness is great and an arrow effects piece is always welcome. Probably my favorite individual figure in this set.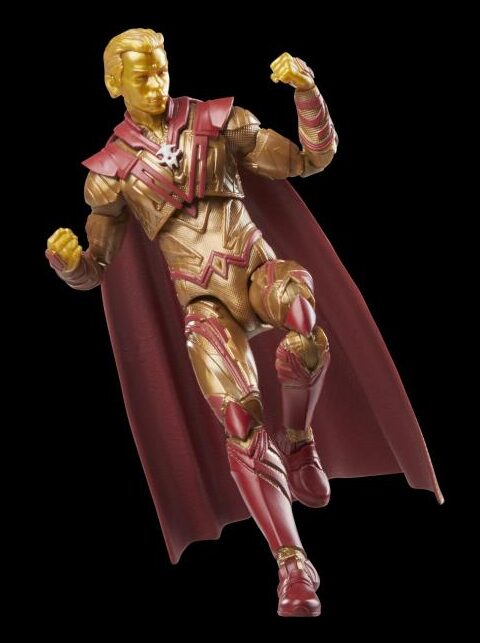 Marvel Legends Adam Warlock is probably the figure in the wave generating the most buzz, but it's also the figure whose design falls the most flat for me. Maybe I'm too set in my ways as a 90s comic book fan, but the live action version just doesn't quite feel right for some reason.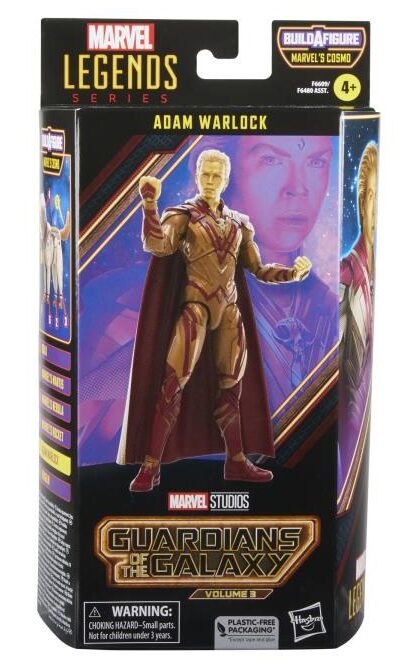 Adam Warlock is never the most expressive guy, so the neutral face sculpt is just fine here. Still, with zero accessories beyond the BAF Cosmo tail and helmet, MCU Adam Warlock's Legends figure feels quite boring.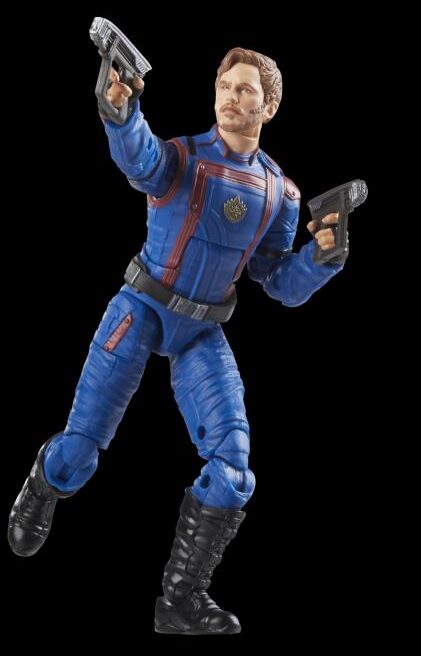 The last three figures in the series are new versions of core team members that have been in every Guardians of the Galaxy Legends series.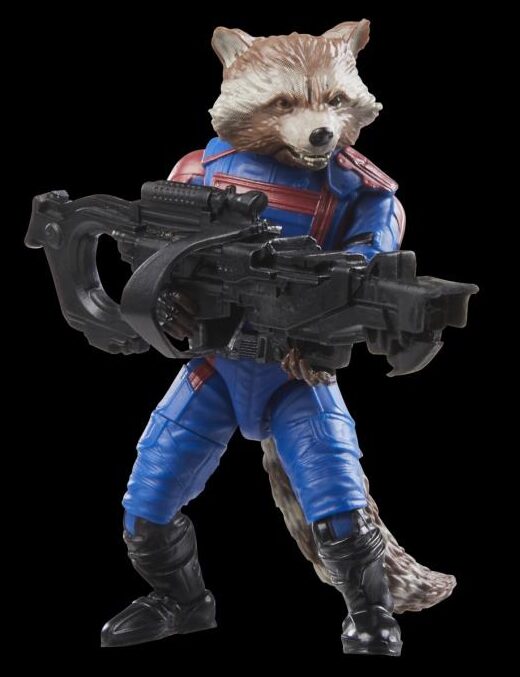 Rocket Raccoon is properly tiny, but at least comes with the biggest piece of the Cosmo Build-A-Dog. Plenty of complaining about the fact that Hasbro didn't just make this a $25 two-pack, which is not a surprise.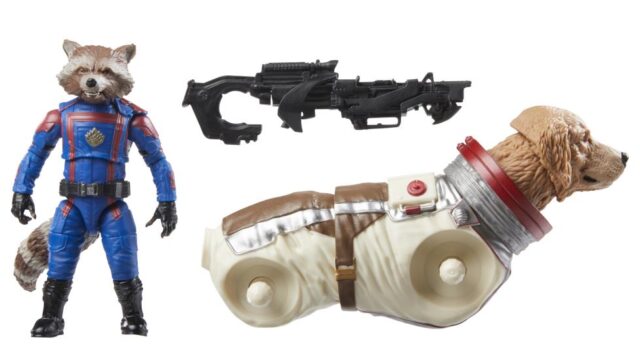 I love seeing an MCU Rocket Raccoon Legends figure in this Abnett and Lanning comics styled costume, as it kind of feels like things have come full-circle for Rocky.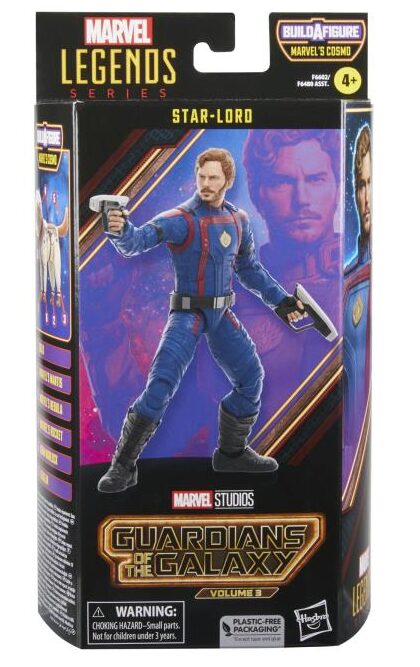 The one double-packed figure in the wave is Star-Lord, which ought to shock no one. This might be Hasbro's best Chris Pratt portrait to date, although I still feel like no company has quite nailed Pratt's likeness.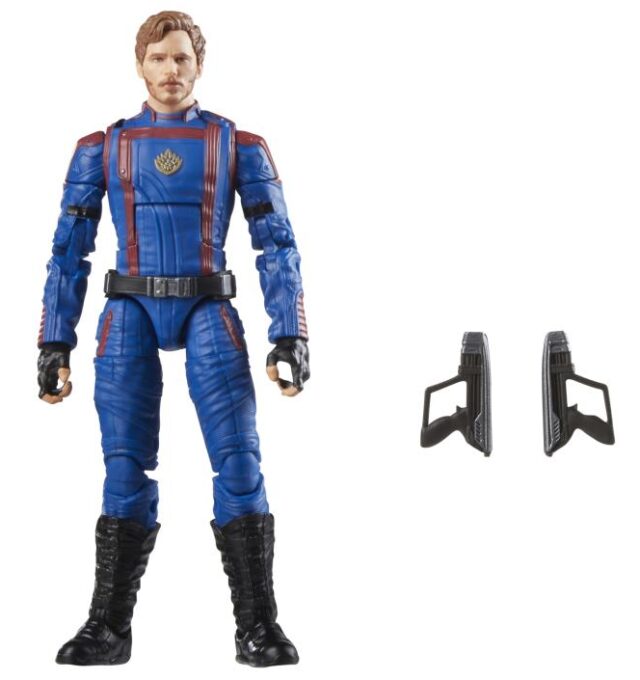 This figure unfortunately feels the most antiquated with lots of visible pins on the arms and legs, but at least they're all matching blue. I don't love this figure and he doesn't include a Cosmo piece, but I'll need him nonetheless for the team to feel complete (or as complete as possible without Gamora). Alas.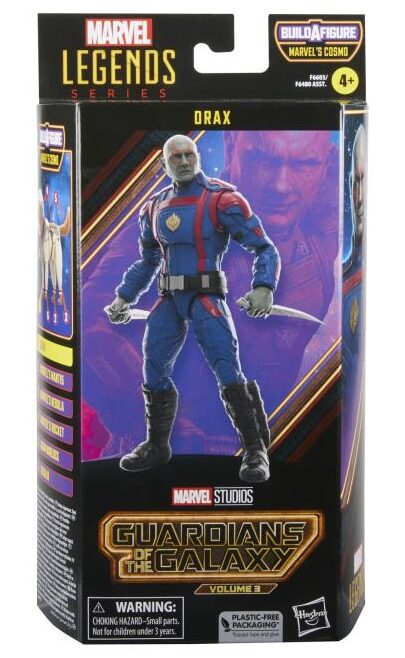 Lastly, we've got a new Dave Bautista Marvel Legends Drax movie figure. After the exuberant yelling pose on the one from the last film, we're back to a closed-mouth, neutral look here.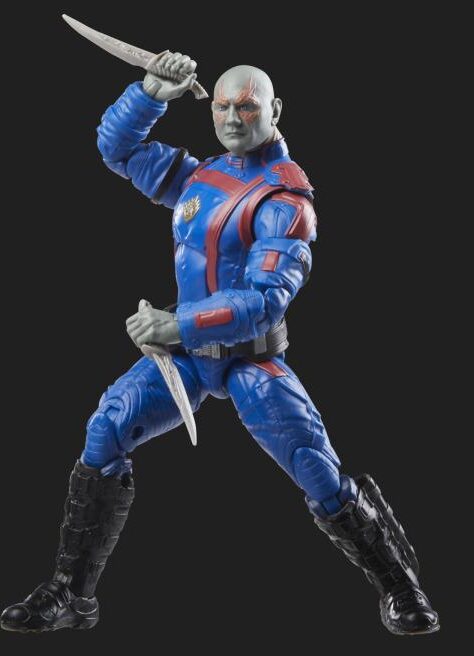 Drax has the awkward pinned knees but pin-less elbows combination, which I guess is better than nothing. He's also got two dagger knives and the last leg of Cosmo. This release could be better in several ways, but I'll take it to complete my astronaut dog.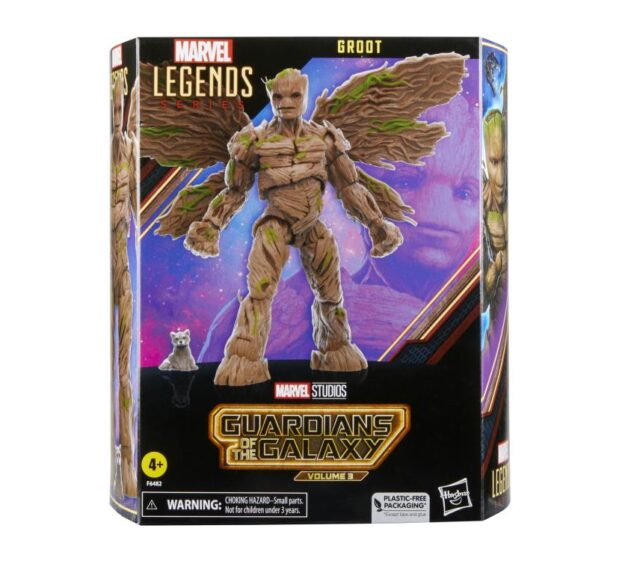 But wait! That's not all! The wave also includes one deluxe release in the form of a young adult Marvel Legends Groot with a baby Rocket Raccoon pack-in!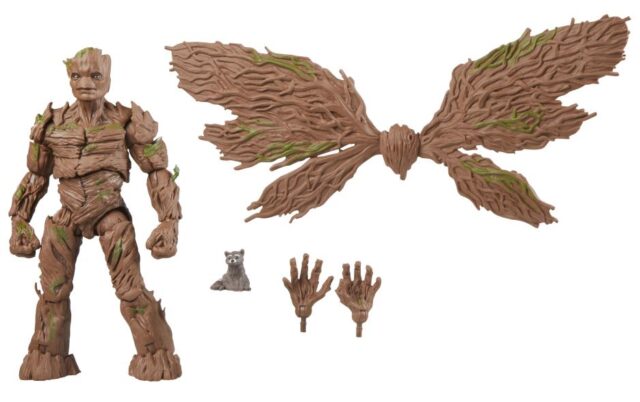 I suspect this Groot wouldn't quite cost out as the series Build-A-Figure, so we got Cosmo instead. I think the $35+ MSRP on this Groot is hard to stomach, although the toy does look nicely done with a modern pin-less, bulky body and youthful looking face.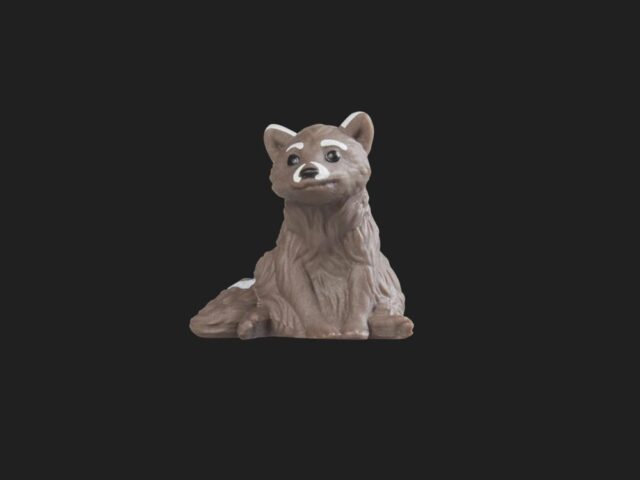 I'm not sure Baby Rocket will print money in the Baby Yoda manner Disney is probably hoping, but I'm rooting for our infant raccoon boy to be popular, and his little figurine here is quite adorable.
The entire Guardians of the Galaxy Vol. 3 Marvel Legends series is now up for ore-order and expected to arrive this summer. Will you be buying any (or all!) of the figures in this Cosmo wave?