Another "inevitable" event has transpired, as Mezco Toyz finally put their long-awaited ONE:12 Collective Thanos Figure up for order to kick off the weekend! The head sculpts on this 8″ Mezco Thanos Figure are absolutely phenomenal, and the light-up Infinity Gauntlet is a coup for a 1/12th scale figure. But the price-tag on this Mad Titan is unprecedented for a Marvel ONE:12 Collective action figure. Does this Thanos look worth its lofty price-tag?
Once Thanos became one of the best-known and most popular supervillains in the world following Avengers Infinity War and Endgame, it was only a matter of time until Mezco Toyz busted out a 6″ scale version of the Mad Titan.
And that time has come at long last, with pre-orders now open for Thanos and the figure expected to be displayed at the 2020 Toy Fair in just under two weeks! But while this was definitely an anticipated addition to the series, the collecting sphere is somewhat split on this release, with not every fan (including me) altogether thrilled with the current prototype…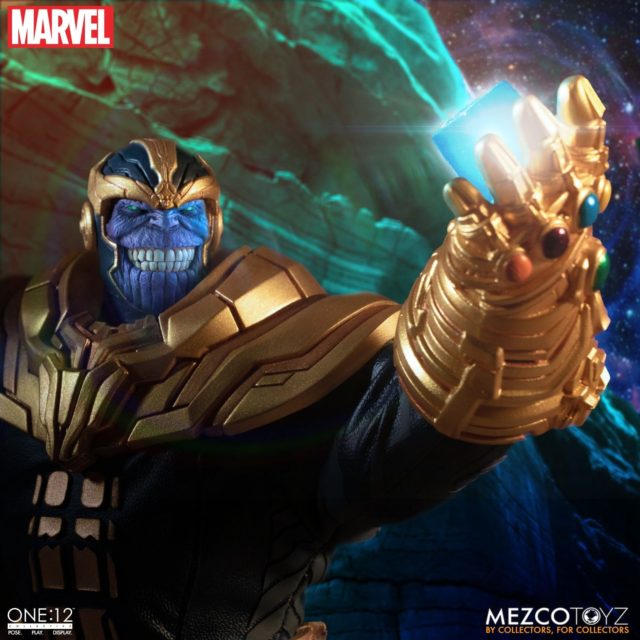 It's important to me that I always be honest when I'm writing up previews and reviews of new Marvel figures, so I've gotta tell the truth here: while there are definitely parts of it that I think are superb, I am not digging the way this Thanos ONE:12 Collective figure looks right now as a whole.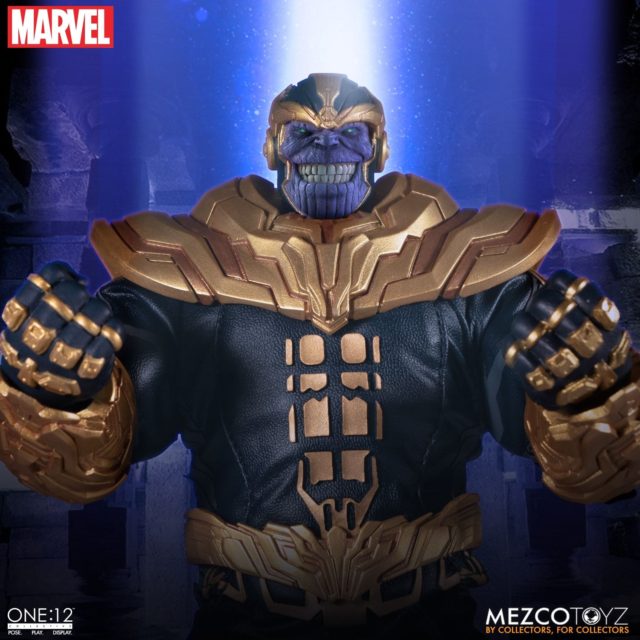 First, the good: after showing off a sneak peek head sculpt that drew immediate constructive criticism from collectors, Mezco Toyz quickly revised the portrait on this Thanos action figure and greatly improved it. The default and alternate heads are both 10 out of 10 excellent now, in my opinion.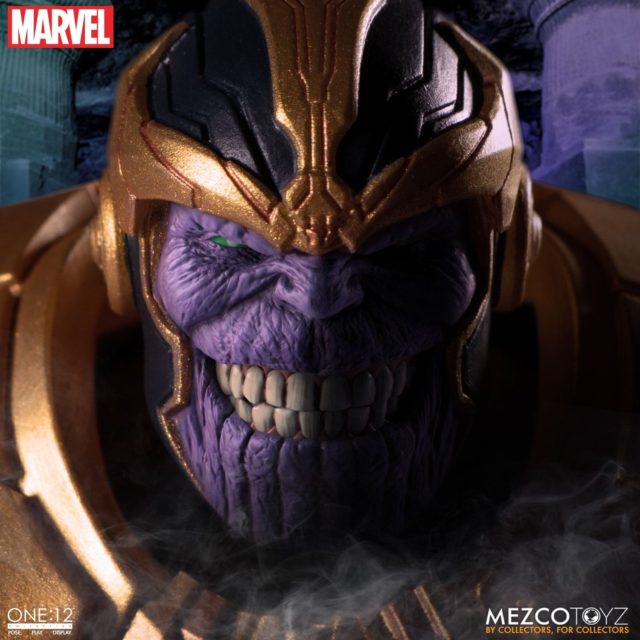 Both the closed mouth scowl and the teethy evil grin are just tremendous, and easily kill any of the head sculpts from the Hasbro Marvel Legends versions to-date.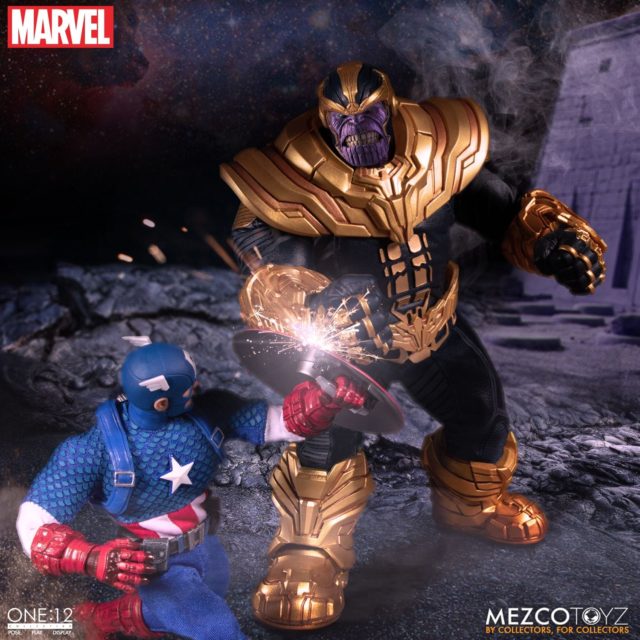 The LED light-up Infinity Gauntlets also look like a ton of fun, and it's exciting to get an electronic Infinity Gauntlet at this scale (in two different poses!). Six interchangeable hands for punching or grasping the included Cosmic Cube also are delightful pack-ins, and really round out giving us everything accessory-wise I'd want from a Thanos 6″ scale action figure.
So why do I feel tepid on this figure overall? Unfortunately, I think this is a rare case from Mezco where the soft goods costume just does not look quite right. The costume looks really bunchy and not fully fitted to Thanos' body, and that's making him feel disproportionate and stubby to me.
I've heard some folks say they love the way the fabric costume looks on this figure, but it's just not for me the way it looks in the official photos. Hopefully when I see this Thanos in person at New York Toy Fair 2020 in two weeks I'm blown away, however.
The other major factor that's holding me back from a pre-order on this toy is the deadly price-tag: $155 for an 8″ figure. That's $25 more than the two-pack of Black Bolt and Lockjaw costs, which is a real shocker.
While the DC Darkseid from a while back had an even higher $180 MSRP, that figure was made of polystone and came in a metal tin. Thanos is plastic and comes in the normal deluxe box packaging (albeit with a cool LED Infinity Gauntlet). The price here is just too high for me for a 6″ plastic figure, especially when I'm not yet sold on the costume.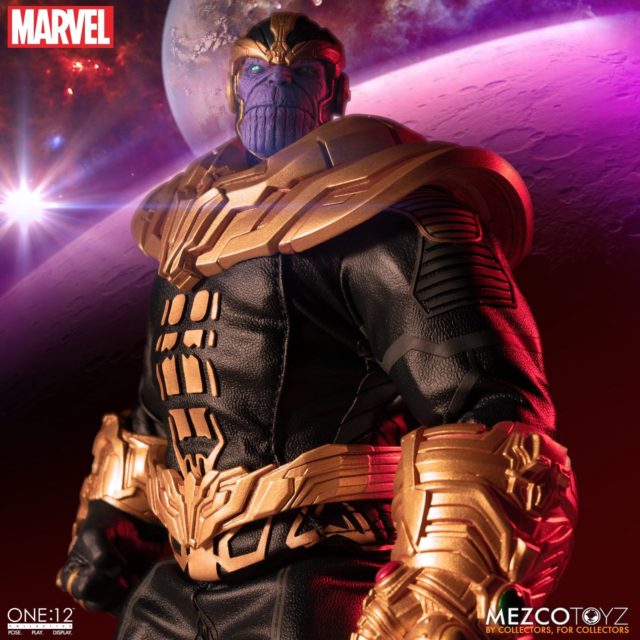 The Mezco ONE:12 Collective Thanos is now available for pre-orders, and is scheduled to ship out in August/September 2020. That's about half a year out, but given that Mezco Toyz just made recent improvements to the prototype (and may yet still make some more), I can see his ETA slipping out a little further. With that $155 price-tag, I think it'll almost certainly be a few months until reservations for this Mad Titan sell through.
How do you feel about Mezco's take on Thanos, Marvel collectors? Are you fully satisfied with how all aspects of the figure look in the official prototype, or do you think there's some room for improvement left between now and when Titan's favorite son ships out?