Products You May Like
Just when I thought I'd already posted and talked about every new Marvel collectible I saw at New York Comic Con 2019 earlier this month, I scrolled through my camera roll and discovered I'd never talked about not one, not two, not three, but four new class comic book-based Diamond Select Toys Marvel statues! (That's four times as many Marvel statue debuts at the show than any other company!) So without further ado, let's check out DST's new takes on Hellcat, Hulk, Black Panther and Vision…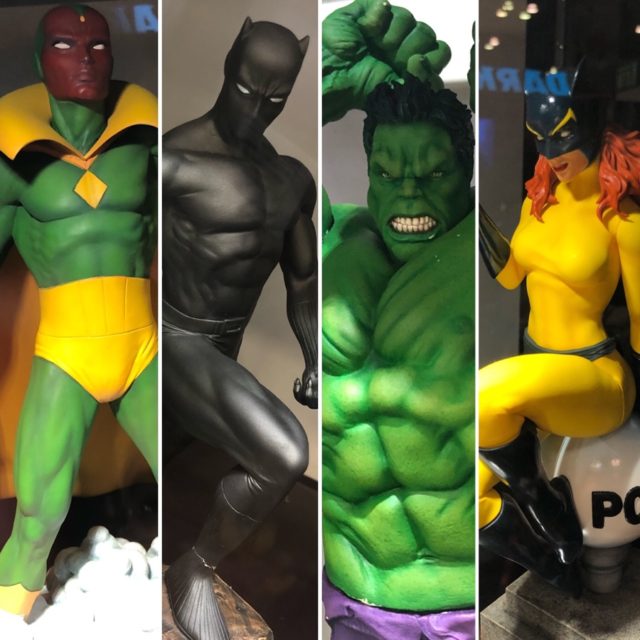 NYCC was so hectic this year that I didn't have the ability to take quite as many photos and videos as I'd been angling for, but I always make Diamond Select Toys a priority to check out as much as popular in the opening hours of the show. And while there wasn't as much of a Marvel Select or Minimates presence as in past years, Diamond Select did bring along more premiering statues than any other company!
I talked at length about the Marvel Premier Collection Archangel and Juggernaut statues last week, so now let's hop over from the DST X-Men to the latest Avengers offerings…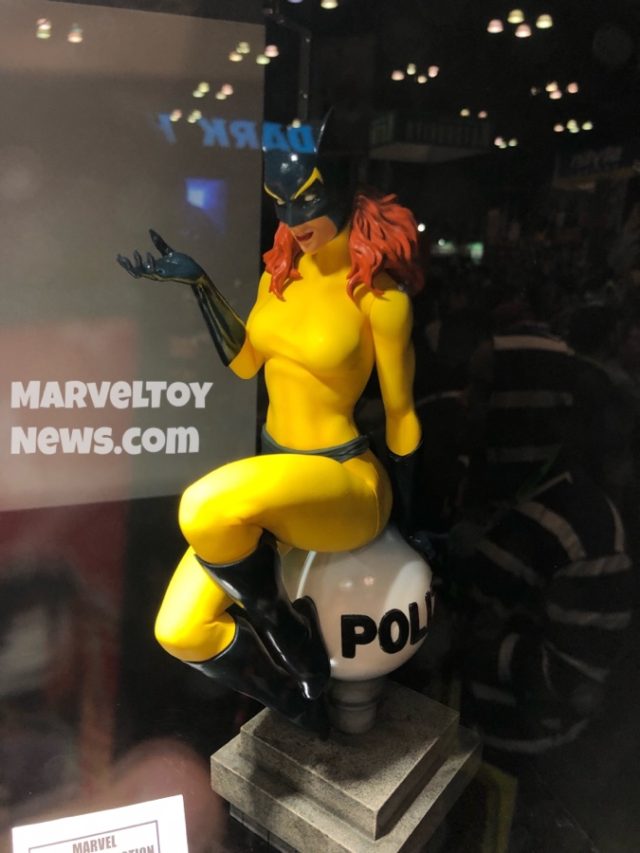 First off, let's look at what's likely to be either the least or most exciting of these new reveals, depending upon who you ask—the Marvel Premier Collection Hellcat PVC figure! Retailing for the usual $49.99, this is a cool option for Hellcat fans who'd like something a bit fancier than the Hasbro Legends 6" figure, but not as expensive as a large-scale Statue.
While Bowen Designs was able to pull off a resin statue of Patsy Walker in 2012, the days when a more obscure character like Hellcat can support resin statue sales is probably behind us (especially since the near-perfect Bowen is still easily available for under 200 bucks).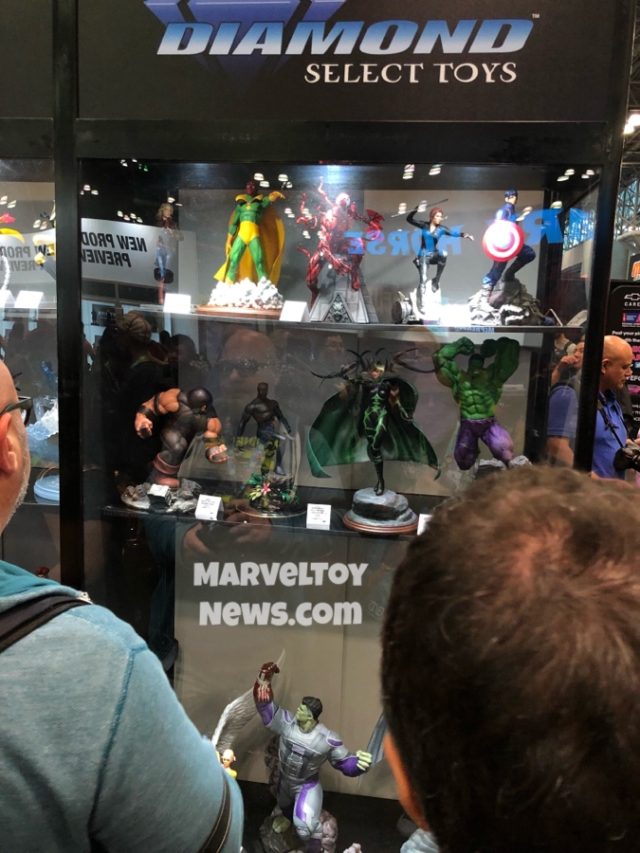 Patsy was the sole new Marvel Gallery statue displayed at NYCC 2019, but she had three Avengers comrades debut alongside her as part of the resin Marvel Premier Collection: Black Panther, Hulk and Vision—all captured in their very classic comic book designs!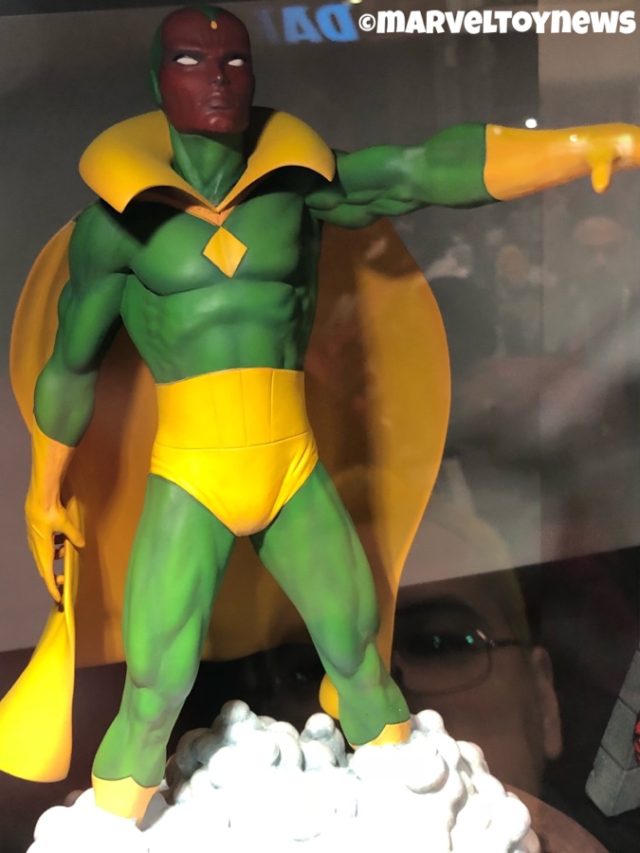 Of these three, the one that immediately had me the most interested was the Vision. While the design here is extremely similar to the one Bowen did over a decade ago, this one has a softer, less chiseled and more 60s-feeling Vision.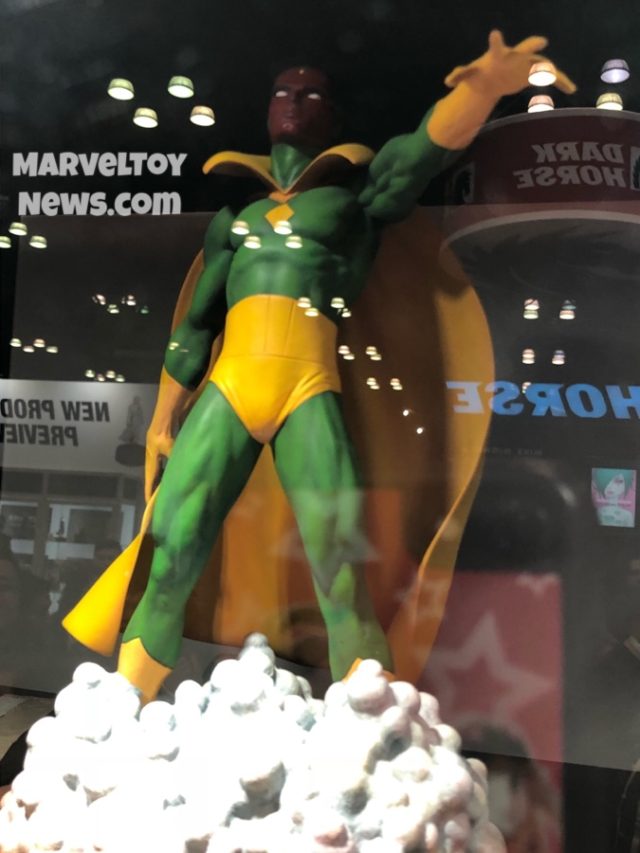 The Bowen Phasing Vision Statue has long been on my wish list, though I've never got around to sniping one, so I sort of wish this had been a half-translucent phased Vision. Even so, I do like the design of this and think folks who don't want to spend $250-$350 for a Kotobukiya or Bowen Vision may really dig this.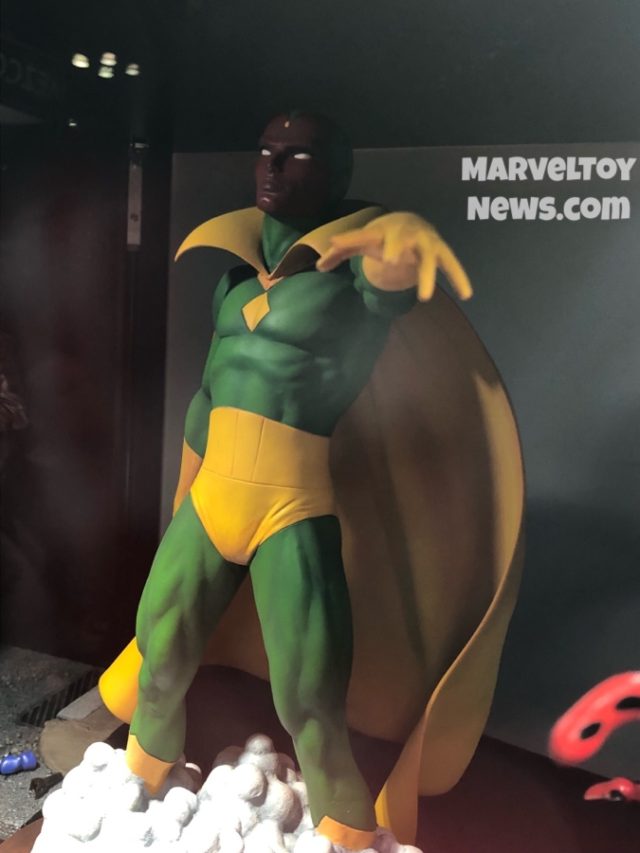 If you're into displaying Avengers statues that are in a more traditional and less modern art style, I think this Marvel Premier Collection Vision will definitely be worth a look when pre-orders launch.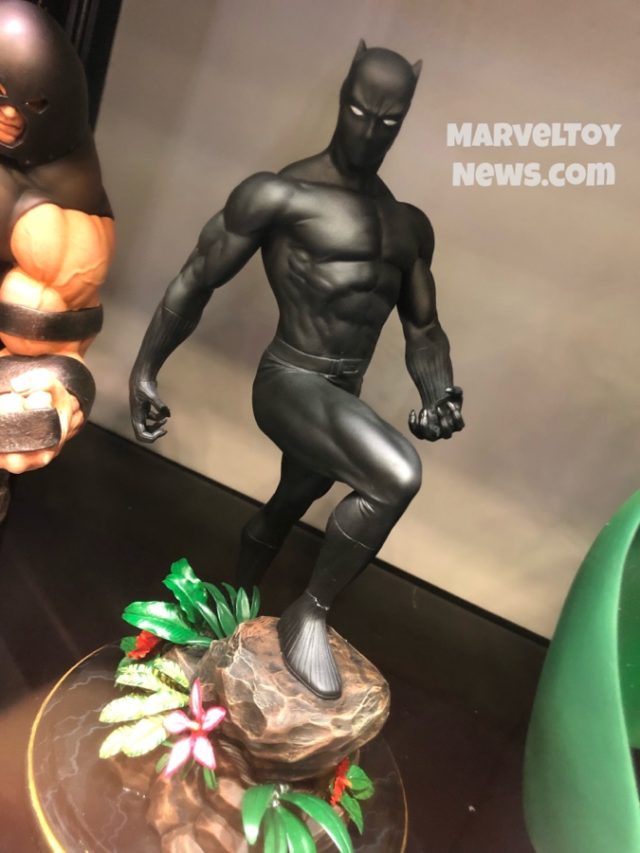 A classic Black Panther also stalked into the Diamond Select display case at NYCC, and looks quite nice in a simple, classic design.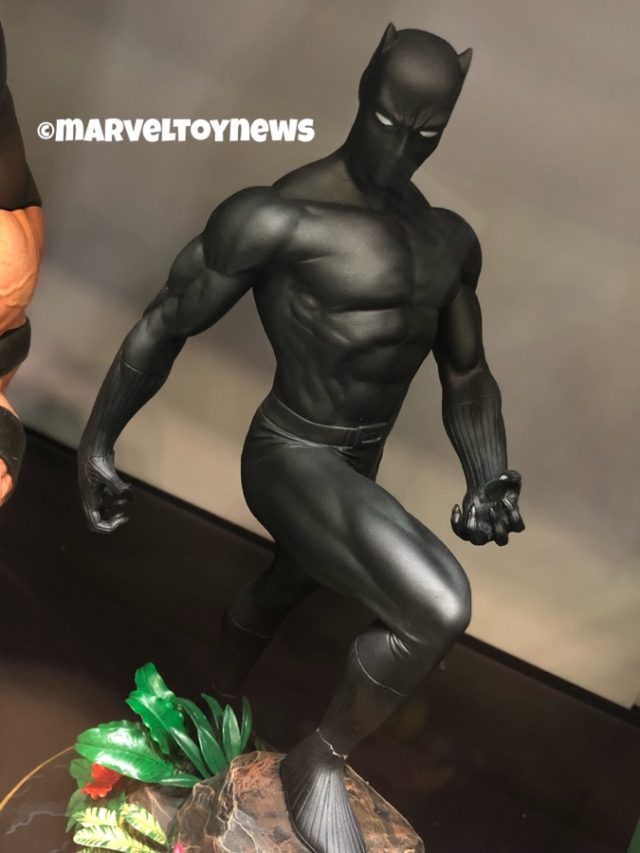 Black Panther will ship in Summer 2020 and feature the usual low $150 MSRP from DST. The size is excellent for the price, and I think the proportions and sculpting details on the costume look great for a budget-priced Statue.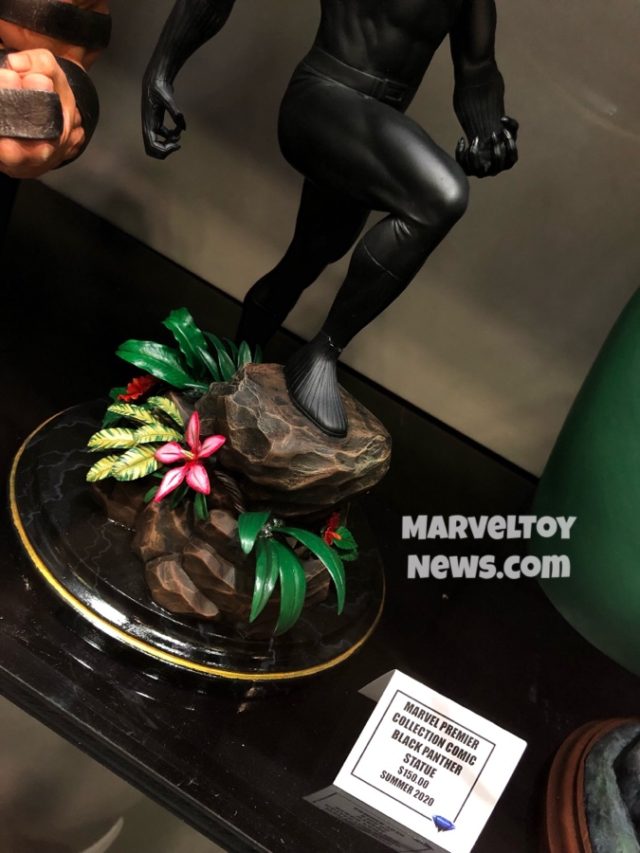 While nothing overly fancy, I think the jungle diorama base with colorful flowers really complements the darkness of the Premier Collection Black Panther Statue itself. Just a lovely value piece.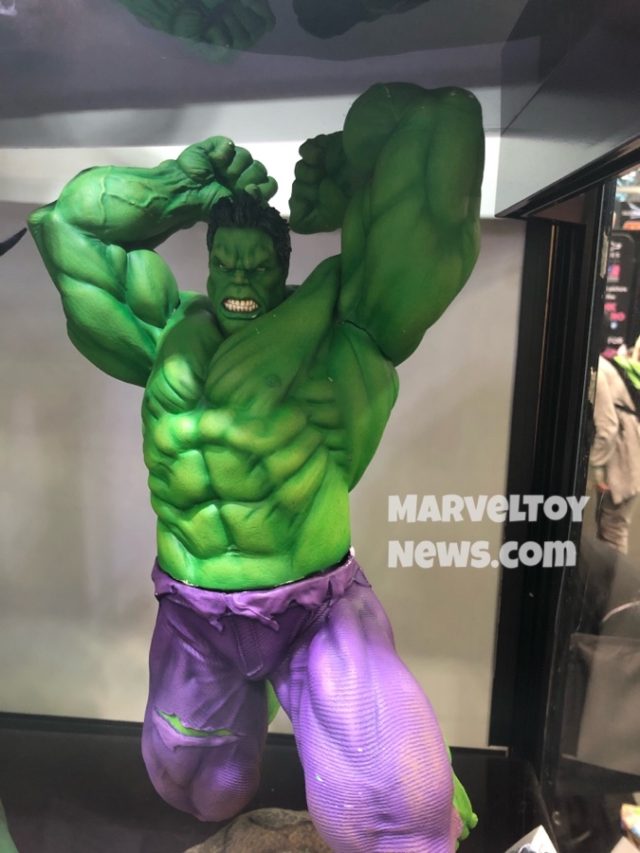 Finally, Marvel Premier Collection has a Hulk! This leaping and preparing to smash pose isn't something that we see very often on Hulk merch at all, so it's definitely an interesting alternative to what's readily out there for the character.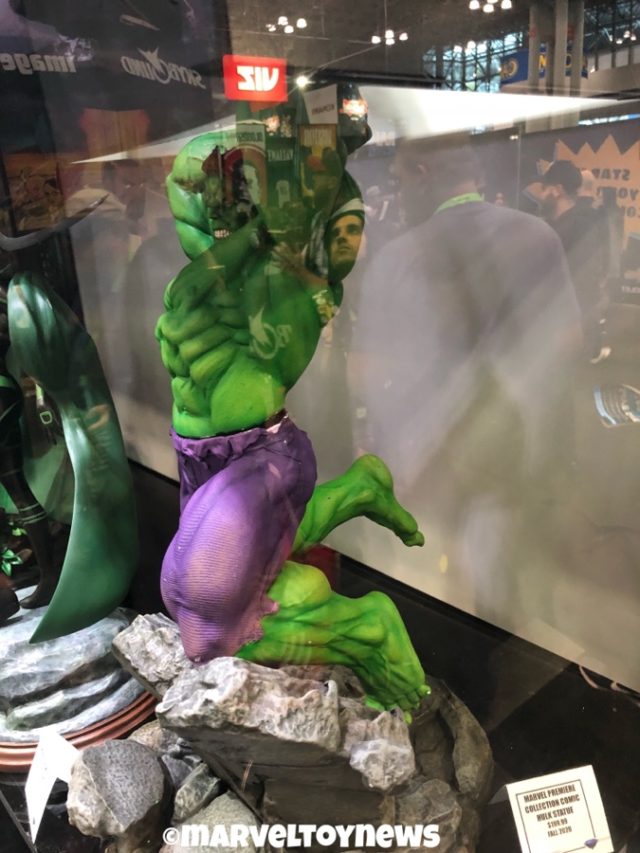 This particular 1:6 Resin Hulk Premier Collection Statue is rather oversized and much larger than the usual entries in the line, so it'll have a slightly higher $199 price-tag when it arrives in Fall 2020.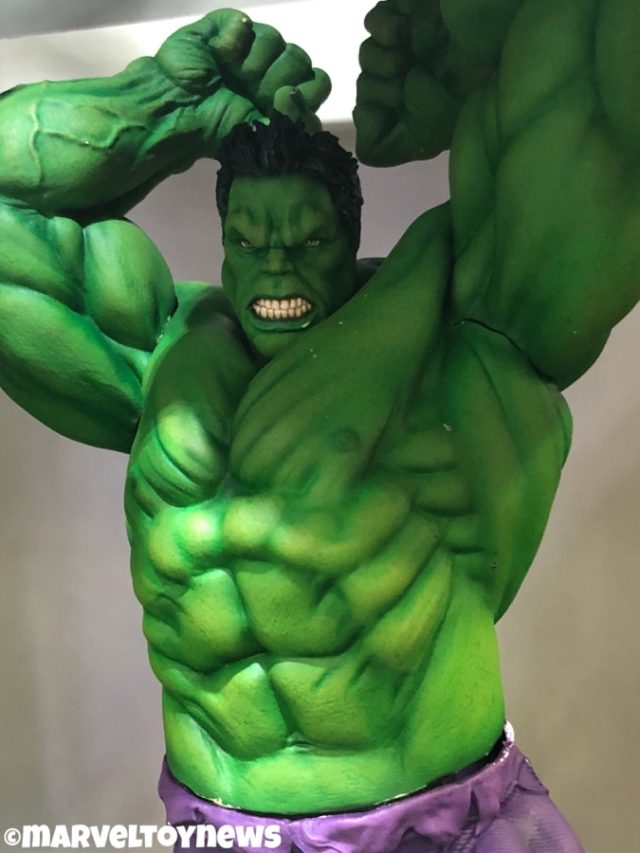 DST's resin statues are a steal to begin with, and I don't think anyone can complain about a sub-200 price on a large and bulky statue like this one.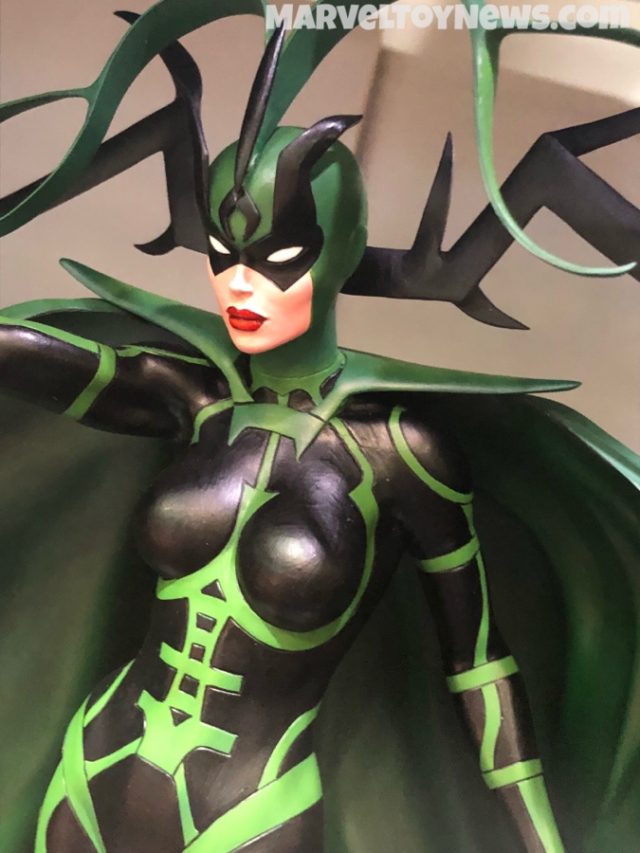 The 12" Hela Statue that's already up for pre-order was also at the show, and looks awesome in-person. She's arriving in December/January, and I'm really psyched to be able to fill this character gap in my Bowen-sized collection for the crazy low price of 135 shipped. I'll post updates and send out notifications once the other new statues DST debuted at the event go up for ordering as well.
What do you think of the new Avengers-related statues Diamond Select Toys debuted at New York Comic Con, Marvel collectors? Are any of these on your watch list for next year, or has DST's latest round of value-priced pieces failed to strike your fancy?