Products You May Like
Sideshow disappointed some folks by only bringing a singular never-before-seen Marvel statue to New York Comic Con 2019 earlier this month–but luckily, it happened to be the singular most-requested character this year for the popular X-Men series. Even so, the leader of the X-Men got sort of a mild reception from the collecting sphere at the event. Now that the Sideshow Cyclops Premium Format Figure goes up for order this afternoon and all of the options and official photos have been posted, has this Cyke become a must-have….?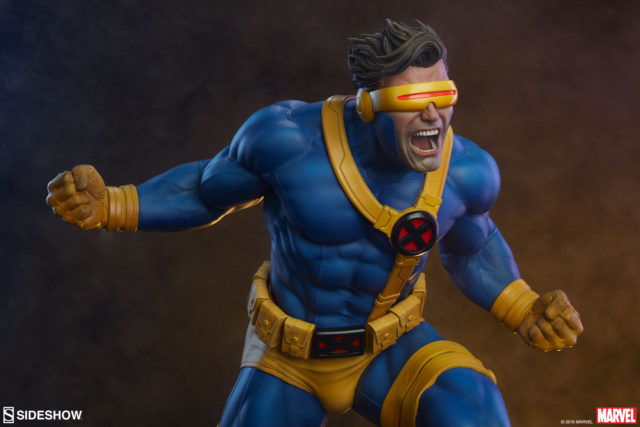 Walking into NYCC 2019 this month and knowing that the new Sideshow Collectibles Cyclops quarter-scale Statue was going to be there, there's nothing I wanted more than to be absolutely blown away by the unquestionable best statue ever made of the iconic X-Men team leader.
But, well… I ended up just not feeling all that strongly about the new Scott Summers 1/4 Statue. I think it's a solid piece, but not one that reaches the heights of masterpieces like the new Gambit or Jean Grey Premium Format Figures. Am I gonna buy this PF Cyclops, though? Well…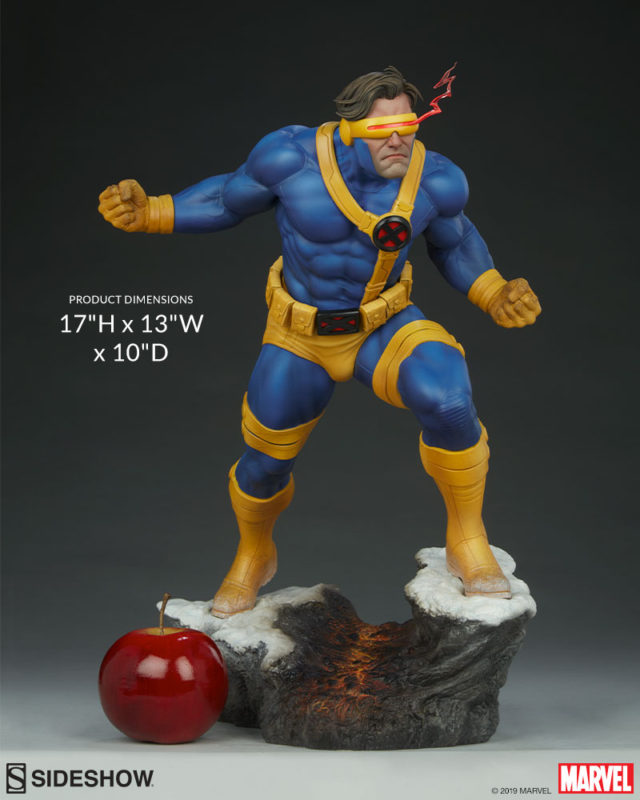 I quickly warmed up to the screaming head with blowing hair portrait that Sideshow displayed at New York Comic Con, but I was holding out hope that the unseen second interchangeable head would really rock my world. Now that we've actually seen it, well… it's "fine", but I think I'll be sticking with the screaming head.
  While I think the closed-mouth, stoic alternate head looks terrific from the left side of Cyke's face and very nice from straight-on, some of the official photos taken from various angles on the right side of the head look awkward to me. Maybe it's just the angle, but something looks too cartoonish about the head in some of the pictures.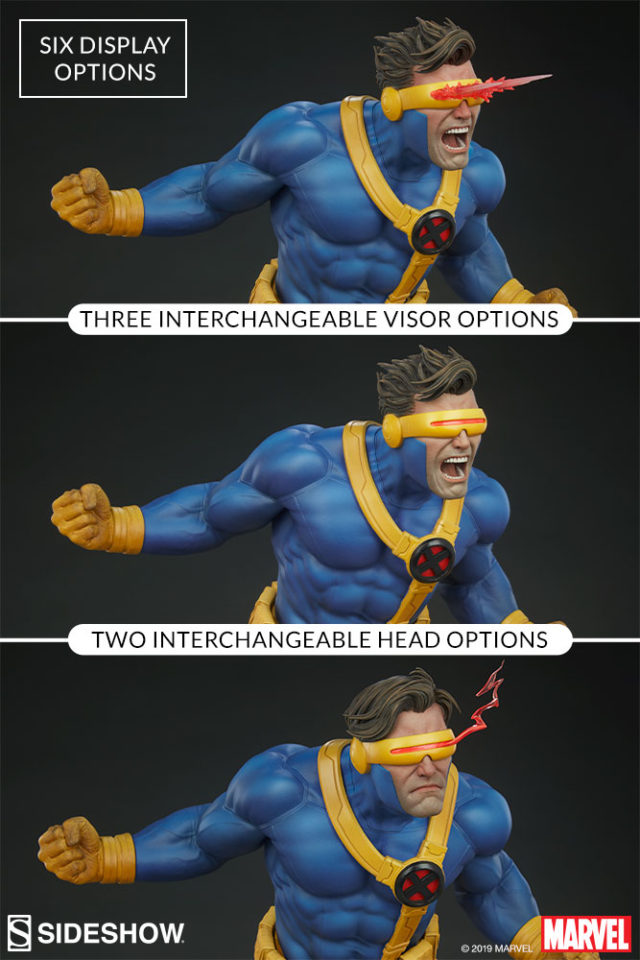 But whichever head collectors choose to display with, they'll have three more options in front of them thanks to the three interchangeable visors Cyclops comes with! This is a really ingenious idea Sideshow had to really mix things up and add some diversity across fans' displays, and I totally dig the thought and effort that went into these options.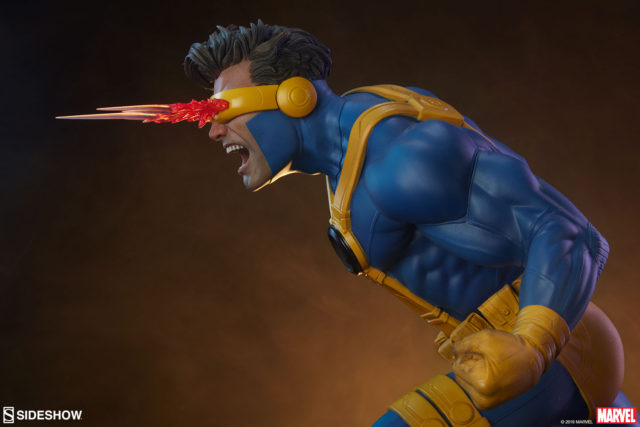 If you're going to display Slim looking off to the side, the "shooting" optic blast effect head is the definite winner. We've finally started getting Cyclops action figures with heads like this this year, and I'm delighted to see these types of effects on new statues as well.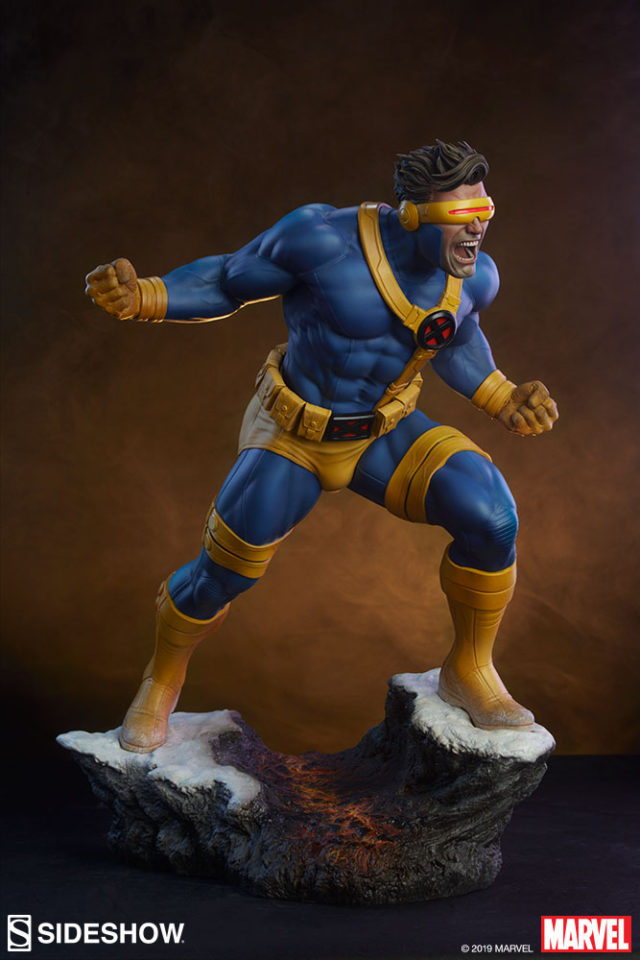 The "smoking energy" visor adds a bit of life to a display by creating the feeling that Cyke has just blasted away a nefarious foe, but the plain old "no energy" visor may ultimately be the most-used option. Collectors love choices, so this is a win.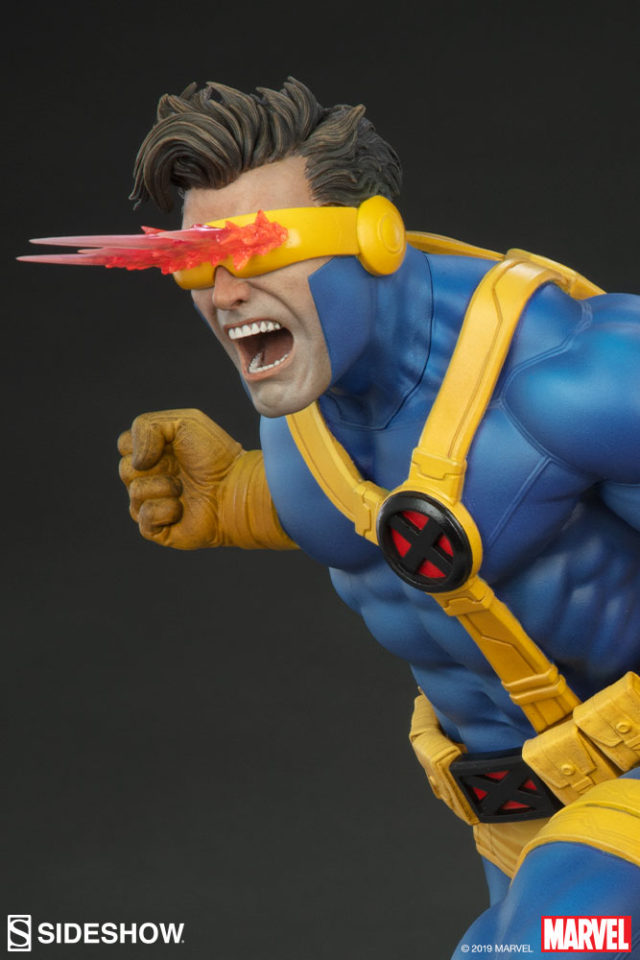 The Jim Lee costume itself has proved a bit divisive, since some fans were hoping for a less-merchandised costume such as the Astonishing X-Men uniform. That said, there's no doubt that the 90s Animated costume/Jim Lee costume is the most iconic and the one that matches the other characters in this series best, so I really cannot fault Sideshow here.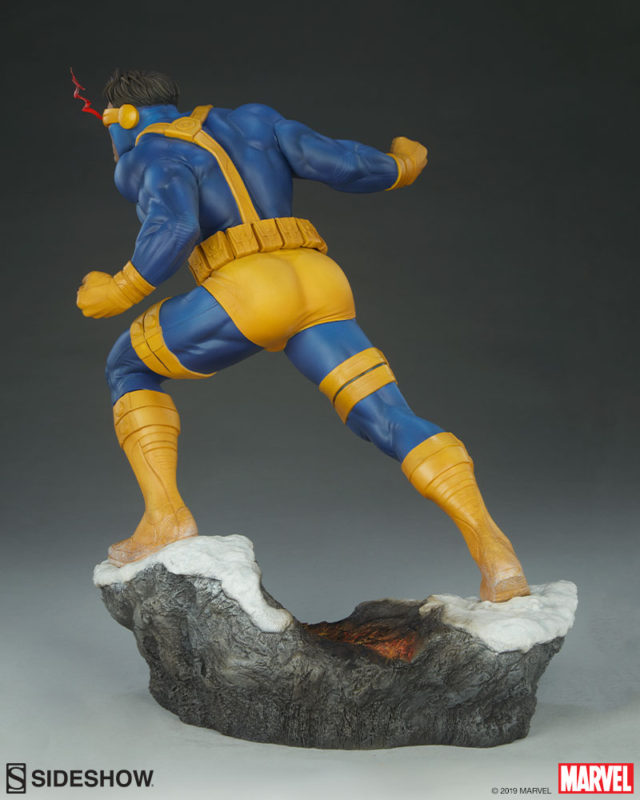 The 90s X-Men Jim Lee costume itself looks terrific. Sideshow did a wonderful job bringing it to life in 1/4 form without adding unfamiliar artistic touches to it, and I'm pleased about that.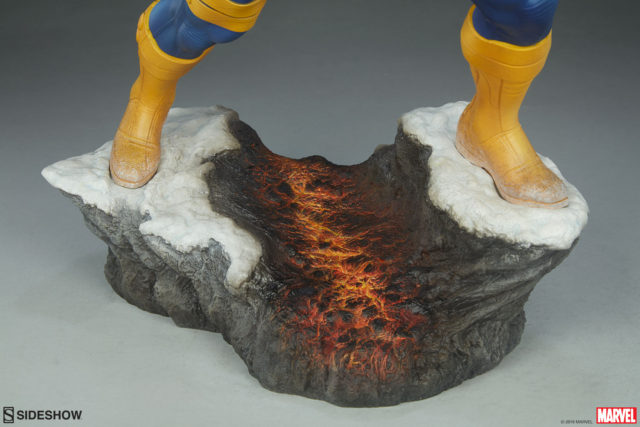 The snowy terrain bases looks cool to me and adds a sense of cohesion with the Sabretooth and Jean Grey statues, although I'm definitely wondering if there's another villain piece coming that will explain the massive strip of scorched earth that Scott is standing over. Snowy deco on the boots looks groovy too.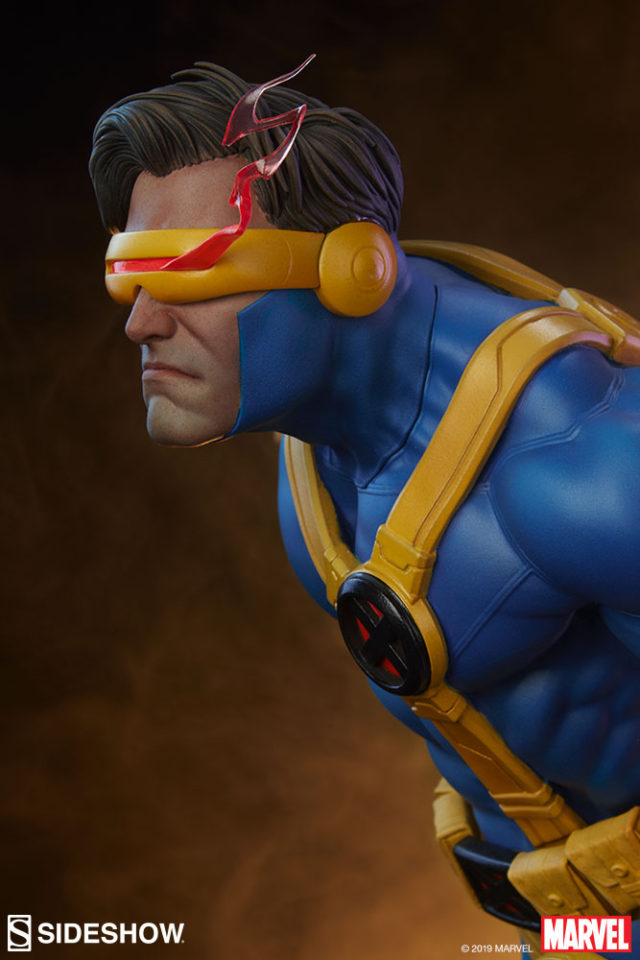 Overall, I think this is a good Statue. Certainly not Sideshow's best effort, but far, far from being a bad statue. I think the Cyclops fans out there who buy this piece are going to be satisfied with what their $580 scores them.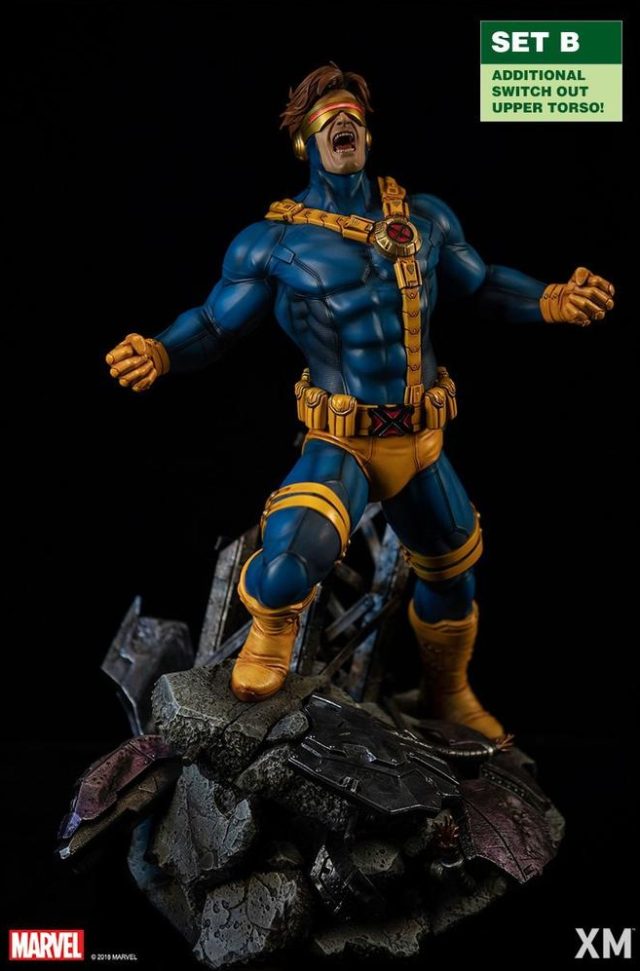 The real question is: is this the best Jim Lee Cyclops statue available right now? While XM Studio definitely has an eye-grabbing winner of a Cyclops, their version is going to run collectors $1000 and up to obtain—not exactly the kind of price that's welcoming to a huge swath of the collecting sphere.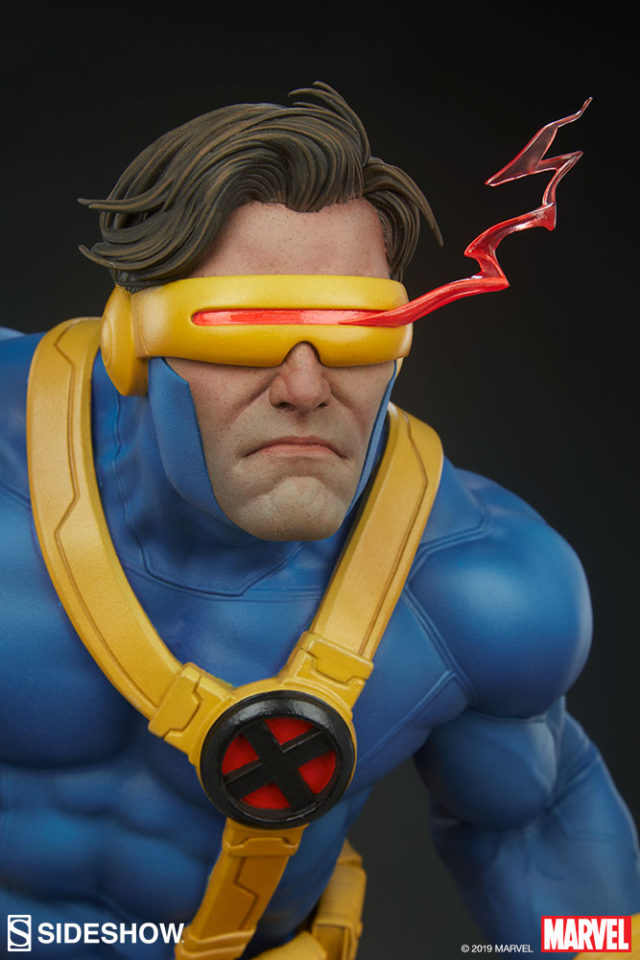 Sideshow's Cyclops isn't quite as detailed, but also costs just a little more than half the price of the XM Cyclops and will be both easier to purchase and easier to get replacement pieces for if any problems should arise during shipping. I've debated this long and hard, and I think I'm personally opting for the SS Cyke. Your collecting mileage may vary.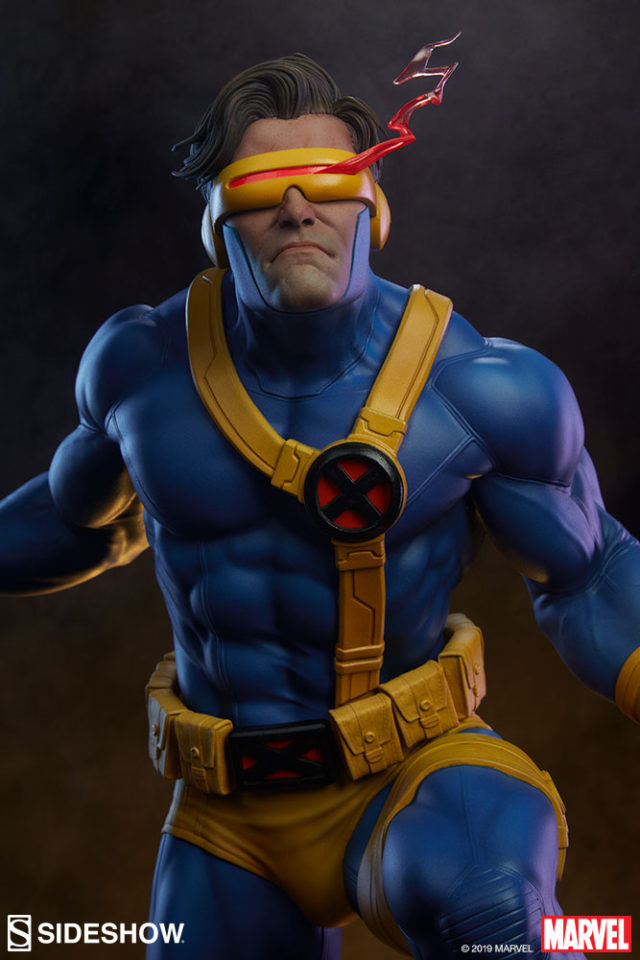 The Sideshow Collectibles Cyclops Premium Format Figure Statue went up for order today, and is expected to be released in the latter half of 2020. As I'm steadily building up a Sideshow X-Men lineup, I'm really looking forward to being able to add Scott to the display front and center!
Now that you've had a chance to let the New York Comic Con reveal to sink in and you've absorbed the official photos and specs, where do you fall on this 17" Premium Format Cyclops Statue, Marvel collectors? Is this Cyke for you, or are you holding out for a different company's version or even a different costume for Scott Summers?