Products You May Like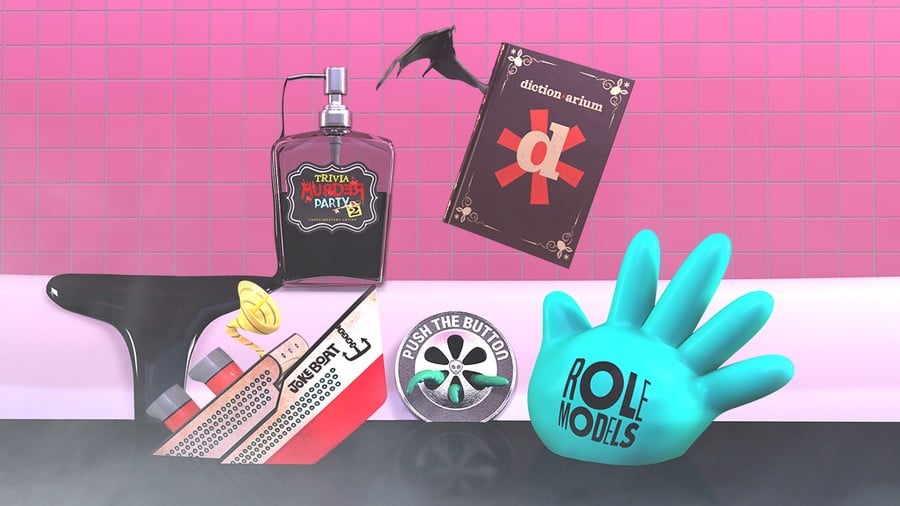 Originally announced for fall 2019, the season's upon us now and true to its word Jackbox Games is bringing Jackbox Party Pack 6 to the Switch eShop tomorrow. As the shrewdest among you may have deduced, this is indeed the sixth entry in the series of internet-based party games which enable anyone with a smart device to link to the game via a unique code and play using their phone / tablet / whatever.
This latest entry features five new games which support 1-10 players (depending on the game), although playing solo as you work your way through vast bowlfuls of nibbles is almost certainly not the way to play. Here's the rundown of the games according to Nintendo's site:
1) The popular trivia deathmatch Trivia Murder Party 2 (1-8 players). Try to survive the bizarre new minigames.
2) The weird word circus Dictionarium (3-8 players). May the funniest definition win.
3) The hidden identity game Push The Button (4-10 players) . Can you discover the aliens in time?
4) The comedy contest Joke Boat (3-8 players). Craft one-liners for a cruise ship talent show.
5) The offbeat personality test Role Models (3-6 players). Find out who you really are. (Or at least what your friends think of you.)
While the hit rate can be patchy, we've yet to find a Jackbox which didn't have at least one winner in its local multiplayer party pack, and the fact that up to 10 people with a phone or mobile device can play without needing a Joy-Con means that everyone can get involved, even after enjoying the festivities perhaps a little too much. The game will be available for $29.99 and may be just the ticket if you've exhausted the other packs and have a fiesta on the horizon.
If you missed it, here's a taster of game number 2 from the list above:
If you like to party, check out our picks for the best party games on Switch – a selection of games chosen for the raucous hilarity they facilitate, as well as the ease with which they can be picked up and played after consuming too many sugary drinks. Are you game for another round of Jackbox? Let us know below.