Products You May Like
While it may seem like every major high-end collectibles company in the world is churning out Marvel products these days, there are actually still some holdouts out there. But that number is decreasing by one this week, as Pop Culture Shock Collectibles will be entering the fray this week with their first-ever Marvel Statue: the PCS 1:3 PS4 Spider-Man GamerVerse Statue Exclusive goes up for sale this week! I saw it at NYCC—was I impressed enough to take notice?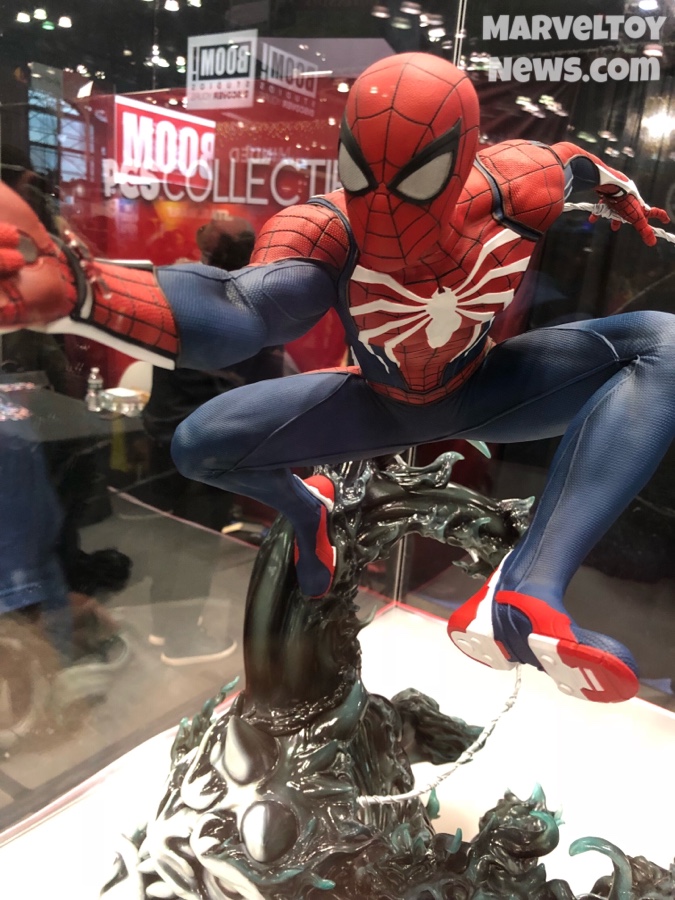 I had a bad breakup with Pop Culture Shock (PCS) a couple years back over the way that they treated myself and many other customers during the transition period after the business changed ownership, and I actually haven't bought a PCS statue since I took a big loss on NRDs cancelling all my Street Fighter orders.
But I love toys and statues more than life itself, and I'm a forgiving man, so when I heard the Pop Culture Shock Collectibles Spider-Man Statue was going to be at New York Comic Con, I made sure to place it high on my list of must-sees. And hey, I cannot tell a lie: I was impressed by what I saw.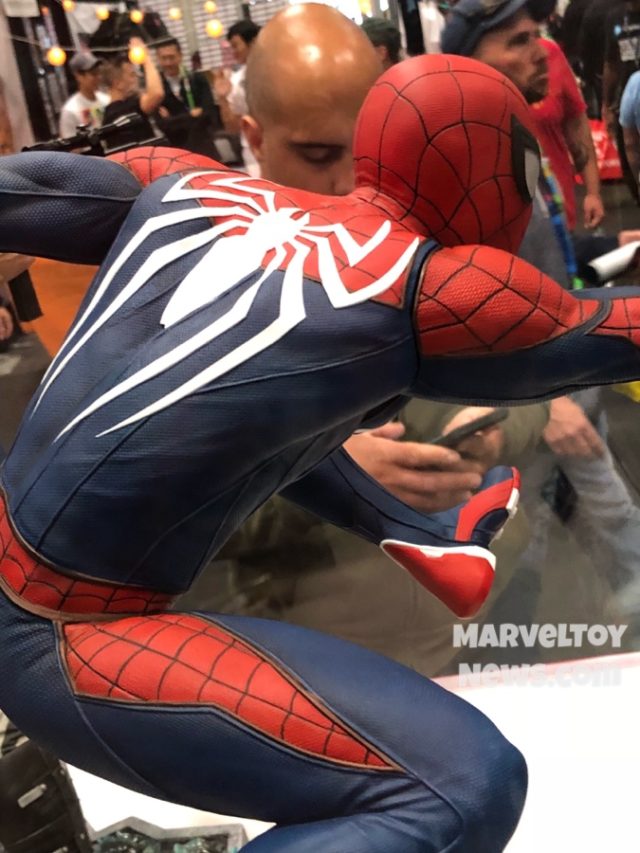 PCS Toys specifically has a license to produce characters from the Marvel GamerVerse of video games, so this piece is based off the beloved PS4 Spider-Man video game that came out in 2018. That game is considered by many the greatest superhero video game ever, so PCS obviously made an excellent selection for their inaugural piece.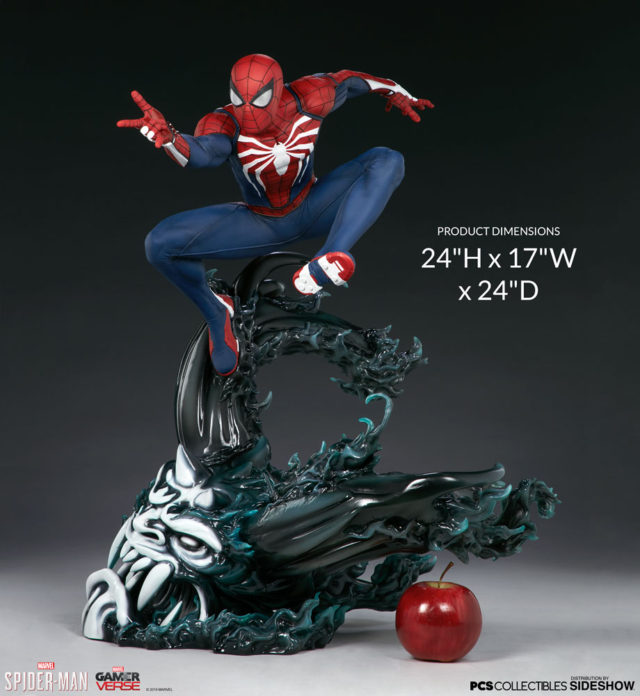 The statue itself is 1:3 scale, although due to the way Spidey is posed and the extra-large base, I think it'll fit in rather seamlessly with a 1:4 statue collection. It's definitely a big boy, though, with dimensions of 24" tall, 24" deep and 17" wide!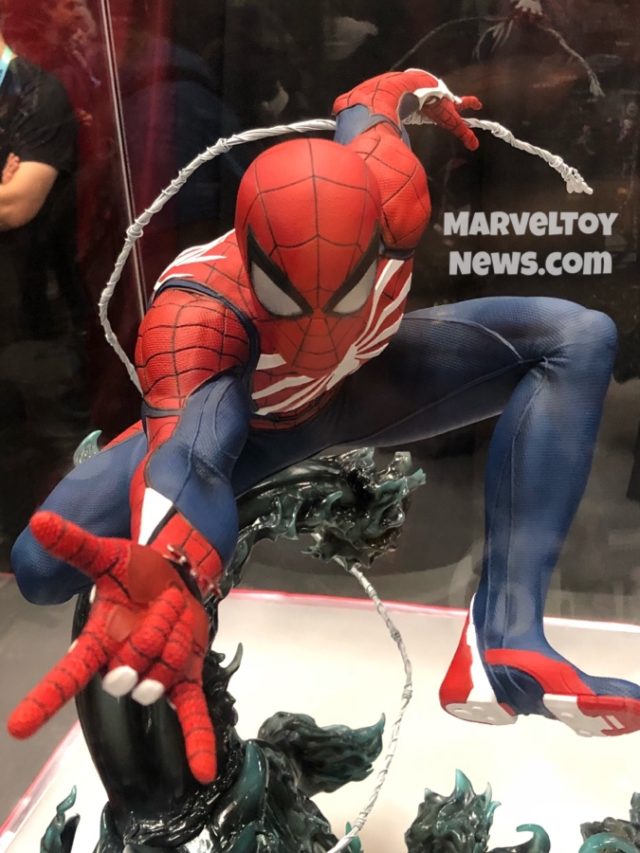 The Spider-Man figure portion of the statue is, in a word, stupendous. The texture on the costume looks straight out of the game, every detail I'd expect to see is present, and the proportions are dead-on perfect. This Spidey sculpture is frankly awesome.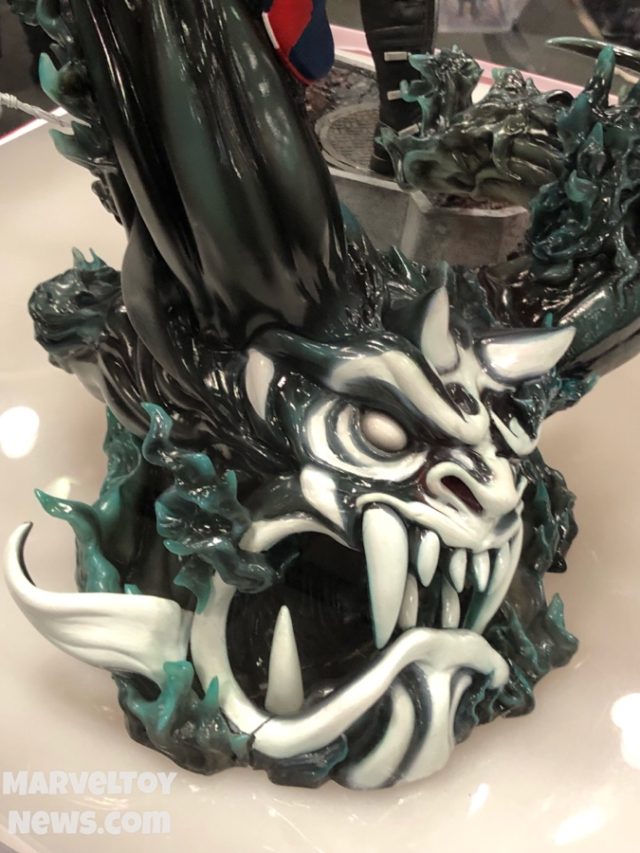 The jumbo-sized based is pretty rad as well—it's a semi-translucent Mr. Negative kabuki demon base, and in person it is pretty dang incredible. I don't know if I needed a wild base like this, but there's no discounting how slick this looks.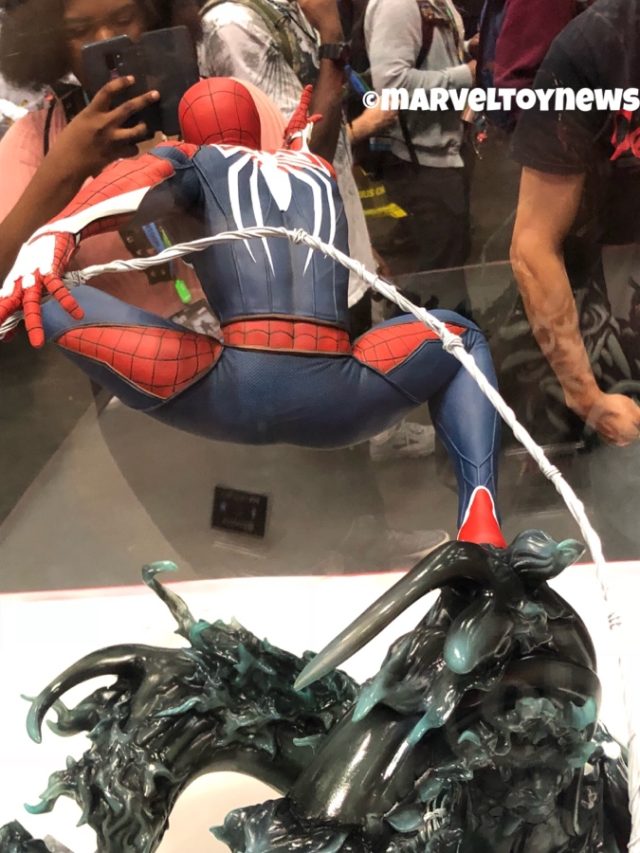 My instant concern when I first saw this design was that the statue would develop a terrible lean over time due to Spidey being totally balanced via one leg, but it appears that Pop Culture Shock Collectibles has gone out of their way–and perhaps even gone a little overboard–to ensure that doesn't happen.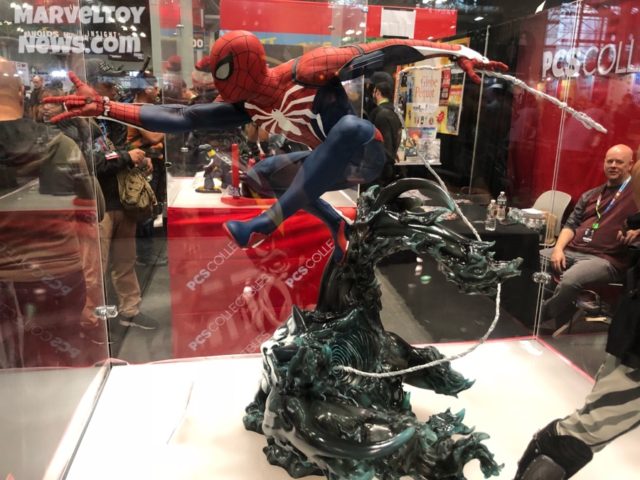 There's a thick metal rod that runs all the way from Spider-Man's torso down through his leg and out the foot to slot into the base, and there's another metal bar in the base that it locks into for even more reinforcement. It definitely appears that my initial fears regarding this statue developing a lean in the future were unfounded.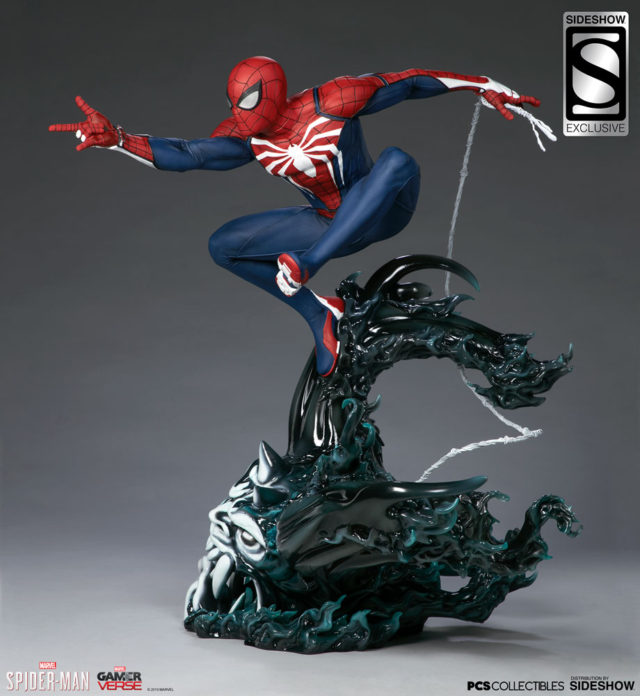 It's not entirely sunshine and rainbows for this piece, though, in my eyes. I think the exclusive version's flexible web add-on accessory should be included with every statue and not just the exclusive, and I'm not 100% sold on the pose of Spidey leaping over the "kabuki demon". Every component looks phenomenal alone—I just don't know if I like how they come together.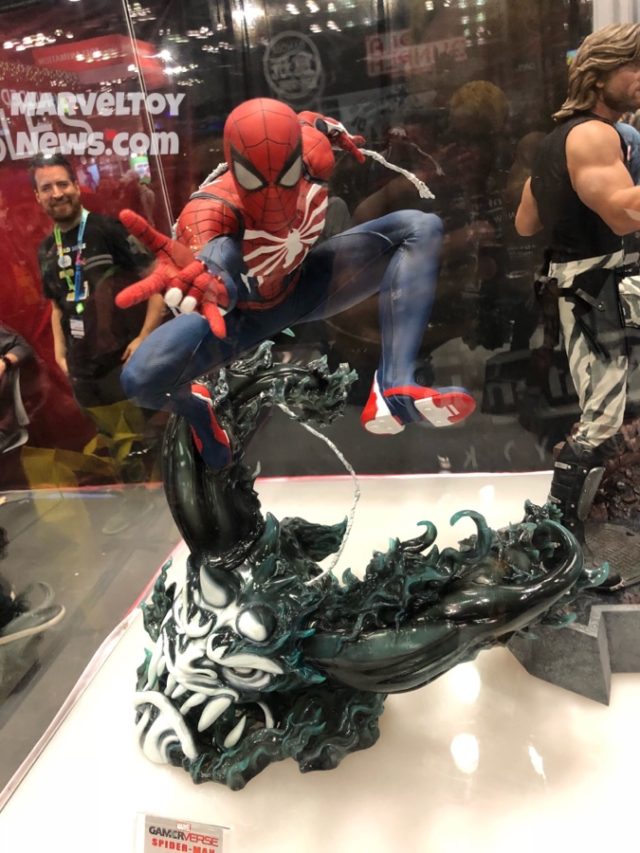 And then there's the price-tag. Pop Culture Shock Toys has long been known for their relatively low price-tags, but this 1:3 Spidey ain't gonna be cheap: both the regular and exclusive versions are priced at $1100 with edition sizes TBD. Ouch.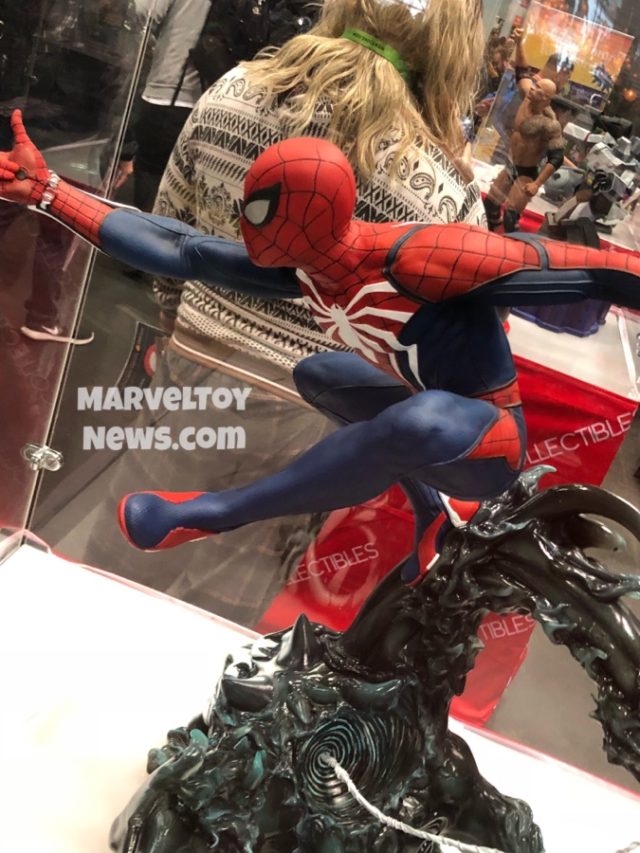 That MSRP isn't necessarily a deal breaker, but I do think that's it's going to significantly price many statue collectors out of the market with a $1K+ price-tag. It's a beautiful piece—I just don't know how many collectors can and will fork over 1,100 bucks for it.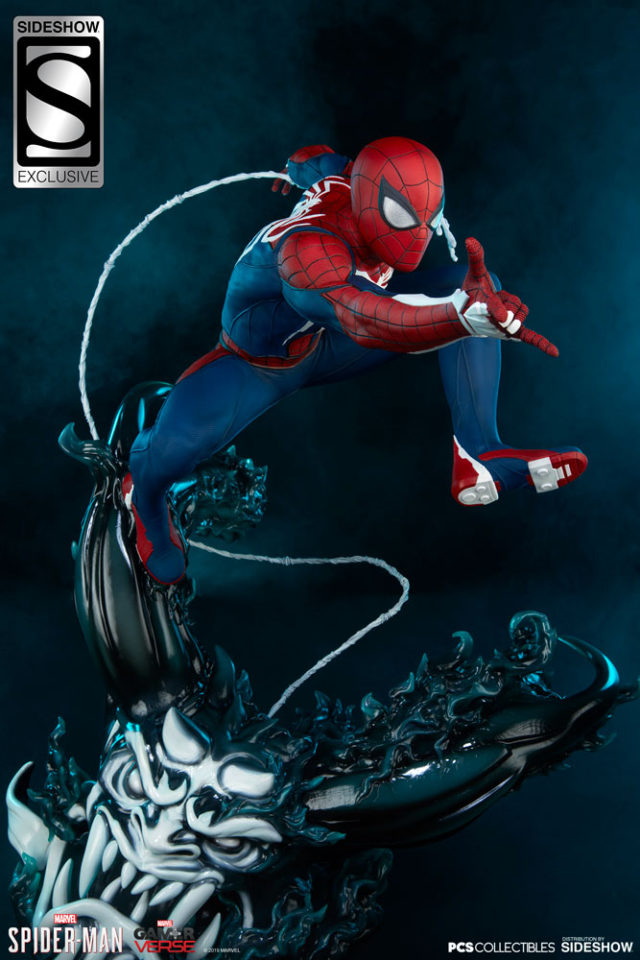 The PCS Collectibles GamerVerse Spider-Man PS4 Statue Exclusive Edition goes up for sale on Thursday, and is scheduled for release in Q4 2020. I used to be extremely skeptical of PCS's shipping estimates, but recent statues like their TMNT are arriving at breakneck speeds and with top quality. Let's hope we see that trend continue with this PS4 Spidey!
What do you think about the first-ever Pop Culture Shock Toys Marvel Statue? Is this video game-based Spider-Man making your collecting-sense tingle, or is this a pass for you? Are you interested in a statue of Venompool or any other characters that fall under the GamerVerse purview?