Products You May Like
In the build-up to San Diego Comic Con 2019 in July, Hot Toys posted some very obvious teasers for what are the two biggest omissions from their Avengers Endgame MMS 1/6 figure lineup: Endgame (Fat) Thor and (Professor) Hulk. Hot Toys pulled the rug out from under us by actually not displaying either of those at SDCC 2019, but as we venture further into fall, they're finally ready to play their two biggest remaining cards: the Hot Toys Endgame Thor and Hulk figures are now up for order!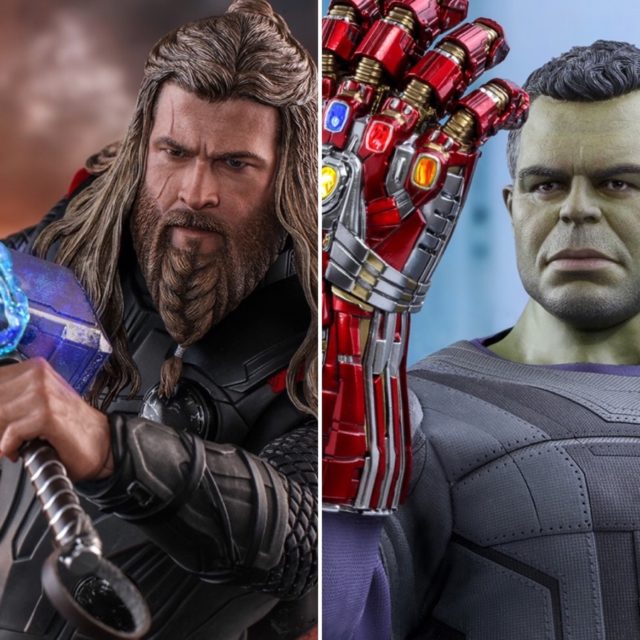 Thanks to the amazingly efficient way that Marvel Studios kept fans in the dark during the marketing for Avengers Endgame, many fans (including me) were totally caught off-guard by the appearances of "Fat Thor" and "Smart Hulk" seeing the movie for the first time. High-five, Marvel Studios marketing department!
But consequently, the collectibles world fell behind and has been trying to catch up with merch for these iconic characters ever since. It's taken close to half a year, but Hot Toys is finally ready to show off and solicit their own Avengers 4 Hulk and Thor sixth scale figures. How'd they do…?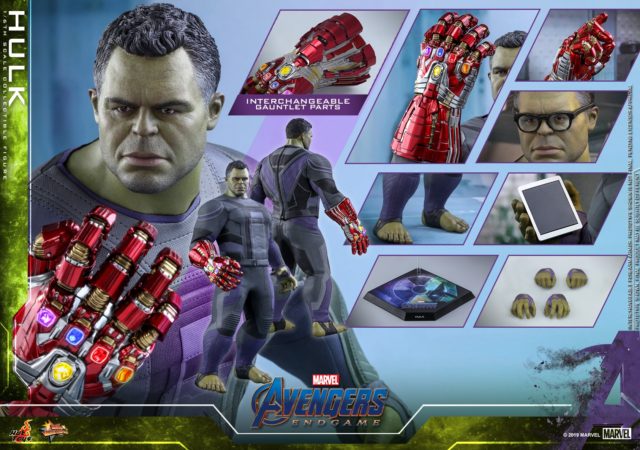 Well, I would say the results are a little bit of a mixed bag—especially in the case of the Endgame Hulk MMS. Hot Toys selected the iconic team suit look that Banner had when he uses the Nano Gauntlet to do the epic "Snap" that brings back the dusted half of all living beings in the universe.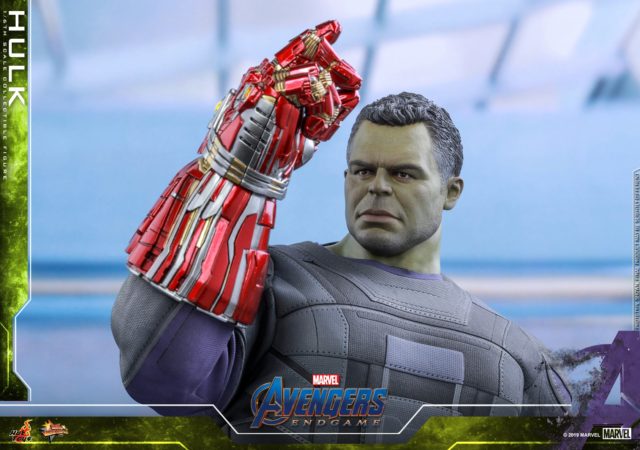 In theory, that's a reasonable choice, but I'm just not crazy about the total package here. If Hulk is going to be doing the snap, he needs to have some sort of expression of pain and agony on his face—the expressionless "blah" face just does not make sense in this instance.
Personally, I would've dug it if Hot Toys had gone for the "casual clothes" look for this Professor Hulk, giving him a smirking face and a couple of tacos as accessories. Those were the best moments for the character in the film, in my opinion. Even the time-traveling New York version would have been preferred by me personally.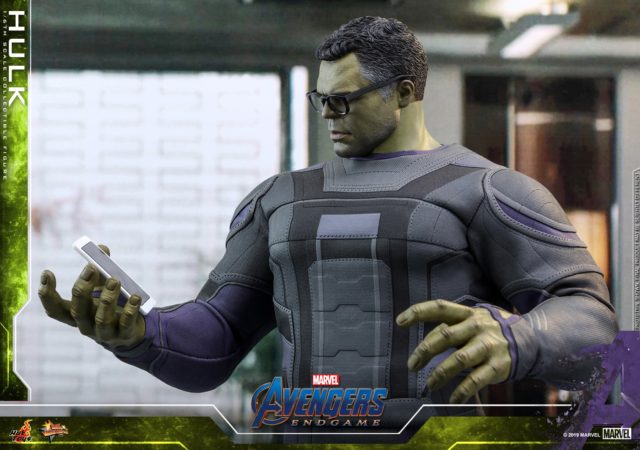 The clothes themselves are very well-done, and the likeness is decent (and gets a lot better once you put the glasses on), but this just isn't the Hulk I was looking for.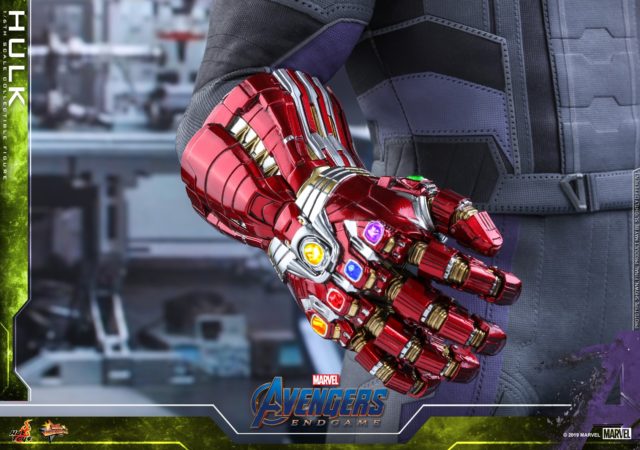 I do have to say that the Nano Gauntlet looks tremendous, though! I'm looking forward to when we inevitably get a Thanos with Nano Gauntlet. And speaking of which…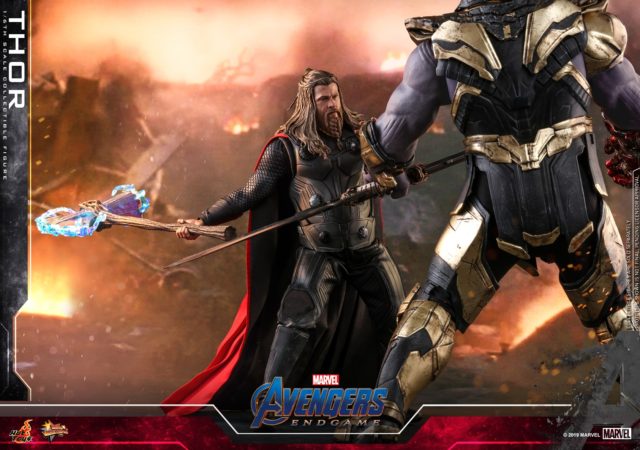 Perhaps the biggest eye-catcher in the official photos of Hot Toys Fat Thor isn't even the God of Thunder himself, but the tease of a Battle-Damaged Thanos with Nano Gauntlet! I've got zero doubts we'll be seeing that figure in the future, and I appreciate Hot Toys giving fans a subtle heads-up that he's on the way.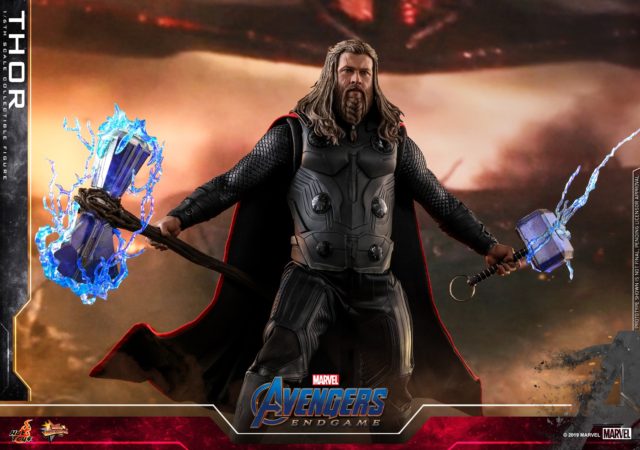 But back to the figure that Hot Toys is actually trying to sell us right now…! While I think there's still a market for an eventual "Lebowski" Thor with huge gut, robe and cans of beer, this armored Thor from the end of the movie is a knockout, in my opinion.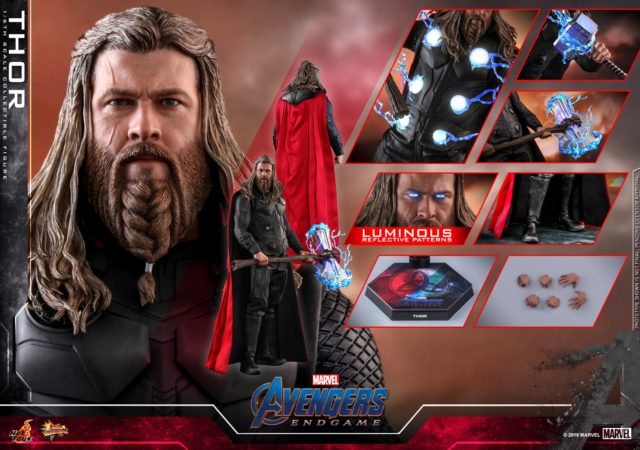 The likeness on the Chris Hemsworth portrait is downright perfect, with the sculpting for the hair and beard tremendous. This is easily the best representation we've seen of this iteration of Thor from the end of the film yet.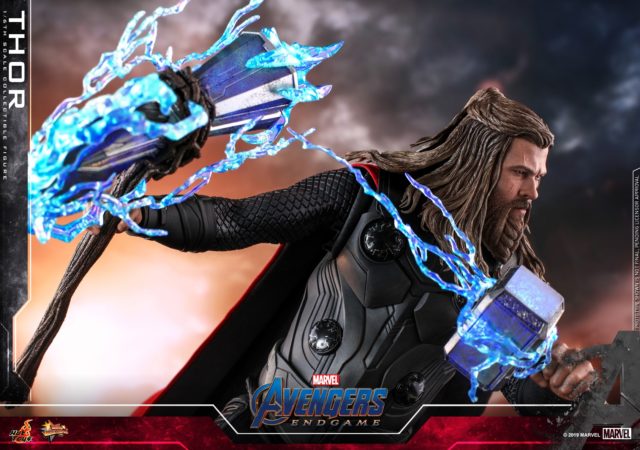 MMS Thor from Endgame is also a big winner on the accessories front, as he comes with a variety of effects pieces and interchangeable hands, as well as electronic light-up Stormbreaker and Mjolnir, on top of the obligatory flight stand.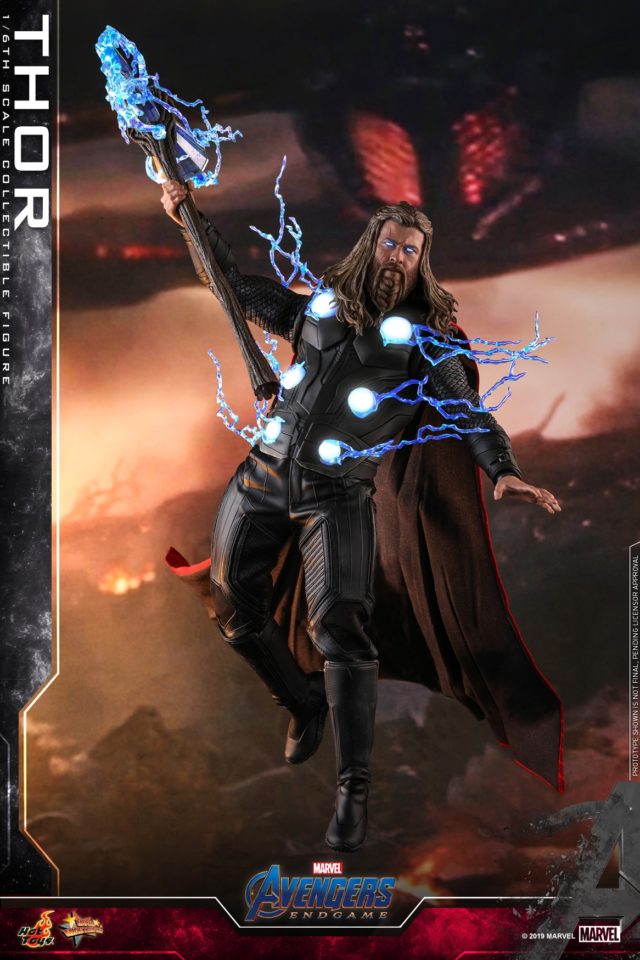 The luminous reflective effect on Thor's eyes and some of the extras is also awesome. While I've got serious hesitations regarding that Smart Hulk 1/6, I already know that Hot Toys has Future Dabid's dollars locked up for this God of Thunder. Good work, boys!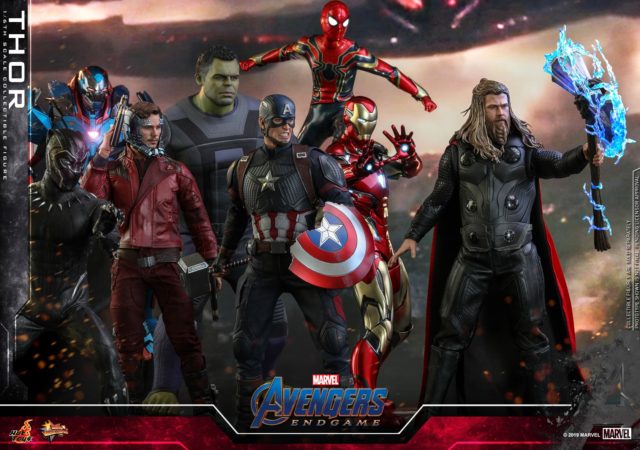 The Avengers Endgame Hot Toys Thor and Hulk figures go up for order this week and are scheduled to ship out in the beginning of 2021, so you've got some time to decide if you want these and/or choose a lengthy payment plan if you do. Given the popularity of the Captain America and Iron Man 1:6 figures from the movie, I'd anticipate both of these doing well for Hot Toys (but with Thor faring significantly better than Hulk).
Now that these long-awaited Avengers Endgame Thor and Hulk Hot Toys figures have finally been fully unveiled and are going up for sale, will either (or both!) of them also be going into your collection? With these two characters being solicited, is there anyone else you want to see an MMS of from Endgame, or are you satisfied if this is the end of the road?