Products You May Like
NYCC 2019 is in the books, but whereas I decided to take a couple days off to recover, Mezco Toyz was ready to capitalize on post-convention buzz with what's likely to be one of their most successful pre-orders of the year! After a Remy Lebeau dry spell that seemed to last for ages, everything has been coming up Rajin' Cajun in 2019—the Mezco ONE:12 Collective Gambit figure is now up for order! Can this 6" Gambit action figure triumph over the Marvel Legends and Revoltech versions…?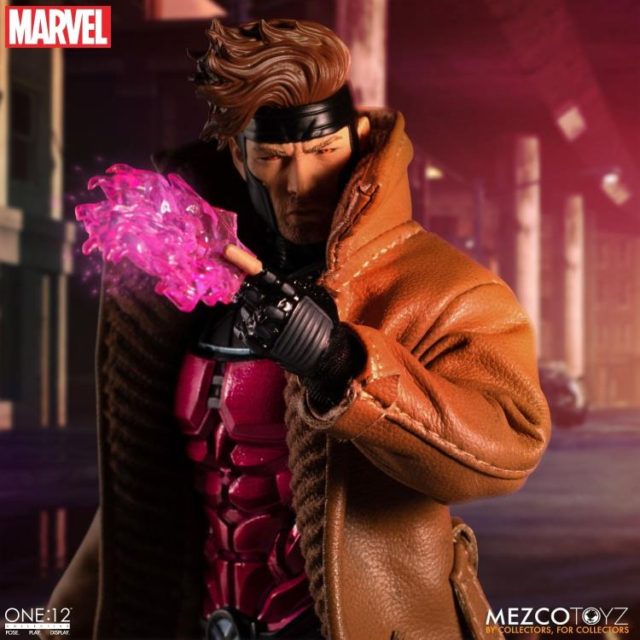 Among the biggest shockers at New York Toy Fair 2019 in February was the casual way that Mezco Toyz announced they were making an X-Men ONE:12 Collective Gambit figure—by casually tossing a one page teaser into the 2019 product catalog given out at the show.
I believe I was the first person to share that catalog page onto social media in the collecting community, and I've been waiting impatiently for the grandiose full reveal of my favorite male X-Man ever since. And finally, post-New York Comic Con 2019, the new mixed media Remy Lebeau is up for order!
What's he bring to the table that might justify his $85 MSRP and give him an edge over other companies' 6" scale Gambits…?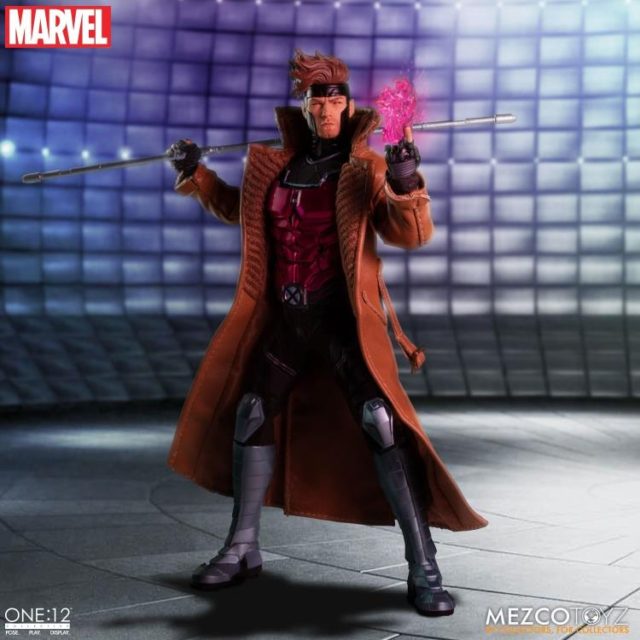 Well, the first and most obvious advantage this toy has over other recent versions is the actual soft goods coat. While the inflexible plastic coats on other Gambit action figures tend to get in the way and restrict articulation, that's not a problem with this fabric overcoat.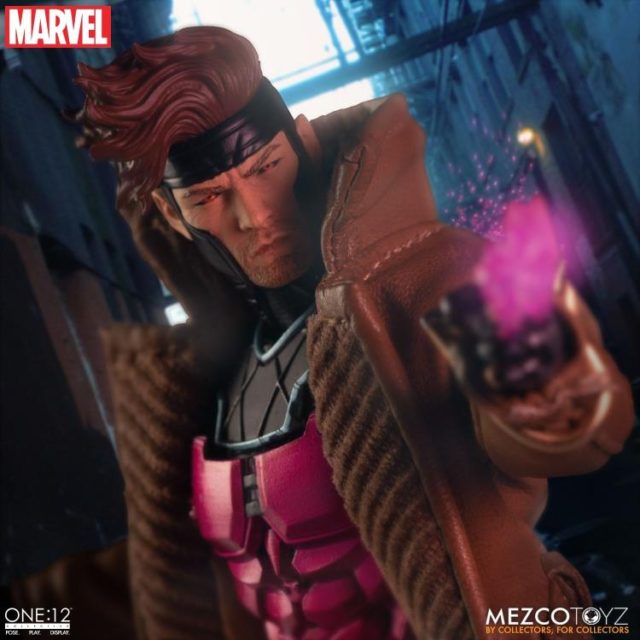 And what a coat it is…! Gambit has a pretty distinctive and near-iconic costume, and Mezco Toyz has basically nailed this crucial part of Remy's look with this finely-tailored piece of clothing! This is really nice stuff!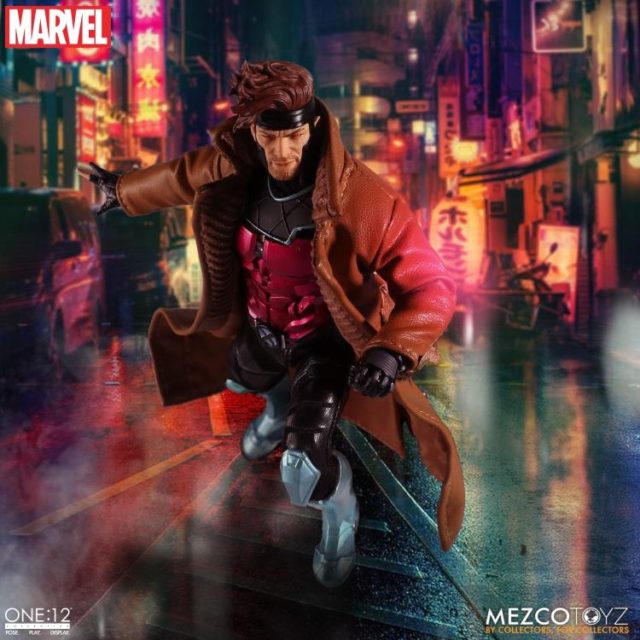 We get two interchangeable head sculpts for Gambit—serious and sly—and both of them are top-notch. Mezco's sculptors clearly know their Remy Lebeau! The different facial expressions and 28 points of uninhibited articulation mean that you can make this figure look appropriate in virtually any pose that you're hoping for.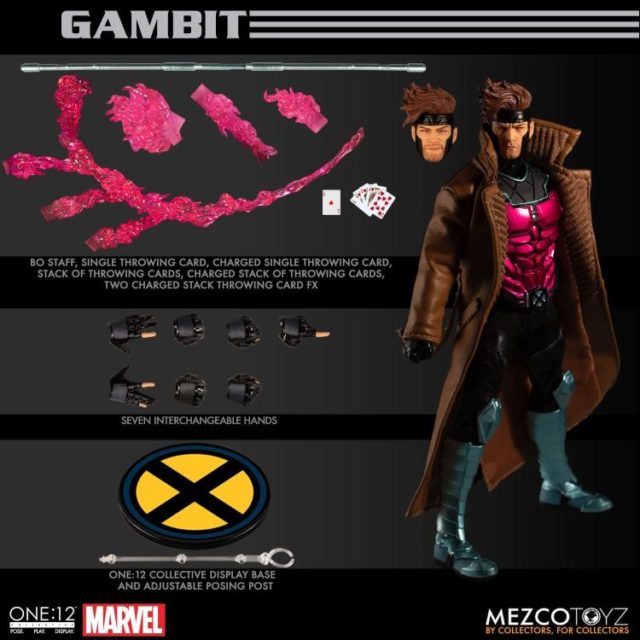 And on the accessories front, we're getting spoiled rotten by a veritable smorgasbord of well-executed and well-chosen extras. Along with the 7 hands and the obligatory X-Men figure stand (with adjustable posing pole), we also get the ever-popular (but rarely actually used in the comic books anymore) bo staff and five different types of playing cards (including both charged ans uncharged varieties).
Want Gambit holding one card? It's there. A whole hand of cards? That's there too. Charged single card or stack of cards? Those are also present. A whole arc of multiple cards charged up and being thrown? Yup, even that's present!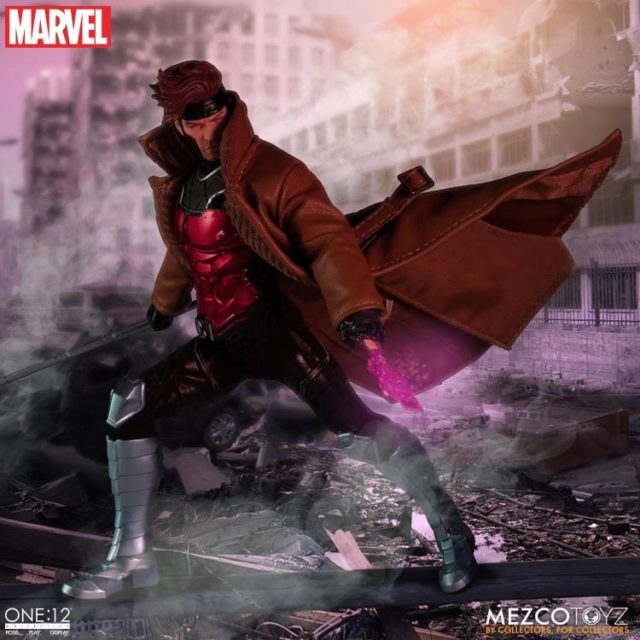 Hasbro did a solid job with accessories for their $20 Legends version, but Mezco went all out (as they damn well needed to to warrant 85 bucks as the MSRP). As a resident Gambit fanboy, there's no way I feel like I can skip this version, even with the lofty price tag. Excellent job, Mezco Toyz—you've won me over against my will!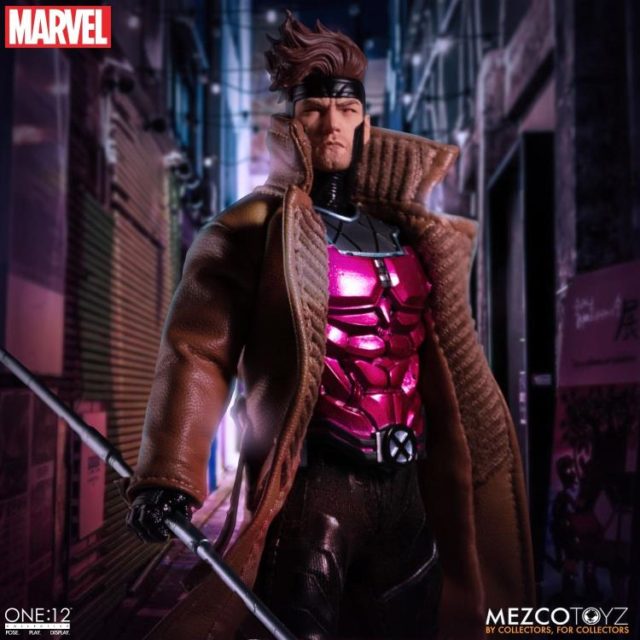 The Mezco Toyz ONE:12 Collective Gambit action figure is now up for order, and is estimated to begin shipping out in May 2020. It's been a little while since a Mezco Marvel figure sold out right away during pre-orders, so you likely have some time to ponder whether or not you want this Ragin' Cajun for your own shelf.
Has Mezco score a coup with their ONE 12 Collective Gambit figure, Marvel collectors, or is it too little too late for them to surpass the Remys Hasbro and Kaiyodo have already put out? Will you be adding this Gambit to your collection, or are you satisfied with the ones that are already available?