Products You May Like
Blue Bloods' emphasis on family often sets it apart from other police dramas.
Viewers tune in to see the Reagans grapple with tough issues, argue with each other, and manage to come together over Sunday dinner.
But Blue Bloods Season 10 Episode 3 shifted, instead focusing on other families' troubles while the Reagans all got along for once.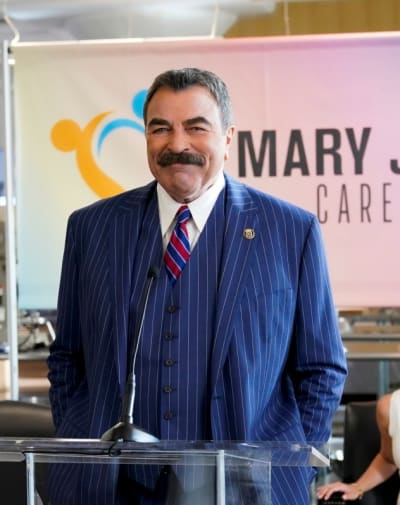 Some of the other stories were interesting, but something was missing: the conflict between members of the Reagan family.
Jamie's problem with Erin after the guy her office sent to a diversion program shot at him and his rookie lasted all of 30 seconds, Danny's case was entirely self-contained, and Frank was busy trying to put someone else's family back together instead of worrying about his own.
Related: Blue Bloods Review: Divided Loyalties
No one even had a problem with Nicky going all the way across the country for a potential social work job except for Henry, and that lasted only a second too. 
And nobody brought any case-driven drama to the table, either.
Any of the stories could have easily been expanded to include a Reagan v. Reagan conflict.
Danny: Not for nothing, but it sounds like Jill's husband killed her, not you.
Chen: No. We killed her by forcing her to abide by our ways.
Danny: And you hate cops so much you wouldn't even call us for help?
Mrs. Chen: I told him to but he wouldn't.
Chen: It was our duty to take care of her! She was our daughter!
For example, Andy Chen didn't exactly give cops a good name by constantly flying off the handle and nearly killing a suspect. What if Baez had reported Chen's misbehavior while Danny didn't see anything wrong with it? 
Now THAT would have been a Sunday dinner conversation worth having!
Or what about the elder Chens' distrust of cops?
Nicky could have been her usual devil's advocate self, weighing in on how both cultural differences and racial profiling issues made their feelings understandable, unintentionally offending most of her family in the process.
But alas, none of that happened. Instead, the Reagans became a perfect family overnight, in marked contrast to the other families everyone was dealing with.
Related: Blue Bloods' Frank Reagan: Grumpy Curmudgeon or Man of Principle?
Frank spent most of the hour trying to resolve a young man's problem with his dead mother.
Given how close the Reagan family is, it's understandable that he wants everyone else's family to be close too.
But not all families are the same, and more to the point, the writers gave viewers little reason to care about whether Mary Jane's son accepted being left out of his mother's will.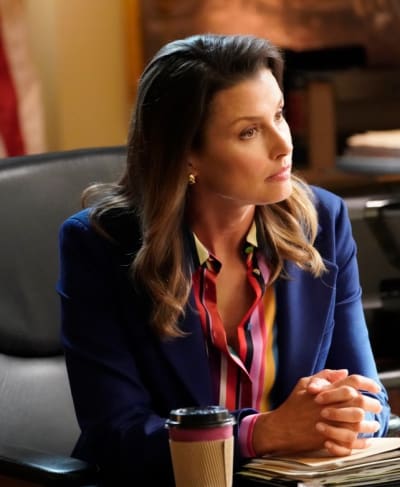 It wasn't as if Mary Jane and her kids were a big part of the show before her death. I don't remember ever having heard of her before!
So it wasn't clear why Frank was putting so much time and energy into resolving this problem with her kids.
Matt could conceivably have given a speech slamming his mother during the foundation opening, but otherwise, he had no power.
I know you have other people in your life, but only Mindy and Matt are family. And if the only time you get together is at weddings and funerals, it's going to haunt you.

Frank
And Frank didn't seem to be especially close with him, so there was no reason to wear himself out trying to get Matt back into the family fold.
Surely there was some more pressing issue that required Frank's attention. This one didn't even spark much argument from his staff!
Jamie's story quickly morphed into a story about Anthony's brother being reluctant to join a sting operation to catch a fellow gang member in case he was tempted to rejoin the gang.
This story was probably the best of the stories on Blue Bloods Season 10 Episode 3. It was a typical police story with some family stuff thrown in.
Related: Get CBS All Access via Prime Video Channels for Hit Shows, Exclusive Originals & Live TV!
And Jamie's desire to get his rookie's confidence back up was all sorts of sweet, too!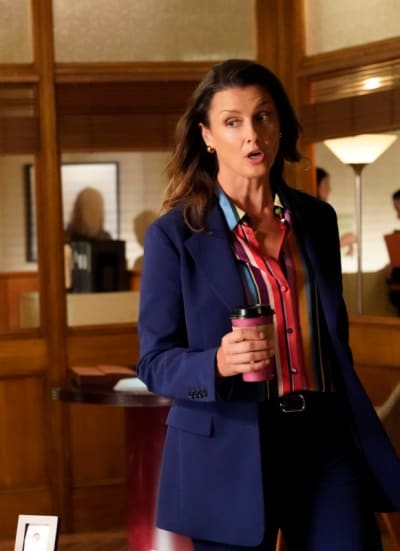 But Jamie's problem with Erin was resolved too quickly.
Erin pointed out that Jamie usually supported diversion programs, while Jamie argued they should only be for first-time offenders.
That was an interesting disagreement that might have gone somewhere.
But then Erin said someone else in her office made the decision anyway and got on with the business of undoing the damage. Conflict over.
Eddie: What time is it?
Witten: 7:59.
Eddie: So in one minute we're off duty and they still make us do this tour?
Since Jamie wasn't expending energy fighting with Erin, he might have had some left to give Eddie some advice about her idiotic new boss!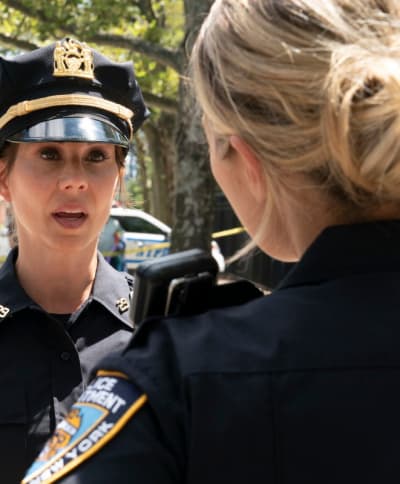 Sergeant McNichols' demands seemed unreasonable.
When Eli came to the police station to report that he'd witnessed the crime, the detective in charge of the case was standing right there, and McNichols was nowhere to be found.
Plus, the guy was freaking out enough about talking to the detective instead of Eddie and Rachel.
Tracking down McNichols to get permission to talk to the witness who came to the station specifically to talk to Eddie would have made little sense.
Making him wait for McNichols to tell the detective to talk to him would have freaked him out further.
In any case, McNichols had a chip on her shoulder that most likely won't be resolved by Eli's unsolicited hug.
Plus, someone's disability should not get used as comic relief.
Blue Bloods is generally better than that, but that's what Eli and his quirks felt like, especially when Eddie convinced him to hug McNichols.
And again, how come there wasn't a single scene where Jamie and Eddie discussed her work situation? 
Or any Jamko moments at all, for that matter?
Eddie totally should have had a moment to discuss this with Jamie.
Even a short conversation about how disappointed she was that she could no longer get to see him during changing of the shift because of McNichols would have helped.
Your turn, Blue Bloods fanatics!
Were these stories a nice change of pace, or would you prefer the Reagans arguing with each other?
Did you care about the family Frank was trying to help?
And who else missed having Jamko time during the hour?
Weigh in below, and don't forget that if you missed anything, you can watch Blue Bloods online here on TV Fanatic!
Blue Bloods continues to air on CBS on Fridays at 10 PM EST/PST. It is in its 10th season.
———————————————
Editor's Note: Our system got updated! Now, you'll be able to scroll through many articles at once. That required a bit of a change to the comments, though, and now you have to click the blue "comments" bar at the bottom of an article to access them. 
There are also two segments to comments now. You can either comment using Facebook or Disqus. Either way, you can SEE both types of comments. We hope that will be more inclusive of our community at large and that the conversations will grow as a result.
Jack Ori is a staff writer for TV Fanatic. Follow him on Twitter.