Products You May Like
While there were some quality new products revealed at New York Comic Con 2019, the quantity of fresh Marvel toys and statues that premiered at the show was a little bit lacking compared to past years. But one company that rarely lets me down is Diamond Select Toys, and they delivered once again at NYCC 2019 with over half a dozen new Marvel statues on display! And the two that caught my attention the moment I set sight on them were the Marvel Premier Collection Archangel and Juggernaut statues…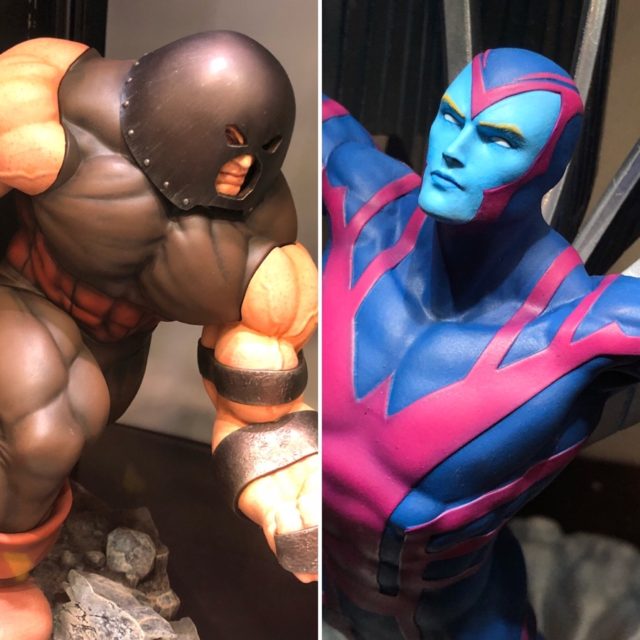 While I always enjoy seeing what Diamond Select Toys brings to any event that they're present at, it's been a little while since they've really wowed me with a new toy that they've revealed at a show.
Or at least, it had been a while until I approached the DST NYCC 2019 booth, where my eyes immediately darted to the enormous–and captivating–new Archangel Marvel Premier Collection resin statue!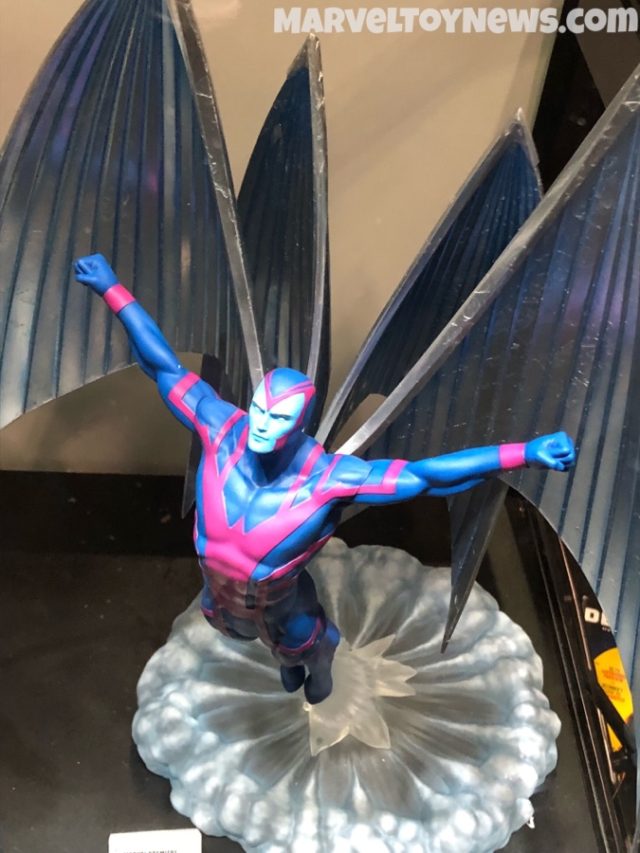 Although Archangel is indisputably a popular X-Men character (and literally light-years more popular than plain old Angel), we don't see a ton of merch for him since his wings have a humongous wingspan and make him difficult to design and produce. But DST likes a challenge, and is bringing us a cool new Archangel Statue next year!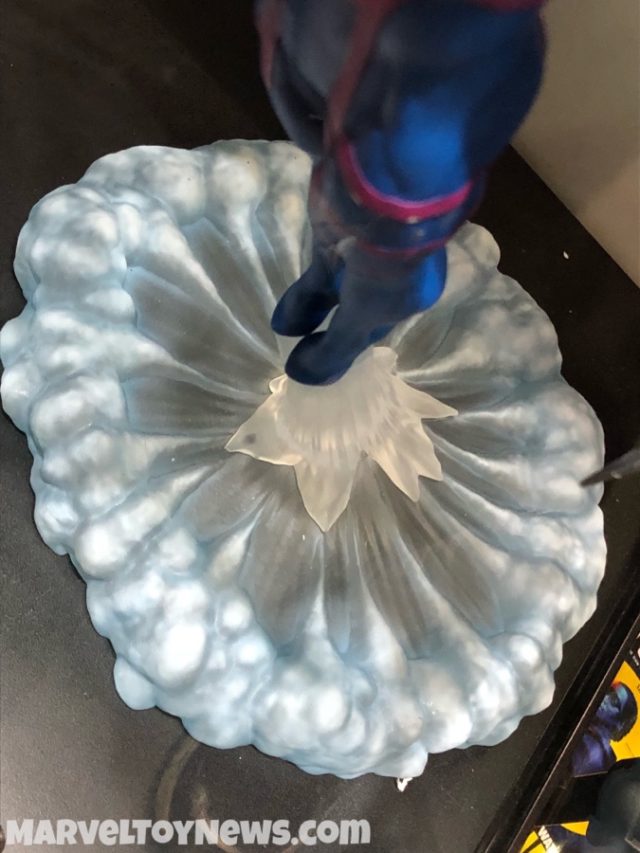 Priced at $199.99 MSRP and estimated to land in Fall 2020, this comic Archangel Premier Collection Statue depicts Warren "swoosh"-ing into the sky with his arms extended and a base of blast cloud beneath him.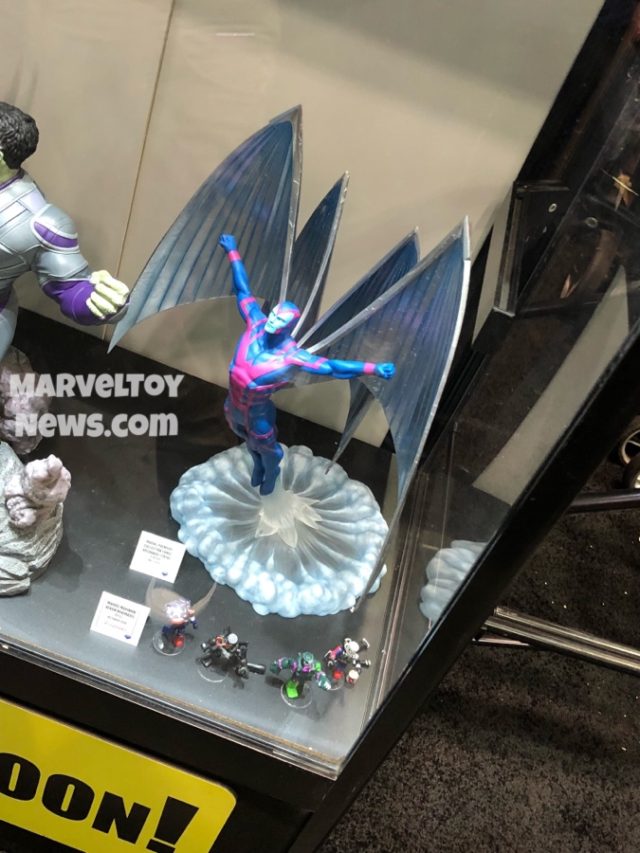 The design of this and location on the bottom of the display case made it a little tricky to photograph, but you can get a fair idea of the size of this resin figure by comparing its immensity to the Minimates beneath Archangel.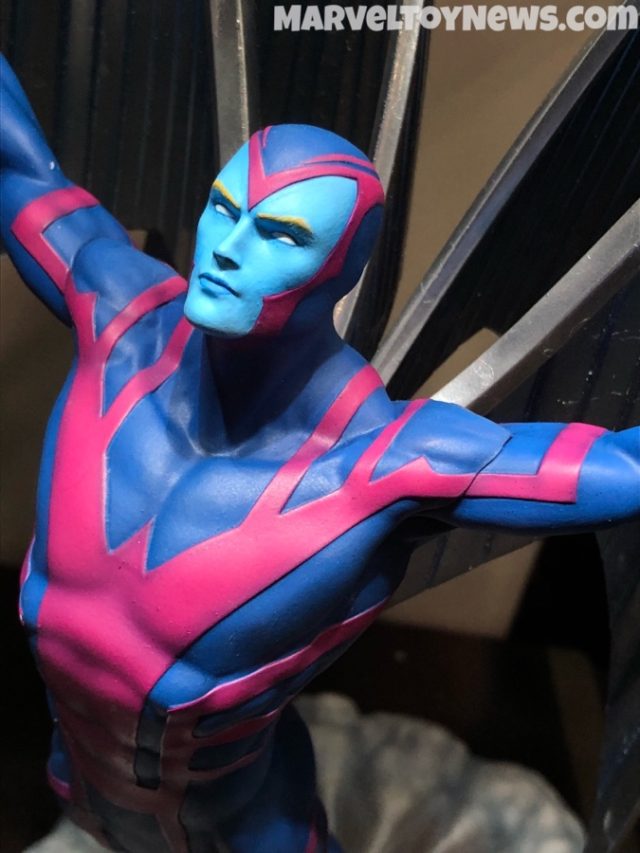 I think this statue looks really nice and is going to be a big hit for DST–taking risks with characters other companies aren't tackling often pays off.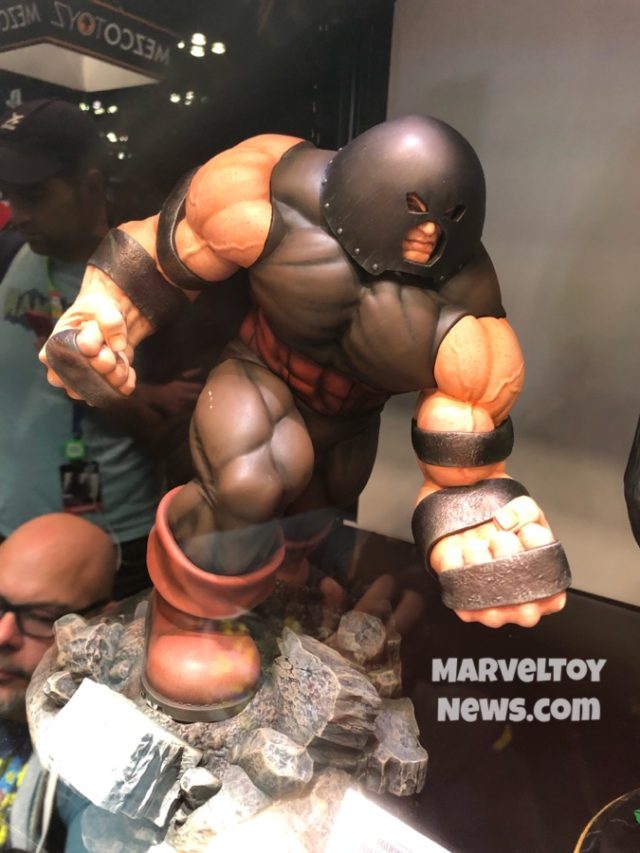 The other new Marvel Premier Collection X-Men Statue to debut at New York Comic Con was the unstoppable Juggernaut! While Juggs has an insanely cool new Sideshow Premium Format Figure shipping out this month, not everybody (re: hardly anybody) can afford a $1400 Juggernaut Statue.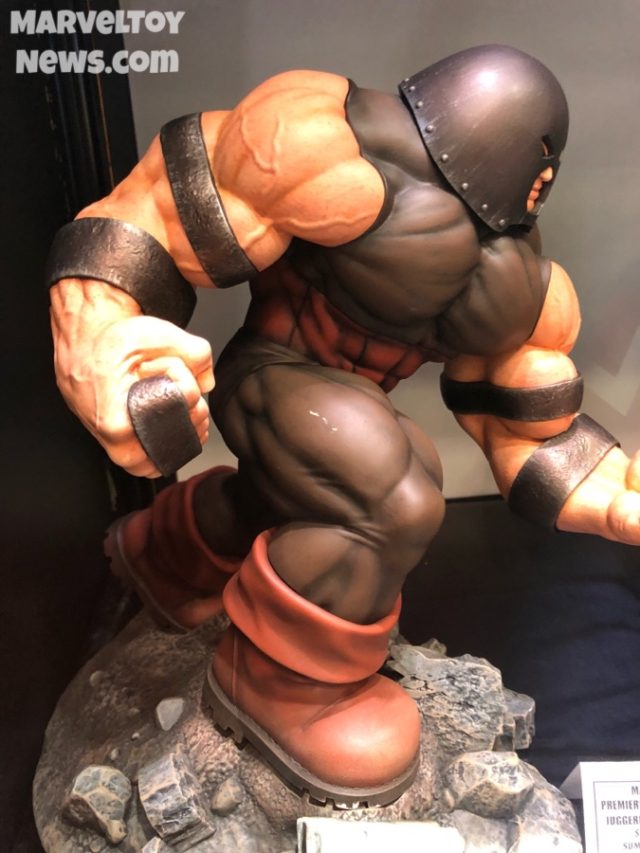 That's where DST comes in! While their Juggernaut isn't nearly as much of a behemoth as Sideshow's–nor is it on quite the same level of detail–it has a major advantage in that most collectors can actually afford to pay for it at 200 bucks MSRP.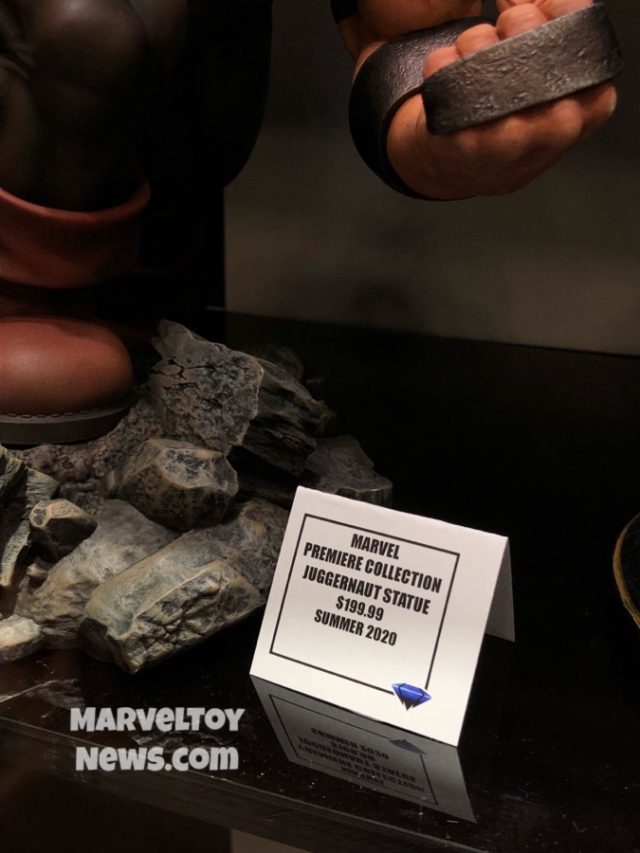 In this day and age, $199.99 is a ridiculously cheap price for a 1:6 resin statue of this size and quality. In a time when Kotobukiya is charging 190 bucks for 1:10 scale plastic statues, Diamond Select Toys remains a real port in the storm.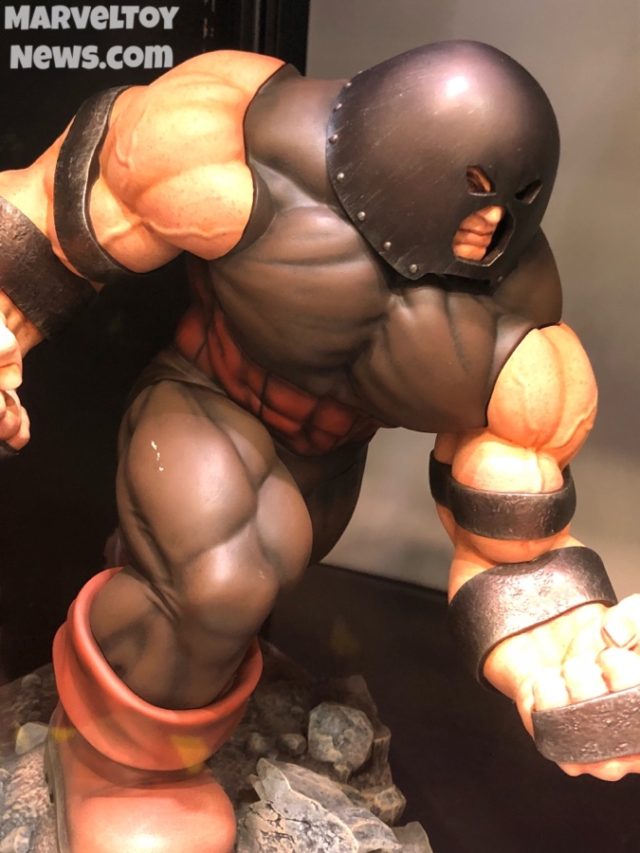 I like that this is a confident, no-nonsense Cain Marko Statue that's lumbering forward and giving no shits. While not the spectacular centerpiece that the new Sideshow Juggernaut PF Figure is, I have no doubt that thousands of fans are going to be psyched to own this Juggs next fall.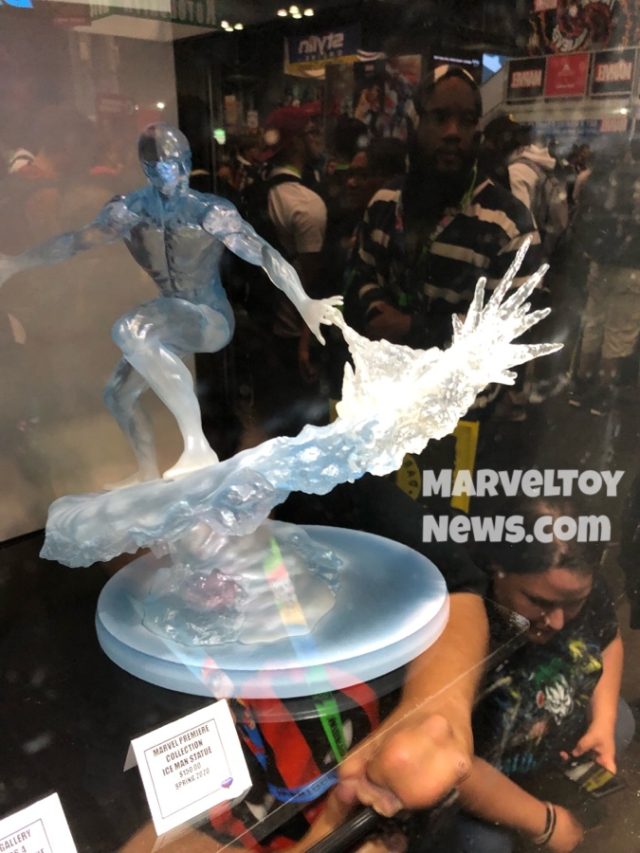 In addition to the brand new Marvel Premier Juggernaut and Archangel statues, two previously shown DST X-Men statues were also on display: Iceman and the Marvel Gallery Jubilee PVC. The Iceman debuted at New York Toy Fair 2019 in February, and is a far more impressive piece in person than you can tell from the official photos Diamond sent out with the solicitation.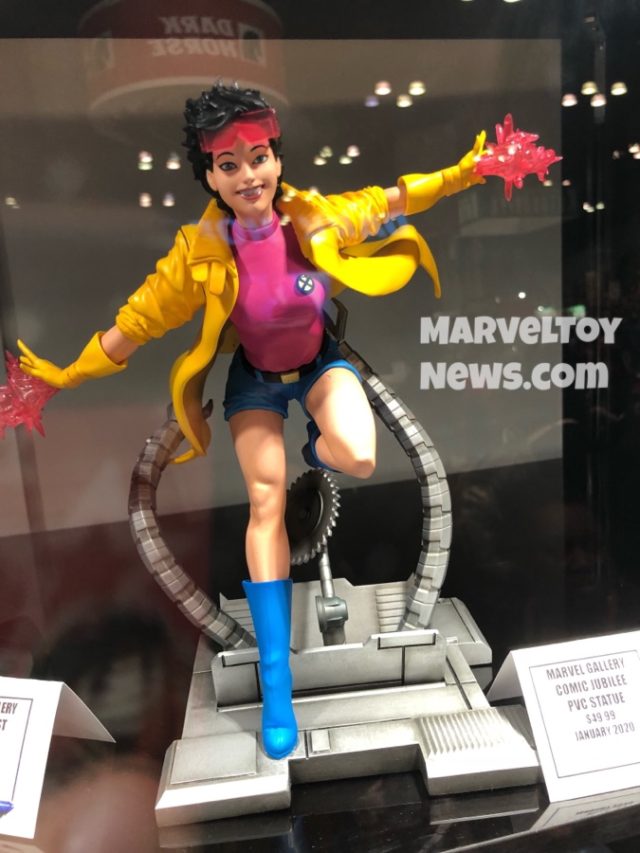 Jubilee was actually mentioned in the solicitations sent out last month, but hasn't actually opened up for pre-orders anywhere to-date that I can tell, so I imagine that was a mistake and we'll see her sold this month instead. She's a character near and dear to my heart, and I am thrilled and stupefied to see her getting an affordable PVC figure release from Diamond Select.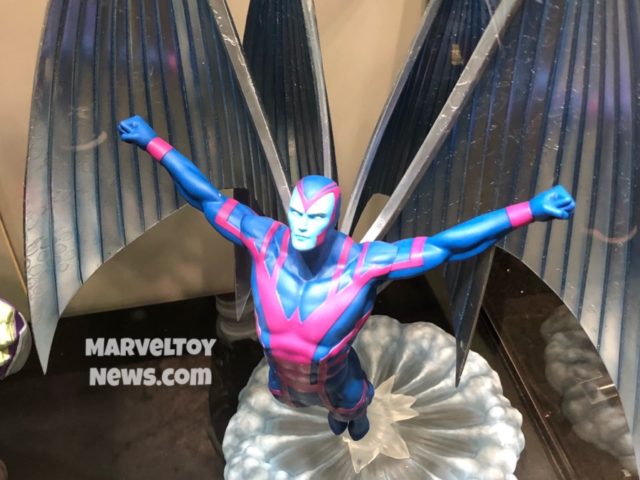 Marvel Premier Collection statues are available for order from online and specialty shops, and have all been limited to 3000 pieces to-date. The first batches of popular characters like Venom, Cable and Moon Knight have sold through entirely in the past, and these definitely seem like the kind of top-tier characters that may follow suit. EE is my favorite place to pre-order these as they tend to actually ship earlier than anywhere else, and come with free shipping and a 10% discount on all pre-orders from the line.
Do any of Diamond Select Toys' new X-Men pieces strike your fancy, Marvel collectors? Are you willing to fork out around 200 bucks for the shiny new 1:6 scale Archangel and Juggernaut statues, or are you holding out for offerings of these characters from a different company?