Products You May Like
Back at San Diego Comic Con 2019, Hasbro unveiled new Marvel Legends Doctor Doom and a modern She-Hulk figures that weren't obviously associated with any upcoming series of figures. But today at New York Comic Con 2019, the other shoe officially dropped—a full-on Marvel Legends Fantastic Four Series is coming to mass retail to kick off 2019–and it will include new versions of all four members of the Fantastic 4 team themselves!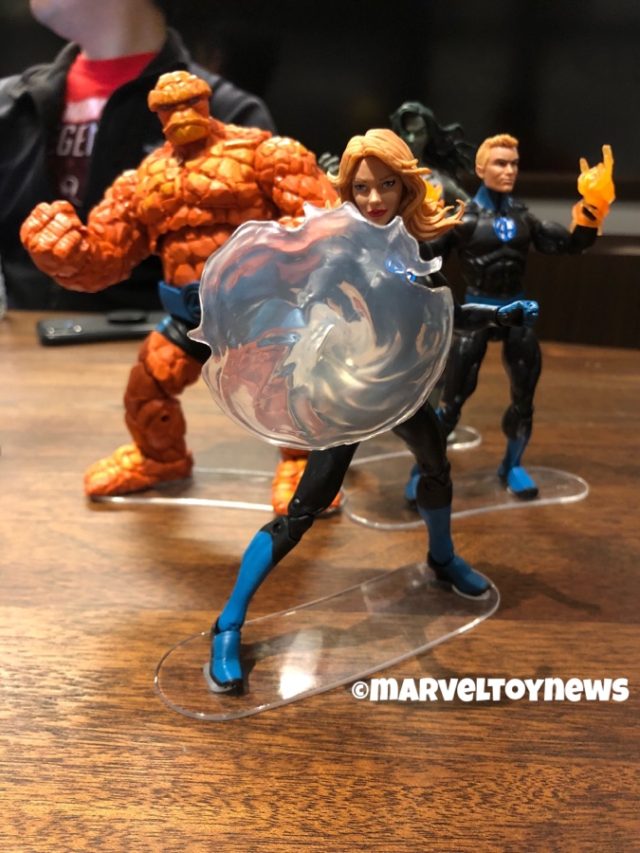 Right up until Funko revealed a whole line of Fantastic Four POP Vinyls earlier this week, I was unsure just how cool with F4 merchandising Disney was feeling these days. But once I saw those POPs and Mystery Minis, I realized it was going to be full steam ahead!
And so, at the Hasbro Press interview this afternoon, it was not at all shocking when four figures were revealed of a familial quartet: modern black costume versions of Mr. Fantastic, Invisible Woman, Human Torch and The Thing!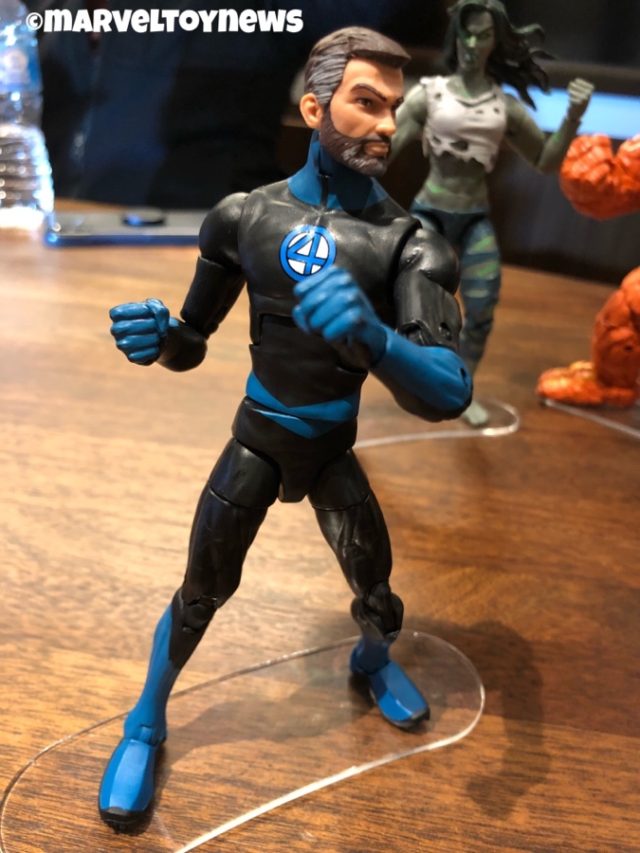 It's been many years since we saw non-exclusive six inch figures of the FF on store shelves, so I'm delighted to see Reed, Sue, Johnny and Ben making their returns to the toy aisle on or about January 1st, 2020!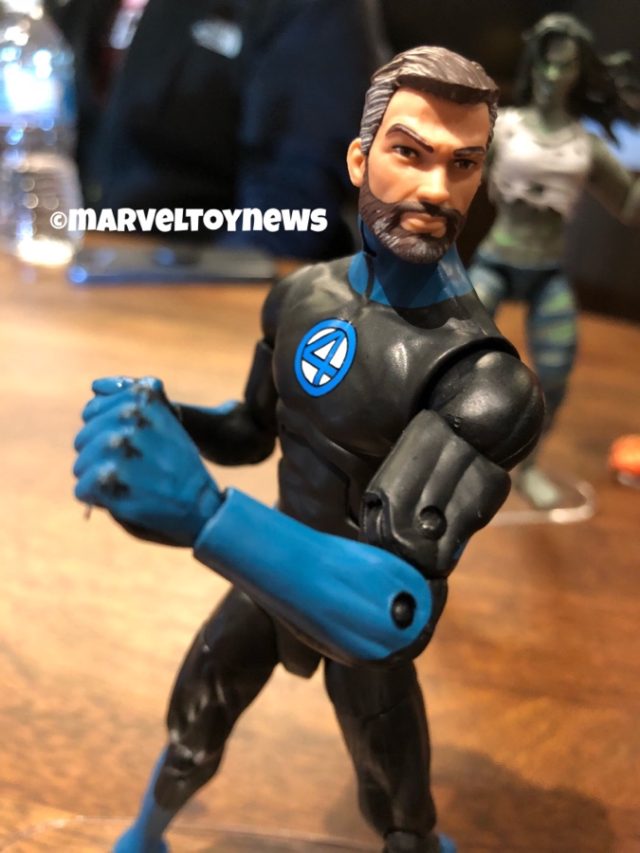 Hasbro forgot to bring along his interchangeable hands to the NYCC interview, but the new Marvel Legends Mr. Fantastic will come with alternate hands with elongated fingers.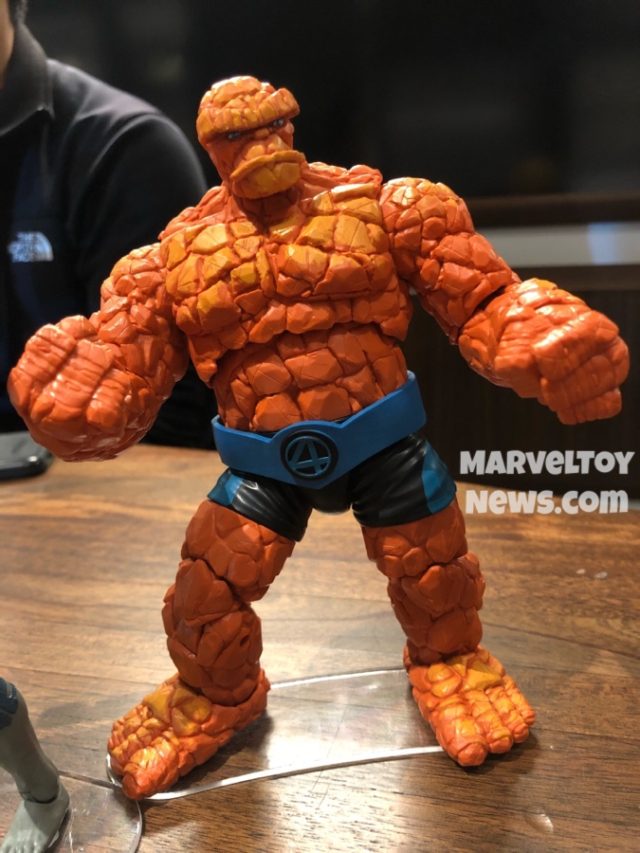 The new Marvel Legends Thing figure comes with an all-new head sculpt—and if you don't like this version or think it would look better on the Walgreens Thing body, the heads are swappable so you can just switch them up.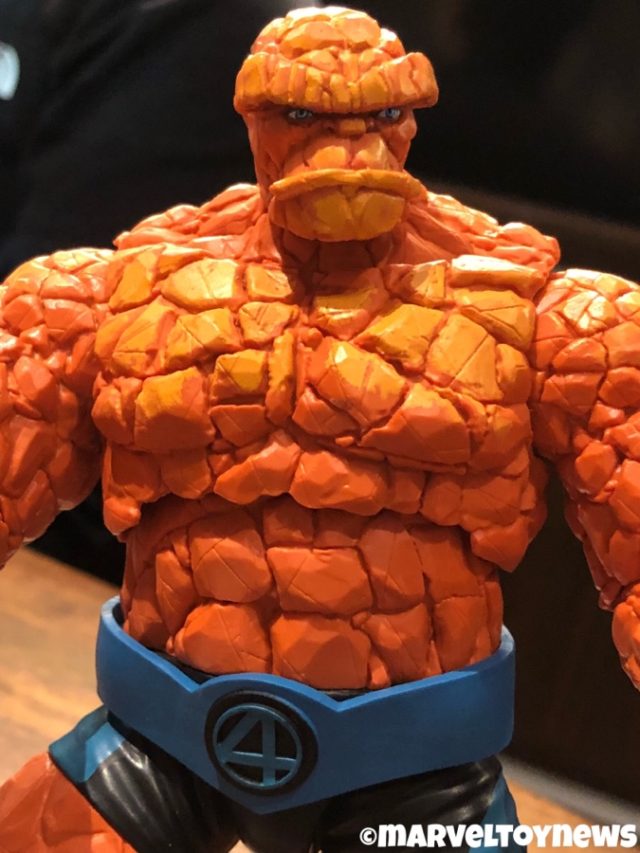 Personally, I think the new head is totally rockin' (no 'rock' pun intended), and will probably pop it onto my Walgreens ML Thing.
The Thing Walgreens exclusive was a real pain in the ass for many collectors to find and never got anywhere near meeting demand, so a mass release Ben Grimm is a genuine blessing.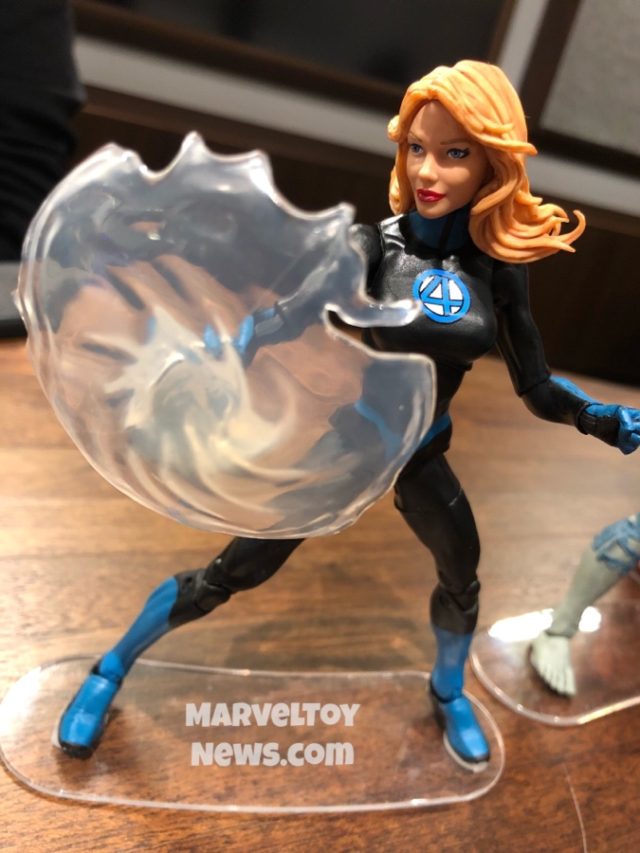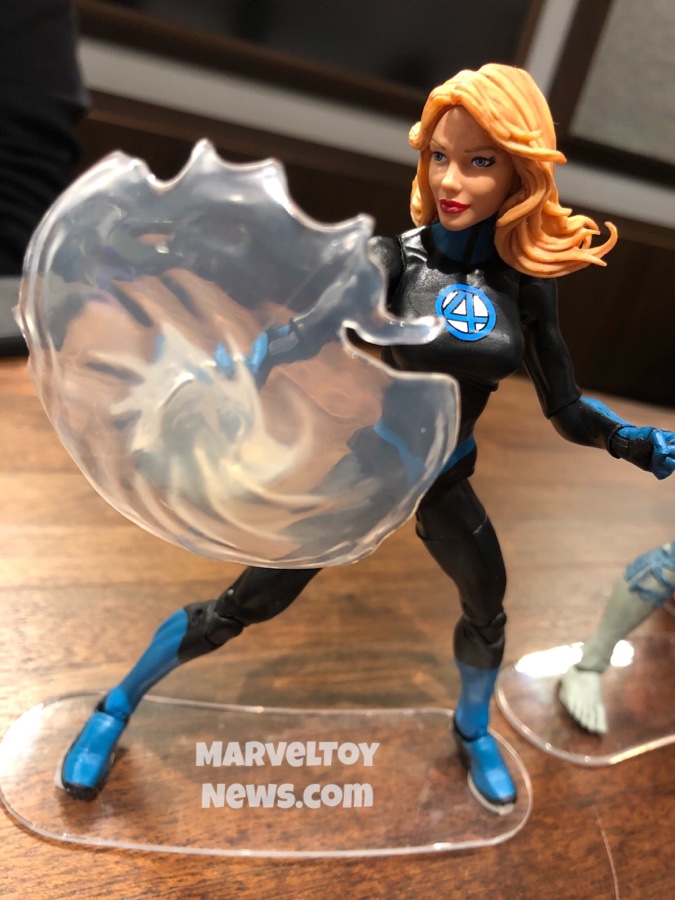 The new Marvel Legends Invisible Woman comes in a black costume that matches the rest of the team and includes a new invisible shield effects piece accessory.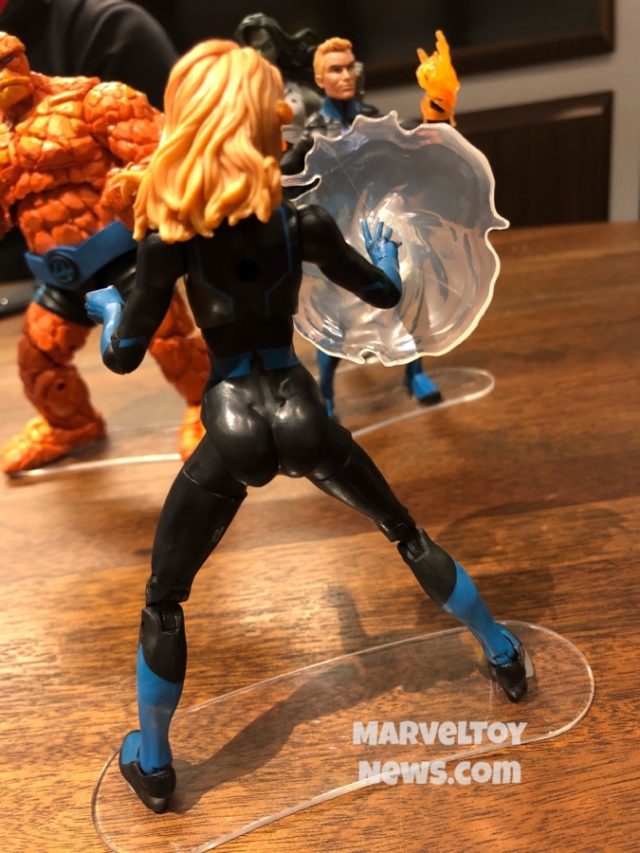 The invisible shield is pretty neat, and I'm curious to see where else Hasbro can repurpose this accessory for future figures. There's only so many times you can see the same recolored effects!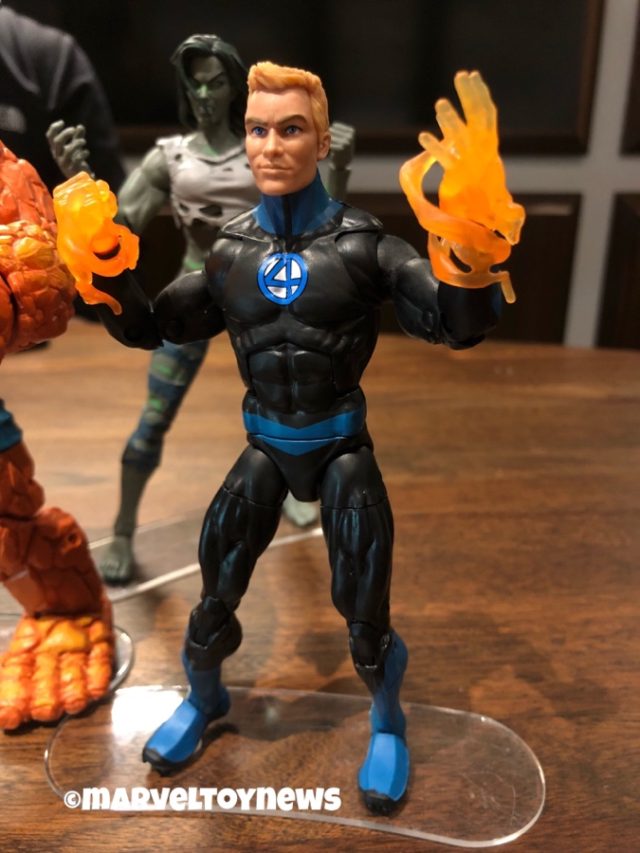 Finally, we've got a new Marvel Legends Johnny Storm Human Torch. This is obviously totally different from the Walgreens Human Torch, who was permanently "flamed-on".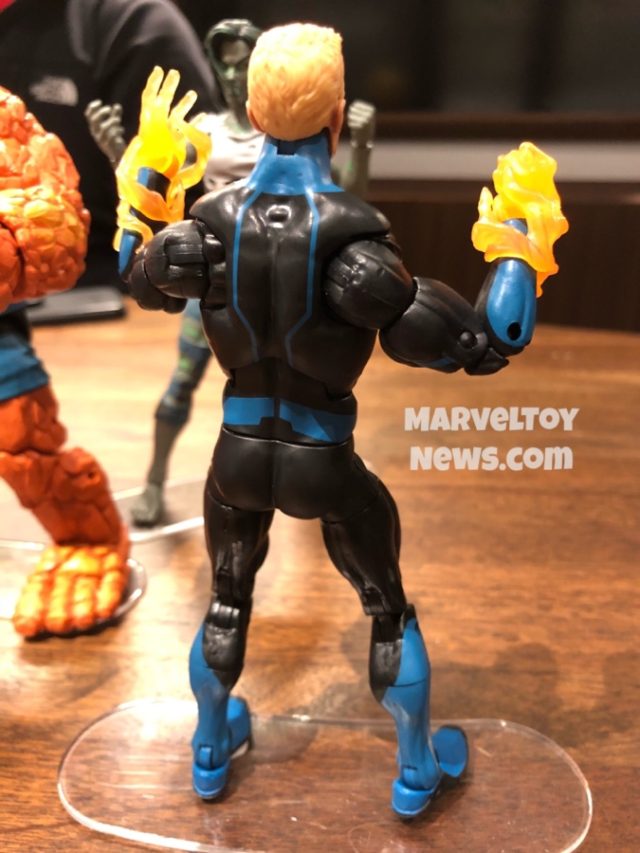 This Legends Johnny Storm has new effects pieces of his own—cool little flames that attach to his hands. I think these would go very well with a Pyro down the road, and I'm sure many other characters could make good use of these.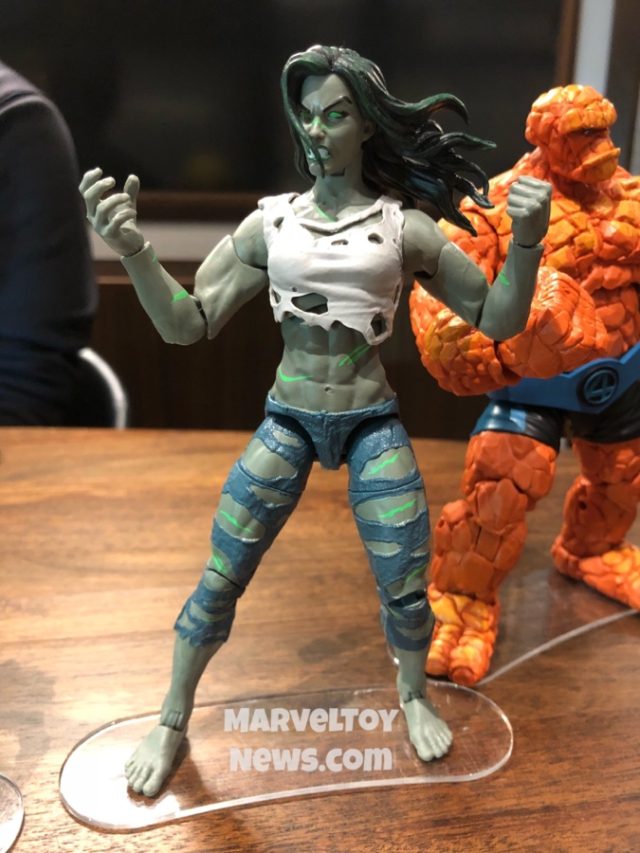 We've previously seen them at SDCC 2019, but the new grey She Hulk and Dr. Doom made encore appearances at NYCC 2019 as well.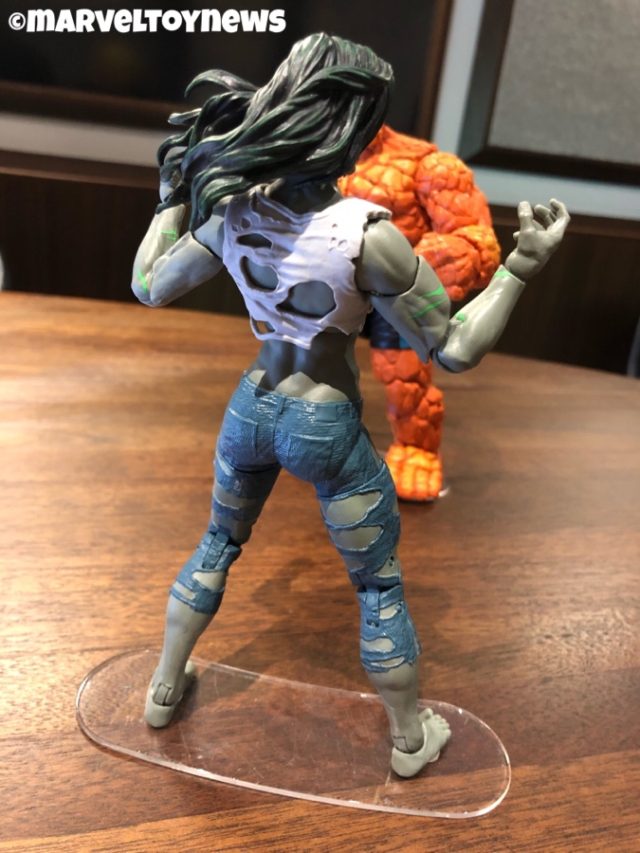 This is not at all a fan-favorite version of the Hulk, but as this Jennifer Walters has been rather important in the Marvel comic books the last few years, I think this is a good version to do—even if what many fans really want is a new classic Shulkie.
The Marvel Legends 2020 Doctor Doom figure looks outstanding, and is a (very) early candidate for 2020 Figure of the Year in the making.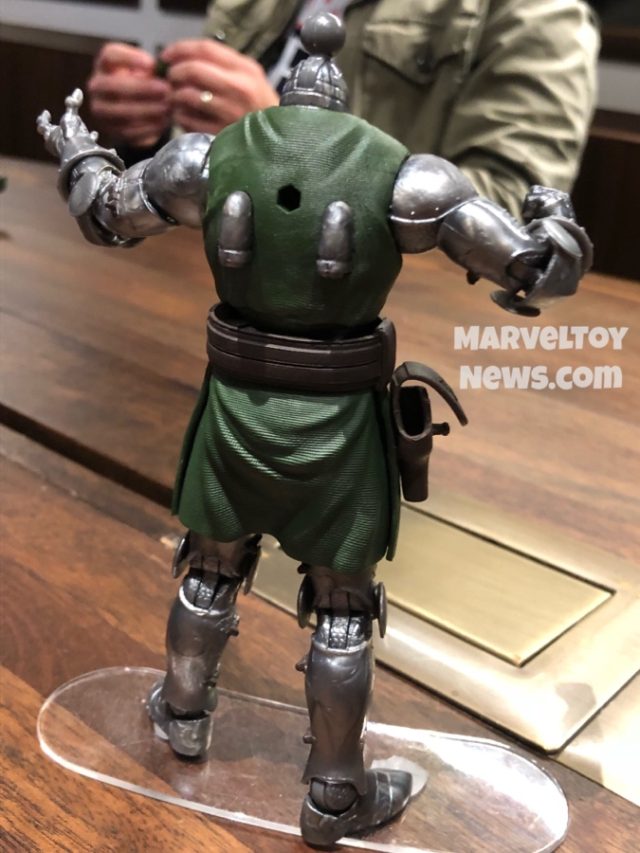 If you pull his cape off, you can see thrusters on Doom's back that can fit the repulsor effects pieces from Iron Man ML. Cool!!
Besides what he was shown with at the Marvel Design Team interview today, Doom also will come with a fist, a trigger finger and an alternate classic mask. This figure is gonna be one hot seller to start off 2020 right!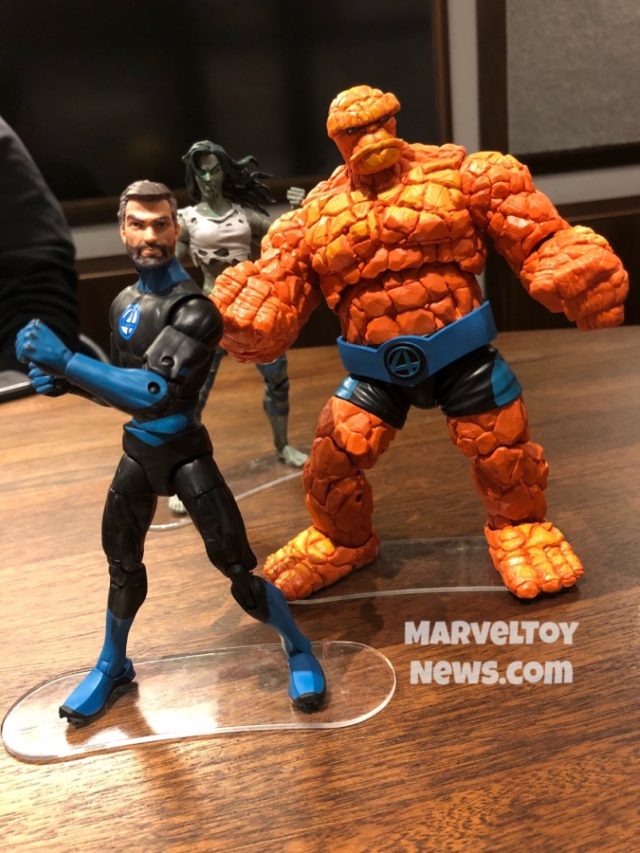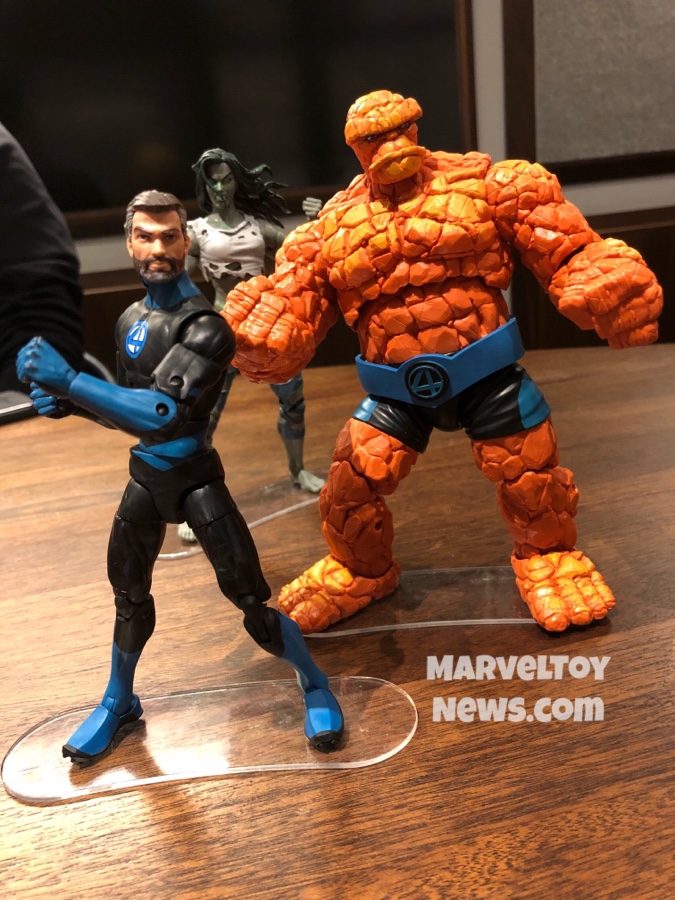 The Marvel Legends Fantastic Four Series should be up for order around the end of 2019, and has an official on-sale date of 1/1/2020. The series is confirmed to be six figures and a Build-A-Figure, so we know the whole wave now except for whatever the BAF is going to be (which should be announced in the next few weeks). I also have a ton more photos of these figures that I'll be uploading to the Marvel Toy News Facebook, Twitter and Instagram Pages later on tonight, so check those out if you're interested!
How do you feel about the grand mass-market return of Marvel's first family with the Fantastic Four Legends series, Marvel collectors? Who are you hoping the Build-A-Figure is, and what figures (if any) are on your hit list from this assortment?