Products You May Like
Well, that's one way to start your final season.
Things started pretty tamely on How to Get Away with Murder Season 6 Episode 1 as the remaining Keating students searched for Laurel and Christopher. And Annalise sought help for her substance abuse problems.
But things never stay tame in this world.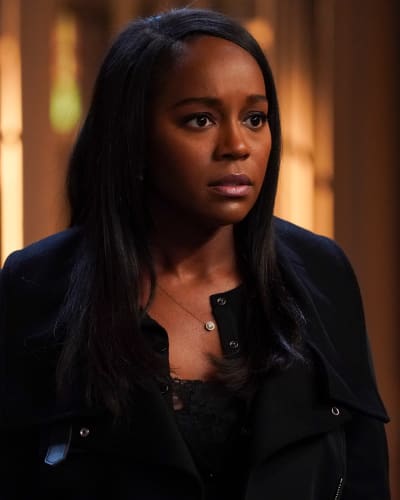 There's no time jump in the early stages of this episode, and Laurel and Christopher's disappearance is still fresh on everyone's minds.
Everyone is handling it pretty well, but considering what they've all been through that's not surprising. How many murders or would-be murders have they encountered at this point?
Related: How To Get Away With Murder – Coming to an End
Through a series of flashbacks, we find out that Annalise went straight to the bar not long after wandering the streets yelling Laurel's name. And soon after that, she found herself in the emergency room.
Annalise Keating in rehab is exactly as you would imagine it. She was hiding behind a fake name and her back firmly up against the wall.
She couldn't help herself but to judge each of her peers and make sweeping generalizations about them.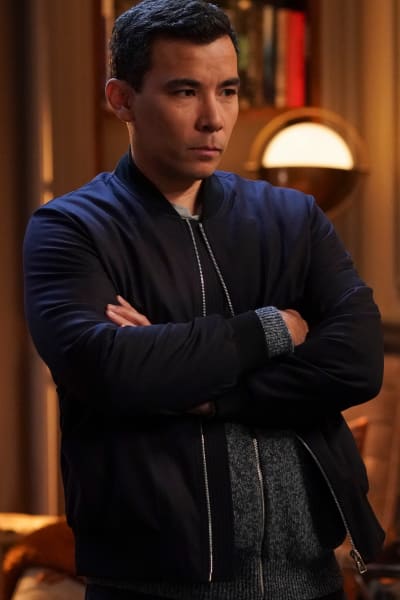 That's Annalise or in this case, Karen, to a tee. But when she allowed herself to be vulnerable and humbled, she was able to take steps towards moving forward.
When you think about the trajectory of the series and every terrible thing that happened, Annalise has always been there to help clean up the mess. Even when she was nowhere near the event in question.
It's become her identity. And the scars from it have pushed her to the point of no return.
Beating the pillow repeatedly as a way to beat out the lies and shame and guilt was a powerful scene that Viola Davis acted to perfection.
Long before she met all of the Keating 5 and Sam got killed, she was battling the demons inside of her. The ones that told her she wasn't good enough, smart enough or pretty enough. 
They've manifested inside of her for so long and being able to exercise those demons out loud was so cathartic for her that she brought it back for the students (and Oliver) to do as well. 
Related: How To Get Away With Murder Season 5 Episode 15 Review – Please Say No Else Is Dead
It felt like a moment to bring them all closer together, but Asher wasn't ready to play kumbaya with Annalise knowing that she wasn't being truthful with Michaela. 
Asher and Michaela's romantic relationship has been on ice for a while now, but it's nice to see their bond is still intact and it was highlighted throughout the hour. 
Asher was even the one who pushed Michaela to give Gabriel a chance. And he's the one who spilled the beans about Annalise's connection to Michaela's birth father. 
Side note, it's hard to know whether or not to invest in Michaela and Gabriel because he's still shady. They've tried hard to make Gabriel less shady, but it hasn't exactly worked. 
Perhaps he's not playing Michaela, but there is no way he's being completely transparent with her. Or anyone for that matter. 
We'll find out soon enough what Mr. Maddox is really all about once his mom is back in the picture.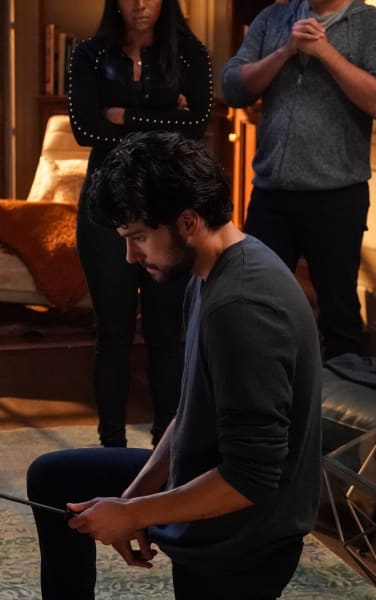 But back to Michaela and her birth father, is this the most intriguing storyline to set up the season? No. But it has potential depending upon the connection between the two. 
It sets up another season of everyone blaming Annalise for everything under the sun. 
As the seasons go on, it gets more and more egregious how much Annalise does for everyone in her life and continuously gets the short end of the stick.
Related: Get HBO via Prime Video Channels for Addictive Dramas, Hilarious Comedies & Hit Movies 
It's hard to connect with Annalise because she's so cold and closed off, but at the same time, hasn't shown them that she's dependable?
Annalise: I like my counselor.
Bonnie: That's great.
Annalise: She thinks I need to be more selfish.
Bonnie: Maybe she's right. You've beaten yourself up enough.
If it's not for her, many of the people in her life wouldn't be living the lives they're currently living because they would be in jail. And it's very easy to forget that. 
Everything that happens this hour leads us to the conclusion, and the set up for the season, which shows a real funeral for Annalise Keating.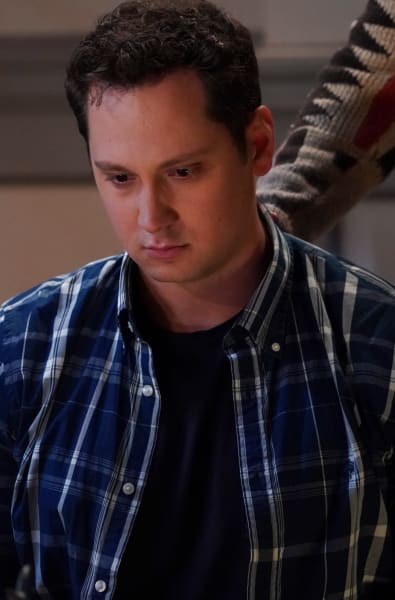 It wouldn't be a shocking conclusion to see Annalise die by the series finale, but a closed casket and no sightings of any of her "people" has my interest piqued. 
Is it possible we're headed for a bait and switch later in the season? Until we see a body, all bets are off. 
Everything Else You Need To Know
It makes sense for Nate to question the person who is benefiting the most from Emmett's death, but I don't want Tegan to be dirty!
R.I.P Emmett. We already knew you but maybe justice will be served? 
We're going to meet Vivian! She was stalking her son, AND she has someone following Annalise or at the very least keeping tabs on her. This is a storyline to get excited about!
Does anyone else feel like there was something off about Sally? It wouldn't be surprising to see her pop up again this season. 
The fake funeral, in the beginning, was unintentionally the funniest thing to ever happen on this. The fact that Annalise would conjure up Christopher making sure she's double dead was sad. 
Frank found a key! It feels like Frank is always on a mission to find some random thing every season. 
Is it too much to hope that the Castillo's remain largely absent this season? 
With this being the final season, there's no telling what the writers are going to throw at us. We could be in for a blood bath!
What are your predictions for this season?
Are you excited to meet Vivian?
When will Laurel and Christopher be found? 
What did you think about THAT ending?
Leave all your comments down below and join the discussion! Also, make sure you watch How to Get Away with Murder online right now so you're not left behind! 
Whitney Evans is a staff writer for TV Fanatic. Follow her on Twitter.