Products You May Like
Hasbro has been on an unprecedented run with their Marvel Legends line lately, giving collectors many upgraded figures they've been waiting 5, 10, or even 15+ years for. But this year's true main event for many X-Men fans is a figure that's been hotly demanded for TWENTY-SEVEN YEARS. I had legit half given-up on ever completing the Animated/Jim Lee roster in 6" form, but a 90s X-Men Marvel Legends Jubilee figure finally went up for sale this year! After over two and a half decades of waiting, is this the definitive Jubilee action figure?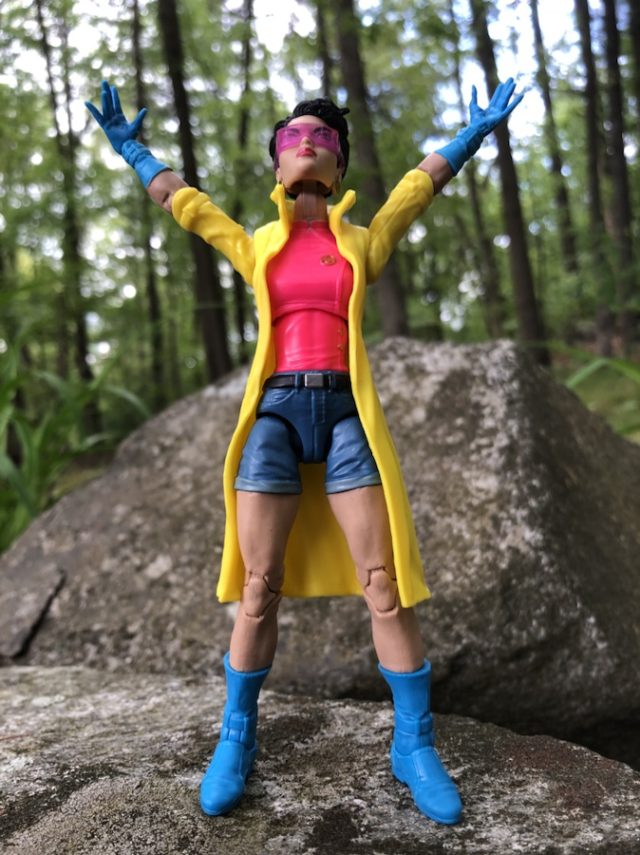 Jubilation Lee was instantaneously my favorite member of the X-Men as soon as I saw the premiere episode of the 1992 X-Men animated series, "Night of the Sentinels". And once Toybiz started pumping out characters from the cartoon in their X-Men 5" line left and right, I couldn't wait to get myself a Jim Lee costume, cartoon-accurate Jubilee. The only trouble was… none ever came.
We would eventually get a (horrific) Generation X Jubilee figure and a bizarre costume Danger Room version, but for 27 years after the cartoon debuted, neither Hasbro nor Toybiz gave us a generation of fans the Jubilee they were crying out for.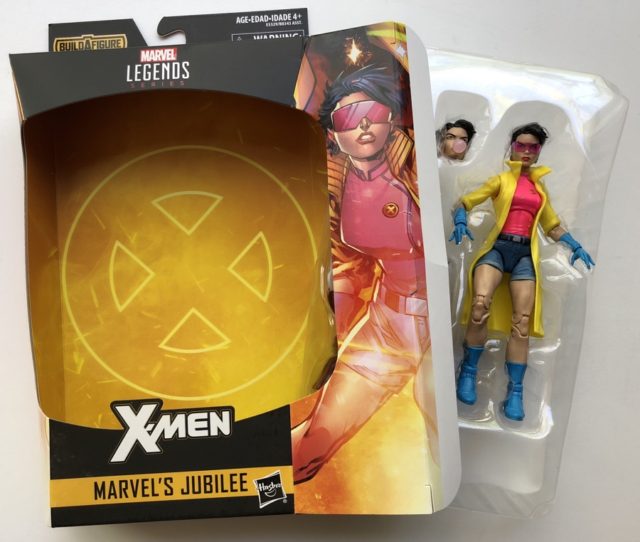 Until this spring, when the Caliban Series Jubilee Legends figure began shipping to stores at last! I love this figure so much, I bought three (yes, three) of them. Is it everything I ever dreamed of…? Well, not precisely. But while this isn't absolute purest perfection, this figure is still damn nice.
If you've ever wanted a super-articulated toy of Jubilee in her Jim Lee yellow jacket with bright blue gloves, jean shorts, pink shirt and visor sunglasses, prepare to be totally twitterpated. No mistake about it—this is the 1992 animated series look and Jim Lee costume nailed to a 'T'!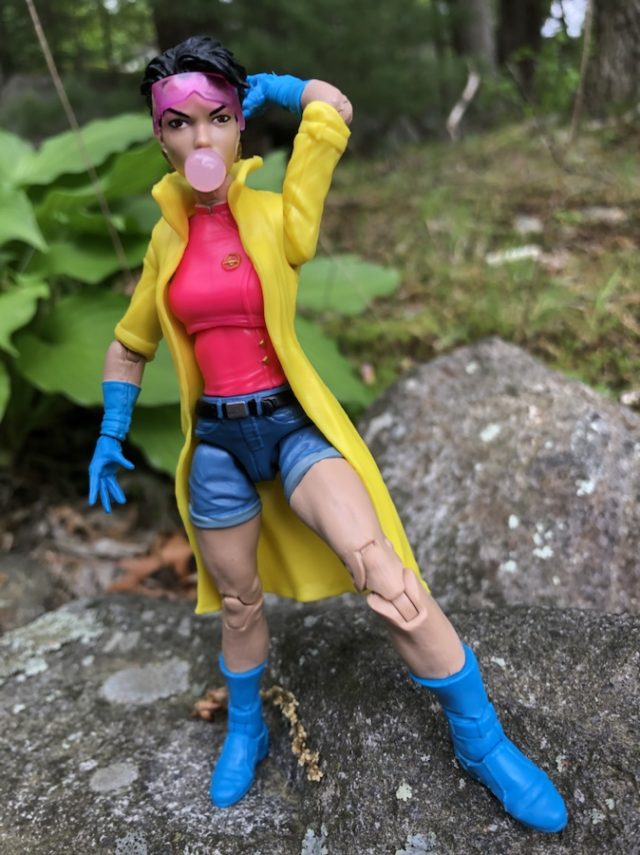 An obvious reason that toy companies have shied away from doing this version of Jubilee for 2.7 decades is that it requires a whole lot of unique tooling that can't easily be repurposed for other characters. Luckily, this Marvel Legends X-Men line has been so explosively popular that Hasbro was willing to finally devote big bucks to tooling up a spectacular Jubilation Lee. Thank you, Hasbro!!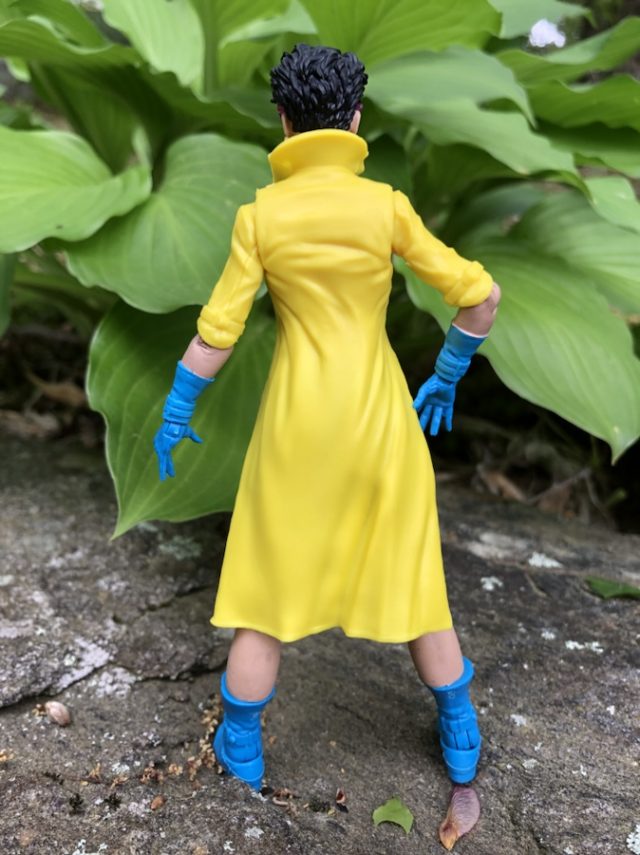 The boots, the jean shorts, the gloves, the visor/glasses, the earrings, the jacket… the costume here is outstandingly accurate and authentic to the source material, and fans like me dreaming of this figure for two-thirds of their lives are going to be very satisfied.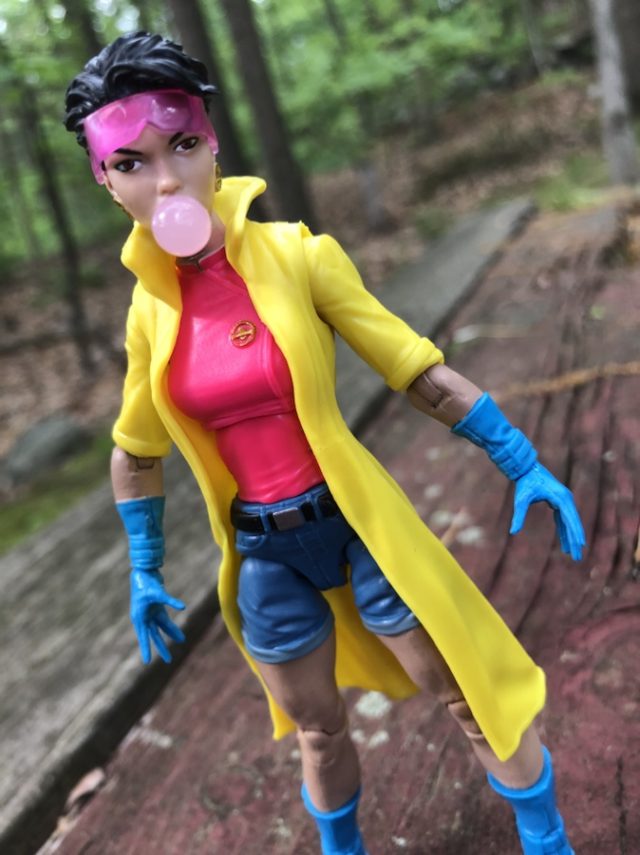 Both portraits are very well-done, and I'm really pleased with both the painted, detailed earrings and the slick translucent pink glasses. The neutral/serious head is the one I'll be displaying by default, but there's no denying the appeal of the fun bubblegum blowing head.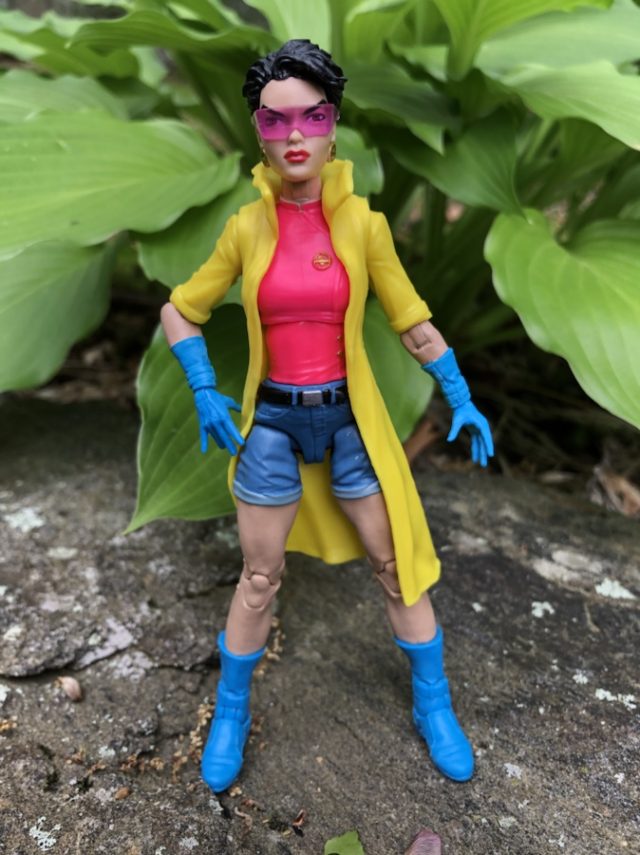 The bold pink, yellow and blues of this costume are wonderfully 90s, and the paint deco on this figure has been elegantly applied without a hitch. Every piece of clothing has some nice sculpting detail, and I am beyond thrilled that Hasbro sculpted on the belt rather than giving us an awful wobbly add-on piece.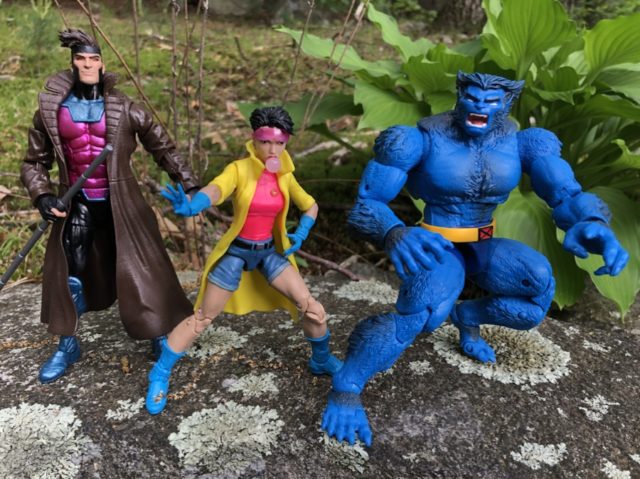 And the articulation, while not up to snuff with many male Legends, is decent enough:
Ball-Hinge Neck, Elbows and Shoulders
Swivel-Hinge Wrists
Ball-Jointed Upper Torso and Hips
Double-Hinged Knees
Swivel Waist, Thighs and Boots
Hinged Ankles with Rockers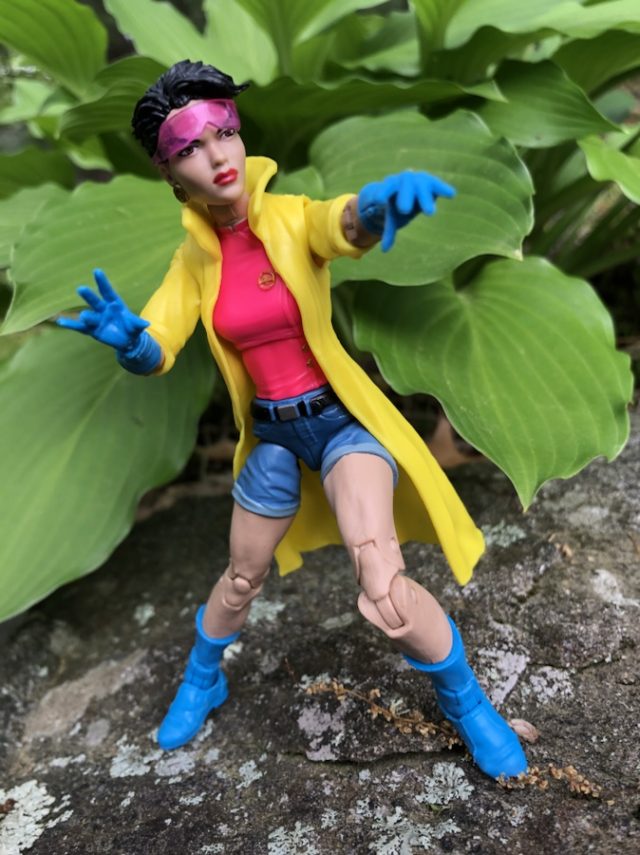 But let's not fool ourselves—there's still some "not so good" parts about this figure, as much as I like it. The upper torso and waist articulation are badly hindered by the jacket, the elbow and upper arm articulation is the usual female sub-par standard, and the left hand hinge is strangely placed on the side of the wrist.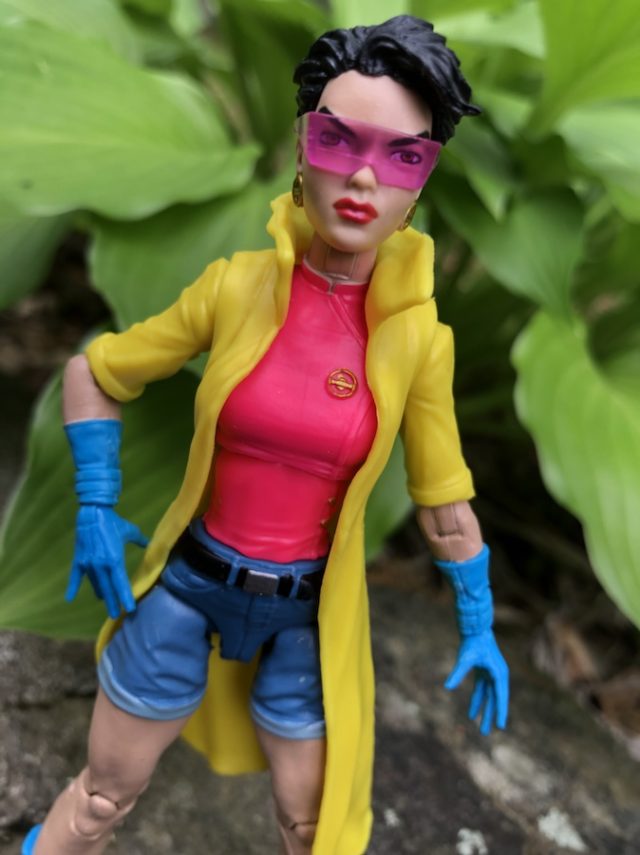 The proportions of the figure look tremendous with the yellow jacket on, but if you pull it away a little bit Jubilee's actual body looks inhumanly thin. That's fine since she's designed to always have the coat on—but it can look pretty funny depending on how you have her posed.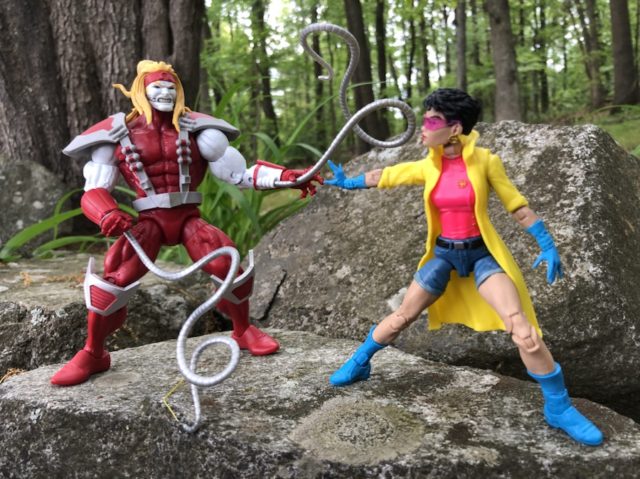 And speaking of looking funny while posed—! Jubilee neck joint is just awful. From a side view of her head, it can look like she has a giant bobble head on a tiny neck. It's not hard to hide from the right angles, but if you want to display her in certain ways, the neck/head can be a nasty surprise.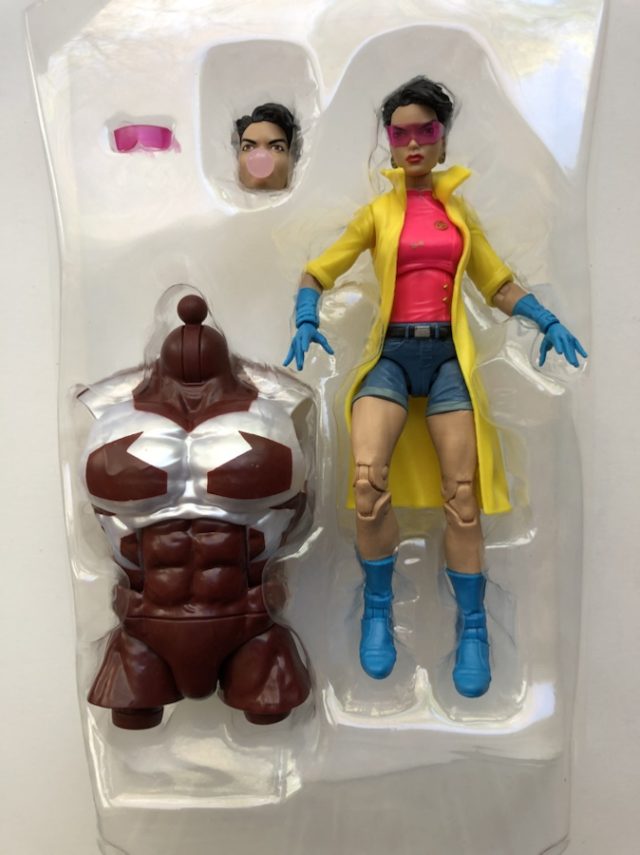 Finally, while we do get two awesome interchangeable heads (including a way cool bubble gum blowing head with removable glasses), it's shocking that zero—yes, zero—fireworks effects pieces are included. That's a crucial character-specific accessory, and I just can't believe there was no way to cost at least one in here. Posing possibilities are severely dampened by the lack of any energy plasmoids.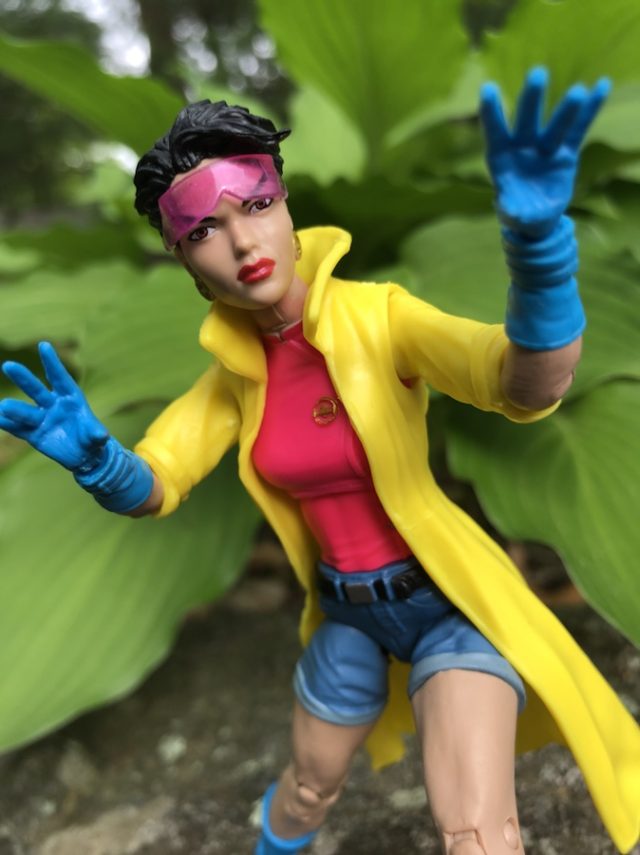 Overall: Every Jubilee fan should own this action figure, and those building a complete Jim Lee lineup are going to have to. The lack of fireworks effects pieces is downright shocking, the neck joint isn't pretty and the range of motion on a few joints is limited, but this is otherwise a downright treat of figure loaded equally with new tooling and nostalgia.
If I said I didn't love this figure, I'd be a liar. ML Jubilee might not be the best figure of 2019, but she just may be favorite—What a time to be alive and an X-Men collector!