Products You May Like
As a mega-fan of 1990s Marvel Comics, I've been wanting a super-articulated action figure of Maximum Carnage fan-favorite Dopperlganger Spider ever since I was a pre-teen. While I was hyped when word leaked out he was in the works, I was mortified when I realized what his body mold choice was going to be. Now that the Marvel Legends Doppelganger Spider-Man is readily available online, I finally got up the courage to spend some time with him and render judgment in my review…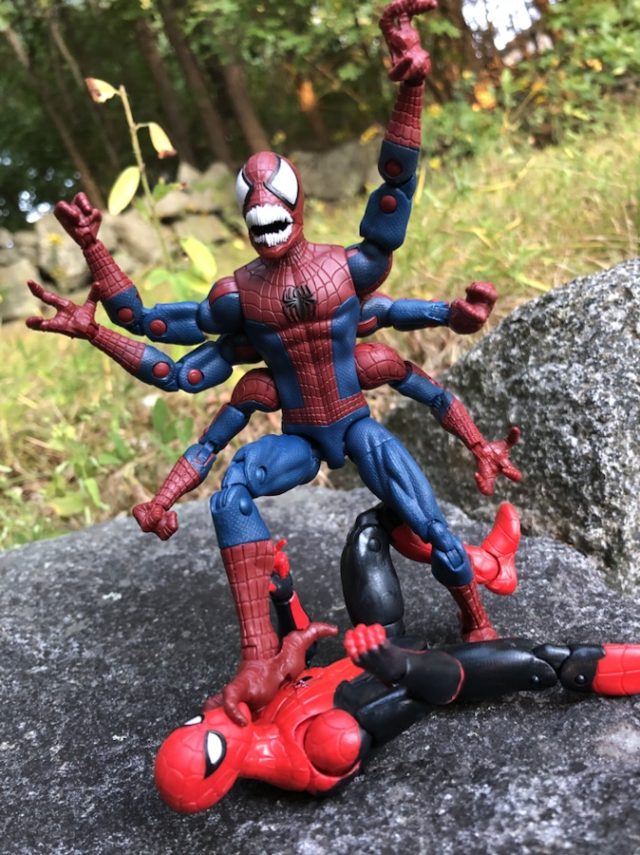 If you asked me what's hands-down the worst Marvel Legends 2019 figure, I would respond "Six-Armed Spider-Man" without much hesitation at all. The bright red plastic with no paint deco on the webs and lack of any waist or upper torso articulation at all made that figure a rare black sheep in an otherwise ordinarily masterful era of Hasbro Marvel Legends 6" figures.
So to say that I was dreading the possibility of getting in-hand and hating a figure I've waited many years for—ML Doppelgänger Spider—is a real understatement. Luckily, things aren't as bleak as I feared, and while I'm not giddy with joy about this figure, I don't hate it either…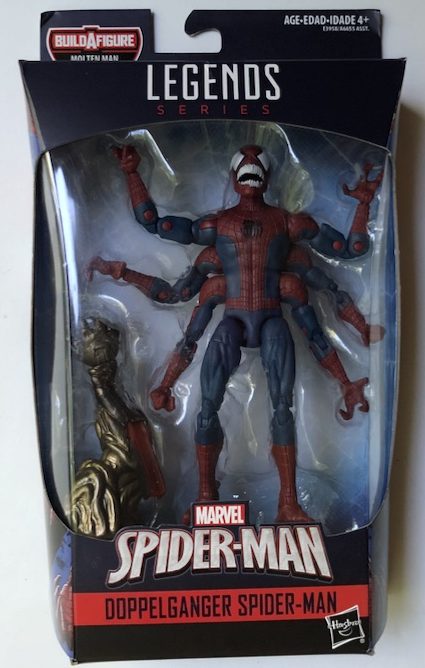 First thing's first: Yes, the base for this figure is the problematic Marvel Legends Six Armed Spider-Man body—and yes, that does mean that there again is no swivel waist, ab crunch, or ball-jointed upper torso. Those points of missing articulation are unquestionably the worst thing about this figure, as you'd expect.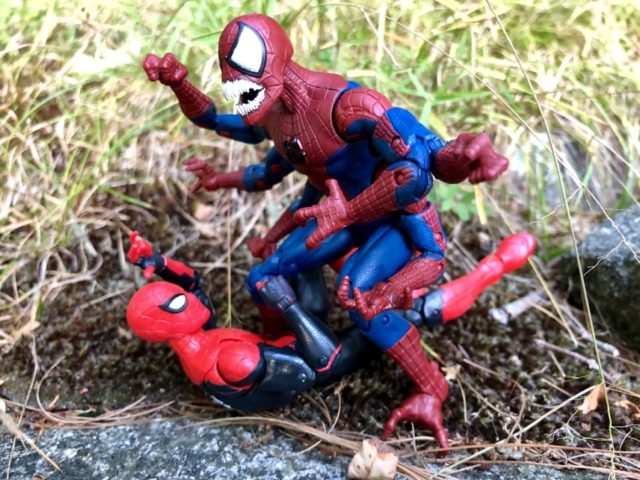 If you want to put Doppelganger Spider-Man into a crawling pose, that can sort of be accomplished, but it doesn't really look natural or convincing without being able to move the upper torso at all. It's a shame, because this is a rare Marvel character that I think could really rock a menacing crawling pose. Alas.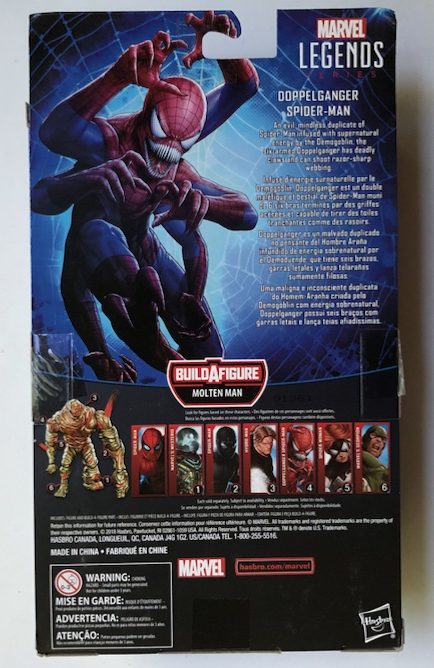 But whereas Six Arm Spidey looks pretty awful even if you can get beyond the limited articulation, Doppelgänger Spider is actually quite a bit more fun and cool.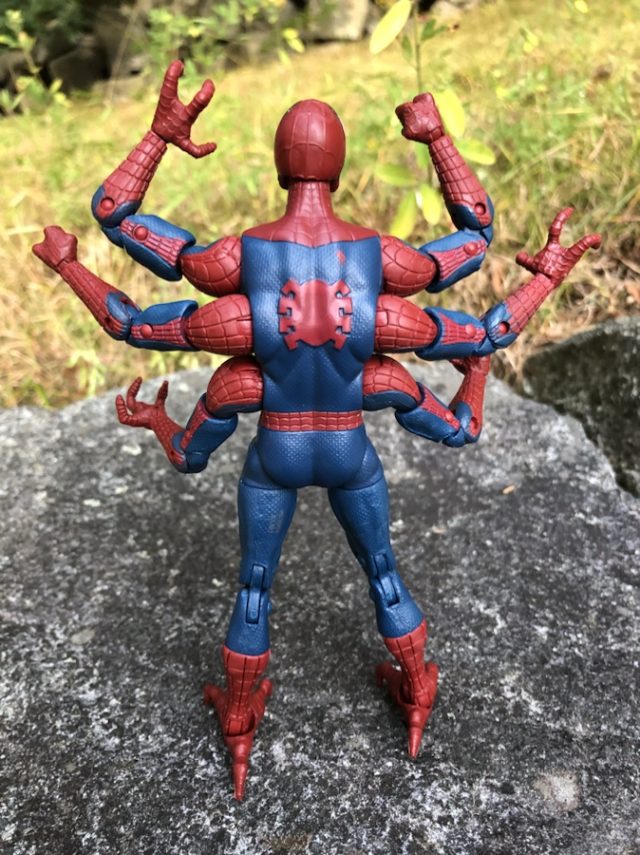 For starters, instead of that horrible bright red plastic used on Spidey himself, Doppelganger gets a much more dark, crimson-like shade of red that looks snazzier and also hides the lack of paint deco on the costume's lining to an extent. It's a simple change that pays off big-time.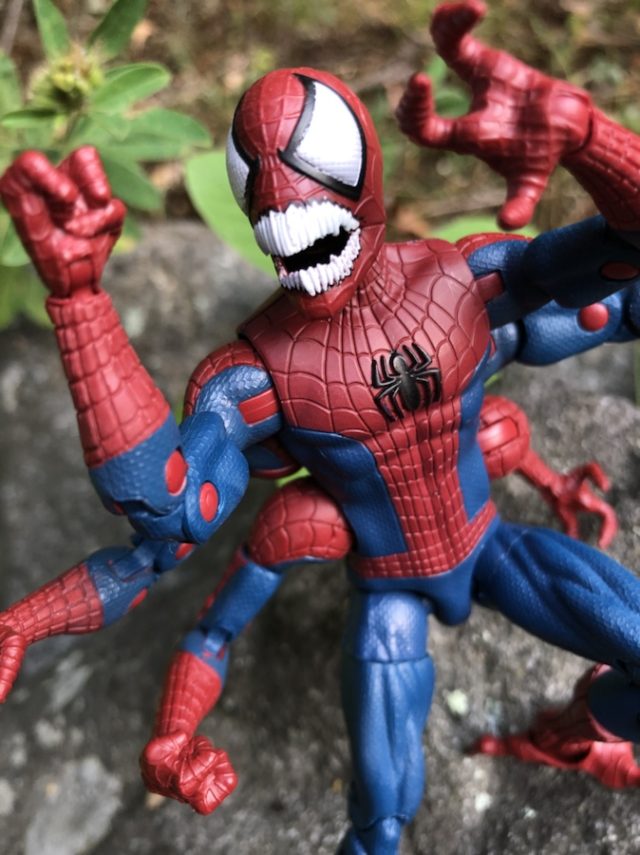 The best thing about this figure, though, is easily the deformed, grotesque appearance of the Doppelganger Spider. The asymmetrical, horror-inducing teeth filling the head's open mouth is some terrifying stuff, and the insect-like sculpted texture inside the eyes adds to the nightmarish effect.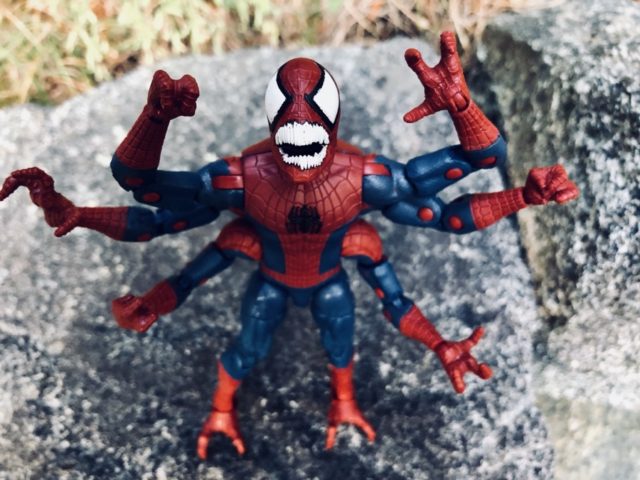 Rather than the simple fists and web-shooting hands Peter came with, Doppelganger is packing several inhuman, three-fingered flexing hands that look good for crawling—or strangling someone.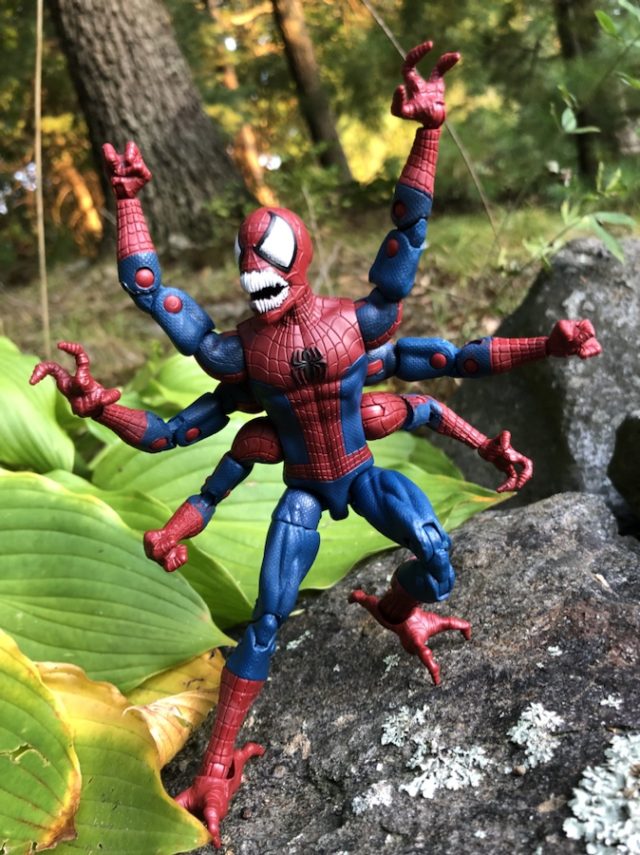 The two-toed feet have the same creepy, nightmare-inducing feel to them and help drive home the point that this is a genuine monster and not just Peter Parker having a rough day.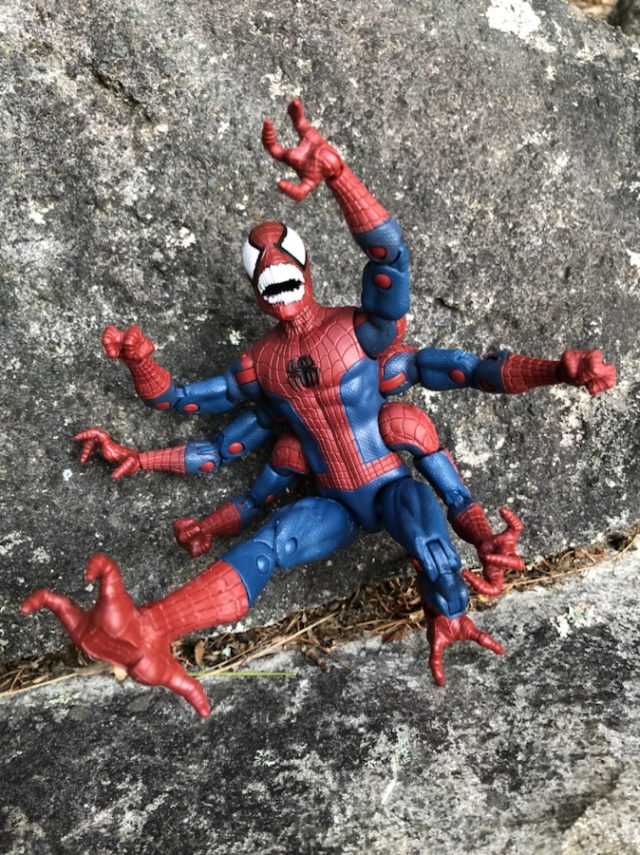 And while some crucial points of articulation are missing in the upper body, that doesn't mean this figure doesn't have some serious flexibility:
Ball-Hinge Head
Ball-Jointed Hips
Hinged Ankles with Rockers
Swivel Thighs and Calves
Double-Hinged Knees
Six Arms with Swivel-Hinge Wrists, Double-Hinged Elbows, Swivel Biceps and Ball-Hinged Shoulders
The missing POA are definitely a limiting factor, but there's still fun to be had here thanks to the two dozen points of articulation that are present.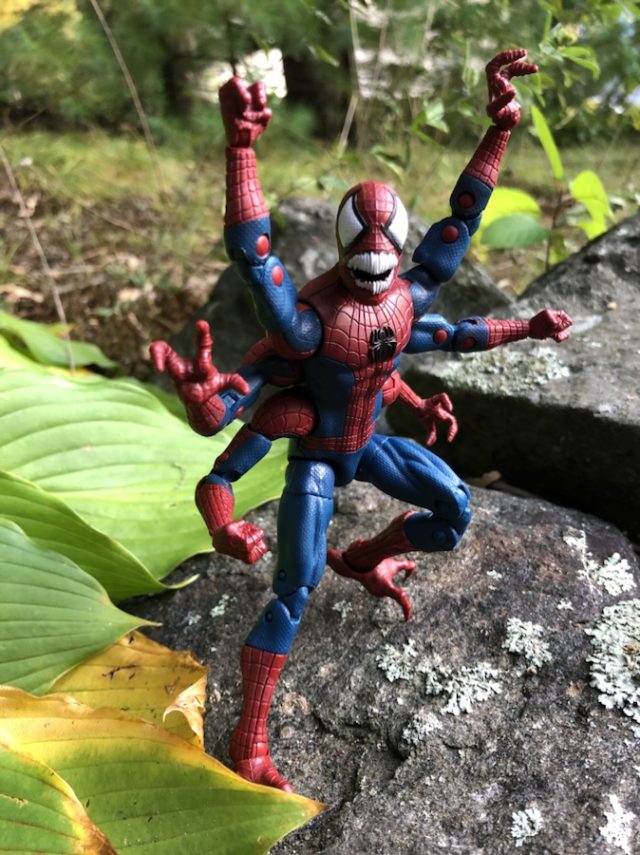 I thought the figure looked too thin when I first saw it, but the more I messed around with it and compared to reference photos, I'm actually okay with the proportions. Maybe he could have been a smidge bulkier, but as it is I think Spider-Man Legends Doppelganger has a solid, worthwhile aesthetic.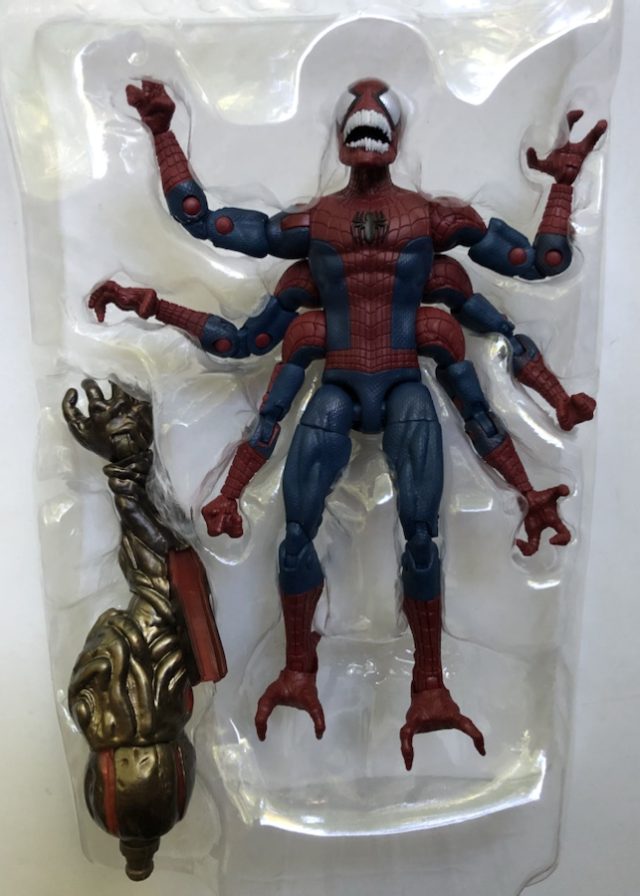 We don't get any accessories with this figure besides a Molten Man Build-A-Figure Arm, but that's fine by me—that Molten Man BAF is an overachiever, and I really can't think of any character-specific accessories that would enhance Doppleganger Spidey.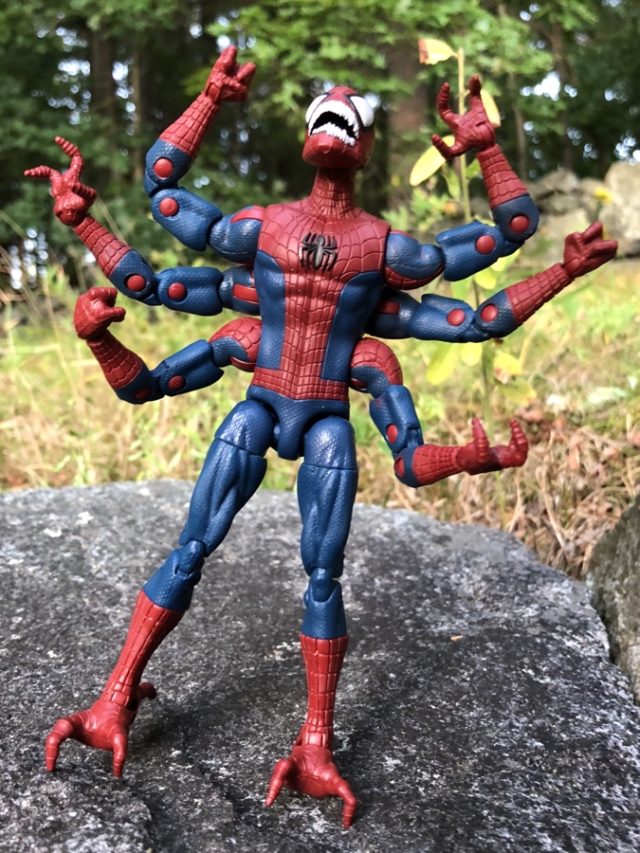 Overall: While I was all kinds of sour about the reuse of the poorly-articulated Six Armed Spider-Man torso, I feel considerably better about the Dopperlganger Spider Legends figure than I did Six Arm Spidey. The darker red plastic hides the lack of paint deco much better, and the monstrous appearance of this guy gives him a bit more leeway with his static chest and waist.
Paint wash to fill in the webbing on the costume and waist/upper torso joints would have gone a long way to making this figure feel more equal with other modern Spider-Man Marvel Legends figures, but there's enough really good about Dopperlganger Spider-Man that he doesn't feel like the dumpster fire to me that Six Armed Spidey was.