Products You May Like
I've always been a big fan of the bold white costume Magneto ever since we saw it debut in Brian Michael Bendis' Uncanny X-Men during the Marvel NOW era. While I love my Kotobukiya ARTFX of this design and drool over the XM Studio statue daily, I've always wanted a Marvel Legends version. But in the absence of that, Mezco Toyz is filling the void: the Previews EXCLUSIVE ONE:12 Collective White Magneto figure is now up for order!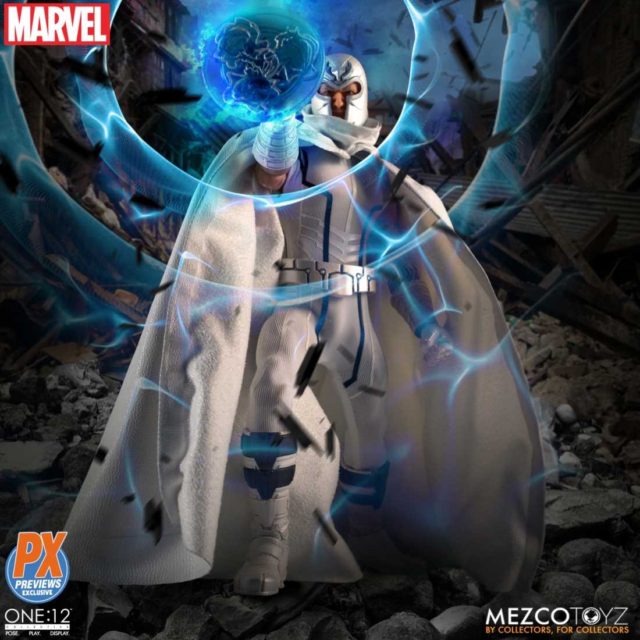 Ordinarily I prefer my comic book characters in their most iconic looks and costumes only for high-end figures and statues, but there's something about the Magneto white costume that captivated me as soon as I saw it and never let up. I instantly bought the Kotobukiya ARTFX X-Men PVC statue of this version of the Master of Magnetism when it came out a few years back, and my eyes have lusted over that XM Studios 1/4 statue more than once.
I honestly thought we might never see the white costume again in merch form after the costume disappeared from comics a few years back, but Jonathan Hickman's revolutionary House of X and Powers of X series both bring this look back for an encore spotlight—and now Mezco Toyz is giving it its first-ever spotlight in 6" figure form!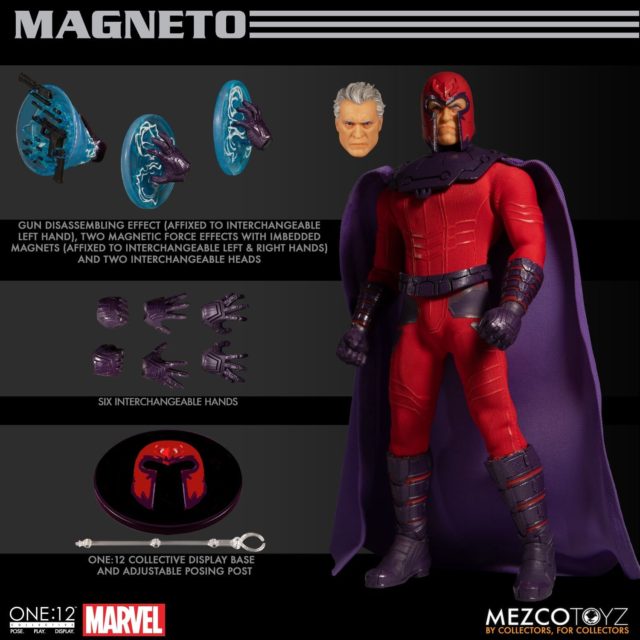 For those who are familiar with the standard red Magneto ONE:12 Collective figure, you'll also be pretty familiar with this figure—because it's basically the exact same figure with the exact same accessories, but a re-tailored white costume.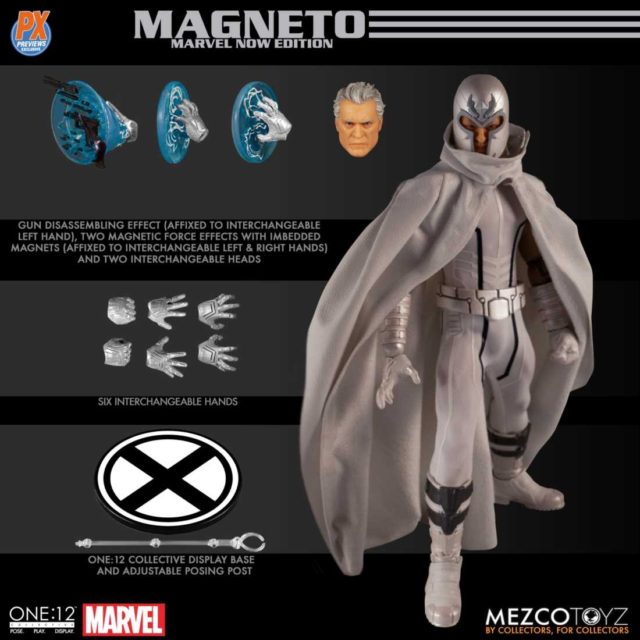 That's not a bad thing, though—I thought the various magnetic force effects accessories were slick on the regular version of this figure, and they're just as cool here. Gotta love that gun-disassembling hand! Plus, the magnetic effects remain actually magnetic, so you'll be able to attach small metal objects to them. Cool beans!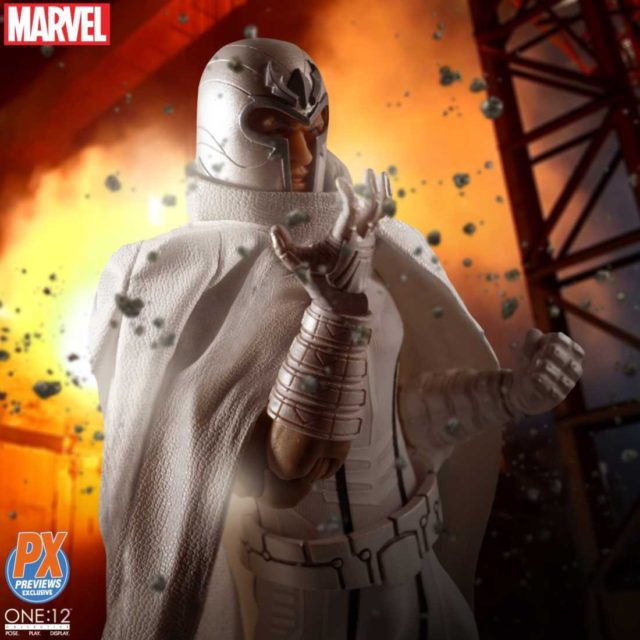 The costume here is also not just the red costume made with white fabric—the cape, boots and belt have all been altered for this release (as they would have to be in order to remain authentic to the source material).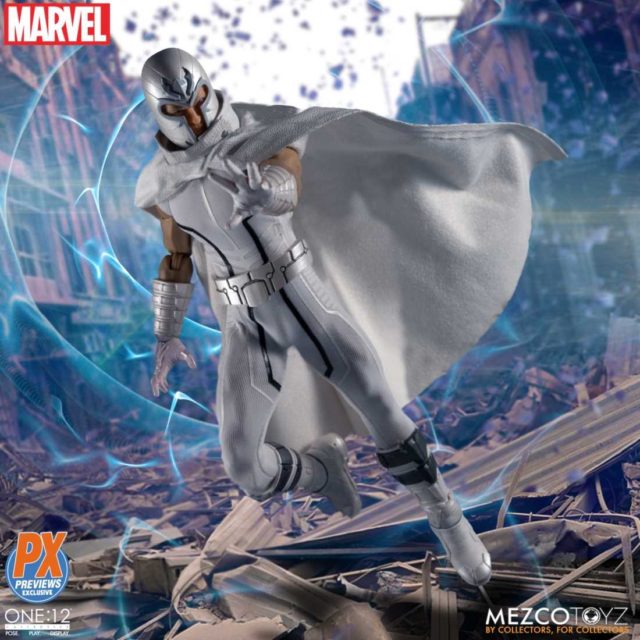 As we've already got Marvel NOW Cyclops, Emma Frost and Magik Figures, I'm definitely jazzed about the possibility of displaying this new Magneto variant alongside that lineup (although I do wish we'd gotten an extra bald Mags head sculpt for maximum accuracy)!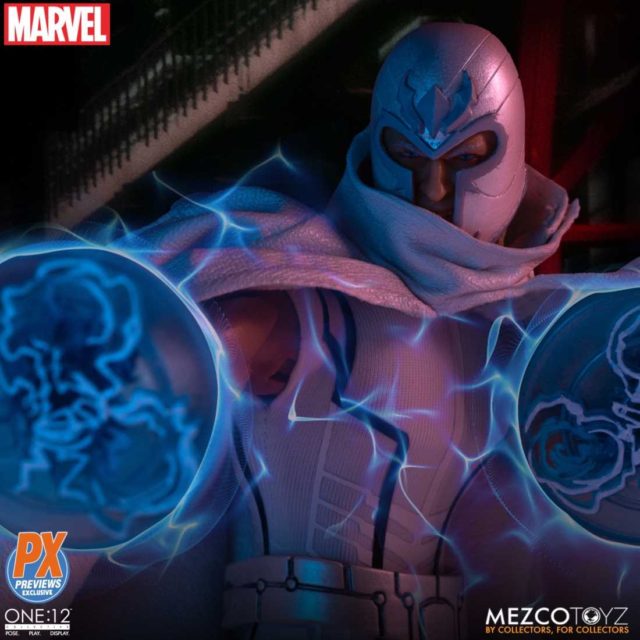 With the solicitation of this Marvel NOW Magneto in white, one definitely has to wonder if we might see the popular Marvel NOW Black Costume Magneto turn up in the near future as an exclusive to New York Comic Con 2019 or maybe even Toy Fair 2020.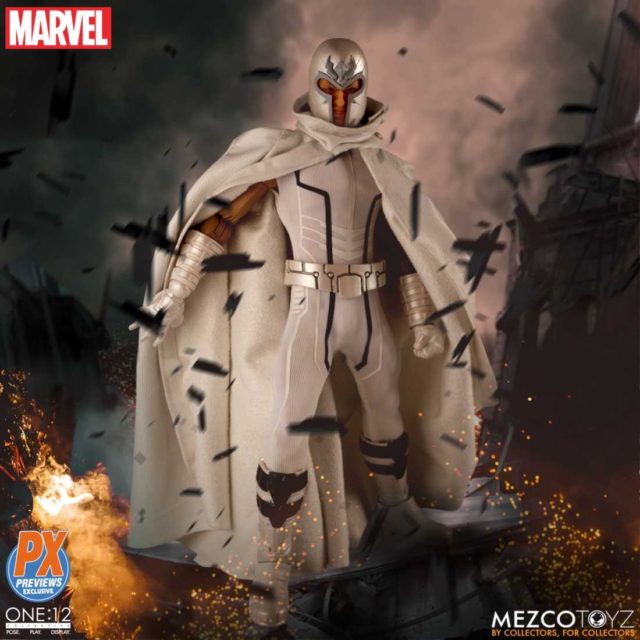 The Exclusive Mezco ONE:12 Collective Magneto White Costume Figure is now up for order, and is scheduled to ship out in May 2020. Contractually no retailer may pre-sell this figure for below the $80 MSRP, but EE does have a free shipping offer available on him at least.
How do you like this Mezco Magneto white variant, Marvel collectors? Anyone prefer this to the red version, and are you scooping this up specifically to display alongside a Marvel NOW or House/Powers of X lineup of figures?