Products You May Like
X-Men Dark Phoenix ended up being a catastrophe at the box office, but by the time merchandisers knew that for absolute certain, there were already quite a few collectibles for the character in the pipeline. Luckily, even if the movie was a total dud, Dark Phoenix toys are almost always popular. Or at least, that's what Kotobukiya is hoping, because the new Bishoujo Dark Phoenix Rebirth figure is now up for order—and it's the most expensive Marvel Bishoujo ever made by a wide margin!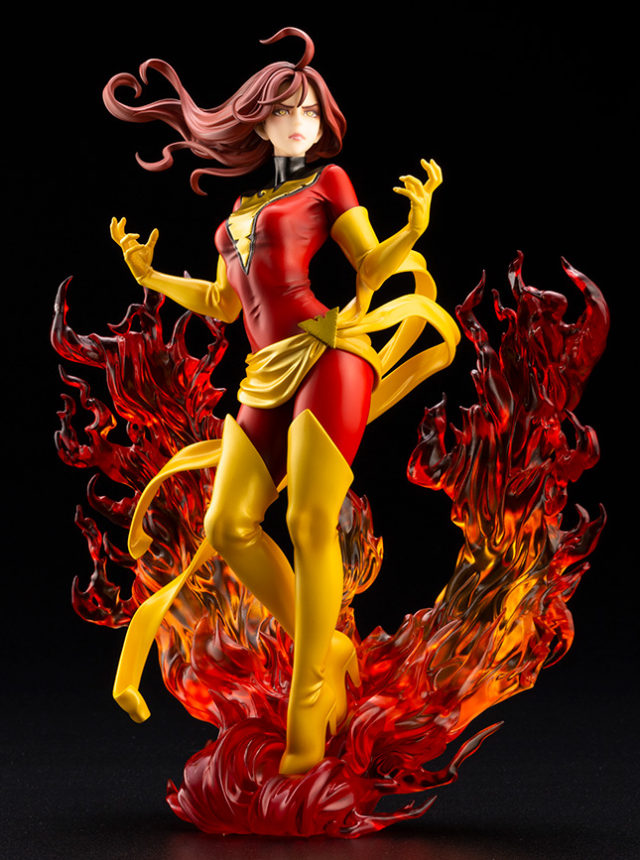 Time sure flies, as I was amazed to see while doing research for this article that the first Marvel Bishoujo (Rogue) Statue came out just over a decade ago in June 2009. The following year, Kotobukiya launched their first Jean Grey statue in the form of the Bishoujo Dark Phoenix!
While that original piece is in the 1/8 scale that Koto has since retired, it's still remained in hot demand over the years and sells for $200+ on the aftermarket. Or at least, it did—as I suspect the value on that piece is about to take a serious dive!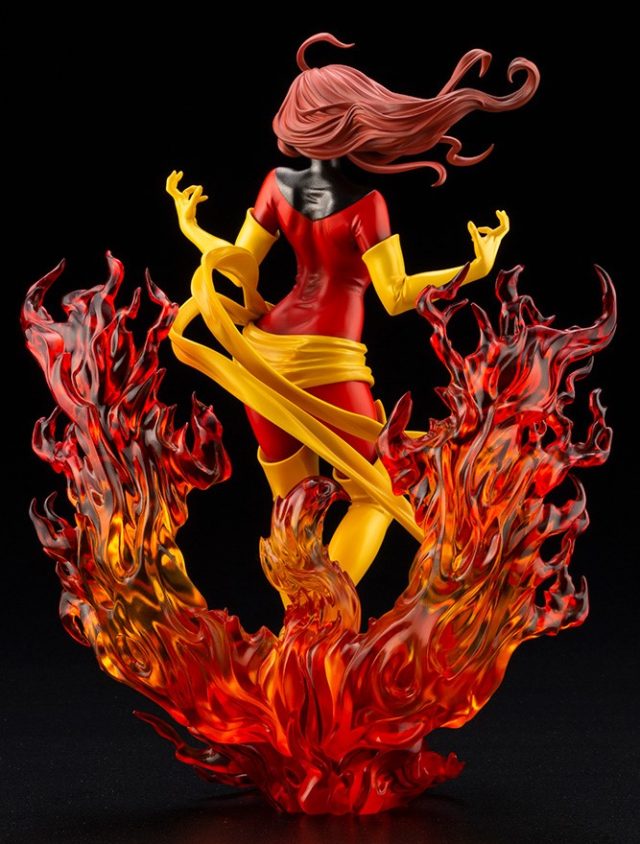 Kotobukiya doesn't do it often in the Marvel Bishoujo PVC series, but they're revisiting the Dark Phoenix as the next entry in their series (which is 1/7 scale now)—and this time, she's surrounded by flames and more expensive than any Bishoujo to come before her!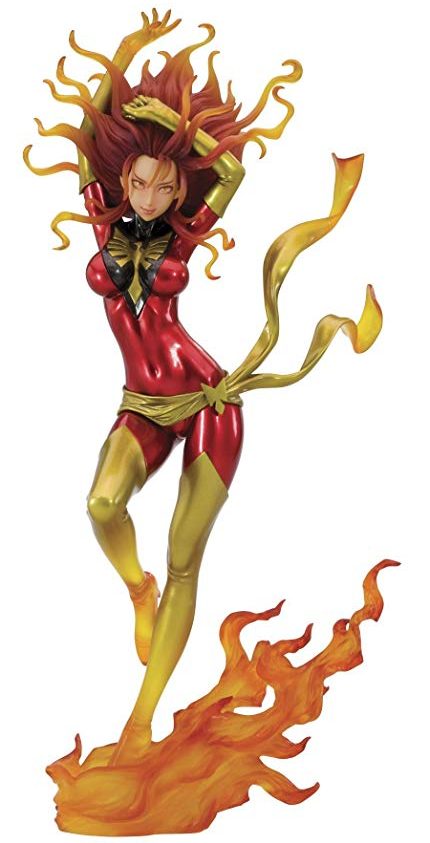 The Dark Phoenix Rebirth Statue is a noticeable improvement over the original figure that Koto put out in 2010, in my opinion. Jean looks more powerfully posed instead of looking like she's doing a stripper dance, and I prefer her defiant stare to the playful look on the face of the original.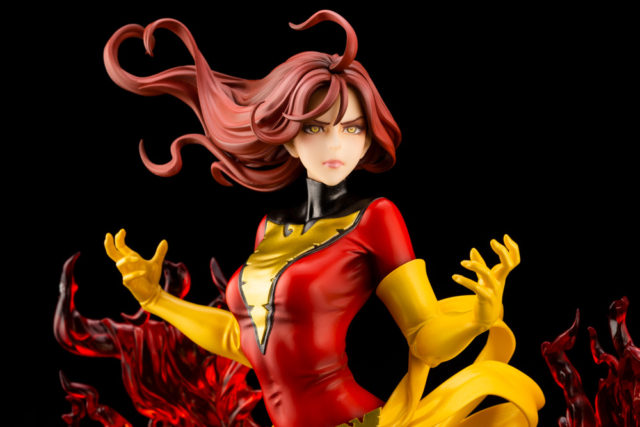 Many times I've passed up Bishoujos because of feeling like they looked rather slutty, but this is not one of those times. Everything about this piece just clicks for me. Even simple things like the matte red and metallic gold paints gel perfectly.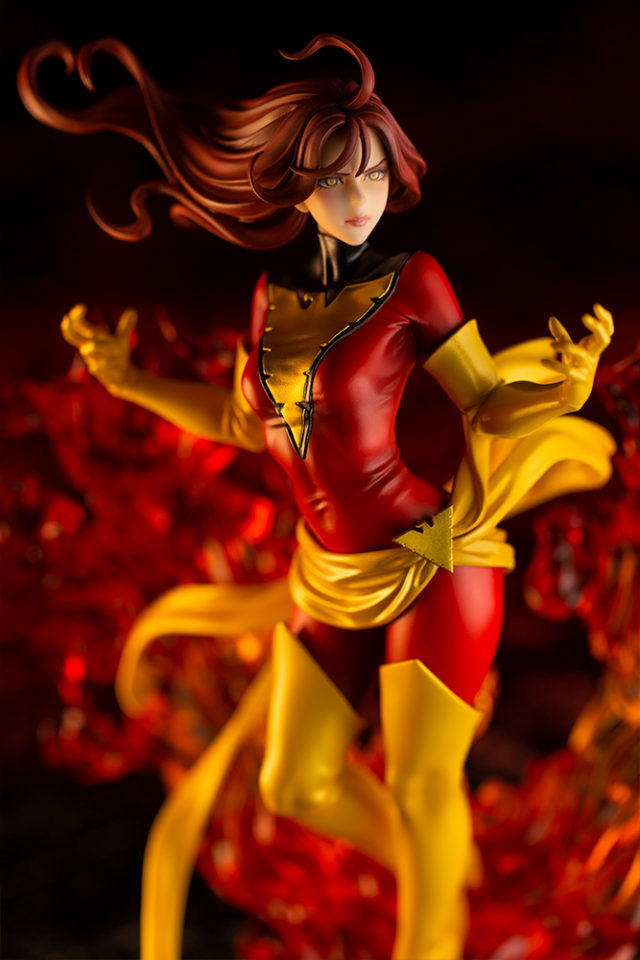 The translucent gradient flames that serve as the Dark Phoenix figure's base look simply breathtaking. I'm a sucker for effects pieces, and while I think the figure here is wonderful, arguably the flames impress me even more!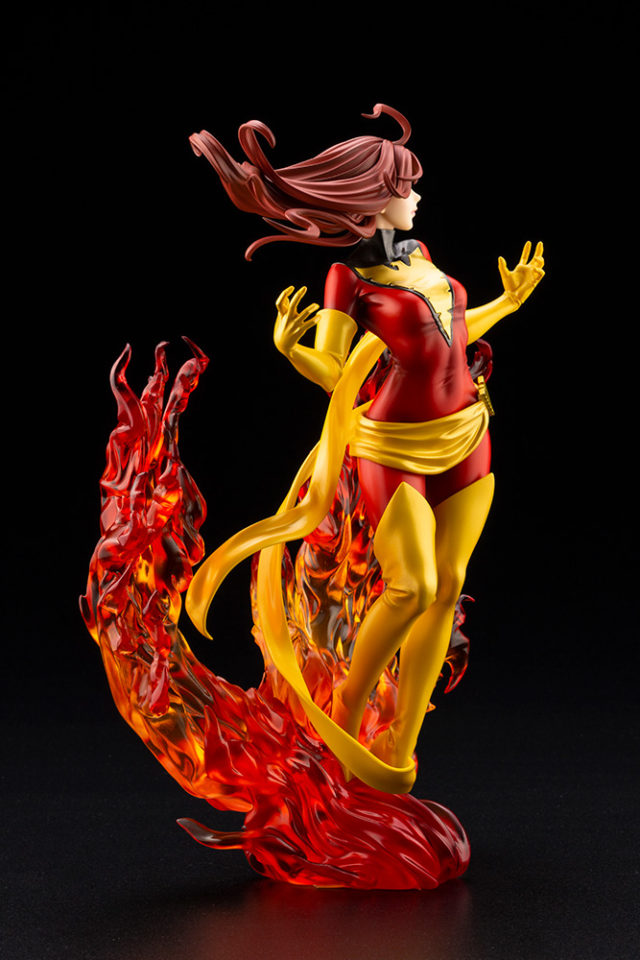 Of course, this kind of incredible detail comes at a price—and that price is $129.99 MSRP. No Marvel Bishoujo PVC Statue has ever crossed the $100 line up until now, so quite a few collectors were in for a shock with this price!
That said, this 9" Dark Phoenix Koto is still larger and, in my opinion, better-detailed and more impressive than the $150 and up ARTFX Premier statues series. Bishoujo has been one of Kotobukiya's most consistent sellers for a decade and I think this well sell just fine even with the hefty MSRP.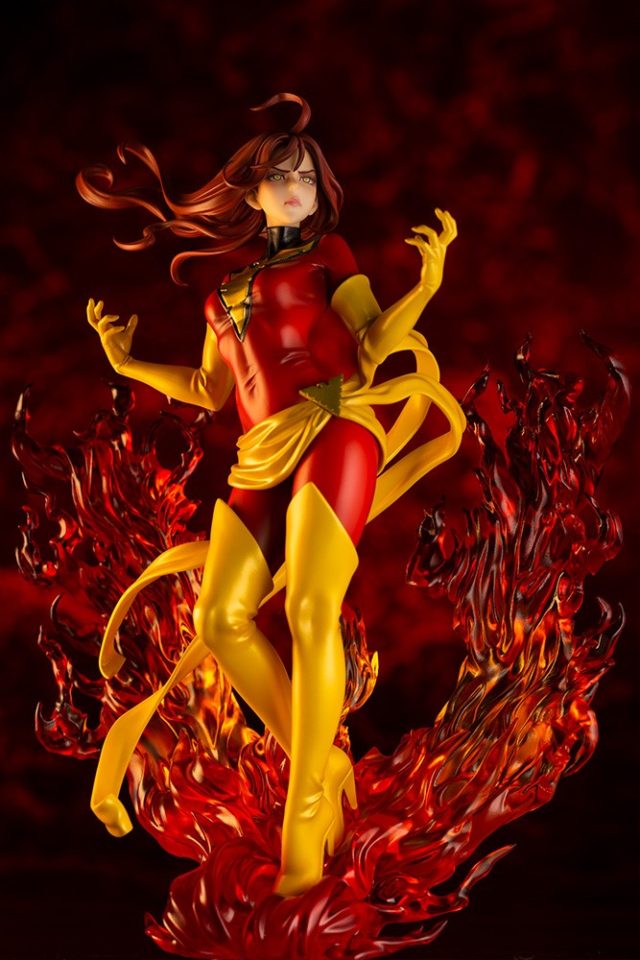 The Dark Phoenix Rebirth Kotobukiya Bishoujo Statue is now up for order with free shipping and a $10 discount at EE, and is scheduled to be released in March 2020. I think this will be a hot seller for Koto, but I can't remember the last time a Marvel Bishoujo sold out early, so you have time to debate if you're on the fence about this piece.
Sound off, Bishoujo collectors! At 130 bucks retail price, are you jumping ship on this line or staying the course? Would you like to see a new character announced for the lineup next, or would another revisit of an old favorite done many years ago be more to your liking?