Products You May Like
We don't get anywhere near the number of Marvel Select figures as we do Marvel Legends each year, but Diamond Select Toys is on a mini-roll right now! Hot on the heels of the excellent Psylocke Select figure being released a couple weeks back, this year's addition to the Spider-Man villains lineup is now arriving: Marvel Select Sandman is beginning to ship out for online orders and arrive in comic book stores! How's he look? I checked him out thoroughly in-store today myself…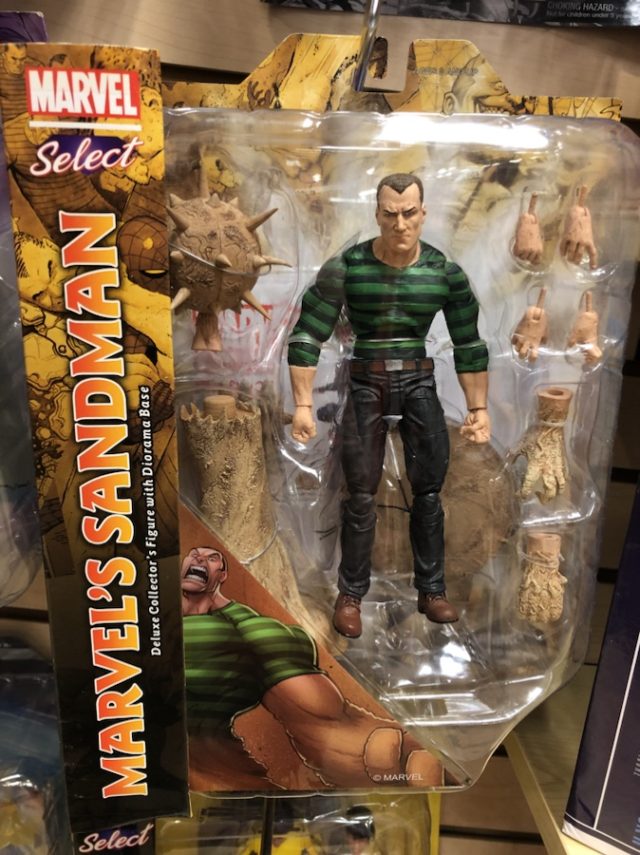 It's so infrequent that a new Diamond Select Toys Marvel Select figure gets released that I legit almost walked straight out of my comic book store today without looking up and realizing that Flint Marko was staring me down from the pegs.
Luckily, my obsession with always glancing at the action figure section even if there's nothing I'm hunting for prevailed, and I had the opportunity to creep on the one packaged Sandman Select figure that my local store had ordered!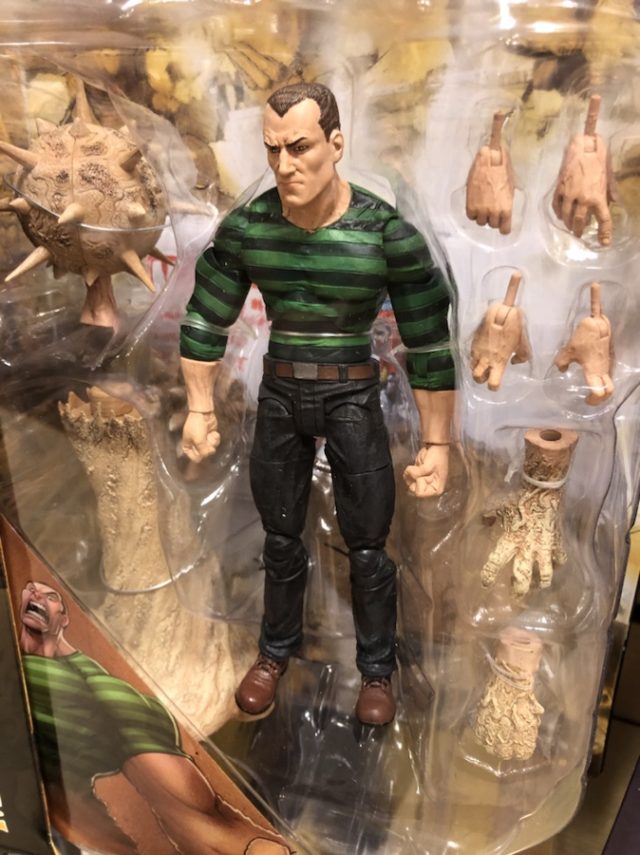 I admit that I was a little bit ho-hum on this Sandman Marvel Select figure back when it was revealed during the week of New York Toy Fair 2019, but now that I've had a chance to check him out in-hand… he's fairly neat! The seven interchangeable hands he comes with is an impressive sum, even if most folks are only going to choose to display him with sand effect hands.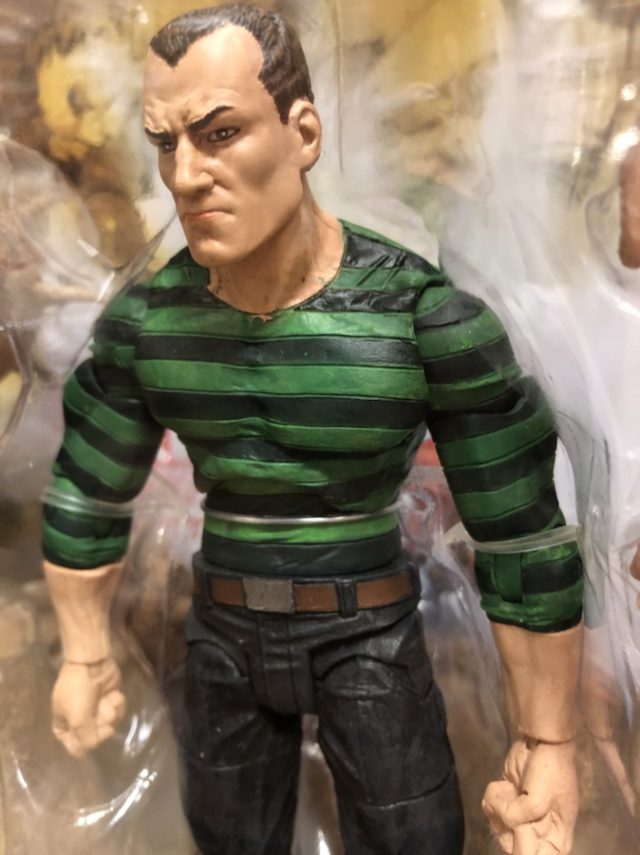 Up-close, the Flint Marko likeness is very good. The hair, the eyebrows, the scowl… DST knocked this head sculpt out of the ballpark accuracy-wise. I think an angry or partially-transformed head would have gone a long way in making more viable display options, but the head we do get is perfectly nice for what it is.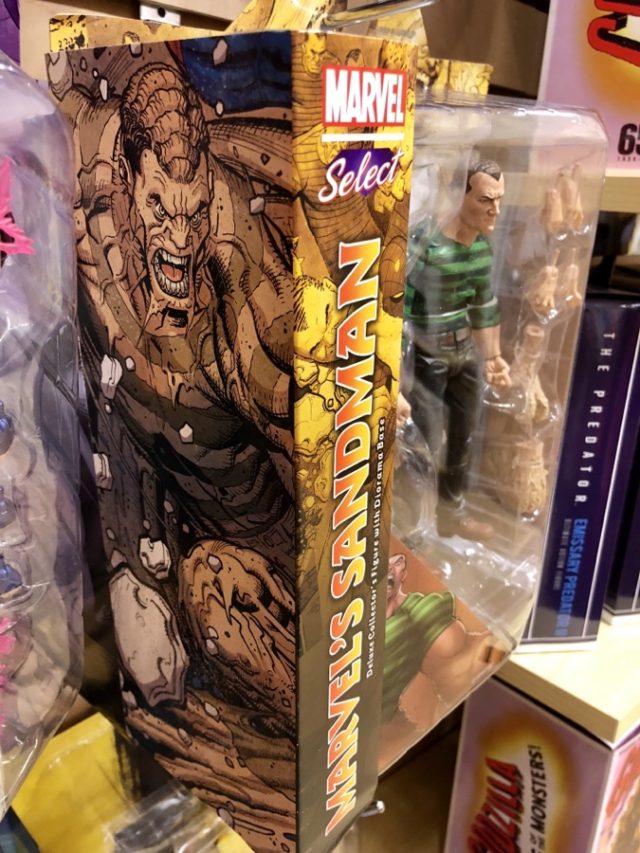 The lack of an interchangeable head is sorely felt after looking at the sick box art on the spine, which portrays an enraged transformed Sandman on the warpath. It's terrific artwork, although I sort of wish DST had chosen some comic art that more closely matched the figure that they've crafted here (which is still nice–but a different style of nice from what's on the spine).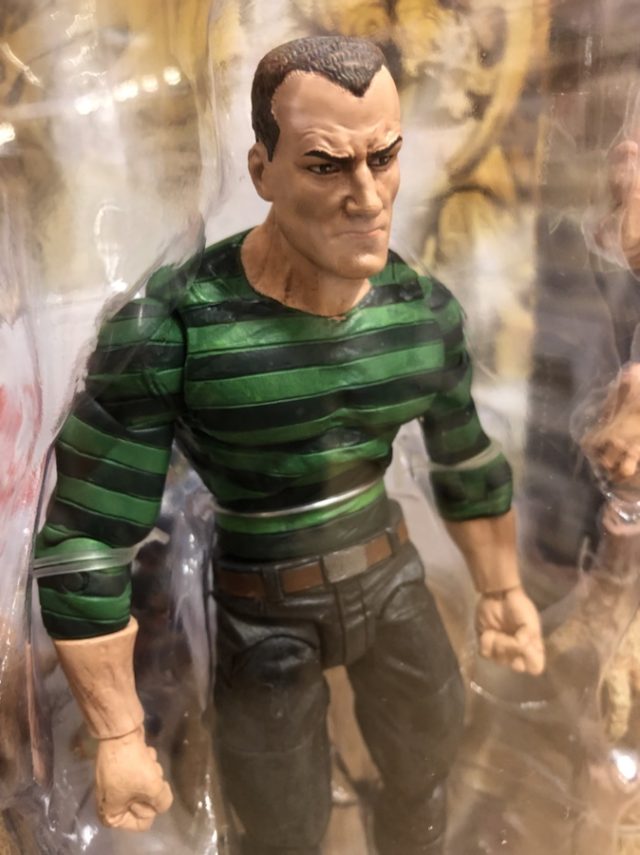 Paint-wise, there was one paint flaw immediately obvious to me that kept me from picking up this particular figure: a big blotch of flesh paint right new the collar on the front of his shirt. I'm going to assume that mishap was a fluke, since the paint deco appears to be well-executed everywhere else, so I feel comfortable enough to order this guy online and take my chances.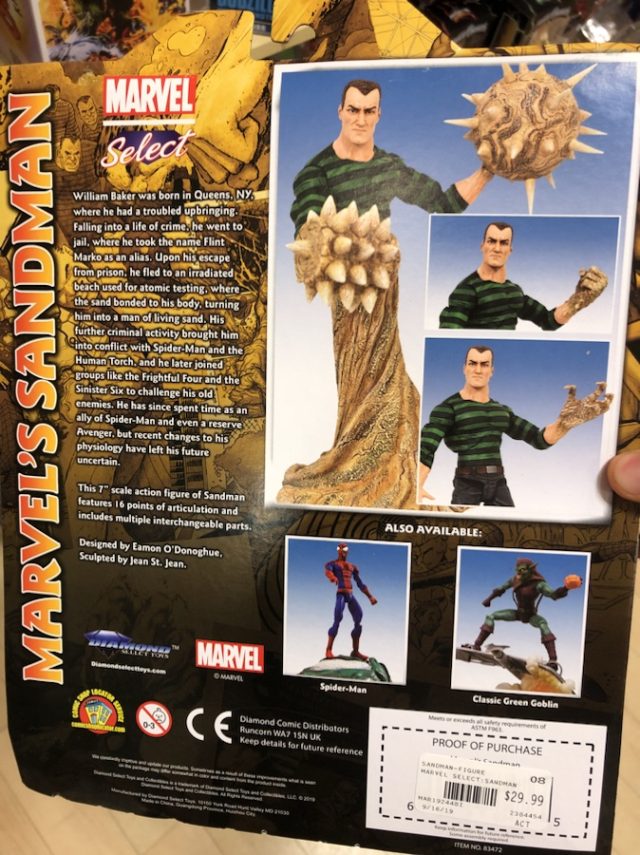 The "sand tower" interchangeable lower body is also a bit too thin for my tastes, but I doubt Diamond Select Toys could have costed in–or fit in the bubble–a larger and/or wider sand pillar. I think it's cool and I'm glad it's included in any form nonetheless.
The Marvel Select Sandman figure has now begun shipping out from specialty and comic book stores, and has its MSRP set at $29.99 (although some online stores have marked him down a couple bucks). He's 7″ tall, but as a size-changer, he should fit in fine with 6″ Marvel Legends figures.
What do you think of how the Sandman Select figure turned out, Marvel collectors–is this the superior Sandman in this size range, or does Hasbro's still win the day?