Products You May Like
As unlikely as it may be, the final member of the Jim Lee X-Men Marvel Legends figures lineup that Hasbro needed to create wasn't one of the more obscure characters like Jubilee or Bishop—it was actually among the most popular and iconic: Storm! But at long last, the Vintage X-Men Marvel Legends Storm figure is shipping out from online retailers and quickly selling out on store shelves—but is this the definitive Ororo Monroe for the ages we've all been waiting for?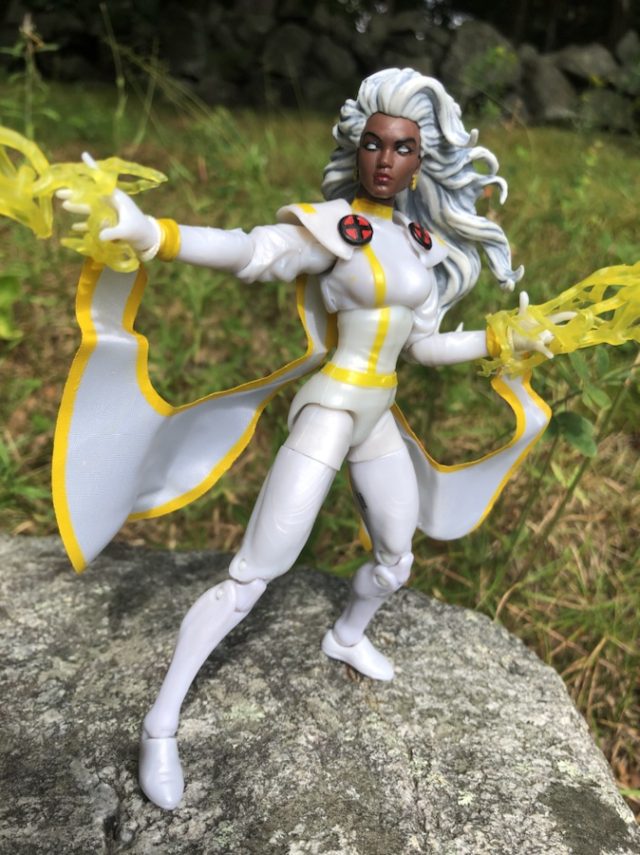 Hasbro is spoiling the heck out of X-Men fans this year, as we're getting two unofficial X-Men bonus waves in the form of the X-Force Series and Vintage Series. They're making killer use of these waves, too, giving us some of the most important remaining characters like Mr. Sinister and Nightcrawler.
But the arguable headliner of the two waves is a figure that's been long (and loudly) demanded: Jim Lee Storm in white costume! I'm sure we'll see silver and/or black variants down the road, but for now, let's taking a look at the team-completing white costume Storm…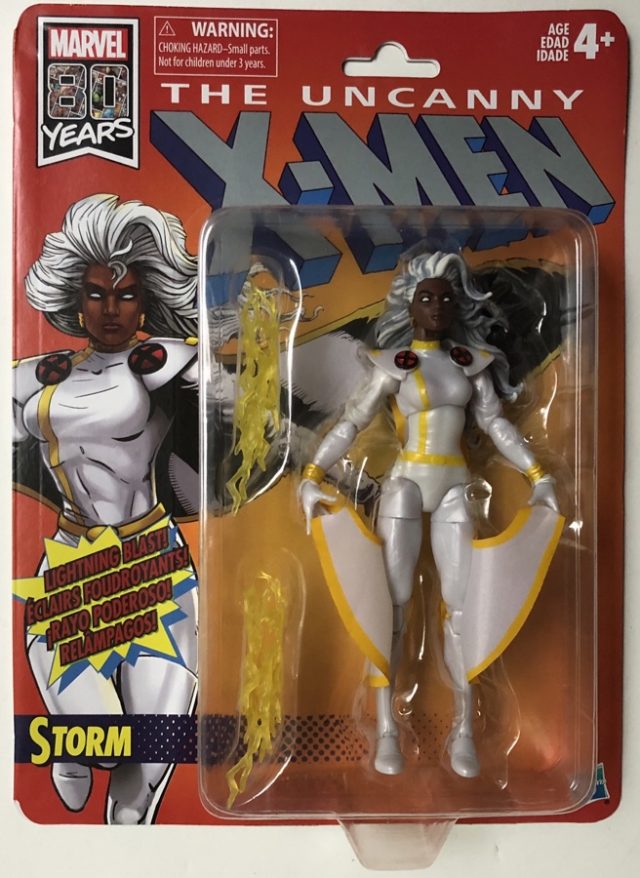 First off, I think it's pretty appropriate that this Storm figure that is closely tied to the early 90s (although it's sort of become her iconic look) is coming on a throwback Toybiz-styled early 90s retro cardback. It's a real shame we didn't see more of the Jim Lee X-Men released in this style of packaging in retrospect!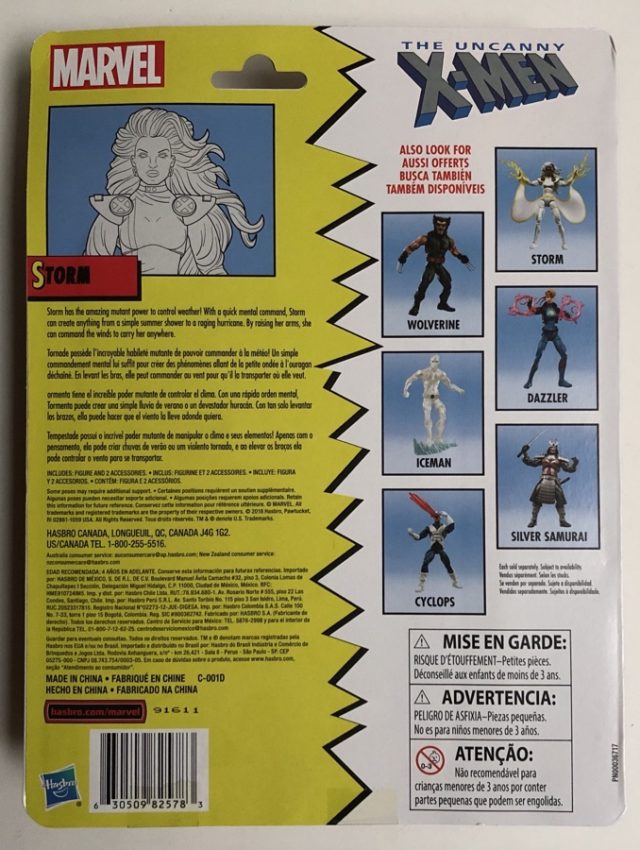 Upon the first revealed photos of this Vintage Marvel Legends Storm figure (she wasn't at New York Toy Fair, after all), I was ready to declare this the be-all, end-all perfect 6" Storm Legends figure we'd all been waiting for. Now that I've spent some time with her in-hand… I'm not ready to assert that she's at quite that level.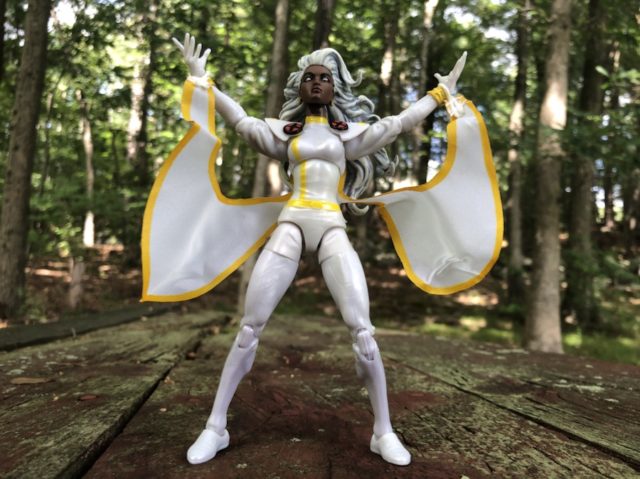 As advertised, this is an X-Men 1992 animated style Storm costume. It's white with yellow accents, although Hasbro has selected a glossy white plastic and glossy yellow paint, so in the right lighting it could maybe, sort of, kind of pass for being silver and gold (although I'm reasonably sure we'll see this mold repainted in those colors soon enough).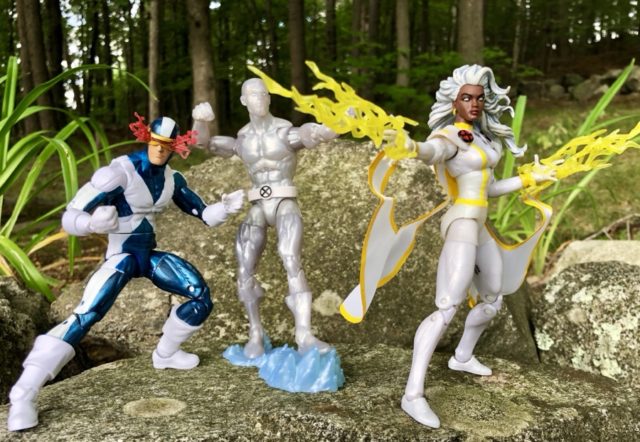 The paintwork on this figure has been meticulously applied, and I'm overall happy with the look of the deco throughout. She also looks great next to her fellow X-Men comrades. Success!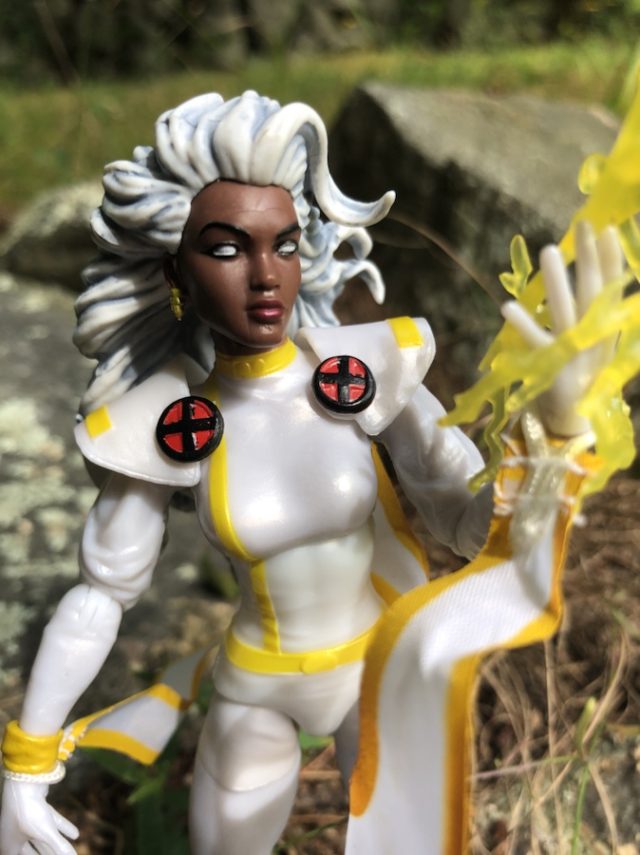 The Ororo Munroe portrait is also a big winner, as the face and hair clearly evoke the Wind-Rider. The lightning bolt earrings are painted nicely, and the wash on the hair makes the sculpting detail pop. Fantastic.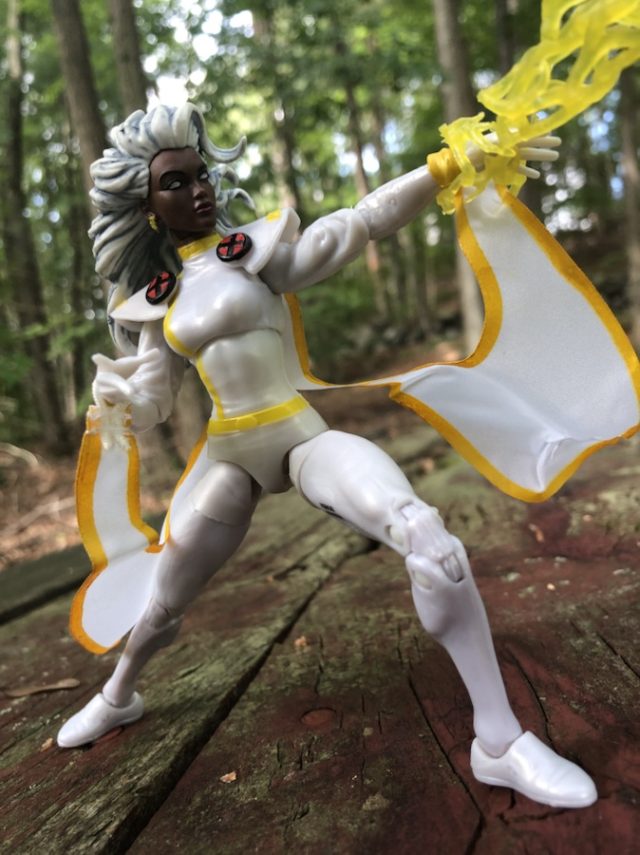 This is a modern Hasbro Marvel Legends Figure, and as such, she can stand up with no issues in most poses and has an impressive amount of articulation… although there are also some inhibiting factors that muck up the range of motion somewhat.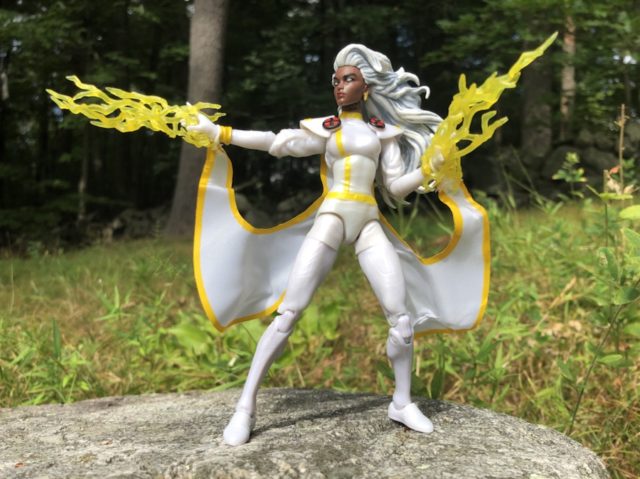 Storm's full articulation scheme is:
Ball-Hinge Head/Shoulders/Elbows
Ball-Jointed Upper Torso and Hips
Swivel-Hinge Wrists
Swivel Thighs
Double-Jointed Knees
Hinged Ankles with Rockers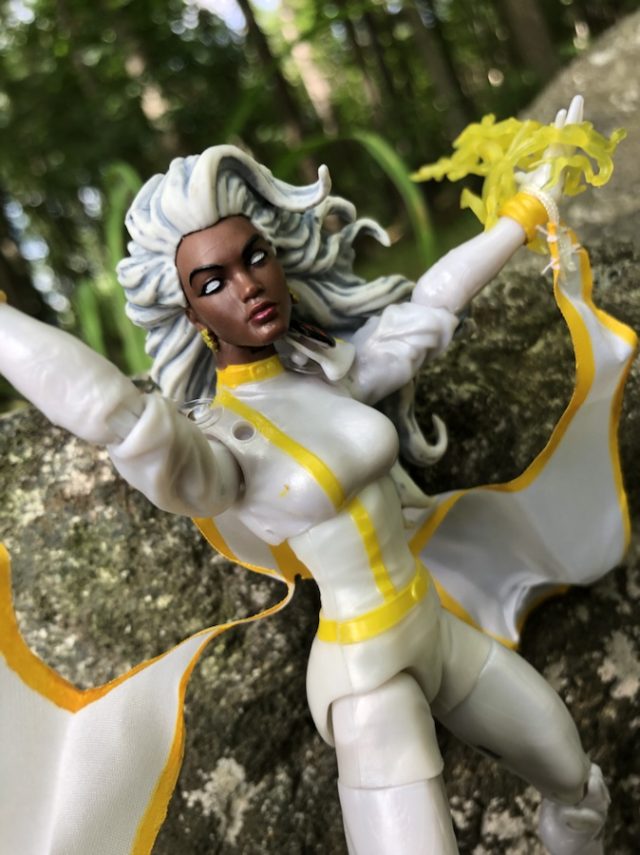 While I was initially delighted by the soft plastic shoulder pads, thinking they'd allow easy posing with Ororo's arms straight up in the air, I was mortified to find that if you gently raise her arms too much the shoulder pads unpeg and fall off completely. It's a huge limiting factor and really annoying—my biggest complaint about this whole figure, honestly.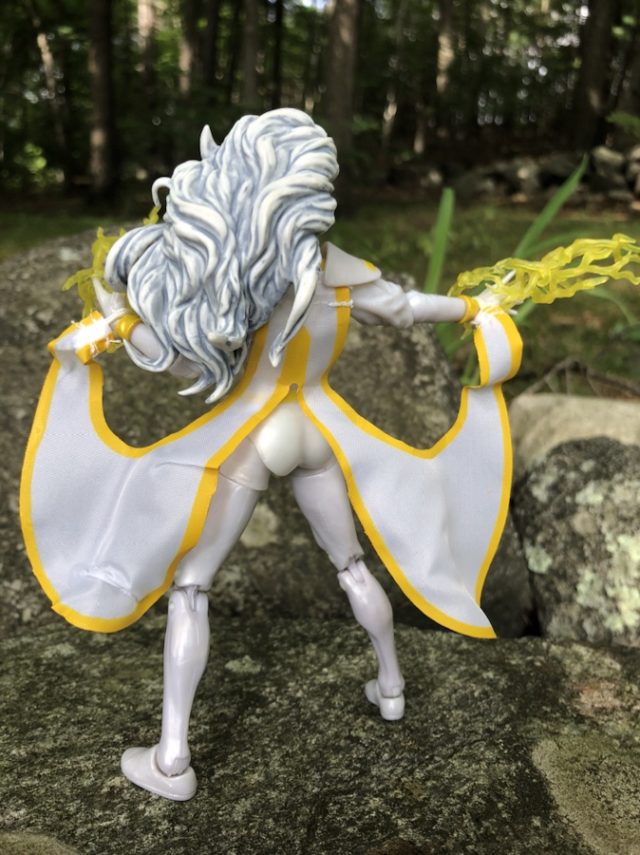 The shoulder pad pegs are also holding on the fabric cape, which looks great in theory—but wrinkly and more than a little bit cheap in person. You can probably futz the soft goods cape to look better with some effort, but its thin material and pre-wrinkled appearance fresh from the package bum me out.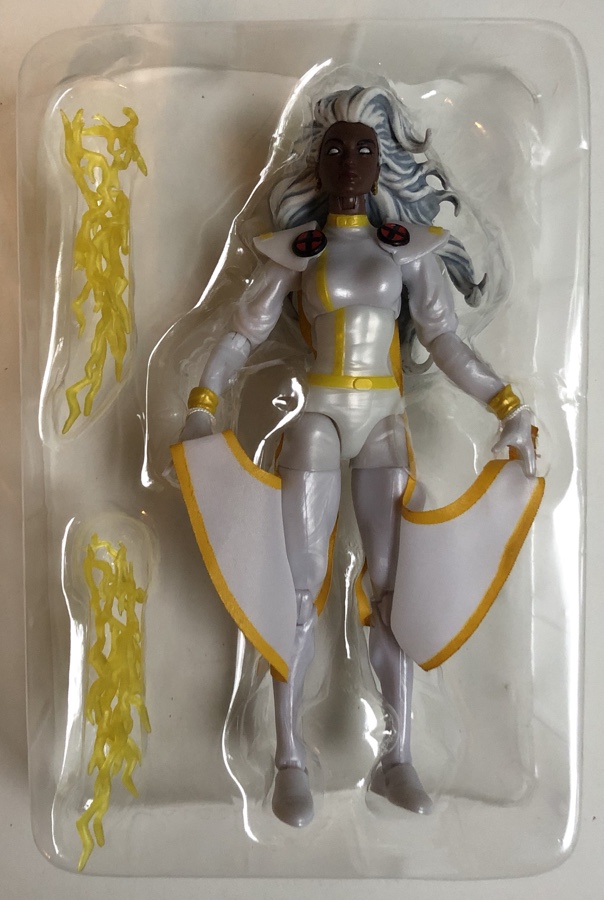 Finally, we've got accessories: of which Storm only gets the reused yellow lightning effects from last year's Mohawk Storm figure. I didn't like how gummy and fiddly these effects were then, and I still don't love them now. They make for a cool display if they stay in place, but I hate setting them up.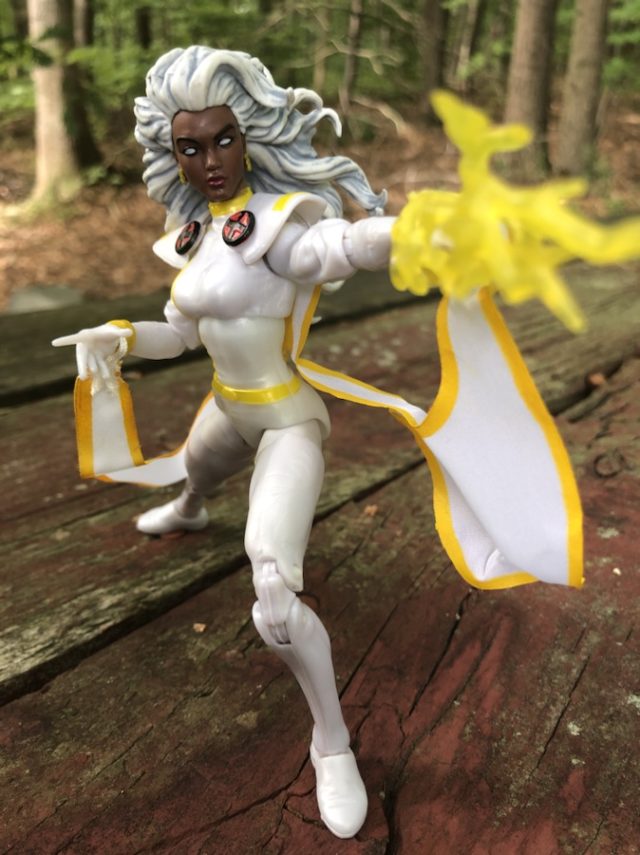 Overall: Ultimately, there's a couple little design snafus with this X-Men Legends Storm figure that hold it back from the highest heights of perfection. The shoulder pad design is really irritating, and the wrinkly fabric cape and gummy lightning effects aren't ideal.
Even so, this is still easily the best Jim Lee era Storm action figure that's ever been made, and an absolute must for the collections of those building the 90s/Animated team. Not perfect, but still pretty great.