Products You May Like
Ready or not, here New York Comic Con 2019 comes! We're under one month out from NYCC 2019 now, and while it's unclear exactly how full of new announcements and products this year's show will be (and we likely won't know until the event actually begins), we at least now know a handful of the NYCC 2019 Exclusives: Funko POP Stan Lee in Spacesuit, Captain Mar-Vell, Classic Nick Fury & Ms. Marvel and more!
I thought that Funko had a pretty solid lineup of SDCC 2019 Exclusives this year (I mean: POP Man-Thing! WIN!!), but their New York Comic Con 2019 Exclusives lineup turns out to be no slouch either, with a diverse range including something for almost any Marvel POP Vinyl collector!
And so, this time out we're getting two MCU figures, an X-Men POP combo pack with a T-Shirt, and three very classic comic book-based POPs…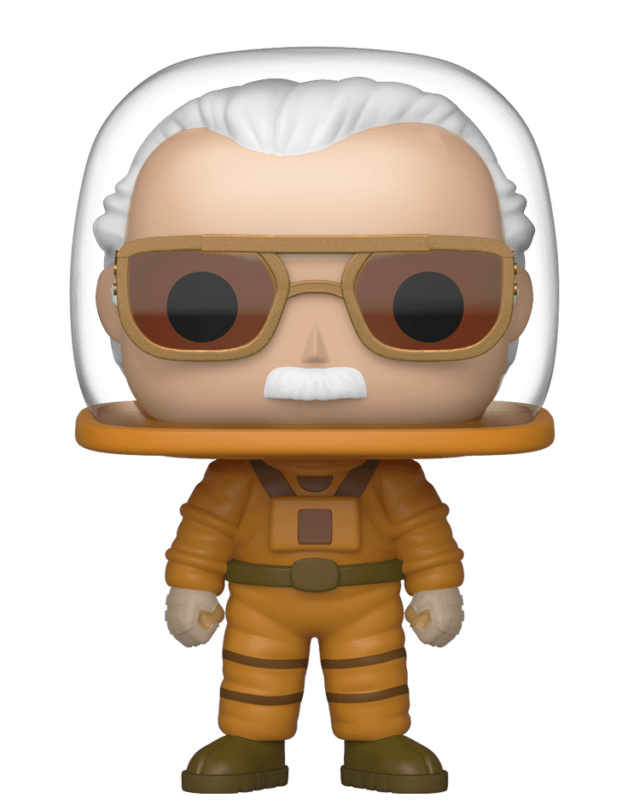 Although Funko seemed to want to make a different character their headliner, I would say the biggest release in this NYCC wave is definitely the Guardians of the Galaxy POP Stan Lee in Spacesuit. For those who can't afford the Hot Toys version, this is a cute and fun little figure of Stan to have, complete with clear Spacesuit bubble!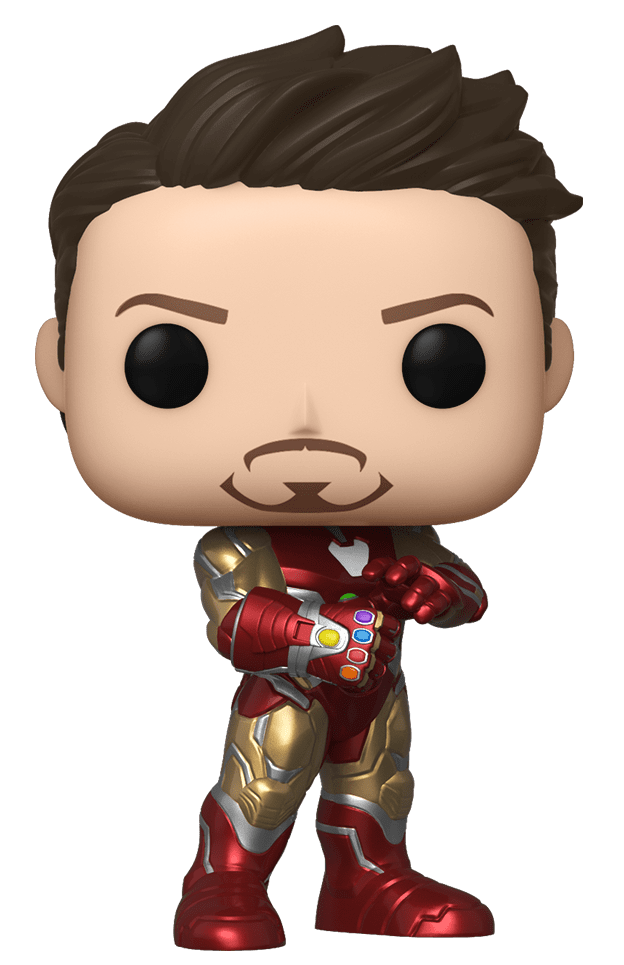 The character Hot Toys is obviously hedging their bets on from this set of announcements is obviously the new Infinity War Tony Stark, of course. Unmasked and wielding the Nano Gauntlet, this is an Iron Man POP Vinyls figure that's going to be in big demand. But with a "Snapping" Tony Stark POP seeming inevitable, I wonder if a lot of collectors will hold out for that version…?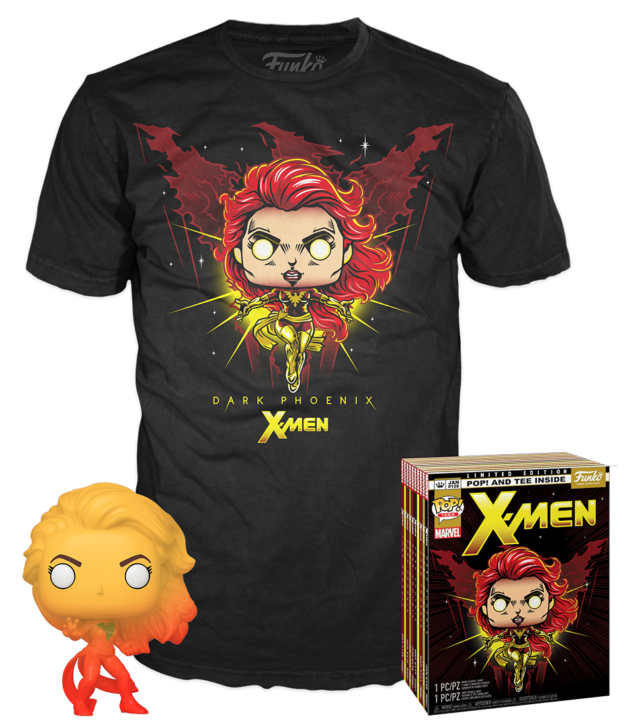 I'm torn on the X-Men Dark Phoenix POP Tees/Figure combo pack. I love the style of the Funko Dark Phoenix figure itself, as the warm color gradient occurring across the figure is absolutely gorgeous. But that T-Shirt… Yuck! Jean looks really scary and more than a little unappealing on that shirt, in my opinion. I really like the figurine, but I hate paying for a shirt I know I'd never wear.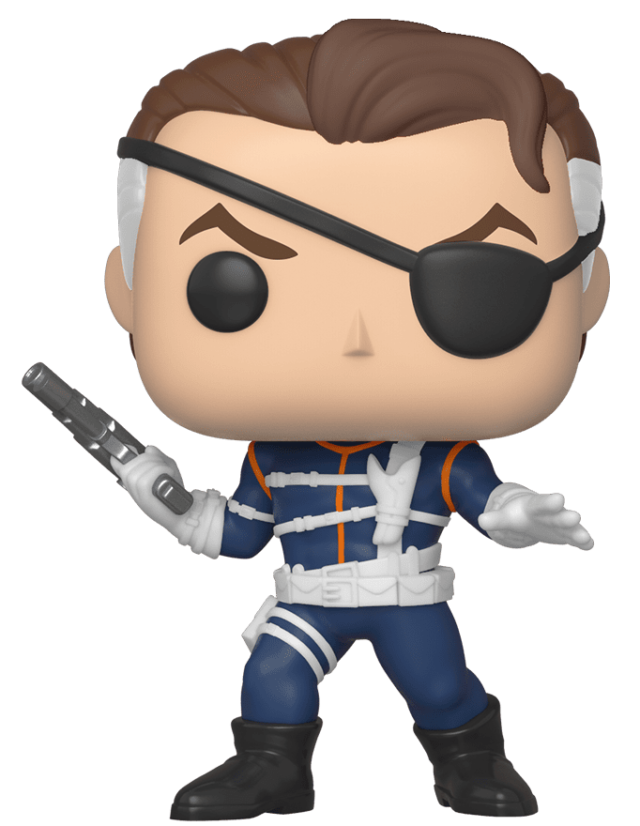 While classic comic book Nick Fury has been replaced in the minds of 99%+ of the population due to Samuel Jackson's portrayal of the character in the Marvel Cinematic Universe, the legendary comic book version of the Director of SHIELD will finally get a Funko POP of his own at NYCC 2019! There's no cigar (for obvious reasons), but at least classic Nick Fury is packing heat! Great idea for a niche Comic Con exclusive.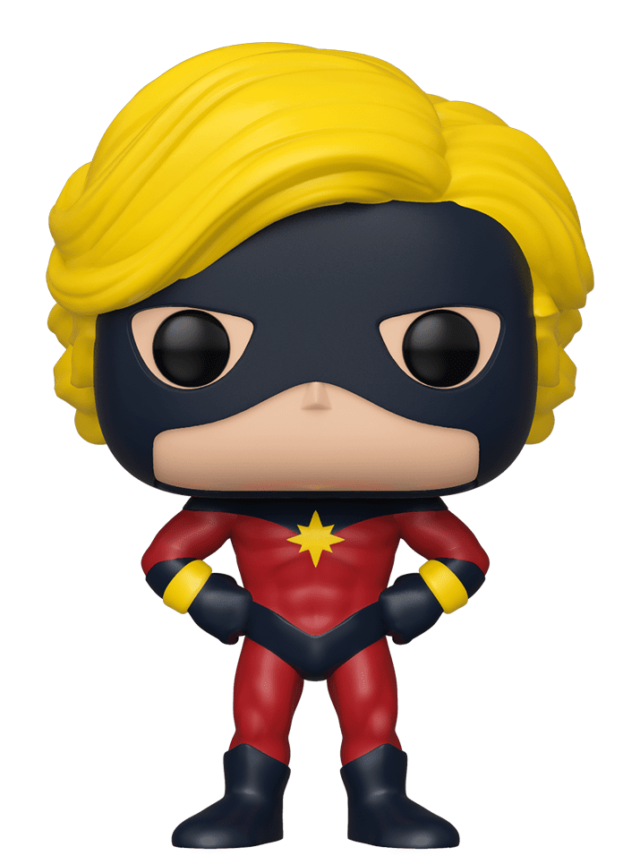 And speaking of great niche exclusives: in the year of MCU Captain Marvel, it's finally time for some classic comic-styled Captain Marvel POPs!
While movie Carol Danvers is all the rage this year, it's about time we got vinyl representations of both Mar-Vell himself (the original Captain Marvel!) and the iconic Ms. Marvel version of Carol. I like their complementary hands-on-hips poses and think these are going to look slick displayed together.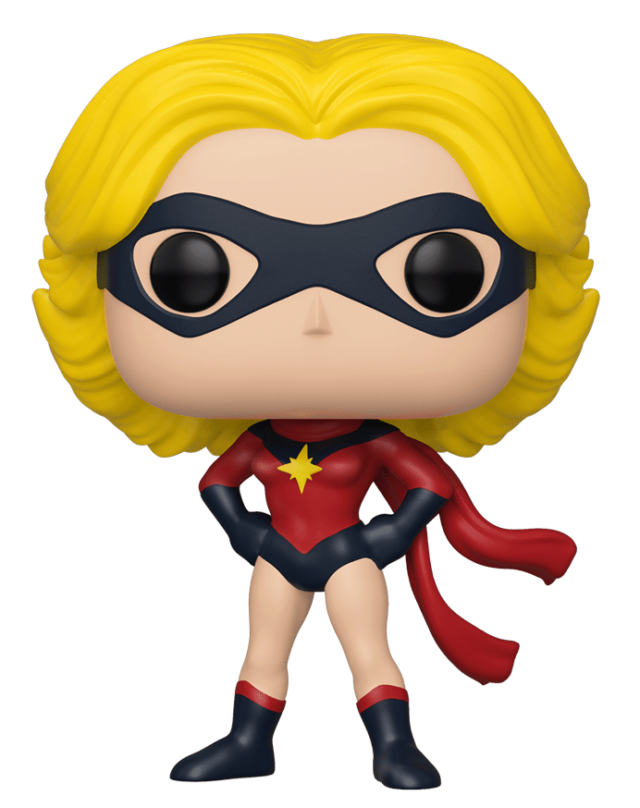 Thankfully, none of these Funko Exclusive New York Comic Con 2019 POP Vinyls are numbered, so that means all six should be available via a shared retailer during the event. Funko hasn't officially announced what chains will get what characters yet, but rumor has it that Walmart will have Stan, Amazon will have Tony Stark, Walgreens will get Mar-Vell, Gamestop will have Dark Phoenix and Nick Fury, and Funko Shop will get Ms. Marvel–so those not attending the event shouldn't haven't difficulties getting any of these that they're after.
Thus far, these are the only Marvel toy exclusives for NYCC 2019. Are you keen on any of these figures, or are you hoping some other companies bring something new to the table to offer at New York Comic Con?