Products You May Like
Spider-Man collectors had a legit reason to fear we'd only be getting MCU Spidey variants from Hot Toys this year as part of the Spider-Man Far From Home MMS Series. For a variety of reasons, Lizard got no 1/6 figure; Rhino got no 1/6 figure; Vulture got no 1/6 figure. But tragedy (okay, maybe not tragedy in Rhino's case) shan't repeat itself again, and FFH Spidey won't have to go enemy-less: the Hot Toys Mysterio figure is now up for order! We had to wait a long time for this announcement and it'll be longer still for him to arrive—will this 1:6 Mysterio be worth it?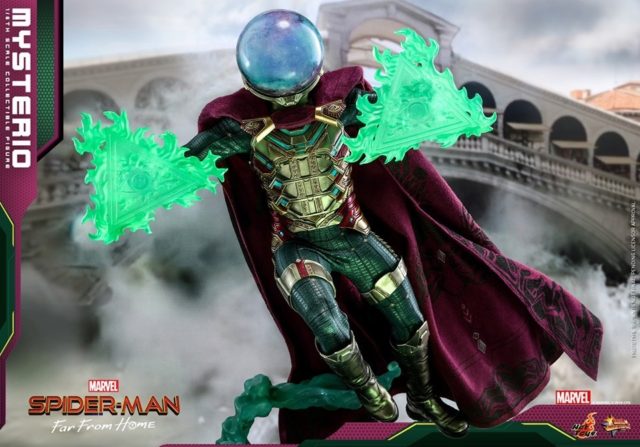 Because of the fact that he's just a normal dude in a not-too-big costume with a fishbowl for a head, I had high hopes that Hot Toys might actually hunker down and churn out a 1:6 Mysterio figure. And while he missed the release window for the theatrical release of the movie itself, Quentin Beck is finally making a dramatically late appearance this week!
This is the very first time (and seemingly last time) we'll see a Hot Toys of an MCU Spider-Man villain: has Hot Toys scored a victory with this Mysterio all-around?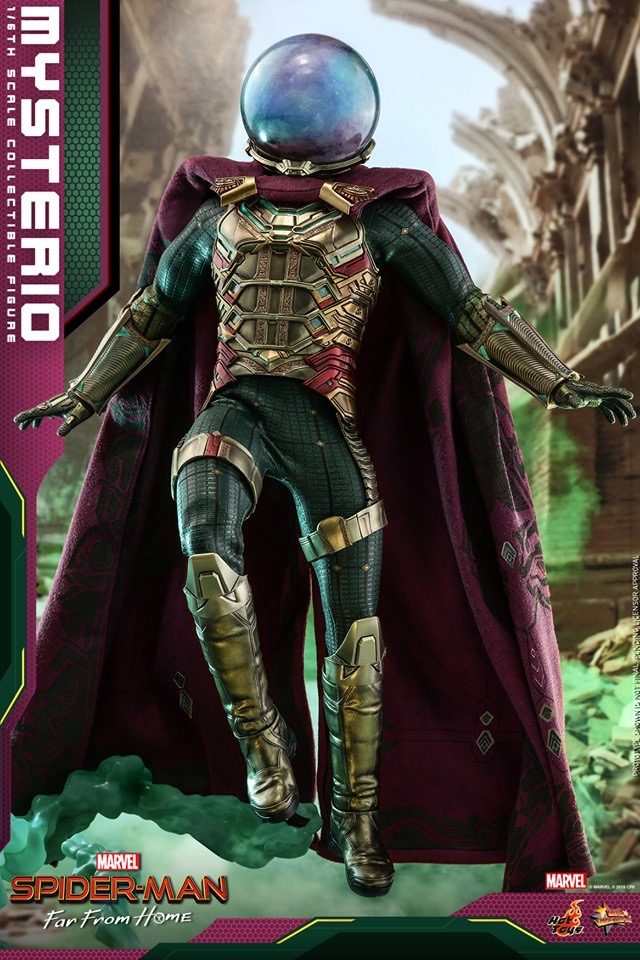 For the most part, I think this is a pretty spectacular sixth scale Mysterio all-around. The costume itself looks absolutely incredible, with impressive sculpting details, a nice-looking fabric cape and some lovely paint deco overall.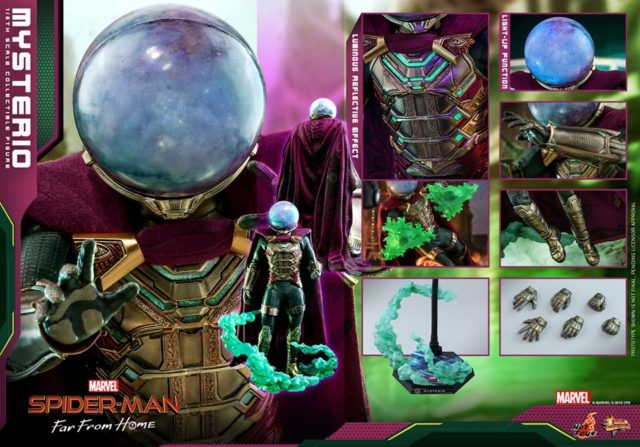 Given his power-set, the inclusion of effects pieces could make or break this figure for me. Thankfully, there are several of them included (along with the obligatory figure stand and assortment of interchangeable hands)!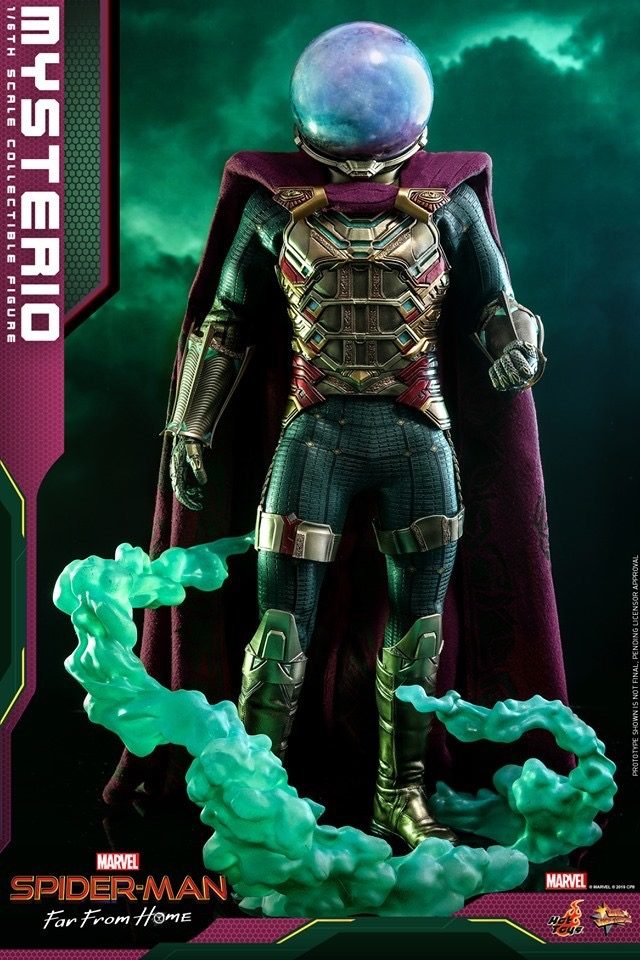 The figure stand has a smoke diorama effect, which for me is the absolute most important accessory to include. Inclusions like this will really help this figure to stand out from the "crowd" even in larger collections of Movie Masterpiece Series figures. It looks terrific, and will be displayed non-stop with my Mysterio MMS once it arrives. Good job including this!
In addition, we get translucent green triangular illusion effects for Mysterio's hands, which look very nice and are essential for many battle poses. I know not everyone is into energy effects for folks' hands, but for those who do, these are nice ones. Win.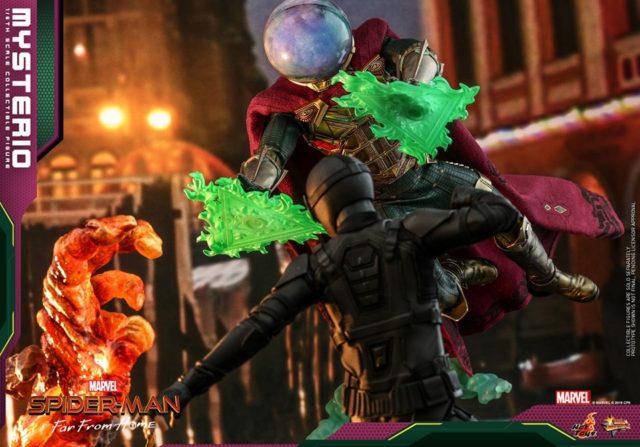 The big disappointment for many is the total exclusion of an unmasked Jake Gyllenhaal portrait Quentin Beck head. Since there's not even a blurred out head shown and it's not in the official specs, a Gyllenhaal head is almost guaranteed to not happen. Given how much of the movie Mysterio spends with the helmet off, that's a big downer.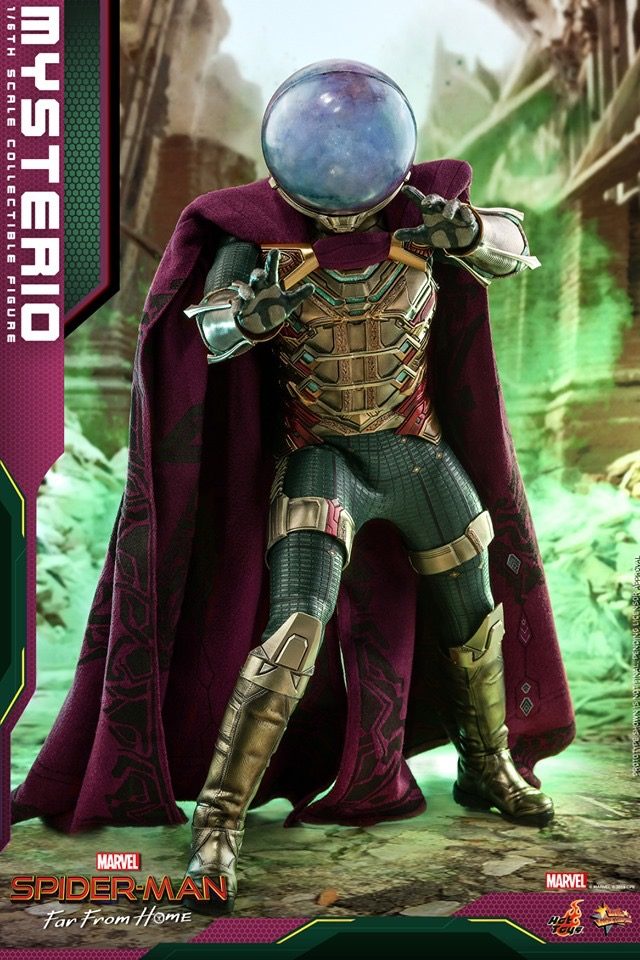 The one other thing I'm hearing folks complain about so far is the seam on the Mysterio helmet (AKA fishbowl). While I can fully understand not liking the aesthetic of a seam on the helmet, I really don't know how they could possibly produce it and keep the light-up feature and the cloudy interior intact without having a seam.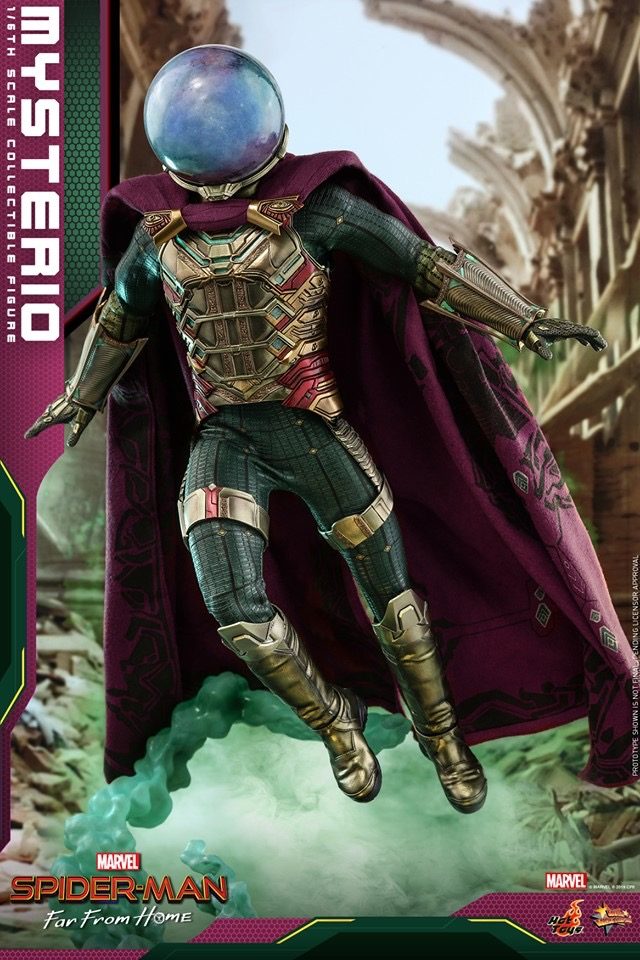 The largest shocker of the solicitation details for this Mysterio Hot Toys figure is the announced release window: Q3/Q4… 2021?! Say what?! This isn't a die-cast Iron Man armor here, so for this figure to be potentially more than two years off seems downright astounding. I'm really hoping that Hot Toys mistakenly reported this and meant "Q3/Q4 2020", because two years plus simply does not make sense.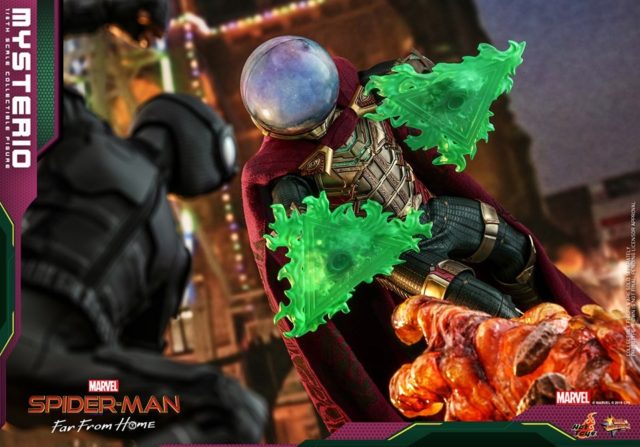 The Hot Toys Mysterio sixth scale figure is now up for pre-order, and is reportedly going to be released in the latter half of 2021 (though I hope to see that date changed and will update when and if it was). As one of a tiny number of MCU villains to get the 1:6 MMS treatment in recent years, I suspect this figure is going to be a hot one (no pun intended).
What do you think of Hot Toys' latest entry in their expansive Marvel Cinematic Universe line of sixth scale figures? Is this the greatest Mysterio figure that the world has ever seen, or have the chances of HT ensnaring your dollars for this Movie Masterpiece Series figure gone up in smoke?